Abstract
Fish ponds host a relatively important share of the breeding population of waterfowl in Europe. The objective of this study was to investigate the influence of fish-farming management on the distribution of dabbling and diving duck breeding, in 103 fishponds from four regions important for duck breeding in France. Duck breeding in fish ponds was apparently influenced by food resource and nesting site availability. Dabbling duck pair density was generally higher when invertebrates were abundant in macrophytes beds and when competition for food with carps Cyprinus carpio was potentially decreased by lower fish stock biomass. Diving duck pair abundance seemed to be negatively influenced by low invertebrates biomasses in pond sediment and by the absence of large reed beds at the edge of waterbodies. The difference between dabbling and diving ducks was also confirmed by a study of the variation in brood numbers standardized by pair numbers. This brood:pair ratio corresponded to a measure of nesting success and the possible attraction of fish ponds for some broods hatched in neighbouring waterbodies. Dabbling duck brood:pair ratio was lower in one of the study regions where most of meadow areas surrounding fish ponds have been transformed into cereal crops in the past few decades. Diving duck brood:pair ratio was positively linked to pond fertilization due to fish farming. Fish farming, therefore, influenced duck breeding by an interaction between carp density and fertilization. We hypothesize that fertilization increases zooplankton density, thereby decreasing the competition between carps and waterfowl for benthic prey.
This is a preview of subscription content,
to check access.
Access this article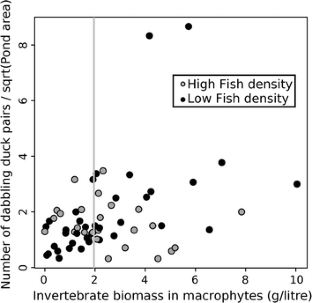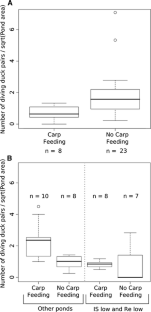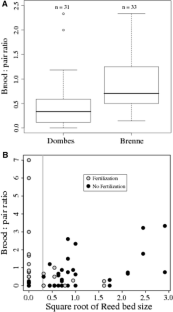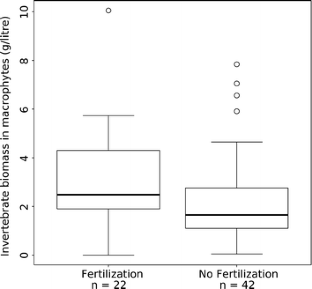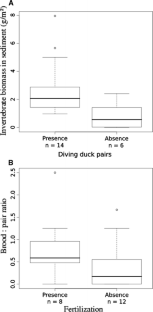 References
Albrecht, T., P. Musil & J. Cepak, 2000. Habitat selection of waterfowl broods on intensively managed fishponds in Czech Republic. Sylvia 36(suppl.): 18.

Albrecht, T., D. Horak, J. Kreisinger, K. Weidinger, P. Klvana & T. C. Michot, 2006. Factors determining pochard nest predation along a wetland gradient. Journal of Wildlife Management 70: 784–791.

Anderson, G., 1981. Influence of fish on waterfowl in lakes. Anser 20: 21–34.

Anderson, D., K. Burnham, W. Gould & S. Cherry, 2001. Concerns about find effects that are actually spurious. Wildlife Society Bulletin 29: 311–316.

Barbe, J., O. Schlumberger & N. Bouretz, 2000. Evaluation de la production piscicole potentielle des étangs. Ingenierie – EAT 11: 49–62 (in French).

Bartonek, J. C. & J. J. Hickey, 1969. Selective feeding by juvenile diving ducks in summer. The Auk 86: 443–457.

Bouffard, S. H. & M. A. Hanson, 1997. Fish in waterfowl marshes: waterfowls manager's perspective. Wildlife Society Bulletin 25: 146–157.

Broyer, J., 2000. La Dombes, espace d'équilibre ou simple substrat pour la culture céréalière. Courrier de l'Environnement de l'INRA 40: 63–65.

Broyer, J., 2002. Résultats comparés de la reproduction des anatidés dans trois principales régions de nidification de France: la Dombes, la Brenne, le Forez (in French with English summary: Comparative breeding success of Anatidae in three important breeding areas: the Dombes, the Brenne and the Forez). Alauda 70: 377–386.

Bukacinska, N., D. Bukacinski, J. P. Cygan, K. A. Dobrowolski & W. Kaczmarek, 1996. The importance of fishponds to waterfowl in Poland. Acta Hydrobiologica 37: 57–73.

Burnham, K. P. & D. R. Anderson, 1998. Model selection and inference. Springer, Berlin.

Cherry, S., 1998. Statistical tests in publications of the wildlife society. Wildlife Society Bulletin 26: 947–953.

Cohen, J., 1994. The earth is round (p < .05). American Psychologist 49: 997–1003.

Conover, W. & R. Iman, 1981. Rank transformations as a bridge between parametric and nonparametric statistics. The American Statistician 35: 124–129.

Cox, R. M., M. A. Hanson, C. Roy, N. H. Euliss, D. H. Johnson & M. G. Butler, 1998. Mallard duckling growth and survival in relation to aquatic invertebrates. Journal of Wildlife Management 62: 124–133.

Cramp, S. & K. E. L. Simmons, 1977. Handbook of the Birds of Europe, the Middle East and North Africa. Volume I, Ostrich to Ducks. Oxford University Press, Oxford: 722 pp.

Crivelli, A. J., 1983. The destruction of aquatic vegetation by carps. Hydrobiologia 106: 37–41.

Danell, K. & K. Sjőberg, 1982. Successional patterns of plant invertebrates and ducks in a man-made lake. Journal of Applied Ecology 9: 345–409.

Desgranges, J. L. & C. Gagnon, 1994. Duckling response to changes in the trophic web of acidified lakes. Hydrobiologia 280: 207–221.

Desgranges, J. L. & J. Rodrigue, 1986. Influence of acidity and competition with fish on the development of ducklings in Quebec. Water, Air and Soil Pollution 30: 743–750.

Dirschl, H. J., 1969. Foods of lesser scarp and blue-winged teal in the Saskatchewan River Delta. Journal of Wildlife Management 33: 77–87.

Eriksson, M. O. G., 1979. Competition between freshwater fish and goldeneyes for common prey. Oecologia 41: 99–107.

Fanget, R., 1976. Contribution à l'écologie des étangs piscicoles de la Dombes: sur le régime alimentaire de la Carpe à miroirs Cyprinus carpio. Thèse, Université Lyon I (in French).

Giles, N., 1994. Tufted duck (Aythya fuligula) habitat use and brood survival increases after fish removal from gravel pit lakes. Hydrobiologia 279/280: 587–592.

Giles, N., M. Street & R. M. Wright, 1990. Diet composition and prey preference of tench, Tinca tinca, common bream, Abramis brama, perch, Perca fluviatilis and roach, Rutilus rutilus, in two contrasting gravel pit lakes: potential trophic overlap with waterfowl. Journal of Fish Biology 37: 545–957.

Gőransson, G., J. Karlsson, S. G. Nilsson & S. Ulfstrand, 1975. Predation on bird nests in relation to antipredator aggression and nest density: an experimental study. Oïkos 26: 117–120.

Greenwood, R. J., A. B. Sargeant, D. H. Johnson, L. M. Cowardin & T. L. Schaffer, 1995. Factors associated with duck nest success in the Prairie Pothole Region of Canada. Wildlife Monograph 128: 1–57.

Grygiereck, E., 1979. Plankton as an ecological indication of the influence of the farming measures on ponds biocenosis. Polish Ecological Studies 5: 77–140.

Guisan, A. & N. E. Zimmermann, 2000. Predictive habitat distribution models in ecology. Ecological Modeling 135: 147–186.

Hanson, M. A. & M. G. Butler, 1994. Response of plankton, turbidity and macrophytes to biomanipulation in a shallow prairie lake. Canadian Journal of Fisheries and Aquatic Sciences 51: 1180–1188.

Hill, D., R. Wright & M. Street, 1987. Survival of mallard ducklings and competition with fish for invertebrates on a flooded gravel quarry in England. Ibis 129: 159–167.

Hoyer, V. M. & D. E. Canfield, 1994. Bird abundance and species richness on Florida lakes: influence of trophic status, lake morphology, and aquatic macrophytes. Hydrobiologia 297/280: 107–119.

Jacobsen, O. W., 1991. Feeding behaviour of breeding Wigeon Anas penelope in relation to seasonal emergence and swarming behaviour of chironomids. Ardea 79: 409–418.

Johnson, D., 1999. The insignificance of statistical significance testing. Journal of Wildlife Management 63: 763–772.

Joyner, D. E., 1980. Influence of invertebrates on pond selection by ducks in Ontario. Journal of Wildlife Management 44: 700–705.

Kozulin, A., O. Ostrovski, F. Tanneberger, O. Pareiko & V. Yurko, 2002. Waterbirds of large fishponds of Belarus. OMPO Special Publication, Vilnius.

Krapu, G. L., 1974. Foods of breeding pintails in North Dakota. Journal of Wildlife Management 38: 408–417.

Krasowski, T. P. & T. D. Nudds, 1986. Microhabitat structure of nest sites and nesting success of diving ducks. Journal of Wildlife Management 50: 203–208.

Krull, J. N., 1970. Aquatic plant-macroinvertebrate associations and waterfowl. Journal of Wildlife Management 34: 707–718.

Lafont, M., 1989. Contribution à la gestion des eaux continentales: utilisation des oligochètes comme descripteurs de l'état biologique et du degré de pollution des eaux et des sédiments. Thèse, Université Lyon I (in French).

Le Louarn, H. & M. Birkan, 2000. The impact of physico-chemical and biological characteristics of ponds on the nesting of the common pochard in Mayenne. Game and Wildlife Science 17: 129–146.

Lewkowicz, M. & S. Lewkowicz, 1976. Organic and inorganic nutrient enrichment and the living conditions of carp fry in first rearing ponds. Physico-chemical factors and zooplankton. Acta Hydrobiologica 18: 235–257.

Lilie, R. A. & J. O. Evrard, 1994. Influence of macroinvertebrates and macrophytes on waterfowl utilization of wetlands in the Prairies Pothole Region of north-western Wisconsin. Hydrobiologia 279/280: 235–246.

Lutz, M., 2001. Les étangs de pisciculture en Europe est-centrale. Typologie des systèmes d'exploitation et impacts des modalités de gestion sur l'avifaune (in French with English summary: Fishponds in Eastern Europe. Typology of fish-farming systems and effects of pond management on aquatic vegetation and nesting birds). Thèse, Université Strasbourg I.

Mallory, M. L., D. K. Mc Nichol & P. J. Weatherhead, 1994. Habitat quality and reproductive effort of common goldeneyes nesting near Sudbury, Canada. Journal of Wildlife Management 58: 552–560.

Mc Eadie, J. A. & A. Keast, 1982. Do goldeneye and perch compete for food? Oecologia 55: 225–230.

Meijer, M.-L., E. H. R. R. Lammens, A. J. P. Raat, M. P. Grimm & H. Hosper, 1990. Impact of cyprinids on zooplankton and algae in ten drainable ponds. Hydrobiologia 191: 275–284.

Morin, A., J. Stephenson, J. Skrike & A. G. Solimini, 2004. Sieve retention probabilities of stream benthic invertebrates. Journal of the North American Benthological Society 23: 383–391.

Musil, P., 1999. Monitoring of water bird breeding populations in the Czech Republic (1988–1997). Vogelwelt 119: 253–256.

Musil, P., J. Cepak, K. Hudec & J. Zarybnicky, 2001. The long-term trends in the breeding waterfowl populations in the Czech Republic. OMPO/Institute of Applied Ecology, Kostelec nad Cernymi lesy.

Nester, M., 1996. An applied statistician's creed. Applied Statistics 45: 401–410.

Noyes, J. H. & R. L. Jarvis, 1985. Diet and nutrition of breeding female redhead and canvasback ducks in Nevada. Journal of Wildlife Management 49: 203–211.

Owen, M. & J. M. Black, 1990. Waterfowl Ecology. Chapman & Hall, New York, USA.

Parker, G. R., 1991. Survival of juvenile American black ducks on a managed wetland in New Brunswick. Journal of Wildlife Management 55: 466–470.

Pehrsson, O., 1979. Feeding behaviour, feeding of diving ducks breeding at lake Myvatn, Iceland. Ornis Fennica 48: 77–92.

Petr, T., 2000. Interactions between fish and aquatic macrophytes in inland waters. A review. FAO Fisheries Technical Paper No 396, Rome.

Pokorny, J. & L. Pechar, 2000. Development of fishpond ecosystems in the Czech Republic: role of management and nutrient input (Limnological review). Sylvia 36: 8–14.

Pykal, J. & J. Janda, 1994. Pocetnost vodnich ptaku na rybnicich ve vztahu k rybnicnimu hospodareni. Sylvia 30: 3–11 (in Czech).

Robin, J., 1999. Dynamique saisonnière du phytoplancton en étang de pisciculture de la plaine du Forez (Loire). Essai de contrôle des cyanobactéries. Thèse, Université Lyon I (in French).

Rutschke, E. & H. Liebherr, 1995. Bestand und Bestandentwicklung einiger Wildentenarten in Ostdeutschland. Beiträge zur Jagd und Wildforschung 20: 261–273 (in German).

Scheffer, M., 1990. Multiplicity of stable states in freshwater systems. Hydrobiologia 200/201: 475–486.

Scheffer, M., S. H. Hosper, M.-I. Meijer, B. Moss & E. Jeppesen, 1993. Alternative equilibria in shallow lakes. Trends in Ecology and Evolution 8: 275–279.

Schlumberger, O., 2002. Mémento de pisciculture d'étangs. Cemagref, Paris, France (in French).

Serie, J. R. & G. A. Swanson, 1976. Feeding ecology of breeding gadwalls on saline wetlands. Journal of Wildlife Management 40: 69–81.

Spencer, C. & D. King, 1984. Role of fish in regulation of plant and animal communities in eutrophic ponds. Canadian Journal of Fisheries and Aquatic Sciences 41: 1851–1855.

Sugden, L. G., 1973. Feeding ecology of pintail, gadwall, American widgeon, and lesser scaup duckling in southern Alberta. Canadian Wildlife Service Report Series 24: 45 pp.

Sukhanova, O. V., 1996. Nesting ecology of the tufted duck and the pochard in Central Russia. Game and Wildlife 13: 709–722.

Swanson, G. A., 1984. Invertebrates consumed by dabbling ducks (Anatinae) on the breeding grounds. Journal of the Minnesota Academy of Science 50: 3–40.

Swanson, G. A. & J. R. Serie, 1974. Feeding ecology of breeding blue-winged teals. Journal of Wildlife Management 38: 396–407.

Swanson, G. A., G. L. Krapu & J. R. Serie, 1979. Foods of laying female dabbling ducks on the breeding grounds. In Bookhout, T. A. (ed.), Proceedings of the 1977 Symposium, The Wildlife Society, Madison, WI.

Vallod, D., 1984. Suivis physico-chimiques et biologiques d'étangs de la Dombes. Application à la gestion piscicole. Thèse, Université Lyon I (in French).

Winfield, D. K. & I. J. Winfield, 1994. Possible competitive interactions between overwintering tufted duck Aythya fuligula and fish populations of lough Neagh, Northern Ireland: evidence from diet studies. Hydrobiologia 279/280: 377–386.

Wright, R. M. & V. E. Phillips, 1992. Changes in the aquatic vegetation of two gravel pit lakes after reducing the fish population density. Aquatic Botany 43: 43–49.

Wunder, W., 1938. La nourriture naturelle de la Carpe dans les étangs et les moyens d'en développer la production. Bulletin Français de Pisciculture 112: 121–129 (in French).
Acknowledgements
The authors thank colleagues/fieldworkers who contributed to the data collection: F. Bourguemestre, L. Hérault, L. Huguet (Brenne), M. Benmergui, J. Y. Fournier, L. Curtet, C. Chimenton (Dombes), J. B. Mouronval, A. Canny (Champagne), G. Chavas, D. Delayre, G. Pluvier, R. Delaroque (Forez) and V. Pereira (Institut Supérieur d'Agriculture Rhône-Alpes) for invertebrate collection and analysis, C. Bernard for fish farmer questioning in Champagne. This study was funded by the following institutes: ONCFS, Conseil Général de la Loire, Fédération des chasseurs de l'Indre. We also warmly thank Catherine Carter (ONCFS) for the improvement of the English writing.
Additional information
Handling editor: Steven Declerck
About this article
Cite this article
Broyer, J., Calenge, C. Influence of fish-farming management on duck breeding in French fish pond systems. Hydrobiologia 637, 173–185 (2010). https://doi.org/10.1007/s10750-009-9994-3
Received:

Revised:

Accepted:

Published:

Issue Date:

DOI: https://doi.org/10.1007/s10750-009-9994-3
Keywords