Abstract
'Mediterranean Temporary Ponds' (MTP) constitutes a priority, substantially vulnerable and unstable habitat (Natura code: 3170*). In this article, the influences of climate change on the hydroperiod of two MTPs in Crete, have been quantitatively explored by using: (i) a physically based, semi-distributed lake basin model of Lake Kourna, where the hydrology of the lake is directly related to that of the adjacent MTP and (ii) a conceptual/mathematical model of an MTP in Omalos plateau. A water balance model was also set up to estimate net groundwater inflows for Lake Kourna and the basin. The water balance estimates and GIS tools were then used to set up the physically based model which was calibrated for the hydrological year 2005–2006 and validated for two periods: April–September 2005 and the hydrological year 2006–2007 (two split-sample tests). Calibration of the mathematical model was very good, while for the physically based model calibration was satisfactory. The two models were then setup and simulated for two future Intergovernmental Panel for Climate Change (IPCC) scenarios: A2 (pessimistic) and B2 (more optimistic). The responses of Lake Kourna and Omalos MTP water levels and their hydroperiods were then predicted. Results for IPCC B2 and A2 climate scenarios show longer hydroperiod and smaller decreases in the future for Omalos MTP than in Lake Kourna MTP. Results for Lake Kourna MTP demonstrated a hydroperiod decrease of more than 52 days after the application of the IPCC scenarios. Scenario A2 does not present a significantly different higher impact on the MTPs' hydroperiod.
Access options
Buy single article
Instant access to the full article PDF.
US$ 39.95
Tax calculation will be finalised during checkout.
Subscribe to journal
Immediate online access to all issues from 2019. Subscription will auto renew annually.
US$ 119
Tax calculation will be finalised during checkout.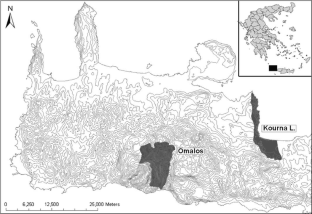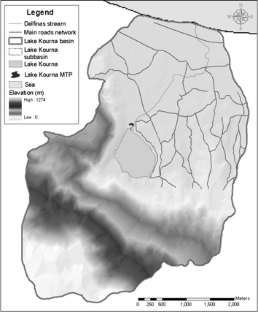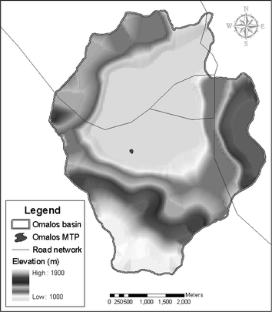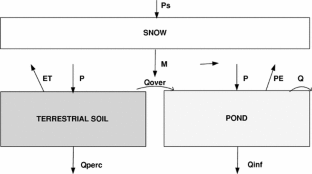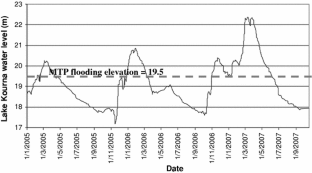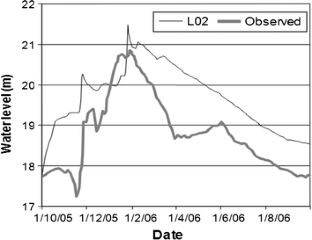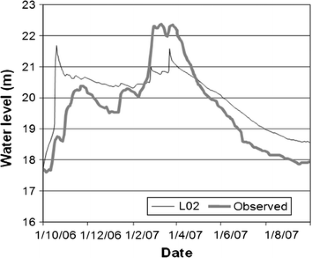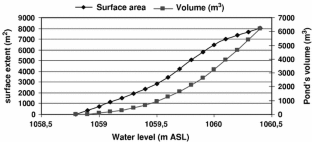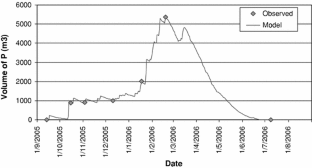 References
Abbott, M., J. Bathrust, J. Cunge, P. O'Connell & J. Rasmussen, 1986. An introduction to the European Hydrological System-Systeme Hydrologique Europeen, "SHE", 2: modelling system. Journal of Hydrology 87: 61–77.

Blenckner, Th., 2005. A conceptual model of climate-related effects on lake ecosystems. Hydrobiologia 533: 1–14.

Collinson, N. H., J. Biggs, A. Corfield, M. J. Hodson, D. Walker, M. Whitfield & P. J. Williams, 1995. Temporary and permanent ponds: an assessment of the effects of drying out on the conservation value of aquatic macroinvertebrate communities. Biological Conservation 74: 125–133.

Dimitriou, E., E. Moussoulis, E. Kolobari & A. Diapoulis, 2006. Hydrological study of MTP catchments in Crete. In Dimitriou, E. & A. Diapoulis (eds), Actions for the Conservation of the Mediterranean Temporary Ponds in Crete, Final Report, Project Life-Nature 2004. HCMR, Anavissos Attikis.

Grillas, P., P. Gauthier, N. Yavercovski & C. Perennou, 2004. Mediterranean Temporary Pools; Volume 1 – Issues Relating to Conservation, Functioning and Management. Station biologique de la Tour du Valat. Technical Report.

Intergovernmental Panel on Climate Change (IPCC), 2007. Climate Change: Working Group I: The Scientific Basis [http://www.grida.no/climate/ipcc_tar/wg1/008.htm].

Legates, D. R. & G. J. McCabe, 1999. Evaluating the use of ''goodness-of-fit'' measures in hydrologic and hydroclimatic model validation. Water Resources Research 35(1): 233–241.

MEPPW (Ministry for the Environment, Physical Planning and Public Works), 2004. Country Profile: Greece, National Reporting to the Twelfth Session of the Commission on Sustainable Development of the United Nations (UN CSD 12), Athens, March 2004.

Stamati, F. & N. Nikolaidis, 2006. Hydrology and Geochemistry of the Mediterranean Temporary Ponds of W. Crete, Actions for the Conservation of the Mediterranean Temporary Ponds in Crete, Project Life-Nature 2004. Laboratory of Hydrogeochemical Engineering and Remediation of Soils, Technical University of Crete. Technical Report.

Thompson, J. R., H. R. Sørenson, H. Gavina & A. Refsgaard, 2004. Application of the coupled MIKE SHE/MIKE 11 modelling system to a lowland wet grassland in southeast England. Journal of Hydrology 293: 151–179.

Warwick, N. W. M. & M. A. Brock, 2003. Plant reproduction in temporary wetlands: the effects of seasonal timing, depth, and duration of flooding. Aquatic Botany 77: 153–167.
Additional information
Guest editors: B. Oertli, R. Cereghino, A. Hull & R. Miracle
Pond Conservation: From Science to Practice. 3rd Conference of the European Pond Conservation Network, Valencia, Spain, 14–16 May 2008.
About this article
Cite this article
Dimitriou, E., Moussoulis, E., Stamati, F. et al. Modelling hydrological characteristics of Mediterranean Temporary Ponds and potential impacts from climate change. Hydrobiologia 634, 195–208 (2009). https://doi.org/10.1007/s10750-009-9898-2
Keywords
Lake Kourna

Omalos

Mediterranean Temporary Ponds

Hydroperiod

Climate change