Abstract
Monostroma latissimum (Kützing) Wittrock is an intertidal rock-dwelling green algal species of commercial importance in Japan. This article reports on the seasonality of its growth and occurrence from three distinct habitats of marine and estuarine regions in Tosa Bay, Japan, for two consecutive growth seasons. Thallus lengths of individuals and environmental parameters were monitored monthly between November 2005 and July 2007. Culture studies were carried out to establish the species-level identity of the specimens. Nuclear encoded ITS 1 (Internal Transcribed Spacer 1) sequences reveal that the naturally occurring strain of M. latissimum has identical nucleotide sequences to those of the commercially cultivated strain from the Shimanto river estuary. We have also found that the two strains are cross-fertilizing. Seasonal fluctuations in thallus length were found to be distinctive to the habitat where the strain grows and re-occur annually. Algal cover was highest during winter months and lowest during the summer. However, we found only a very weak positive correlation between chosen environmental parameters and thallus length. Appearance and decay of thalli occurred earlier in high saline habitats. Therefore, it is likely that salinity influences the maturation of microscopic sporophytes or the growth and survival of germlings in M. latissimum.
This is a preview of subscription content,
to check access.
Access this article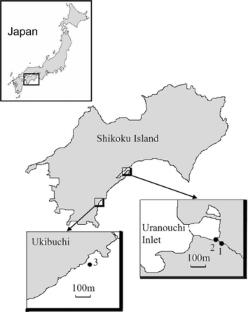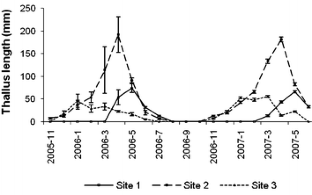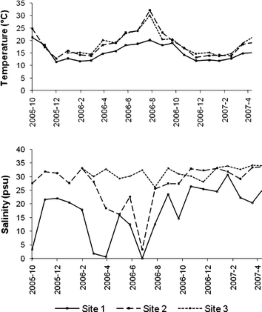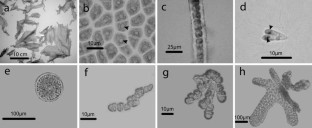 References
Abramoff, M. D., P. J. Magelhaes & S. J. Ram, 2004. Image processing with ImageJ. Biophotonics International 11: 36–42.

Blanchette, C. A., 1997. Size and survival of intertidal plants in response to wave action: a case study with Fucus gardneri. Ecology 78: 1563–1578.

Denny, M. & B. Gaylord, 2002. The mechanics of wave-swept algae. The Journal of Experimental Biology 205: 1355–1362.

Guiry, M. D. & G. M. Guiry, 2008. AlgaeBase. World-wide Electronic Publication, National University of Ireland, Galway. Retrieved from http://www.algaebase.org on 13th September, 2008.

Hua, W. H., E. Y. Xie & J. H. Ma, 2004. Life history of Monostroma latissimum. Acta Botanica Sinica 46: 457–462.

Iwamoto, K., 1960. On the four species of Monostroma in Tokyo Bay. Journal of Tokyo University of Fisheries 47: 93–101.

Kida, W., 1966. Studies on the morphology and ecology of Monostroma in Ise Bay and vicinity, Japan. Journal of Faculty of Fisheries, Prefectural University of Mie 7: 81–164 (in Japanese with English summary).

Kida, W., 1990. Culture of seaweeds—Monostroma. Marine Behavioral Physiology 16: 109–131.

Maeda, M. & M. Ohno, 1972. On the productivity of Monostroma (green algae) community in the natural and cultivated ground. Reports of the Usa Marine Biological Station 19: 1–13.

Miyake, K. & H. Kunieda, 1931. On the conjugation of gametes and the development of the zoospores in Ulvaceae. Journal of College of Agriculture, Imperial University of Tokyo 11: 341–357.

Molis, M., J. Körner, W. K. Young & H. K. Jeong, 2008. Specificity of inducible seaweed anti-herbivory defenses depends on identity of macroalgae and herbivores. Marine Ecology Progress Series 354: 97–105.

Ohno, M., 1971. The periodicity of gametes liberation in Monostroma. Proceedings of the 7th International Seaweed Symposium, Sapporo, Japan: 405–409.

Ohno, M., 1993. Cultivation of the green alga, Monostroma and Enteromorpha "aonori". In Ohno, M. & A. T. Critchley (eds), Seaweed Cultivation and Marine Ranching. Japan International Cooperation Agency, Yokosuka, Japan: 7–15.

Ohno, M., 1995. Cultivation of Monostroma nitidum (Chlorophyta) in a river estuary, southern Japan. Journal of Applied Phycology 7: 207–213.

Shimada, S., M. Hiraoka, S. Nabata, M. Iima & M. Masuda, 2003. Molecular phylogenetic analyses of the Japanese Ulva and Enteromorpha (Ulvales, Ulvophyceae), with special reference to the free-floating Ulva. Phycological Research 51: 99–108.

Sokal, R. R. & F. J. Rohlf, 1981. Biometry: the principles and practice of statistics in biological research. W.H. Freeman, New York.

Tamura, K., J. Dudley, M. Nei & S. Kumar, 2007. MEGA4: molecular evolutionary genetics analysis (MEGA) software version 4.0. Molecular Biology and Evolution 24: 1596–1599.

Tatewaki, M., 1969. Culture studies on the life history of some species of the genus Monostroma. Scientific Papers of the Institute of Algological Research. Hokkaido University, Japan 6: 1–56.

Toth, G. B., M. Karlsson & H. Pavia, 2007. Mesoherbivores reduce net growth and induce chemical resistance in natural seaweed populations. Oecologia 152: 245–255.

Vadas, R. L., S. Johnson & T. A. Norton, 1992. Recruitment and mortality of early post-settlement stages of benthic algae. British Phycological Journal 27: 331–351.

Weidner, K., B. G. Lages, B. A. P. Da Gama, M. Molis, M. Wahl & R. C. Pereira, 2004. Effect of mesograzers and nutrient levels on induction of defenses in several Brazilian macroalgae. Marine Ecology Progress Series 283: 113–125.

West, J. A. & D. L. McBride, 1999. Long-term and diurnal carpospore discharge patterns in the Ceramiaceae, Rhodomelaceae and Delesseriaceae (Rhodophyta). Hydrobiologia 398/399: 101–113.

Wittrock, V. B., 1866. Försök till en monographi öfver algslägtet Monostroma. Thesis, Uppsala University, Sweden: 1–66 (in Swedish).
Acknowledgements
The work of FB was made possible by Grant-in-Aid Doctoral Fellowship from the "Monbukagakusho" Ministry of Education, Science, Sports and Culture, Japanese Government. This paper was improved by comments from Dr. Gayle I. Hansen, Oregon State University, USA, Dr. Ichiro Mine, Kochi University, Japan, and two anonymous reviewers. We also thank Fishermen's Union of Shimanto City, Kochi Prefecture, Japan, for allowing us to use their administrative waters and Mr. Akihide Tokuyama for his help with maintenance of cultures. Part of this investigation was presented at the XIX International Seaweed Symposium, Kobe, Japan, during March 26–31, 2007.
Additional information
Handling editor: P. Viaroli
About this article
Cite this article
Bast, F., Shimada, S., Hiraoka, M. et al. Seasonality and thallus ontogeny of edible seaweed Monostroma latissimum (Kützing) Wittrock (Chlorophyta, Monostromataceae) from Tosa Bay, Kochi, Japan. Hydrobiologia 630, 161–167 (2009). https://doi.org/10.1007/s10750-009-9789-6
Received:

Revised:

Accepted:

Published:

Issue Date:

DOI: https://doi.org/10.1007/s10750-009-9789-6
Keywords