Abstract
Both fisheries exploitation and increased nutrient loadings strongly affect fish and shellfish abundance and production in estuaries. These stressors do not act independently; instead, they jointly influence food webs, and each affects the sensitivity of species and ecosystems to the other. Nutrient enrichment and the habitat degradation it sometimes causes can affect sustainable yields of fisheries, and fisheries exploitation can affect the ability of estuarine systems to process nutrients. The total biomass of fisheries landings in estuaries and semi-enclosed seas tends to increase with nitrogen loadings in spite of hypoxia, but hypoxia and other negative effects of nutrient over-enrichment cause declines in individual species and in parts of systems most severely affected. More thoroughly integrated management of nutrients and fisheries will permit more effective management responses to systems affected by both stressors, including the application of fisheries regulations to rebuild stocks negatively affected by eutrophication. Reducing fishing mortality may lead to the recovery of depressed populations even when eutrophication contributes to population declines if actions are taken while the population retains sufficient reproductive potential. New advances in modeling, statistics, and technology promise to provide the information needed to improve the understanding and management of systems subject to both nutrient enrichment and fisheries exploitation.
Access options
Buy single article
Instant access to the full article PDF.
US$ 39.95
Tax calculation will be finalised during checkout.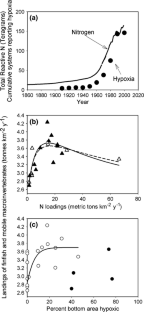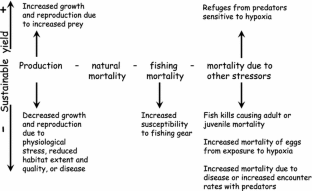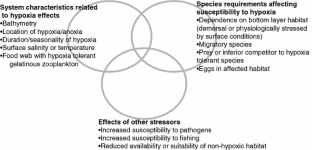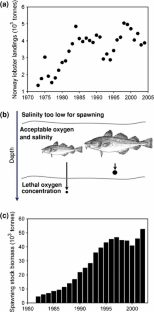 References
Albert, R. C., 1988. The historical context of water quality management for the Delaware Estuary. Estuaries 11: 99–107.

Anderson, R. S., L. L. Brubacher, L. M. Ragone Calvo, E. M. Burreson & M. A. Unger, 1998. Effect of in vitro exposure to tributyltin and hypoxia on the progression of Perkinsus marinus infections and host defense mechanism in oysters, Crassostrea virginica (Gmelin). Journal of Fish Diseases 21: 371–380.

Anderson, D. M., P. Andersen & V. M. Bricelj, 2001. Monitoring and management strategies for harmful algal blooms in coastal waters, APEC #201-MR-01.1. Asia Pacific Economic Program, Singapore, and Intergovernmental Oceanographic Commission Technical Series No. 59.

Baden, S. P., L. Pihl & R. Rosenberg, 1990. Effects of oxygen depletion on the ecology, blood physiology and fishery of the Norway lobster (Nephrops norvegicus L.). Marine Ecology Progress Series 67: 141–155.

Barrett, J. H., A. M. Locker & C. M. Roberts, 2004. The origins of intensive marine fishing in Medieval Europe: the English evidence. Proceedings of the Royal Society of London 271: 2417–2421.

Bascompte, J. & R. V. Sole, 1995. Rethinking complexity: modeling spatio-temporal dynamics in ecology. Trends in Ecology & Evolution 10: 361–366.

Bell, G. W., D. B. Egglseton & T. G. Wolcott, 2003. Behavioral responses of free-ranging blue crabs to episodic hypoxia. II. Feeding. Marine Ecology Progress Series 259: 227–235.

Birkeland, C. & P. K. Dayton, 2005. The importance in fishery management of leaving the big ones. Trends in Ecology & Evolution 20: 356–358.

Boesch, D. R., 2002. Challenges and opportunities for science in reducing nutrient over-enrichment of coastal ecosystems. Estuaries 25: 886–900.

Boynton, W. R., J. J. Garber, R. Summers & W. M. Kemp, 1995. Inputs, transformations and transport of nitrogen and phosphorus in Chesapeake Bay and selected tributaries. Estuaries 18: 285–314.

Brandt, S. B. & D. M. Mason, 1994. Landscape approaches for assessing spatial patterns in fish foraging and growth. In Stouder, D. J., K. L. Fresh & R. J. Feller (eds), Theory and Application of Fish Feeding Ecology. University of South Carolina Press, Columbia, SC: 211–240.

Breitburg, D. L., 1992. Episodic hypoxia in the Chesapeake Bay: interacting effects of recruitment, behavior and a physical disturbance. Ecological Monographs 62: 525–546.

Breitburg, D. L., 2002. Effects of hypoxia, and the balance between hypoxia and enrichment, on coastal fishes and fisheries. Estuaries 25: 767–781.

Breitburg, D. L. & G. F. Riedel, 2005. Multiple stressors in marine systems. In Norse, E. A. & L. B. Crowder (eds), Marine Conservation Biology: The Science of Maintaining the Sea's Biodiversity. Island Press, Washington, DC: 167–182.

Bricker, S. B., C. G. Clement, D. E. Pirhalla, S. P. Orlando & D. R. G. Farrow, 1999. National Estuarine Eutrophication Assessment. Effects of Nutrient Enrichment in the Nation's Estuaries. National Ocean Service, Special Projects Office and National Centers for Coastal Ocean Science, Silver Spring, MD.

Caddy, J. F., 1993. Toward a comparative evaluation of human impacts on fishery ecosystems of enclosed and semi-enclosed seas. Reviews in Fisheries Science 1: 57–95.

Caddy, J. F., 2000. Marine catchment basin effects versus impacts of fisheries on semi-enclosed seas. ICES Journal of Marine Science 57: 628–640.

Carvalho, G. R. & L. Hauser, 1994. Molecular genetics and the stock concept in fisheries. Reviews in Fish Biology and Fisheries 4: 326–350.

Chesapeake Bay Commission, 2003. The Cost of a Clean Bay. Assessing Funding Needs throughout the Watershed. Chesapeake Bay Commission, Annapolis, MD.

Christensen, V. & C. J. Walters, 2004. Ecopath with Ecosim: methods, capabilities and limitations. Ecological Modelling 172: 109–139.

Cloern, J. E., 2001. Our evolving conceptual model of the coastal eutrophication problem. Marine Ecology Progress Series 210: 223–253.

Cooke, S. J., S. G. Hinch, M. Wikelski, R. D. Andrews, L. J. Kuchel, T. G. Wolcott & P. J. Butler, 2004. Biotelemetry: a mechanistic approach to ecology. Trends in Ecology & Evolution 19: 334–343.

Cornwell, J. C., W. M. Kemp & T. M. Kana, 1999. Denitrification in coastal ecosystems: methods, environmental controls, and ecosystems level controls, a review. Aquatic Ecology 33: 41–54.

Craig, J. K. & L. B. Crowder, 2005. Hypoxia-induced habitat shifts and energetic consequences in Atlantic croaker and brown shrimp on the Gulf of Mexico shelf. Marine Ecology Progress Series 294: 79–94.

Craig, J. K., J. A. Rice, L. B. Crowder & D. A. Nadeau, 2007. Density-dependent growth and survival in juvenile estuarine fishes: an experimental approach with spot (Leiostomus xanthurus). Marine Ecology Progress Series 343: 251–262.

Cury, P., A. Bakun, R. J. M. Crawford, A. Jarre, R. A. Quinones, L. J. Shannon & H. M. Verheye, 2000. Small pelagics in upwelling systems: patterns of interactions and structural changes in 'wasp-waist' ecosystems. ICES Journal of Marine Science 57: 603–618.

DeAngelis, D. L. & W. M. Mooij, 2005. Individual-based modeling of ecological and evolutionary processes. Annual Review of Ecology, Evolution & Systematics 36: 147–168.

Debol'skaya, E. I., E. I. Yakushev & A. I. Sukhinov, 2005. Formation of fish kills and anaerobic conditions in the Sea of Azov. Water Resources 32: 151–162.

Deegan, L. A., 2002. Lessons learned: the effects of nutrient enrichment on the support of nekton by seagrass and salt marsh ecosystems. Estuaries 25: 727–742.

de Leiva Moreno, J. I., V. N. Agostini, J. F. Caddy & F. Carocci, 2000. Is the pelagic-demersal ratio from fishery landings a useful proxy for nutrient availability? A preliminary data exploration for the semi-enclosed seas around Europe. ICES Journal of Marine Science 57: 1091–1102.

Diaz, R. J., 2001. Overview of hypoxia around the world. Journal of Environmental Quality 30: 275–281.

Diaz, R. J. & R. Rosenberg, 1995. Marine benthic hypoxia: a review of its ecological effects and the behavioural responses of benthic macrofauna. Oceanography and Marine Biology Annual Review 33: 245–303.

Diaz, R. J. & R. Rosenberg, 2008. Spreading dead zones and consequences for marine ecosystems. Science 321: 926–929.

Eby, L. A., L. B. Crowder, C. M. McClellan, C. H. Peterson & M. J. Powers, 2005. Habitat degradation from intermittent hypoxia: impacts on demersal fishes. Marine Ecology Progress Series 291: 249–262.

Eggleston, D. B., G. W. Bell & A. D. Amavisca, 2005. Interactive effects of episodic hypoxia and cannibalism on juvenile blue crab mortality. Journal of Experimental Marine Biology and Ecology 325: 18–26.

Eriksson, S. P. & S. P. Baden, 1997. Behaviour and tolerance to hypoxia in juvenile Norway lobster (Nephrops norvegicus) of different ages. Marine Biology 128: 49–54.

Fulford, R. S., D. L. Breitburg, R. I. E. Newell, W. M. Kemp & M. Luckenbach, 2007. Effects of oyster population restoration strategies on phytoplankton biomass in Chesapeake Bay: a flexible modeling approach. Marine Ecology Progress Series 336: 43–61.

Gallaway, B. J., J. G. Cole & L. R. Martin, 2003. An evaluation of an electronic logbook as a more accurate method of estimating spatial patterns of trawling effort and bycatch in the Gulf of Mexico shrimp fishery. North American Journal of Fisheries Management 23: 787–809.

Gatto, M., 1991. Some remarks on models of plankton densities in lakes. American Naturalist 137: 264–267.

Ginzburg, L. & H. Akçakaya, 1992. Consequences of ratio-dependent predation for steady state properties of ecosystems. Ecology 73: 1536–1543.

Hart, D. R., 2002. Intraguild predation, invertebrate predators, and trophic cascades in lake food webs. Journal of Theoretical Biology 218: 111–128.

Hobbs, N. T. & R. Hilborn, 2006. Deepening ecological insight using contemporary statistics. Ecological Applications 16: 3–4.

Hoffman, E. E. & T. M. Powell, 1998. Environmental variability effects on marine fisheries: four case histories. Ecological Applications 8: S23–S32.

Houde, E. D. & E. S. Rutherford, 1993. Recent trends in estuarine fisheries: predictions of fish production and yield. Estuaries 16: 161–176.

Jackson, J. B. C., M. X. Kirby, W. H. Berger et al., 2001. Historical overfishing and the recent collapse of coastal ecosystems. Science 293: 629–638.

Jones, P. D., 2006. Water quality and fisheries in the Mersey estuary, England: a historical perspective. Marine Pollution Bulletin 53: 144–154.

Kennish, M. J., 2002. Environmental threats and environmental future of estuaries. Environmental Conservation 29: 78–107.

Kirby, M. X., 2004. Fishing down the coast: historical expansion and collapse of oyster fisheries along continental margins. Proceedings of the National Academy of Science 101: 13096–13099.

Köster, F. W., C. Möllmann, H.-H. Hinrichsen, J. Tomkiewicz, K. Wieland, G. Kraus, R. Voss, B. R. MacKenzie, D. Schnack, A. Makarchouk, M. Plikshs & J. E. Beyer, 2005. Baltic cod recruitment—the impact of climate variability on key processes. ICES Journal of Marine Science 62: 1408–1425.

Larson, F., 1997. Survival and growth of plaice (Pleuronectes platessa) larvae and juveniles in mats of Enteromorpha sp. The effects of algal exudates and nocturnal hypoxia. M.S. Thesis. Göteborg University, Sweden.

Limburg, K. E., M. L. Pace & K. K. Arend, 1999. Growth, mortality, and recruitment of larval Morone spp. in relation to food availability and temperatures in the Hudson River. Fishery Bulletin 97: 80–91.

Lotze, H. K., H. S. Lenihan, B. J. Bourque, R. H. Bradbury, R. G. Cooke, M. C. Kay, S. M. Kidwell, M. X. Kirby, C. H. Peterson & J. B. C. Jackson, 2006. Depletion, degradation, and recovery potential of estuaries and coastal seas. Science 163: 1806–1809.

Makris, N. C., P. Ratilal, D. T. Symonds, S. Jagannathan, S. Lee & R. W. Nero, 2006. Fish population and behavior revealed by instantaneous continental shelf-scale imaging. Science 311: 660–663.

Manel, S., M. K. Schwartz, G. Luikart & P. Taberlet, 2003. Landscape genetics: combining landscape ecology and population genetics. Trends in Ecology & Evolution 18: 189–197.

Massey, D. M., S. C. Newbold & B. Gentner, 2006. Valuing water quality changes using a bioeconomic model of a coastal recreational fishery. Journal of Environmental Economics and Management 52: 482–500.

McCann, K. S., A. Hastings & D. R. Strong, 1998. Trophic cascades and trophic trickles in pelagic food webs. Proceedings of the Royal Society of London B 265: 205–209.

McCauly, E., W. M. Murdoch & S. Watson, 1988. Simple models and variation in plankton densities among lakes. American Naturalist 132: 382–403.

McGillicuddy, D. J., L. A. Anderson, S. C. Doney & M. E. Maltrud, 2003. Eddy-driven sources and sinks of nutrients in the upper ocean: results from a 0.1° resolution model of the North Atlantic. Global Biogeochemical Cycles 17: 1–20.

Mee, L. D., J. Friedrich & M. T. Gomoiu, 2005. Restoring the Black Sea in times of uncertainty. Oceanography 18: 100–111.

Micheli, F., 1999. Eutrophication, fisheries, and consumer-resource dynamics in marine pelagic ecosystems. Science 285: 1396–1398.

Murawski, S. A., S. E. Wigley, M. J. Fogarty, P. J. Rago & D. G. Mountain, 2005. Effort distribution and catch patterns adjacent to temperate MPAs. ICES Journal of Marine Science 62: 1150–1167.

Nagai, T., 2003. Recovery of fish stocks in the Seto Inland Sea. Marine Pollution Bulletin 47: 126–131.

Naylor, R. L., R. J. Goldburd, J. H. Primavera, N. Kautsky, M. C. M. Beveridge, J. Clay, C. Folke, J. Lubchenco, H. Mooney & M. Troell, 2000. Effect of aquaculture on world fish supplies. Nature 405: 1017–1024.

Newell, R. I. E., 1988. Ecological changes in Chesapeake Bay: are they the result of overharvesting the American Oyster, Crassostrea virginica? Understanding the estuary: advances in Chesapeake Bay research. Chesapeake Research Consortium: 536–546.

Newell, R. I. E., 2004. Ecosystem influences of natural and cultivated populations of suspension-feeding bivalve molluscs: a review. Journal of Shellfish Research 23: 51–61.

Niklitschek, E. J. & D. H. Secor, 2005. Modeling spatial and temporal variation of suitable nursery habitats for Atlantic sturgeon in the Chesapeake Bay. Estuarine and Coastal Shelf Science 64: 135–148.

Nissling, A., H. Kryvi & L. Vallin, 1994. Variation in egg buoyancy of Baltic cod Gadus morhua and its implications for egg survival in prevailing conditions in the Baltic Sea. Marine Ecology Progress Series 110: 67–74.

Nixon, S. W., 1988. Physical energy inputs and the comparative ecology of lake and marine ecosystems. Limnology and Oceanography 33: 1005–1025.

Nixon, S. W., 1995. Coastal marine eutrophication: a definition, social causes and future concerns. Ophelia 41: 199–219.

Nixon, S. W. & B. A. Buckley, 2002. 'A strikingly rich zone'—nutrient enrichment and secondary production in coastal marine ecosystems. Estuaries 25: 782–796.

NRC, 2000. Clean Coastal Waters—Understanding and Reducing the Effects of Nutrient Pollution. National Research Council. National Academy Press, Washington, DC.

NRC, 2004. Nonnative Oysters in the Chesapeake Bay. National Research Council. National Academy Press, Washington, DC

Ocean US, 2002. Building Consensus: Toward an Integrated and Sustained Ocean Observing System (IOOS). Ocean US, Arlington, VA.

Oczkowski, A. & S. Nixon, 2008. Nutrient over-enrichment and the rise and fall of a coastal fishery; a review of data from the Nile Delta, Egypt. Estuarine, Coastal and Shelf Science 77: 309–319.

Oguz, T., 2005. Long-term impacts of anthropogenic forcing on the Black Sea ecosystem. Oceanography 18: 112–121.

Paine, R. T., M. J. Tegner & E. A. Johnson, 1998. Compounded perturbations yield ecological surprises. Ecosystems 1: 535–545.

Pauly, D., V. Christensen, J. Dalsgaard, R. Froese & F. Torres Jr., 1998. Fishing down marine food webs. Science 279: 860–863.

Peterson, C. H., H. C. Summerson, E. Thomson, H. S. Lenihan, J. Grabowski, L. Manning, F. Micheli & G. Johnson, 2000. Synthesis of linkages between benthic and fish communities as a key to protecting essential fish habitat. Bulletin of Marine Science 66: 759–774.

Pihl, L., S. P. Baden, R. J. Diaz & L. C. Schaffner, 1992. Hypoxia-induced structural changes in the diet of bottom-feeding fish and crustacean. Marine Biology 112: 349–361.

Pihl, L., I. Isaksson, H. Wennhage & P. O. Moksnes, 1995. Recent increase of filamentous algae in shallow Swedish bays: effects on the community structure of epibenthic fauna and fish. Aquatic Ecology 29: 349–358.

Pihl, L., J. Modin & H. Wennhage, 2005. Relating plaice (Pleuronectes platessa) recruitment to deteriorating habitat quality: effects of macroalgal blooms in coastal nursery grounds. Canadian Journal of Fisheries and Aquatic Science 62: 1184–1193.

Pitcher, T. J., 2001. Fisheries managed to rebuild ecosystems? Reconstructing the past to salvage the future. Ecological Applications 11: 601–617.

Pomeroy, L. R., C. F. D'Elia & L. C. Schaffner, 2006. Limits to top-down control on phytoplankton by oysters in Chesapeake Bay. Marine Ecology Progress Series 325: 301–309.

Rabalais, N. N. & R. E. Turner, 2001. Coastal hypoxia: Consequences for living resources and ecosystems. American Geophysical Union, Washington, DC.

Richards, P. R. & P. J. Rago, 1999. A case history of effective fishery management: Chesapeake Bay striped bass. North American Journal of Fisheries Management 19: 356–375.

Rose, K. A., J. H. Cowan, K. O. Winemiller, R. A. Myers & R. Hilborn, 2001. Compensatory density-dependence in fish populations: importance, controversy, understanding, and prognosis. Fish and Fisheries 2: 293–327.

Rose, K. A., B. A. Megrey, D. Hay, F. Werner & J. Schweigert, 2008. Climate regime effects on Pacific Herring growth using coupled nutrient-phytoplankton-zooplankton and bioenergetics models. Transactions of the American Fisheries Society 137: 278–297.

Rosenthal, H., 1985. Constraints and perspectives in aquaculture development. GeoJournal 10: 305–324.

Roy, D., G. D. Haffner & S. B. Brandt, 2004. Estimating fish production potentials using a temporally explicit model. Ecological Modelling 173: 241–257.

Runge, J. A., P. J. S. Franks, W. C. Gentleman, B. A. Megrey, K. A. Rose, F. E. Werner & B. Zakardjian, 2004. Diagnosis and prediction of variability in secondary production and fish recruitment processes: developments in physical-biological modelling. In Robinson, A. R. & K. Brink (eds), The Global Coastal Ocean: Multi-Scale Interdisciplinary Processes, Vol. 13, The Sea. Harvard University Press, Cambridge, MA

Scheffer, M., S. Carpenter, J. A. Foley, C. Folke & B. Walker, 2001. Catastrophic shifts in ecosystems. Nature 413: 591–596.

Secor, D. H., 2000. Longevity and resilience of Chesapeake Bay striped bass. ICES Journal of Marine Science 57: 808–815.

Secor, D. H. & J. R. Waldman, 1999. Historical abundance of Delaware Bay Atlantic sturgeon and potential rate of recovery. American Fisheries Society Symposium 23: 203–216.

Secor, D. H., E. D. Houde & D. M. Montelone, 1995. A mark-release experiment on larval striped bass Morone saxatillis in a Chesapeake Bay tributary. ICES Journal of Marine Science 52: 87–101.

Seitzinger, S. P., C. Kroeze, A. F. Bouwman, N. Caraco, F. Dentener & R. V. Styles, 2002. Global patterns of dissolved inorganic and particulate nitrogen inputs to coastal systems: recent conditions and future projections. Estuaries 25: 640–655.

Selberg, C. D., L. A. Eby & L. B. Crowder, 2001. Hypoxia in the Neuse River Estuary: responses of blue crabs and crabbers. North American Journal of Fisheries Management 21: 358–366.

Smith, J. W., 2001. Distribution of catch in the Gulf menhaden, Brevoortia patronus, purse seine fishery in the northern Gulf of Mexico from logbook information: are there relationships to the hypoxic zone? In Rabalais, N. N. & R. E. Turner (eds), Coastal Hypoxia: Consequences for Living Resources and Ecosystems. Coastal and Estuarine Studies 58, American Geophysical Union: 311–320.

Stierhoff, K. L., T. E. Targett & K. Miller, 2006. Ecophysiological responses of juvenile summer and winter flounder to hypoxia: experimental and modeling analyses of effects on estuarine nursery quality. Marine Ecology Progress Series 325: 255–266.

Stierhoff, K. L., T. E. Targett & J. H. Power, in press. Hypoxia-induced growth limitation of juvenile fishes in an estuarine nursery: assessment of small-scale temporal dynamics using RNA:DNA. Canadian Journal of Fisheries and Aquatic Science.

Svendsen, J., K. Aarestrup, J. F. Steffensen & J. Herskin, 2006. Use of a novel acoustic dissolved oxygen transmitter for fish telemetry. Marine Technology Society Journal 40: 103–108.

Szedlmayer, S. T., 1997. Ultrasonic telemetry of red snapper, Lutjanus campechanus, at artificial reef sites in the northeast Gulf of Mexico. Copeia 4: 846–850.

Szmant, A. E., 2002. Nutrient enrichment on coral reefs: is it a major cause of coral reef decline? Estuaries 25: 743–766.

Thiel, R., A. Sepulveda, R. Kafemann & W. Nellen, 1995. Environmental factors as forces structuring the fish community of the Elbe Estuary. Journal of Fish Biology 46: 47–69.

Thomas, M., 1998. Temporal changes in the movements and abundance of Thames estuary fish populations. In Attrill, M. J. (ed.), A Rehabilitated Estuarine Ecosystem. Kluwer Academic Publishers, Dordrecht: 115–139.

Tinsley, D., 1998. The Thames estuary: a history of the impact of humans on the environment and a description of the current approach to environmental management. In Attrill, M. J. (ed.), A Rehabilitated Estuarine Ecosystem. Kluwer Academic Publishers, Dordrecht: 5–26.

Turchin, P., 1995. Population regulation: old arguments and a new synthesis. In Cappuccino, N. & P. W. Price (eds), Population Dynamics: New Approaches and Synthesis. Academic Press, New York: 19–40.

Tyler, R. M. & T. E. Targett, 2007. Juvenile weakfish Cynoscion regalis distribution in relation to diel-cycling dissolved oxygen in an estuarine tributary. Marine Ecology Progress Series 333: 257–269.

Vallin, L. & A. Nissling, 2000. Maternal effects on eggs size and egg buoyancy of Baltic cod, Gadus morhua—implications for stock structure effects on recruitment. Fisheries Research 49: 21–37.

Venables, W. M. & C. M. Dichmont, 2004. GLMS, GAMS, and GLMMs: an overview of theory for applications in fisheries research. Fisheries Research 70: 319–337.

Walker, N. D. & N. N. Rabalais, 2006. Relationships among satellite chlorophyll a, river inputs and hypoxia on the Louisiana continental shelf, Gulf of Mexico. Estuaries and Coasts 29: 1081–1093.

Weisberg, S. B., H. T. Wilson, P. Himchak, T. Baum & R. Allen, 1996. Temporal trends in abundance of fish in the tidal Delaware River. Estuaries 19: 723–729.

Wu, R. S., B. S. Zhou, D. J. Randall, N. Y. S. Woo & P. K. S. Lam, 2003. Aquatic hypoxia is an endocrine disrupter and impairs fish reproduction. Environmental Science and Technology 37: 1137–1141.
Acknowledgments
This manuscript is the result of a workshop held in 2005 at the Smithsonian Environmental Research Center and a keynote address by D. Breitburg at the Eutro2006 Symposium in Denmark. We thank NOAA-Center for Sponsored Coastal Ocean Research and the Smithsonian Marine Science Network for workshop funding, and the organizers of Eutro2006 for the wide-range sharing of ideas they fostered. We would especially like to thank L. Pihl, S. Hannsen, and S. Baden for sharing their insight on the Baltic, Kattegat, and Skagerrak systems, D. Boesch for providing raw data for Fig. 1a, and L. Davias and D. Hondorp for help in identifying and analyzing data on nutrient loadings, the spatial extent of hypoxia, and fisheries landings. We also thank many persons listed in the supplementary material—Appendix—who provided data or access to data summarized in Fig. 1b and c.
Additional information
Guest editors: J. H. Andersen & D. J. Conley
Eutrophication in Coastal Ecosystems: Selected papers from the Second International Symposium on Research and Management of Eutrophication in Coastal Ecosystems, 20–23 June 2006, Nyborg, Denmark
Electronic supplementary material
Below is the link to the electronic supplementary material.
About this article
Cite this article
Breitburg, D.L., Craig, J.K., Fulford, R.S. et al. Nutrient enrichment and fisheries exploitation: interactive effects on estuarine living resources and their management. Hydrobiologia 629, 31–47 (2009). https://doi.org/10.1007/s10750-009-9762-4
Keywords
Eutrophication

Hypoxia

Fisheries

Estuary

Management