Abstract
Female mate preferences effectuate reproductive isolation among and sexual selection within species. Both mechanisms have been associated with the diversification and speciation of cichlid species flocks of the East African Great Lakes. In Lake Tanganyika, the endemic genus Tropheus has diversified into >100 geographic colour morphs. Although distributed allopatrically at present, water level fluctuations have repeatedly displaced and merged the benthic, rock-dwelling populations. Tests for assortative mating were performed to explore the potential for reproductive isolation between morphs in secondary contact, and to assess the importance of sexual selection for the diversification of this group. In contrast to other haplochromine cichlids, Tropheus is a sexually monochromatic, territorial and maternally mouthbrooding fish, which establishes temporary pair bonds prior to spawning. Female mate preference trials involved two-way choices between a homotypic and a heterotypic male and were conducted on allopatric populations of red and blue morphs from the southern part of Lake Tanganyika. Female affiliation time near each male's compartment did not predict the mate preferences subsequently expressed in unrestrained interactions after removal of the compartment separators (spawning, pseudospawning and courtship). Consequently, mate preferences were inferred from unrestrained interactions with one test male at a time in replicate observation sessions. Of the 23 females tested, 13 courted, pseudospawned or spawned with the homotypic male, one blue female courted a red male, and nine females expressed no sexual motivation. The assortative mate preferences in the experiments (P < 0.01) suggest that colour differentiation between Tropheus populations can effectuate reproductive isolation, and is consistent with the notion that sexual selection contributed to the diversification of the genus.
Access options
Buy single article
Instant access to the full article PDF.
US$ 39.95
Tax calculation will be finalised during checkout.
Subscribe to journal
Immediate online access to all issues from 2019. Subscription will auto renew annually.
US$ 119
Tax calculation will be finalised during checkout.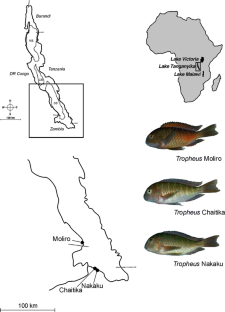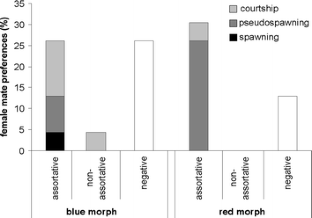 References
Amundsen, T. & E. Forsgren, 2001. Male mate choice selects for female colouration in a fish. Proceedings of the National Academy of Sciences USA 98: 13155–13160.

Andersson, M., 1994. Sexual Selection. Princeton University Press, Princeton.

Arnegard, M. E. & A. S. Kondrashov, 2004. Sympatric speciation by sexual selection alone is unlikely. Evolution 58: 222–237.

Aspbury, A. & A. Basolo, 2002. Repeatable female preferences, mating order and mating success in the poeciliid fish, Heterandria formosa. Behavioral Ecology and Sociobiology 51: 238–244.

Baric, S., W. Salzburger & C. Sturmbauer, 2003. Phylogeography and evolution of the Tanganyikan cichlid genus Tropheus based upon mitochondrial DNA sequences. Journal of Molecular Evolution 56: 54–68.

Benson, K. E. & A. L. Basolo, 2006. Male–male competition and the sword in male swordtails, Xiphophorus helleri. Animal Behaviour 71: 129–134.

Candolin, U. & J. D. Reynolds, 2001. Sexual signaling in the European bitterling: females learn the truth by direct inspection of the resource. Behavioral Ecology 12: 407–411.

Carvajal-Rodriguez, A. & E. Rolán-Alvarez, 2006. JMATING: a software for the analysis of sexual selection and sexual isolation effects from mating frequency data. BMC Evolutionary Biology 6: 40.

Clement, T. S., K. E. Grens & R. D. Fernald, 2004. Female affiliative preference depends on reproductive state in the African cichlid fish, Astatotilapia burtoni. Behavioral Ecology 16: 83–88.

Couldridge, V. C. K. & G. J. Alexander, 2001. Does the time spent near a male predict female mate choice in a Malawian cichlid? Journal of Fish Biology 59: 667–672.

Couldridge, V. C. K. & G. J. Alexander, 2002. Colour patterns and species recognition in four closely related species of Lake Malawi cichlid. Behavioral Ecology 13: 59–64.

Coyne, J. A., S. Elwyn & E. Rolán-Alvarez, 2005. Impact of experimental design on Drosophila sexual isolation studies: direct effects and comparison to field hybridization data. Evolution 59: 2588–2601.

Devon, T. & T. Slagsvold, 2005. When and from whom do female pied flycatchers (Ficedula hypoleuca) solicit copulations. Behaviour 142: 1059–1076.

Egger, B., B. Obermüller, H. Phiri, C. Sturmbauer & K. M. Sefc, 2006. Monogamy in the maternally mouthbrooding Lake Tanganyika cichlid fish Tropheus moorii. Proceedings of the Royal Society of London. Series B 273: 1797–1802.

Egger, B., S. Koblmüller, C. Sturmbauer & K. M. Sefc, 2007. Nuclear and mitochondrial data reveal different evolutionary processes in the Lake Tanganyika cichlid genus Tropheus. BMC Evolutionary Biology 7: 137.

Forsgren, E., 1997. Mate sampling in a population of sand gobies. Animal Behaviour 53: 267–276.

Gabor, C., 1999. Association patterns of sailfin mollies (Poecilia latipinna): alternative hypotheses. Behavioural Ecology and Evolution 46: 333–340.

Hargeby, A. & J. Erlandsson, 2006. Is size-assortative mating important for rapid pigment differentiation in a freshwater isopod? Journal of Evolutionary Biology 19: 1911–1919.

Jordan, R., K. Kellogg, F. Juanes & J. J. Stauffer, 2003. Evaluation of female mate choice cues in a group of Lake Malawi Mbuna (Cichlidae). Copeia 1: 181–186.

Kidd, M. R., P. D. Danley & T. D. Kocher, 2006. A direct assay of female choice in cichlids: all the eggs in one basket. Journal of Fish Biology 68: 373–384.

Knight, M. E. & G. F. Turner, 1999. Reproductive isolation among closely related Lake Malawi cichlids: can males recognize conspecific females by visual cues? Animal Behaviour 58: 761–768.

Knight, M. E. & G. F. Turner, 2004. Laboratory mating trials indicate incipient speciation by sexual selection among populations of the cichlid fish Pseudotropheus zebra from Lake Malawi. Proceedings of the Royal Society of London Series B 271: 675–680.

Kodric-Brown, A. & U. Strecker, 2001. Responses of Cyprinodon maya and C labiosus females to visual and olfactory cues of conspecific and heterospecific males. Biological Journal of the Linnean Society 74: 541–548.

Kohda, M., K. Sasaki, Y. Sakai, N. Ohnishi & K. Matsumoto, 2005. Preliminary study on female choice of mates versus sites in a wrasse, Cirrhilabrus temminckii. Ichthyological Research 52: 406–409.

Konings, A., 1998. Tanganyika Cichlids in Their Natural Habitat. Cichlid Press, El Paso.

Kraaijeveld, K., J. Gregurke, C. Hall, J. Komdeur & R. A. Mulder, 2004. Mutual ornamentation, sexual selection, and social dominance in the black swan. Behavioral Ecology 15: 380–389.

Ludlow, A. M., M. Itzkowitz & D. R. Baird, 2001. Male mating success and female preferences for multiple traits in the twoline pupfish (Cyprinodon bifasciatus). Behaviour 138: 1303–1318.

Maan, M. E., O. Seehausen, L. Söderberg, L. Johnson, E. A. P. Ripmeester, H. D. J. Mrosso, M. I. Taylor, T. J. M. Van Dooren & J. J. M. Van Alphen, 2004. Intraspecific sexual selection on a speciation trait, male colouration, in the Lake Victoria cichlid Pundamilia nyererei. Proceedings of the Royal Society of London, Series B 271: 2445–2452.

Martin, J., 2004. Hormonal and physiological profiles of female Haplochromis burtoni as it relates to affiliative behavior. Stanford Undergraduate Research Journal 3: 55–61.

McElroy, D. M. & I. Kornfield, 1990. Sexual selection, reproductive behavior, and speciation in the mbuna species flock of Lake Malawi (Pisces: Cichlidae). Environmental Biology of Fishes 28: 273–284.

McLennan, D. A., 2004. Male brook sticklebacks' (Culaea inconstans) response to olfactory cues. Behaviour 141: 1411–1424.

McLennan, D. A. & M. J. Ryan, 1999. Interspecific recognition and discrimination based upon olfactory cues in northern swordtails. Evolution 53: 880–888.

Nelissen, M., 1976. Contribution to the ethology of Tropheus moorii Boulenger (Pisces, Cichlidae) and a discussion of the significance of its colour pattern. Revue de Zoologie Africaine 90: 17–29.

Ólafsdóttir, G. Á., M. G. Ritchie & S. S. Snorrason, 2006. Positive assortative mating between recently described sympatric morphs of Icelandic sticklebacks. Biology Letters 2: 250–252.

Olsson, M., 2001. No female choice in Mallee dragon lizards, Ctenophorus fordi. Evolutionary Ecology 15: 129–141.

Parri, S., R. V. Alatalo, J. Kotiaho & J. Mappes, 1997. Female choice for male drumming in the wolf spider Hygrolycosa rubrofasciata. Animal Behaviour 53: 305–312.

Pauers, M. J., J. S. McKinnon & T. J. Ehlinger, 2004. Directional sexual selection on chroma and within-pattern colour contrast in Labeotropheus fuelleborni. Proceedings of the Royal Society of London, Series B 271: 444–447.

Payne, R. B., L. L. Payne, J. L. Woods & M. D. Sorenson, 2000. Imprinting and the origin of parasite-host species associations in brood parasitic indigobirds Vidua chalybeata. Animal Behaviour 59: 69–81.

Plenderleith, M., C. Van Oosterhout, R. L. Robinson & G. F. Turner, 2005. Female preference for conspecific males based on olfactory cues in a Lake Malawi cichlid fish. Biology Letters 1: 411–414.

Rolán-Alvarez, E., J. Erlandsson, K. Johannesson & R. Cruz, 1999. Mechanisms of incomplete prezygotic reproductive isolation in an intertidal snail: testing behavioural models in wild populations. Journal of Evolutionary Biology 12: 879–890.

Rolán-Alvarez, E. & A. Caballero, 2000. Estimating sexual selection and sexual isolation effects from mating frequencies. Evolution 54: 30–36.

Salzburger, W., T. Mack, E. Verheyen & A. Meyer, 2005. Out of Tanganyika: genesis, explosive speciation, key-innovations and phylogeography of the haplochromine cichlid fishes. BMC Evolutionary Biology 5: 17.

Salzburger, W., H. Niederstätter, A. Brandstätter, B. Berger, W. Parson, J. Snoeks & C. Sturmbauer, 2006. Colour-assortative mating among populations of Tropheus moorii, a cichlid fish from Lake Tanganyika, East Africa. Proceedings of the Royal Society of London Series B 273: 257–266.

Santangelo, N., 2005. Courtship in the monogamous convict cichlid: what are individuals saying to rejected and selected mates? Animal Behaviour 69: 143–149.

Sargent, R. C., V. N. Rush, B. D. Wisenden & H. Y. Yan, 1998. Courtship and mate choice in fishes: integrating behavioral and sensory ecology. American Zoologist 38: 82–96.

Scholz, C. & B. Rosendahl, 1988. Low lake stands in Lakes Malawi and Tanganyika, East Africa, delineated with multifold seismic data. Science 240: 1645–1648.

Schupke, P., 2003. African Cichlids II: Tanganyika I: Tropheus. Aqualog A. C. S Gmbh, Rodgau.

Schwarz, D. & B. A. McPheron, 2007. When ecological isolation breaks down: sexual isolation is an incomplete barrier to hybridization between Rhagoletis species. Evolutionary Ecology Research 9: 829–841.

Seehausen, O., 1997. Distribution of and reproductive isolation among colour morphs of a rock-dwelling Lake Victoria cichlid (Haplochromis nyererei). Ecology of Freshwater Fish 6: 59–66.

Seehausen, O. & J. J. M. Van Alphen, 1998. The effect of male colouration on female mate choice in closely related Lake Victoria cichlids (Haplochromis nyererei complex). Behavioural Ecology and Sociobiology 42: 1–8.

Seehausen, O. & D. Schluter, 2004. Male-male competition and nuptial-colour displacement as a diversifying force in Lake Victoria cichlid fishes. Proceedings of the Royal Society of London, Series B 271: 1345–1353.

Seehausen, O., F. Witte, J. J. M. Van Alphen & N. Bouton, 1998. Direct mate choice maintains diversity among sympatric cichlids in Lake Victoria. Journal of Fish Biology 53: 37–55.

Sefc, K. M., 2008. Variance in reproductive success and the opportunity for selection in a serially monogamous species: simulations of the mating system of Tropheus (Teleostei: Cichlidae). Hydrobiologia. doi:10.1007/s10750-008-9563-1.

Sefc, K. M., S. Baric, W. Salzburger & C. Sturmbauer, 2007. Species-specific population structure in rock-specialized sympatric cichlid species in Lake Tanganyika, East Africa. Journal of Molecular Evolution 64: 33–49.

Setchell, J. M., 2005. Do female mandrills prefer brightly coloured males? International Journal of Primatology 26: 715–735.

Snoeks, J., L. Rüber & E. Verheyen, 1994. The Tanganyika problem: comments on the taxonomy and distribution patterns of its cichlid fauna. Archiv für Hydrobiologie Beiheft Ergebnisse der Limnologie 44: 355–372.

Sturmbauer, C. & A. Meyer, 1992. Genetic divergence, speciation and morphological stasis in a lineage of African cichlid fishes. Nature 358: 578–581.

Sturmbauer, C. & R. Dallinger, 1995. Diurnal variation of spacing and foraging behaviour in Tropheus moorii (Cichlidae) in Lake Tanganyika, Eastern Africa. Netherlands Journal of Zoology 45: 386–401.

Sturmbauer, C., U. Hainz, S. Baric, E. Verheyen & W. Salzburger, 2003. Evolution of the tribe Tropheini from Lake Tanganyika: synchronized explosive speciation producing multiple evolutionary parallelism. Hydrobiologia 500: 51–64.

Sturmbauer, C., S. Koblmüller, K. M. Sefc & N. Duftner, 2005. Phylogeographic history of the genus Tropheus, a lineage of rock-dwelling cichlid fishes endemic to Lake Tanganyika. Hydrobiologia 542: 335–366.

Summers, K., R. Symula, M. Clough & T. Cronin, 1999. Visual mate choice in poison frogs. Proceedings of the Royal Society of London, Series B 266: 2141–2145.

Werner, N. Y. & A. Lotem, 2003. Choosy males in a haplochromine cichlid: first experimental evidence for male mate choice in a lekking species. Animal Behaviour 66: 293–298.

West-Eberhart, M. J., 1983. Sexual selection, social competition, and speciation. The Quarterly Review of Biology 58: 155–183.

White, D. J. & B. G. J. Galef, 1999. Affiliative preferences are stable and predict mate choices in both sexes of Japanese quail, Coturnix japonica. Animal Behaviour 58: 865–871.

Wickler, W., 1969. Zur Soziologie des Brabantbuntbarsches, Tropheus moorei (Pisces, Cichlidae). Zeitschrift für Tierpsychologie 26: 967–987.

Wiernasz, D. C., 1995. Male choice on the basis of female melanin pattern in Pieris butterflies. Animal Behaviour 49: 45–51.

Wong, B. B. M., J. S. Keogh & M. D. Jennions, 2004. Mate recognition in a freshwater fish: geographical distance, genetic differentiation, and variation in female preference for local over foreign males. Journal of Evolutionary Biology 17: 701–708.

Wong, B. B. M., H. S. Fisher & G. G. Rosenthal, 2005. Species recognition by male swordtails via chemical cues. Behavioral Ecology 16: 818–822.

Yanagisawa, Y. & M. Nishida, 1991. The social and mating system of the maternal mouthbrooder Tropheus moorii (Cichlidae) in Lake Tanganyika. Japanese Journal of Ichthyology 38: 271–282.
Acknowledgements
We thank the organisers of SIAL IV (Berlin, 2006) for an outstanding symposium and the editors for their efforts in compiling this special issue. We also thank two anonymous reviewers for their suggestions on data analysis and presentation. The work was supported by the Austrian Science Foundation (Grant P17380-B06).
Additional information
Guest editors: T. Wilke, R. Väinölä & F. Riedel
Patterns and Processes of Speciation in Ancient Lakes: Proceedings of the Fourth Symposium on Speciation in Ancient Lakes, Berlin, Germany, September 4–8, 2006
About this article
Cite this article
Egger, B., Obermüller, B., Eigner, E. et al. Assortative mating preferences between colour morphs of the endemic Lake Tanganyika cichlid genus Tropheus . Hydrobiologia 615, 37 (2008). https://doi.org/10.1007/s10750-008-9564-0
Keywords
Mate preference

Assortative mating

Cichlids

Sexual selection

Tropheus

Colour divergence