Abstract
The Freshwater Animal Diversity Assessment (FADA) project aims at compiling an overview of genus- and species-level diversity of animals in the continental, aquatic ecosystems of the world. It is a collective effort of 163 experts, and presents 59 articles treating the diversity and endemism of different animal taxa, ranging from microscopic worms to mammals, at global and regional scales. Given their structural importance, an article on macrophytes is also added. Here, we give an overview of the project's history, and outline the common framework of the various articles, as well as the conventions the experts agreed to adhere to in their treatises. Furthermore, we briefly introduce future prospects.
This is a preview of subscription content, log in to check access.
Access options
Buy single article
Instant access to the full article PDF.
US$ 39.95
Price includes VAT for USA
Subscribe to journal
Immediate online access to all issues from 2019. Subscription will auto renew annually.
US$ 199
This is the net price. Taxes to be calculated in checkout.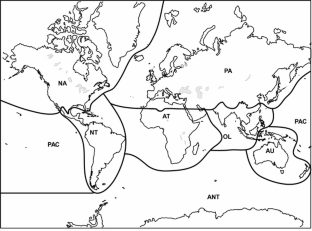 Notes
1.

Micrognathozoa, a monotypic taxon of moss-dwelling microscopic organisms of which only two disjunct records exist (Disco Island, Greenland and the subantarctic Crozet Islands: De Smet, 2002), is not treated in a full article.
References
Balian, E., H. Segers, C. Lévêque & K. Martens, 2007. Freshwater Animal Diversity Assessment. http://www.Fada.Biodiversity.be (20 November 2007).

Cox, C. B., 2001. The biogeographic regions reconsidered. Journal of Biogeography 28(4): 511–523.

De Smet, W. H., 2002. A new record of Limnognathia maerski Kristensen & Funch, 2000 (Micrognathozoa) from the subantarctic Crozet Islands, with redescription of the trophi. Journal of Zoology, London 258: 381–393.

Dudgeon, D., A. H. Arthington, M. O. Gessner, Z. Kawabata, D. J. Knowler, C. Lévêque, R. J. Naiman, A. Prieur-Richard, D. Soto, M. L. J. Stiassny & C. A. Sullivan, 2006. Freshwater biodiversity: Importance, threats, status and conservation challenges. Biological Reviews 81: 163–182.

Groombridge, B. & M. Jenkins, 1998. Freshwater Biodiversity: A Preliminary Global Assessment. World Conservation Monitoring Centre, Cambridge, U.K.

Groombridge, B. & M. Jenkins, 2000. Global Biodiversity. Earth's Living Resources in the 21st Century. World Conservation Monitoring Centre, Cambridge, U.K.

IUCN, 2006. 2006 IUCN Red List of Threatened Species. http://www.iucnredlist.org (20 November 2007).

Lévêque, C., E. V. Balian & K. Martens, 2005. An assessment of animal species diversity in continental water systems. Hydrobiologia 542: 39–67.

Myers, N., R. A. Mittermeier, C. G. Mittermeier, G. A. B. da Fonseca & J. Kent, 2000. Biodiversity hotspots for conservation priorities. Nature 403: 853–858.

Postel, S., & S. Carpenter, 1997. Freshwater ecosystem services. In: Daily, G. C. (ed.), Nature's Services: Societal Dependence on Ecosystem Services. Island Press, Washington D.C., U.S.A., 195–214.

Postel, S. & B. Richter, 2003. Rivers for Life: Managing Water for People and Nature. Island Press, Washington D.C., U.S.A.

Revenga, C. & Y. Kura, 2003. Status and Trends of Biodiversity of Inland Water Ecosystems. Secretariat of the Convention on Biological Diversity, Montreal, Technical Series 11.

Segers, H., 2007. Annotated checklist of the rotifers (Phylum Rotifera) with notes on nomenclature, taxonomy and distribution. Zootaxa 1564: 1–104.

Wallace, A. R. 1876. The Geographical Distribution of Animals, 2 vol. Harper, New York, xxiii + 503, xi + 553 pp. (reprinted 1962, Hafner, New York).
Acknowledgements
We are greatly indebted to all experts involved in the project, who contributed their expertise and passion to the daunting task of producing the present volume, and who always showed patience and enthusiasm despite the delays and difficulties encountered during the publishing process. Also, we gratefully acknowledge the numerous reviewers who offered their time and precious advice to improve the contributions.
The project was supported by the Belgian Science Policy, the Belgian Biodiversity Platform, and the Royal Belgian Institute of Natural Sciences.
About this article
Cite this article
Balian, E.V., Segers, H., Lévêque, C. et al. An introduction to the Freshwater Animal Diversity Assessment (FADA) project. Hydrobiologia 595, 3–8 (2008). https://doi.org/10.1007/s10750-007-9235-6
Keywords
Global biodiversity

Endemism

Metazoa

Aquatic

Non-marine

Freshwater

Review