Abstract
In this study we compared the biodiversity of five waterbody types (ditches, lakes, ponds, rivers and streams) within an agricultural study area in lowland England to assess their relative contribution to the plant and macroinvertebrate species richness and rarity of the region. We used a Geographical Information System (GIS) to compare the catchment areas and landuse composition for each of these waterbody types to assess the feasibility of deintensifying land to levels identified in the literature as acceptable for aquatic biota. Ponds supported the highest number of species and had the highest index of species rarity across the study area. Catchment areas associated with the different waterbody types differed significantly, with rivers having the largest average catchment sizes and ponds the smallest. The important contribution made to regional aquatic biodiversity by small waterbodies and in particular ponds, combined with their characteristically small catchment areas, means that they are amongst the most valuable, and potentially amongst the easiest, of waterbody types to protect. Given the limited area of land that may be available for the protection of aquatic biodiversity in agricultural landscapes, the deintensification of such small catchments (which can be termed microcatchments) could be an important addition to the measures used to protect aquatic biodiversity, enabling 'pockets' of high aquatic biodiversity to occur within working agricultural landscapes.
Access options
Buy single article
Instant access to the full article PDF.
USD 39.95
Price excludes VAT (USA)
Tax calculation will be finalised during checkout.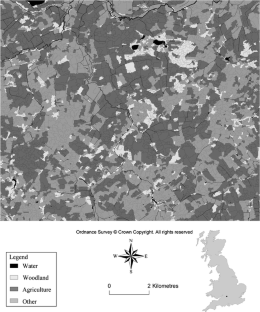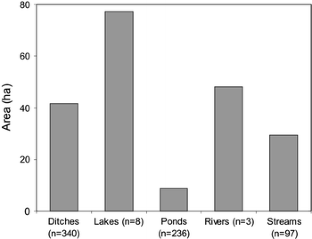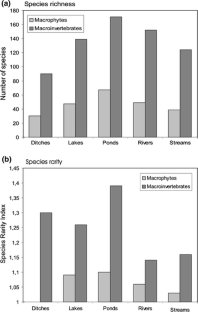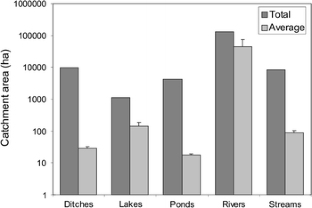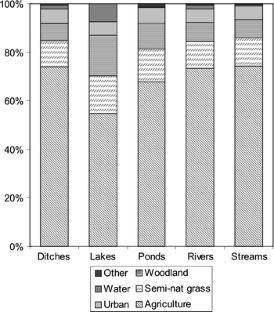 References
Allan, J. D., 2004. Landscapes and riverscapes: the influence of land use on stream ecosystems. Annual Review of Ecology, Evolution and Systematics 35: 257–284.

Allan, J. D., D. L Erickson & J. Fay, 1997. The influence of catchment land use on stream integrity across multiple spatial scales. Freshwater Biology 37: 149–161.

Armitage, P. D., K. Szoszkiewicz, J. H. Blackburn & I. Nesbitt, 2003. Ditch communities: a major contributor to floodplain biodiversity. Aquatic Conservation: Marine and Freshwater Ecosystems 13: 165–185.

Biggs, J., P. Williams, M. Whitfield, P. Nicolet, C. Brown, J. Hollis, S. Maund, D. Arnold & T. Pepper, 2003. Aquatic Ecosystems in the UK Agricultural Landscape. Report on Project PN0931. Defra, London.

Biggs, J., P. Williams, M. Whitfield, P. Nicolet, C. Brown, J. Hollis, D. Arnold & T. Pepper, 2007. The freshwater biota of British agricultural landscapes and their sensitivity to pesticides. Agriculture Ecosystems and Environment 122: 137–148.

Borin, M., E. Bigon, G. Zanin & L. Fava, 2004. Performance of a narrow buffer strip in abating agricultural pollutants in the shallow subsurface water flux. Environmental Pollution 131: 313–321.

Borin, M., M. Vianello, F. Morari & G. Zanin, 2005. Effectiveness of buffer strips in removing pollutants in runoff from a cultivated field in North-East Italy. Agriculture, Ecosystems and Environment 105: 101–114.

Brown, C. D., N. Turner, J. Hollis, P. Bellamy, J. Biggs, P. Williams, D. Arnold, T. Pepper & S. Maund, 2006. Morphological and physico-chemical properties of British aquatic habitats potentially exposed to pesticides. Agriculture, Ecosystems and Environment 113: 307–319.

Clay, J., 2004. World Agriculture and the Environment: A Commodity by Commodity Guide to Impacts and Practices. Island Press, Washington DC.

Collinson, N., J. Biggs, A. Corfield, M. J. Hodson, D. Walker, M. Whitfield & P. J. Williams, 1995. Temporary and permanent ponds: an assessment of the effects of drying out on the conservation value of aquatic macroinvertebrate communities. Biological Conservation 74: 125–134.

Cresser, M. S., R. Smart, M. F. Billet, C. Soulsby, C. Neal, A. Wade, S. Langan & A. C. Edwards, 2000. Modelling water chemistry for a major Scottish river from catchment attributes. Journal of Applied Ecology 37: 171–184.

Davies, B. R., J. Biggs, P. Williams, M. Whitfield, P. Nicolet, D. Sear, S. Bray & S. Maund, in press. Comparative biodiversity of aquatic habitats in the European agricultural landscape. Agriculture, Ecosystems and Environment. doi:10.1016/j.agee.2007.10.006.

De Bie, T., S. Declerck, L. De Meester, K. Martens & L. Brendonck, 2008. A comparative analysis of cladoceran communities from different water body types: patterns in community composition and diversity. Hydrobiologia. doi:10.1007/s10750-007-9222-y

Declerck, S., T. De Bie, D. Ercken, H. Hampel, S. Schrijvers, J. Van Wichelen, V. Gillard, R. Mandiki, B. Losson, D. Bauwens, S. Keijers, W. Vyverman, B. Goddeeris, L. De Meester, L. Brendonck & K. Martens, 2006. Ecological characteristics of small farmland ponds: associations with land use practices at multiple spatial scales. Biological Conservation 131: 523–532.

Donald, P. F. & A. D. Evans, 2006. Habitat connectivity and matrix restoration: the wider implications of agri-environment schemes. Journal of Applied Ecology 43: 209–218.

Donohue, I., M. L. McGarrigle & P. Mills, 2006. Linking catchment characteristics and water chemistry with the ecological status of Irish rivers. Water Research 40: 91–98.

Dosskey, M., 2002. Setting priorities for research on pollution reduction functions of agricultural buffers. Environmental Management 30: 641–650.

Environment Agency, 2006. Concise Register of Gauging Stations. Retrieved March 29th 2006 from http://www.nwl.ac.uk/ih/nrfa/station_summaries/op/EA-Thames2.html

ESRI, 2001. ESRI Support Centre: Hydro Data Model [available for download from the World Wide Web at: http://www.support.esri.com/index.cfm?fa=downloads.dataModels.filteredGateway&dmid=15]

Fitzpatrick, F. A., B. C. Scudder, B. N. Lenz & D. J. Sullivan, 2001. Effects of multi-scale environmental characteristics on agricultural stream biota in eastern Wisconsin. Journal of the American Water Resources Association 37: 1289–1507.

Foley, J. A., R. DeFries, G. P. Asner, C. Barford, G. Bonan, S. R. Carpenter, F. S. Chapin, M. T. Coe, G. C. Daily, H. K. Gibbs, J. H. Helkowski, T. Holloway, E.A. Howard, C. J. Kucharik, C. Monfreda, J. A. Patz, C. Prentice, N. Ramankutty & P. K. Snyder, 2005. Global consequences of land use. Science 309: 570–574.

Foster, G. N., A. P. Foster, M. D. Eyre & D. T. Bilton, 1990. Classification of water beetle assemblages in arable fenland and ranking of sites in relation to conservation value. Freshwater Biology 22: 343–354.

Harding, J. S., E. F. Benfield, P. V. Bolstad, G. S. Helfman & E. B. D Jones, 1998. Stream biodiversity: the ghost of land use past. Proceeding of the National Academy of Sciences, USA 95: 14843–14847.

Host, G. E., C. Richards, L. B. Johnson & R. J. Haro, 1997. Catchment and reach-scale properties as indicators of macroinvertebrate species traits. Freshwater Biology 37: 219–230.

Hynes, H. B. N., 1975. The stream and its valley. Verhandlungen der Internationale Vereingigung Fur Limnology 19: 1–15.

Johnes, P., B. Moss & G. Phillips, 1994. Lakes – Classification and Monitoring. Environment Agency R&D Note 253. Environment Agency, Bristol.

Johnson, R. K. & W. Goedkoop, 2002. Littoral macroinvertebrate communities: spatial scale and ecological relationships. Freshwater Biology 47: 1840–1854.

Johnson, R. K., W. Goedkoop & L. Sandin, 2004. Spatial scale and ecological relationships between the macroinvertebrate communities of stony habitats of streams and lakes. Freshwater Biology 49: 1179–1194.

Quinn, J. M., 2000. Effect of pastoral development. In Collier, K. J. & M. J. Winterbourn (eds), New Zealand Stream Invertebrates: Ecology and Implications for Management. Caxton, Christchurch, New Zealand.

Lund, J. W. G. & C. S. Reynolds, 1982. The development and operation of large limnetic enclosures in Blenham Tarn, English Lake District, and their contribution to phytoplankton ecology. Progress in Phycological Research 1: 2–65.

McRae, S. E., J. D. Allan & J. B. Burch, 2004. Reach- and catchment-scale determinants of the distribution of freshwater mussels (Bivalvia: Unionidae) in south-eastern Michigan, U.S.A. Freshwater Biology 49: 127–142.

Moss, B., P. Johnes & G. Phillips, 1996. The monitoring of ecological quality and the classification of standing waters in temperate regions: a review and proposal based on a worked scheme for British Waters. Biological Reviews 71: 301–339.

Muir, R., 1999. Approaches to Landscape. Macmillan, Basingstoke.

Painter, D., 1999. Macroinvertebrate distributions and the conservation value of aquatic Coleoptera, Mollusca and Odonata in the ditches of traditionally managed and grazing fen at Wicken Fen, UK. Journal of Applied Ecology 36: 33–48.

Schmitt, T. J., M. G. Dosskey & K. D. Hoagland, 1999. Filter strip performance and processes for different vegetation, widths and contaminants. Journal of Environmental Quality 28: 1479–1489.

Tong, S. T. Y. & W. Chen, 2002. Modelling the relationship between landuse and surface water quality. Journal of Environmental Management 66: 377–393.

Wang, L. Z., J. Lyons, P. Kanehl & R. Gatti, 1997. Influences of watershed land use on habitat quality and biotic integrity in Wisconsin streams. Fisheries 22: 6–12.

Wiley, M. J., S. L. Kohler & P. W. Seelbach, 1997. Reconciling landscape and local views of aquatic communities; lessons from Michigan trout streams. Freshwater Biology 37: 133–148.

Williams, P., M. Whitfield, J. Biggs, S. Bray, G. Fox, P. Nicolet & D. Sear, 2004. Comparative biodiversity of rivers, streams, ditches and ponds in an agricultural landscape in Southern England. Biological Conservation 115: 329–341.

Williams, P., M. Whitfield & J. Biggs, 2008. How can we make new ponds biodiverse? A case study monitored over seven years. Hydrobiologia. doi:10.1007/s10750-007-9224-9

Yates, A. G., R. C. Bailey & J. A. Schwindt, 2006. No-till cultivation improves stream ecosystem quality. Journal of Soil and Water Conservation 61: 14–19.
Acknowledgements
The authors would like to thank Glen Hart and the Ordnance Survey for provision of MasterMap and Landform Profile data and Geoff Smith and CEH Monks Wood for provision of Land Cover Map 2000 data. We are also grateful to Steven Declerck and two anonymous referees for very useful comments on an earlier draft of this text.
Additional information
Guest editors: R. Céréghino, J. Biggs, B. Oertli & S. Declerck
The ecology of European ponds: defining the characteristics of a neglected freshwater habitat
About this article
Cite this article
Davies, B.R., Biggs, J., Williams, P.J. et al. A comparison of the catchment sizes of rivers, streams, ponds, ditches and lakes: implications for protecting aquatic biodiversity in an agricultural landscape. Hydrobiologia 597, 7–17 (2008). https://doi.org/10.1007/s10750-007-9227-6
Published:

Issue Date:

DOI: https://doi.org/10.1007/s10750-007-9227-6
Keywords
Watershed

Microcatchment

Aquatic biodiversity

Agri-environment schemes

Diffuse pollution