Abstract
The cardinal tetra (Paracheirodon axelrodi) is the most abundant species of the Brazilian ornamental fish trade, constituting more than 80% of the ornamental fish collected in the middle Negro River basin. Stable isotope analyses were used to identify the autotrophic carbon sources and trophic position for the cardinal in relation to the plant groups at the base of its foodchain. Filamentous algae, tree and plant leaves and cardinals were collected in stream habitats, flooded forest and interfluvial swamps (campos) during peak flood, falling water and low water periods. δ15N values of the cardinal in relation to the plants at the base of the food chain indicated a trophic position of omnivore. Values of δ13C for the plants ranged from −43.1 to −26.4‰, with averages of −37.6, −30.4, and −29.4‰ for filamentous algae, flooded forest leaves, and campo leaves, respectively. The δ13C values for the cardinal ranged from −35.0 to −27.9‰, with an average of −31.4‰. Relative contributions of plants to fish carbon were estimated in a two end-member mixing model which determined that the leaves (flooded forest and campo leaves combined) and filamentous algae had average relative contributions to cardinal carbon of 71% and 29%, respectively. However, seasonal variation in the relative contributions was encountered throughout the hydrological cycle. The cardinals least enriched in 13C were encountered in November during the falling water period, indicating that they had perhaps recently migrated down from interfluvial campos where filamentous algae production is significant. Considering that algal production has been reported to be less than 1% of total primary production in the Negro River, these results could suggest some evidence of selective herbivory in the cardinal's food chain.
Access options
Buy single article
Instant access to the full article PDF.
USD 39.95
Price includes VAT (USA)
Tax calculation will be finalised during checkout.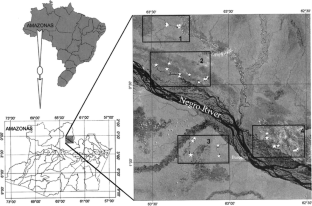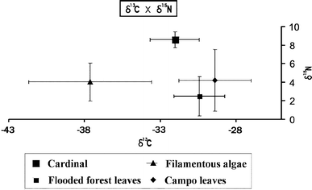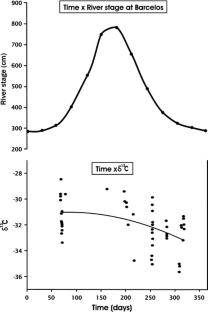 References
Adis, J., K. Furch & U. Irmler, 1979. Litter production of a Central Amazonian blackwater inundation forest. Tropical Ecology 20: 236–245.

Araújo-Lima, C. A.R. M., B. R. Forsberg, R. L. Victoria & L. A. Martinelli, 1986. Energy sources for detritivorous fishes in the Amazon. Science 234: 1256–1258.

Bade, D. L., M. L. Pace, J. J. Cole & S. R. Carpenter, 2006. Can algal photosynthetic inorganic carbon isotope fractionation be predicted in lakes using existing models? Aquatic Science 68: 142–153.

Bayley, P. B., 1989. Aquatic environments in the Amazon Basin, with an analysis of carbon sources, fish production, and yield. In: Dodge, D. P. (eds), Proceedings of the International Large River Symposium, Vol. 106. Canadian Special Publication of Fisheries and Aquatic Science 106: 399–408.

Benedito-Cecílio, E., C. A. R. M. Araújo-Lima, B. R. Forsberg, M. M. Bittencourt & L. A. Martinelli, 2000. Carbon sources of amazonian fisheries. Fisheries Management and Ecology 7: 305–315.

Chao, N. L., G. Prang & P. Petry, 2001. The fishery diversity and conservation of ornamental fishes in the Rio Negro Basin, Brasil: A review of Project Piaba (1989–1999). In: Chao N. L., P. Prang, L. Sonnenschein & M. T. Tlusty (eds), Conservation and Management of Ornamental Fish Resources of the Rio Negro Basin, Amazônia, Brazil–Project Piaba. EDUA, Manaus, 161–204.

DeNiro, M. J. & S. Epstein, 1978. Influence of diet on the distribution of carbon isotopes in animals. Geochimica et Cosmochimica Acta 42: 495–506.

Finlay, J. C., 2001. Stable-carbon-isotope ratios of river biota: implications for energy flow in lotic food webs. Ecology 82: 1052–1064.

Fisher, S. J., M. L. Brown & D. W. Willis, 2001. Temporal food web variability in an upper Missouri River backwater: energy origination points and transfer mechanisms. Ecology of Freshwater Fish 10: 154–167.

Forsberg, B. R., C. A. R. M. Araújo-Lima, L. A. Martinelli, R. L. Victoria & J. A. Bonassi, 1993. Autotrophic carbon sources for fish of the central Amazon. Ecology 74: 643–652.

Forsberg, B. R., J. G. D. Castro, E. Cargnin-Ferreira & A. Rosenqvist, 2001. The structure and function of the Negro River ecosystem: insights from the Jaú Project. In: Chao N. L., P. Prang, L. Sonnenschein, M. T. Tlusty (eds), Conservation and Management of Ornamental Fish Resources of the Rio Negro Basin, Amazonia, Brazil – Project Piaba. EDUA, Manaus, 125–144.

Franken, W., U. Irmler & H. Klinge, 1979. Litter fall in inundation, riverine and terra firme forests of Central Amazonia. Tropical Ecology 20: 226–235.

Fry, B. & E. B. Sherr, 1984. δ13C measurements as indicators of carbon flow in marine and freshwater ecosystems. Contributions in Marine Science 27: 13–47.

Geisler, R. & S. R. Annibal, 1986. Ecology of the cardinal-tetra Paracheirodon axelrodi (Pisces, Characoidea) in the river basin of the Rio Negro/Brazil as well as breeding-related factors. Animal Research and Development 23: 7–39.

Goulding, M., M. L. Carvalho & E. G. Ferreira, 1988. Rio Negro, Rich Life in Poor Water. Academic Publishing, The Netherlands.

Hamilton, S. K., W. M. Lewis Jr. & S. J. Sippel, 1992. Energy sources for aquatic animals in the Orinoco river floodplain: evidence from stable isotopes. Oecologia 89: 324–330.

Hecky, R. E. & R. H. Hesslein, 1995. Contributions of benthic algae to lake food webs as revealed by stable isotope analysis. Journal of North America Benthological Society, 14: 631–653.

James, M. R., I. Hawes, M. Weatherhead, C. Stanger & M. Gibbs, 2000. Carbon flow in the littoral food web of an oligotrophic lake. Hydrobiologia 441: 93–106.

Jepsen, D. B. & K. O. Winemiller, 2002. Structure of tropical river food webs revealed by stable isotope ratios. Oikos 96: 46–55.

Junk, W.J., M. G. M. Soares & U. Saint-Paul, 1997. The fish. In: Junk, W. J. (eds), The Central Amazon Floodplain. Ecological Studies, Vol. 126. Springer-Verlag, Berlin Heidelberg, 385–408.

Lewis W. M. Jr., S. K. Hamilton, M. A. Rodriguez et al., 2001. Food web analysis of the Orinoco floodplain based on production estimates and stable isotope data. Journal of North American Benthological Society 20: 241–254.

McCutchan J. H. Jr., W. M. Lewis Jr., C. Kendall & C. C. McGrath, 2003. Variation in trophic shift for stable isotope ratios of carbon, nitrogen, and sulfur. Oikos 102: 378–390.

Marshall, B. G., 2004. Fontes autotróficas de energia para Paracheirodon axelrodi (Osteichthyes, Characidae) na bacia do médio rio Negro. Master's dissertation. INPA/UFAM, Manaus, AM, Brasil, 61.

Melack, J. M.; B. R. Forsberg, 2001. Biogeochemistry of Amazon floodplain lakes and associated wetlands. In McCain, M. E., R. L. Victoria, J. E. Richey (eds), The Biogeochemistry of the Amazon Basin and its Role in a Changing World. University Press, Oxford.

Murkin, H. R., 1989. The basis for food chains in wetlands. In: van der Valk A. G. (eds) Northern Prairie Wetlands. Iowa State University Press, Ames, IA, 316–338.

Peterson, B. J. & B. Fry, 1987. Stable isotopes in ecosystem studies. Annual Review on Ecology and Systematics 18: 293–320.

Prang, G., 2002. A caboclo society in the middle Rio Negro Basin: Ecology, economy, and history of an ornamental fishery in the State of Amazonas, Brazil. PhD thesis, 303 pp., Wayne State University, Detroit, Michigan, 186–190.

Prang, G., 2004. Social and economic change in Amazonia: the case of ornamental fish collection in the Rio Negro basin. In Nugent S., & M. Harris (eds), Some Other Amazonians: Perspectives on Modern Amazonia. Institute for the Study of the Americas, London, 57–80.

Putz, R. & W.J. Junk,1997. Phytoplankton and Periphyton. In Junk, W.J. (ed.), The Central Amazon Floodplain. Ecological Studies, Vol. 126. Springer-Verlag, Berlin Heidelberg, 207–219.

Richey, J. E., A. H. Devol, S. C. Wofsy, R. Victoria & M. N. G. Ribeiro, 1988. Biogenic gases and the oxidationa and reduction of carbon in Amazon River and floodplain waters. Limnology and Oceanography 33: 551–561.

Stallard, R. F. & J. M. Edmond, 1983. Geochemistry of the Amazon. 2. The influence of geology and weathering environment on the dissolved load. Journal of Geophysical Research 88: 9671–9688.

Thomé-Souza, M. J. F., 2005. Fontes autotróficas de energia para peixes do canal principal e quelônios ao longo da bacia do médio rio Negro, Amazônia, Brasil. PhD thesis, 78 pp. INPA/UFAM, Manaus, AM, Brasil, 29–33.

Thorp, J. H. & M. D. Delong, 2002. Dominance of autochthonous autotrophic carbon in food webs of heterotrophic rivers. Oikos 96: 543–550.

Vadeboncoeur, Y., E. Jeppesen, M. J. VanderZanden, H. H. Schierup, K. Christoffersen & D. M. Lodge, 2002. From Greenland to green lakes: cultural eutrophication and the loss of benthic pathways in lakes. Limnology and Oceanography 48: 1408–1418.

Waichman, A. V., 1996. Autotrophic carbon sources for heterotrophic bacterioplankton in a floodplain lake of central Amazon. Hydrobiologia 341: 27–36.

Walker, I., P. A. Henderson & P. Sterry, 1991. On the patterns of biomass transfer in the benthic fauna of an amazonian blackwater river, as evidenced by 32P label experiment. Hydrobiologia 215: 153–162.

Walker, I., 1995. Amazonian streams and small rivers. In Tundisi J. G., C. E. Bicudo & T. Matsumura-Tundisi (eds), Limnology in Brasil. Academia Brasileira de Ciências, Rio de Janeiro, 167–193.

Walker, I., 2004. The food spectrum of the cardinal-tetra (Paracheirodon axelrodi, Characidae) in its natural habitat. Acta Amazonica 34: 69–73.

Winemiller, K. O., 1993. Reproductive seasonality in livebearing fishes inhabiting rainforest streams. Oecologia 95: 266–276.

Winemiller, K. O., 1998. Effects of seasonality and fish movement on tropical river food webs. Oecologia 53: 267–296.
Acknowledgments
We thank R. Peleja, C. Pinheiro, A. Carneiro and C.M. Silva for help in sample collection, Centro de Energia Nuclear na Agricultura (CENA) for isotopic analysis, Warley Arruda for technical support, and INPA (Instituto Nacional de Pesquisas da Amazônia), Phil and Ruth Marsteller (Amazon Tours), N.L. Chao (Projeto Piaba) and Dr. John Melack (UCSB) for financial and logistical support. Thanks are also due to IBAMA (Brazil) for conceding the research permits (permit#s 46.6098/2001-4 and 02005.001273/03, with extension received in 05/2004). This work was supported by Project PRONEX, Project LBA/NASA and CNPq.
Additional information
Handling editor: J. M. Melack
About this article
Cite this article
Marshall, B.G., Forsberg, B.R. & Thomé-Souza, M.J.F. Autotrophic energy sources for Paracheirodon axelrodi (Osteichthyes, Characidae) in the middle Negro River, Central Amazon, Brazil. Hydrobiologia 596, 95–103 (2008). https://doi.org/10.1007/s10750-007-9060-y
Received:

Revised:

Accepted:

Published:

Issue Date:
Keywords
Negro River

Cardinal tetra

Carbon and nitrogen stable isotopes

Autotrophic energy sources

Filamentous algae

Interfluvial swamps