Abstract
Oribatid mites are primarily terrestrial. Only about 90 species (less than 1% of all known oribatid species) from 10 genera are truly aquatic, with reproduction and all stages of their life cycle living in freshwater. Adaptation to aquatic conditions evolved independently in different taxa. However, many terrestrial species can also be found in aquatic habitats, either as chance stragglers from the surrounding habitats, or from periodic or unpredictable floodings, where they can survive for long periods. In spite of their low species richness aquatic oribatids can be very abundant in different freshwater habitats as in lentic (pools, lakes, water-filled microhabitats) or flowing waters (springs, rivers, streams), mainly on submerged plants. The heavily sclerotized exoskeletons of several species enables subfossil or fossil preservation in lakes or bog sediments.
Access options
Buy single article
Instant access to the full article PDF.
US$ 39.95
Tax calculation will be finalised during checkout.
Subscribe to journal
Immediate online access to all issues from 2019. Subscription will auto renew annually.
US$ 119
Tax calculation will be finalised during checkout.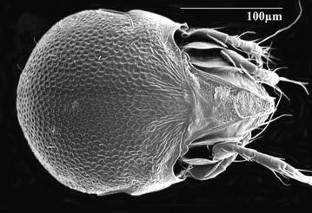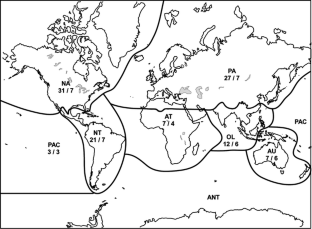 References
Adis, J. & B. Messner, 1991. Langzeit-Überflutungsresistenz als Überlebensstrategie bei terrestrischen Arthropoden – Beispiele aus zentralamazonischen Überschwemmungsgebieten. Deutsche Entomologische Zeitschrift, Neue Folge 38: 211–223.

Baker, G. T. & D. C. Wighton, 1984. Fossil aquatic Oribatid mites (Acari, Oribatida, Hydrozetidae, Hydrozetes) from the Paleocene of South-Central Alberta, Canada. Canadian Entomologist 116: 773–775.

Balogh, J. & S. Mahunka, 1979. New taxa in the system of the Oribatida (Acari). Acta Zoologica Academiae Scientiarum Hungaricae 71: 279–290.

Behan-Pelletier, V. M. & B. Eamer, 2007. Aquatic Acari: ecology, morphology ad behaviour. In Morales-Malacara, J. B., V. M. Behan-Pelletier, E. Ueckermann, T. M. Pérez, E. Estrada, C. Gispert & M. Badii (eds), Acarology XI: Proceedings of the International Congress. Instituto de Biología UNAM; Facultad de Ciencias, UNAM; Sociedad Latinoamericana de Acarología, México (in press).

Bernini, F., G. Carnevale, G. Bagnoli & S. Stouge, 2002. An early Ordovician oribatid mite (Acari: Oribatida) from the island of Öland, Sweden. In Bernini, F., R. Nannelli, G. Nuzzaci & E. De Lillo (eds), Acarid Phylogeny and Evolution: Adapation in Mites and Ticks. Proceedings of the IV Symposium of the European Association of Acarologists, Siena 2000. Kluwer Academic Publishers, Dordrecht, Boston, London: 45–47.

Bücking, J., H. Ernst & F. Siemer, 1998. Population dynamics of phytophagous mites inhabiting rocky shores – K-strategists in an extreme environment? In Ebermann, E. (ed.), Arthropod Biology: Contributions to Morphology, Ecology and Systematics. Biosystematics and Ecology Series 14: 93–143.

Colloff, M. J. & R. B. Halliday, 1998. Oribatid Mites: a Catalogue of the Australian Genera and Species. Monographs on Invertebrate Taxonomy, Vol. 6. CSIRO Publishing, Melbourne, 224 pp.

Deichsel, R., (2005): A morphometric analysis of the parthenogenetic oribatid mites Hydrozetes lacustris and Hydrozetes parisiensis – sister species or morphotypes? Phytophaga 14(2004): 377–382.

Druk, A. Ja., 1982. Beetle mites of certain types of bogs in the Moscow Region. In Soil Invertebrates of the Moscow Region. Nauka Publishers, Moscow: 72–77 (in Russian).

Erickson, J. M., 1988. Fossil oribatid mites as tools for Quarternary palaeoecologists: preservation quality, quantities, and taphonomy. Bulletin of the Buffalo Society of Natural Sciences 33: 207–226.

Erickson, J. M., 1996. Can Palaeacarology contribute to global change research? In Mitchell, R., D. J. Horn, G. R. Needham & W. Calvin Welbourn (eds), Acarology IX – Proceedings. Ohio Biological Survey, Columbus, Ohio, vol. 1: 533–537.

Erickson, J. M., R. B. Platt Jr. & D. H. Jennings, 2003. Holocene fossil oribatid mite biofacies as proxies of palaeohabitat at the Hiscock site, Byron, New York. Bulletin of the Buffalo Society of Natural Sciences 37: 176–189.

Fernandez, N. A. & F. Athias-Binche, 1986. Analyse demographique d'une population d'Hydrozetes lemnae Coggi, Acarien Oribate infeode a la lentille d'eau Lemna gibba L. en Argentine. I. Methodes et techniques, demographie d' H. lemnae comparaisons avec d'autre Oribates. Zoologisches Jahrbuch Systematik 113: 213–228.

Grandjean, F., 1948. Sur les Hydrozetes (Acariens) de l'Europe occidentale. Bulletin du Museum national d' Histoire naturelle 20(2): 328–335.

Grandjean, F., 1954. Essai de classification des Oribates (Acariens). Bulletin de la Societé Zoologique de France 78(1953): 421–446.

Grandjean, F., 1965. Complément à mon travail de 1953 sur la classification des Oribates. Acarologia 7: 713–734.

Grandjean, F., 1969. Considérations sur le classement des Oribates. Leur division en 6 groupes majeurs. Acarologia 11: 127–153.

Grandjean, F., 1970. Stases. Actinopiline. Rappel de ma classification des Acariens en 3 groupes majeurs. Terminologie en soma. Acarologia 11: 796–827.

Hammer, M., 1965. Are low temperatures a species-preserving factor? Acta Univ. Lundensis, Section II 2:1–10.

Haumann, G., 1991. Zur Phylogenie primitiver Oribatiden, Acari: Oribatida. dbv Verlag für die Technische Universität Graz, Acari: 237 pp.

Krivolutsky, D. A., A. Ja. Druk, I. S. Ejtminaviciute, L. M. Laskova & E. Karppinen, 1990. Fossil Oribatid Mites. Mokslas Publishers, Vilnius: 109 pp. (in Russian).

Labandeira, C. C., T. L. Phillips & R. A. Norton, 1997. Oribatid mites and the decomposition of plant tissues in paleozoic coal swamp forests. Palaios 12: 319–353.

Maraun, M., M. Heethoff, S. Scheu, R. A. Norton, G. Weigmann & R. H. Thomas, 2003. Radiation in sexual and parthenogenetic oribatid mites (Oribatida, Acari) as indicated by genetic divergence of closely related species. Experimental and Applied Acarology 29: 265–277.

Maraun, M., M. Heethoff, K. Schneider, S. Scheu, G. Weigmann, J. Cianciolo, R. H. Thomas & R. A. Norton, 2004. Molecular phylogeny of oribatid mites (Oribatida, Acari): evidence for multiple radiations of parthenogenetic lineages. Experimental and Applied Acarology 33: 183–201.

Norton, R. A., 1984. Monophyletic groups in the Enarthronota (Sarcoptiformes). In Griffiths, D. A. & C. E. Bowman (eds), Acarology VI. Horwood, Chichester, Vol. 1: 233–240.

Norton, R. A., 1994. Evolutionary aspects of oribatid mite life histories and consequences for the origin of the Astigmata. In Houck, M. (ed.), Mites. Ecological and Evolutionary Analyses of Life-history Patterns. Chapman and Hall, New York: 99–135.

Norton, R. A., 1998. Morphological evidence for the evolutionary origin of Astigmata (Acari: Acariformes). Experimental Applied Acarology 22: 559–594.

Norton R. A., P. M. Bonamo, J. D. Grierson & W. A. Shear, 1988a. Oribatid mite fossils from a terrestrial Devonian deposit near Gilboa, New York. Journal of Paleontolology 62: 259–269.

Norton, R. A., J. B. Kethley, D. E. Johnston & B. M. OConnor, 1993. Phylogenetic perspectives on genetic systems and reproductive modes of mites. In Wrensch, D. L. & M. A. Ebbert (eds), Evolution and Diversity of Sex Ratio in Insects and Mites. Chapman and Hall, New York: 8–99.

Norton, R. A. & S. C. Palmer, 1991. The distribution, mechanisms and evolutionary significance of parthenogenesis in oribatid mites. In Schuster, R. & P. W. Murphy (eds), The Acari – Reproduction, Development and Life-history Strategies. Chapman and Hall, London, New York: 107–136.

Norton, R. A., D. D. Williams, I. D. Hogg & S. C. Palmer, 1988b. Biology of the oribatid mite Mucronothrus nasalis (Acari: Oribatida: Trhypochthoniidae) from a small coldwater springbrook in Eastern Canada. Canadian Journal of Zoology 66: 622–629.

Piffl, E., 1978. Oribatei. In Illies, J. (ed.), Limnofauna Europaea, 2nd Ed., Fischer, Stuttgart, New York: 182–183.

Pugh, P. J. A., 1996. Edaphic oribatid mites (Cryptostigmata: Acarina) associated with an aquatic moss on sub-Antarctic South Georgia. Pedobiologia 40: 113–117.

Schatz, H., 1985. The life cycle of an alpine Oribatid mite, Oromurcia sudetica Willmann. Acarologia 26: 95–100.

Schatz, H., 2002. Die Oribatidenliteratur und die beschriebenen Oribatidenarten (1758–2001) – Eine Analyse. Abhandlungen und Berichte des Naturkunde Museums Görlitz 74: 37–45.

Schatz, H., 2005. Diversity and global distribution of oribatid mites – evaluation of the present state of knowledge. Phytophaga 14(2004): 485–500.

Schatz, H., & R. Gerecke, 1996. Hornmilben (Acari, Oribatida) aus Quellen und Quellbächen im Nationalpark Berchtesgaden (Oberbayern) und in den Südlichen Alpen (Trentino – Alto Adige). Berichte des naturwissenschaftlich-medizinischen Vereins Innsbruck 83: 121–144.

Schelvis, J., 1990. The reconstruction of local environments on the basis of remains of oribatid mites (Acari: Oribatida). Journal of Archaeological Science 17: 559–572.

Schneider, K., K. Renker, S. Scheu & M. Maraun, 2005. Feeding biology of oribatid mites: a mini review. Phytophaga 14(2004): 247–256.

Sivhed, U., & J. A. Wallwork, 1978. An early jurassic Oribatid mite from Southern Sweden. Geologiska Föreningen i Stockholm Förhandlingar 100: 65–70.

Solhøy, T., 2001. Oribatid mites. In Smol, J. P., J. B. Birks & W. M. Last (eds), Tracking Environmental Change Using Lake Sediments, Vol. 4. Zoological Indicators. Kluwer Academic Publishers, Dordrecht, The Netherlands: 81–104.

Solhøy, I. W., & T. Solhøy, 2000. The fossil oribatid mite fauna (Acari, Oribatida) in late glacial and early holocene sediments in Krakenes Lake, Western Norway. Journal of Paleolimnology 23: 35–47.

Søvik, G., 2004. The biology and life history of arctic populations of the littoral mite Ameronothrus lineatus (Acari, Oribatida). Experimental and Applied Acarology 34: 3–20.

Subias, L. S., 2004. Listado sistemático, sinonímico y biogeográfico de los Ácaros Oribátidos (Acarifomes, Oribatida) del mundo (1748–2002). Graellsia 60: 3–305.

Walter, D. E. & H. C. Proctor, 1999. Mites. Ecology, Evolution and Behaviour. CABI Publishing, Wallingford, New York, Sydney: 322 pp.

Weigmann, G., 1997. Die Hornmilben-Fauna (Acari, Oribatida) in Auenböden des Unteren Odertals. Faunistisch-ökologische Mitteilungen 7: 319–333.

Weigmann, G., 2005. Recovery of the oribatid mite community in a flood plain after decline due to long time inundation. Phytophaga 14(2004): 201–208.

Weigmann, G., 2006. Hornmilben (Oribatida). Die Tierwelt Deutschlands, 76. Teil. Goecke & Evers, Keltern, 520 pp.

Weigmann, G. & R. Deichsel, 2006. Acari: Limnic Oribatida. In Gerecke, R. (ed.), Chelicerata: Araneae, Acari I. Süßwasserfauna von Mitteleuropa, Vol. 7/2-1. Spektrum, München: 89–112.
Additional information
Guest editors: E. V. Balian, C. Lévêque, H. Segers & K. Martens
Freshwater Animal Diversity Assessment
About this article
Cite this article
Schatz, H., Behan-Pelletier, V. Global diversity of oribatids (Oribatida: Acari: Arachnida). Hydrobiologia 595, 323–328 (2008). https://doi.org/10.1007/s10750-007-9027-z
Keywords
Acari

Oribatida

Aquatic distribution

Global diversity