Abstract
Syncarida are malacostracan crustaceans that live exclusively in fresh and brackish waters all over the world. With the exception of a few Anaspidacea that live in free freshwater (streams, ponds, superficial lakes and caves) the great majority inhabit the interstitial groundwater (they are stygobiont that live in groundwater in the wide sense). The Syncarida lack a carapace; have compound eyes (absent in subterranean taxa); the range in body size from 0.55 to 55 mm long and are more or less cylindrical in body shape; they have separate sexes with no free-swimming larval stage. Only the epigean Anaspidaea have coloration. Fossil Syncarida comprises two orders: Palaeocaridacea (five families, 15 genera and 20 species from Europe, USA and Brazil) and Anaspidacea (two monospecific genera from Australia). Anaspidacea also has present-day representatives: five families with 12 genera and 21 living species that live only in the Southern Hemisphere. Bathynellacea, the third order of Syncarida, with no fossil representatives, has two families, with 66 genera and 219 species that are widely distributed throughout all continents, except Antarctica. Since 1950, new species of Bathynellacea have been discovered with regularity, however many countries remain poorly sampled. The accumulation curves for Parabathynellidae, Bathynellidae and the whole of Bathynellacea demostrate that new species descriptions continue to accumulate at a rate that is well beyond the "plateau" level.
This is a preview of subscription content,
to check access.
Access this article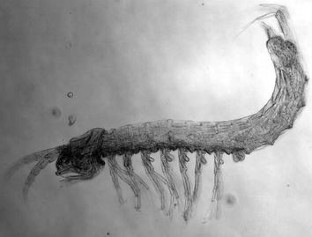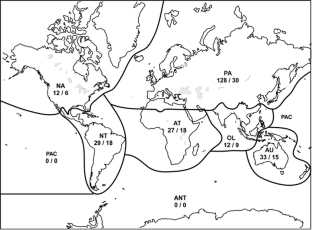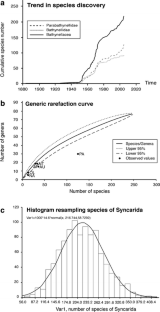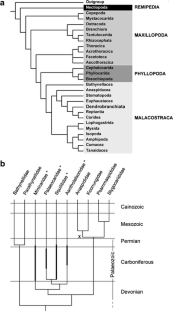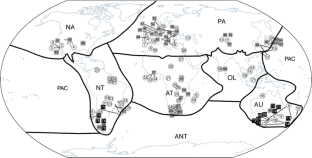 References
Main References (See complete list of references -auxiliary references – in annex available on the website dedicated to FADA-Chapters)
Boutin, C., & N. Coineau, 1987. Iberobathynella (Crustacea: Syncarida: Bathynellacea) sur le continent africain. Implications paléobiogéographiques. Comptes Rendus de l' Académie des Sciences, Paris 304: 355–358.

Boutin, C. & N. Coineau, 1990. "Regression model", "Modèle Biphase" d'évolution et origine des micro-organismes stygobies interstitiels continentaux. Revue de Micropaléontologie 33 (3–4): 303–322.

Brooks, H. K., 1962. On the fossil Anaspidacea, with a revision of the classification of the Syncarida. Crustaceana 4: 229–242.

Brooks, H. K., 1969. Syncarida. In Moore, R. C. (ed.), Treatise on Invertebrate Paleontology, Part R, Arthropoda 4, Vol. 1. Geological Society of America and University of Kansas, Lawrence: 345–359.

Calman, W. T., 1896. On the genus Anaspides and its affinities with certain fossil Crustacea. Transaction of the Royal Society of Edimburgh 38: 787–802.

Camacho, A. I., 1987. La Familia Parabathynellidae en la Península Ibérica: Taxonomía, Filogenia y Biogeografía. Tesis Doctoral (unpublished), Universidad Autonoma de Madrid, 890 pp.

Camacho, A. I., 2003a. Historical biogeography of Hexabathynella, a cosmopolitan genus of groundwater Syncarida (Crustacea, Bathynellacea, Parabathynellidae). Biological Journal of the Linnean Society 78: 457–466.

Camacho, A. I., 2003c. An overview of the distribution of the Parabathynellidae (Crustacea Syncarida Bathynellacea) on the Iberian Peninsula and Balearic Islands. Graellsia, 59(1): 63–78.

Camacho, A. I., 2004. An overview of Hexabathynella (Crustacea, Syncarida, Parabathynellidae) with the description of a new species. Journal of Natural History 28: 1249–1261.

Camacho, A. I. & N. Coineau, 1989. Les Bathynellacea d'Espagne: Répartition et Biogéographie. Mémoires de Biospéléologie XVI(43): 111–124.

Camacho, A. I., E. Bello, & G. F. Estabrook, 1997. A statistical approach to the evaluation of characters to estimate evolutionary relationships among the species of the aquatic subterranean genus Iberobathynella (Crustacea, Syncarida). Biological journal of the Linnean Society 60: 221–241.

Camacho, A. I. & A. G. Valdecasas, 2003. Evaluating extinction in rare habitats: an essay. Graellsia 59(2–3): 409–414.

Camacho, A. I., E. Serban & N. Guil, 2000. Phylogenetical review and biogeographic remarks on the interstitial and subterranean freshwater iberobathynells (Crustacea, Syncarida, Parabathynellidae). Journal of Natural History 34: 563–585.

Camacho A. I., I. Rey, B. A. Dorda, A. Machordom & A. G. Valdecasas, 2002. A note on the systematic position of the Bathynellacea (Crustacea, Malacostraca) using molecular evidence. Contribution to Zoology 71(4): 123–129.

Camacho, A. I., T. Torres, E. Ortiz, C. Puch & A. G. Valdecasas, 2006. Small-scale biogeographical pattern in groundwater Crustacea (Syncarida, Parabathynellidae). Biodiversity and Conservation, 15: 3527–3541.

Coineau, N., 1996. Sous-Classe des Eumalacostracés (Eumalacostraca Grobben, 1892). Super-Ordre des Syncarides (Syncarida Packard, 1885). In Forest, J. (ed.), Traité de Zoologie, Crustacés VII(2): 897–954.

Coineau, N., 1998. Syncarida. In Juberthie, C. & V. Decu (eds), Encyclopaedia Biospeologica, Tome II, Moulis, Bucarest, Société Biospéologie: 863–876.

Coineau, C., 2000. In Wilkens, H., D.C. Culver & W.F. Humphreys (eds), Subterranean Ecosystems, Ecosystems of the world 30, Elsevier : 189–210.

Coineau, N. & C. Boutin, 1992. Biological processes in space and time: colonization. evolution and speciation in interstitial stygobionts. In Camacho A. I. (ed.), The Natural History of Biospeleology. Monografías del M.N.C.N. 7(CSIC), Madrid: 423–451.

Chappuis, P. A., 1929. Anaspidacea. In Kükenthal-Krumbach, Handb Zoology 3(6): 594–606.

Cho, J. L., 1995. Systematik und Biogeographie von Hexabathynella Schminke, 1973 sowie ein Beitrag zur Taxonomie der "Leptobathynellinae" Noodt, 1964 (Bathynellacea, Syncarida, Malacostraca). Kiel, Doctoral Thesis (unpublished).

Cho, J. L., 2001. Phylogeny and zoogeography of three new species of the genus Hexabathynella (Crustacea, Malacostraca, Bathynellacea) from North America, Zoologica Scripta 30(2), 145–157.

Fastovsky, D. E., Y. Huang, J. Hsu, J. Martin-McNaughton, P. M. Sheehan & D. B. Weishampel, 2004, Shape of Mesozoic dinosaur richness: Geology 32: 877–884.

Grosso, L. E., & M. Peralta, 2002. Patagonaspides gen.n.; P. sandroruffoi sp.n. (Crustacea, Syncarida). First phreatobite species of a new anaspidacean family discovered in Patagonia with cladistic analisis of Stygocaridinea (Anaspidacea). Bulletino del Museo Cívico di Storia Naturale di Verona 26: 105–118.

Guil, N., & A. I. Camacho, 2001. Historical Biogeography of Iberobathynella (Crustacea, Syncarida, Bathynellacea), an aquatic subterranean genus of Parabathynellids, endemic to the Iberian Peninsula. Global Ecology and Biogeography 10: 487–501.

Hickman, V. V., 1937.The embriology of the Syncarid Crustacean Anaspides tasmaniae. Papers and Proceedings of the Royal Society of Tasmania: 1–36.

Jakobi, H., 1954. Biologie, Entwicklungsgeschichte und Systematik von Bathynella natans Vejd. Zoologisches Jahrbuch, Systematic 83(1/2): 1–62.

Jordan, H., 1847. Entdeckung fossiler Crustaceen im Saarbrücken'schen Steinkohlengebirge. Verhandlungen des naturhistorischen Vereines preussischen Rheinlande 4: 89–92.

Lange, S. & F. Schram, 1999. Evolución y filogenia de los crustáceos. Boletín de la Sociedad Entomológica Aragonesa 26: 235–254.

Noodt, W., 1964. Natürliches System und Biogeographie der Syncarida. Gewässer und Abwässer 37/38: 77–186.

Notenboom, J., 1991. Marine regressions and the evolution of groundwater dwelling amphipods (Crustacea). Journal of Biogeography 18: 437–454.

Richter, S., & G. Scholtz, 2001. Phylogenetic analysis of the Malacostraca (Crustacea). Journal of Zoological Systematics and Evolutionary Research 39: 113–136.

Schram, F. R., 1977. Paleozoogeography of the late Paleozoic and Triassic Malacostraca. Systematic Zoology 26: 367–379.

Schram, F. R., 1981. On the classification of Eumalacostraca. Journal of Crustacean Biology 1(1): 1–10.

Schram, F. R., 1984. Fossil Syncarida. Transaction of the San Diego Society of Natural History 20: 189–246.

Schram, F. R., & C. H. J. Hof, 1998. Fossils and the interrelationships of Major Crustacean groups. In: Edgecombe, G. D. (ed.) Arthropod Fossils and Phylogeny. Columbia University Press, New York: 233–302.

Schminke, H. K., 1973. Evolution, System und Verbreitungsgeschichte der Familie Parabathynellidae (Bathynellacea, Malacostraca). Mikrofauna Meeresboden 24: 1–192.

Schminke, H. K., 1975. Phylogenie und Verbreitungsgeschichte der Syncarida (Crustacea, Malacostraca). Verhandlungen Zoologische Gesellschaft, Bochum: 384–388.

Schminke, H. K., 1978a. Die phylogenetische Stellung der Stygocarididae (Crustacea: Syncarida). Unter besonderer Berücksichtingung morphologischer Ähnlichkeiten mit Larvenformen der Eucarida. Zeitschrift für zoologische Systematik und Evolutionforschung 16: 225–239.

Schminke, H. K., 1981. Adaptation of Bathynellacea (Crustacea, Syncarida) to the life in the interstitial ("Zoea Theory"). International Revue Gesamter Hydrobiologie 66(4): 576–637.

Serban, E., 1972. Bathynella (Podophallocarida, Bathynellacea). Travaux de l'Institut de Spéologie "Émile Racovitza" 11: 1–398.

Serban, E., 1980. La mandibule et l'individualisation des ensembles évolutifs majeurs dans l'ordre des Bathynellacea (Malacostraca: Podophallocarida). Bijdragen tot de Dierkunde 50(1): 155–189.

Serban, E., 2000. Uenobathynella n.g., Parauenobathynella n.g., Morimotobathynella n.g., Nihobathynella n.g. et Paradoxibathynella n.g., Bathynellinae du Japón (Bathynellidae, Bathynellacea, Podophallocarida). Travaux de l'Institut de Spéologie Émile Racovitza 36: 3–61.

Siewing, R., 1959. Syncarida. In Bronn, H. G. (ed.), Klassen und Ordnungen des Tierreichs. Akademische Verlagsgesellsch. Geest & Portig, Leipzig, Thomson, 5(1): 121; 4(2): 1–121.

Simberloff, D., 1972. Models in biogeography. In: Schopf, J. M. (ed.), Models in Paleobiology. Freeman, Cooper & Company, San Francisco: 160–191.

Smith, G., 1908. On the Anaspidacea. Living and Fossil. Quaternaly Journal of Microscopy Sciences 53: 489–578.

Spears, T. & L. G. Abele, 1999. Crustacean phylogeny inferred from 18s rDNA. In: Fortey R. A. & R. H. Thomas (eds), Arthropod relationship. Chapman and May, London: 160–187.

Stock, J. H., 1980. Regression model evolution as exemplified by genus Pseudoniphargus (Amphipoda). Bijdragen tot Dierkunde 50(1): 105–144.

Wallace, A. R. 1876. The geographical distribution of animals. Harper, New York, xxiii +503, xi + 553 pp (reprinted 1962, Hafner, New York).
Acknowledgements
We gratefully acknowledge the assistance of C. Puch, J.M. Becerra and M.L. Peláez. This study was supported by projects EVK2-CT-2001-00121 (PASCALIS) and Convenio Junta de Castilla y León- CSIC (2002–2004).
Additional information
Guest editors: E. V. Balian, C. Lévêque, H. Segers & K. Martens
Freshwater Animal Diversity Assessment
Electronic supplementary material
Below is the link to the electronic supplementary material.
About this article
Cite this article
Camacho, A.I., Valdecasas, A.G. Global diversity of syncarids (Syncarida; Crustacea) in freshwater. Hydrobiologia 595, 257–266 (2008). https://doi.org/10.1007/s10750-007-9021-5
Published:

Issue Date:

DOI: https://doi.org/10.1007/s10750-007-9021-5
Keywords