Abstract
Amphipods are brooding peracaridan crustaceans whose young undergo direct development, with no independent larval dispersal stage. Most species are epibenthic, benthic, or subterranean. There are some 1,870 amphipod species and subspecies recognized from fresh or inland waters worldwide at the end of 2005. This accounts for 20% of the total known amphipod diversity. The actual diversity may still be several-fold. Amphipods are most abundant in cool and temperate environments; they are particularly diversified in subterranean environments and in running waters (fragmented habitats), and in temperate ancient lakes, but are notably rare in the tropics. Of the described freshwater taxa 70% are Palearctic, 13% Nearctic, 7% Neotropical, 6% Australasian and 3% Afrotropical. Approximately 45% of the taxa are subterranean; subterranean diversity is highest in the karst landscapes of Central and Southern Europe (e.g., Niphargidae), North America (Crangonyctidae), and Australia (Paramelitidae). The majority of Palearctic epigean amphipods are in the superfamily Gammaroidea, whereas talitroid amphipods (Hyalella) account for all Neotropic and much of the Nearctic epigean fauna. Major concentrations of endemic species diversity occur in Southern Europe, Lake Baikal, the Ponto-Caspian basin, Southern Australia (including Tasmania), and the south-eastern USA. Endemic family diversity is similarly centered in the Western Palearctic and Lake Baikal. Freshwater amphipods are greatly polyphyletic, continental invasions have taken place repeatedly in different time frames and regions of the world. In the recent decades, human mediated invasions of Ponto-Caspian amphipods have had great impacts on European fluvial ecosystems.
Access options
Buy single article
Instant access to the full article PDF.
US$ 39.95
Tax calculation will be finalised during checkout.
Subscribe to journal
Immediate online access to all issues from 2019. Subscription will auto renew annually.
US$ 119
Tax calculation will be finalised during checkout.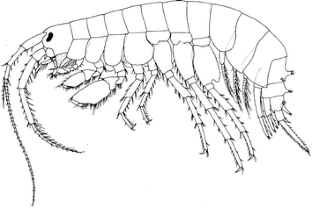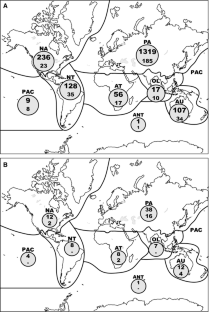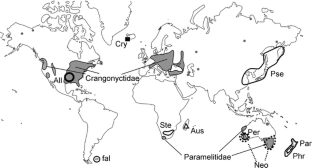 References
Banarescu, P., 1990–1995. Zoogeography of Fresh Waters, Vol. I–III. Aula-Verlag, Wiesbaden.

Barnard, J. L. & C. M. Barnard, 1983. Freshwater Amphipoda of the World. Part I, Evolutionary Patterns: i–xvii, 1–358. Part II, Handbook and Bibliography: xix, 359–830. Hayfield Associates, Mt. Vernon, Virginia.

Barnard, J. L. & G. S. Karaman, 1991. The families and genera of marine gammaridean Amphipoda (except marine gammaroids). Records of the Australian Museum Suppl. 13(1): 1–417.

Bij de Vaate, A., K. Jazdzewski, H. A. M. Ketelaars, S. Gollasch & G. Van der Velde, 2002. Geographical patterns in range extension of Ponto-Caspian macroinvertebrate species in Europe. Canadian Journal of Fisheries & Aquatic Sciences 59: 1159–1174.

Botosaneanu L. (ed.), 1986. Stygofauna Mundi: A Faunistic, Distributional, and Ecological Synthesis of the World Fauna Inhabiting Subterranean Waters (Including the Marine Interstitial). Brill/Backhuys, Leiden.

Bousfield, E. L., 1983. An updated phyletic classification and palaeohistory of the Amphipoda. In Schram, F. R. (ed.), Crustacean Phylogeny. Crustacean Issues 1: 257–277.

Bousfield, E. L. & C. T. Shih, 1994. The phyletic classification of amphipod crustaceans: problems in resolution. Amphipacifica 1(3), 76–134.

Dejoux, C., 1994. Lake Titicaca. Archiv für Hydrobiologie, Ergebnisse der Limnologie 44: 35–42.

Dumont, H. J., 1998. The Caspian Lake: history, biota, structure, and function. Limnology and Oceanography 43: 44–52.

Englisch, U., C. O. Coleman & J. W. Wägele, 2003. First observations on the phylogeny of the families Gammaridae, Crangonyctidae, Melitidae, Niphargidae, Megaluropidae and Oedicerotidae (Amphipoda, Crustacea), using small subunit rDNA gene sequences. Journal of Natural History 37: 2461–2486.

Fenwick, G. D., 2001. The freshwater Amphipoda (Crustacea) of New Zealand: a review. Journal of the Royal Society of New Zealand 31: 341–363.

Fišer, C., B. Sket & P. Trontelj, 2005. Niphargus homepage. URL http://www.bf.uni-lj.si/bi/zoologija/cene_fiser/niphargus.

Griffiths, C. I. & B. A. Stewart, 2001: Amphipoda. In Day, J. A., B. A. Stewart, I. J. deMoor & A. E. Louw (eds), Guides to the Freshwater Invertebrates of Southern Africa, Vol. 4: Crustacea III, Bathynellacea, Amphipoda, Isopoda, Spelaeogriphacea, Tanaidacea, Decapoda. WRC Report No TT 141/01. Water Research Commission, Pretoria: 28–49.

Holsinger, J. R., 1993. Biodiversity of subterranean amphipod crustaceans: global patterns and zoogeographic implications. Journal of Natural History 27: 821–835.

Holsinger, J. R., 1994. Pattern and process in the biogeography of subterranean amphipods. Hydrobiologia 287, 131–145.

Jazdzewski, K., 1980. Range extensions of some gammaridean species in European inland waters caused by human activity. Crustaceana (Suppl) 6: 84–107.

Kamaltynov, R. M. 2002 (dated 2001), Amfipody (Amphipoda: Gammaroidea). In Timoshkin, O. A. (ed.), Annotirovannyi Spisok Fauny Ozera Baikal i ego Vodosbornogo Basseina, Vol. I (I). Ozero Baikal (Index to the animal species inhabiting Lake Baikal and its catchment area, Vol. I(I). Lake Baikal). Nauka, Novosibirsk: 572–831.

Koenemann, S. & J. R. Holsinger, 1999. Phylogenetic analysis of the amphipod family Bogidiellidae s. lat., and revision of taxa above the species level. Crustaceana 72: 781–816.

Kozhova, O. M. & L. R. Izmesteva (eds), 1998. Lake Baikal: Evolution and Biodiversity. Backhyus Publishers, Leiden.

Lowry, J. K. & H. E. Stoddart, 2003. Crustacea: Malacostraca: Peracarida: Ampihpoda, Cumacea, Mysidacea. In Beesley, P. L. & W. W. K. Houston (eds), Zoological Catalogue of Australia, Vol 19.2B. CSIRO Publishing, Melbourne, Australia, xii+531 pp.

Macdonald, K. S. III, L. Yampolsky & J. E. Duffy, 2005. Molecular and morphological evolution of the amphipod radiation of Lake Baikal. Molecular Phylogenetics and Evolution 35: 323–343.

Martin, J. W. & G. E. Davis, 2001. An Updated Classification of the Recent Crustacea. Natural History Museum of Los Angeles County, Science Series: Vol. 39, pp. vii–124.

Myers, A. A. & J. K. Lowry, 2003. A phylogeny and a new classification of the Corophiidea Leach, 1814 (Amphipoda). Journal of Crustacean Biology 23: 443–485.

Panov, V. E. & N. A. Berezina, 2003. Invasion history, biology and impacts of the Baikalian amphipod Gmelinoides fasciatus. In Leppäkoski, E., S. Gollasch & S. Olenin (eds), Invasive Aquatic Species of Europe. Distribution, Impacts and Management. Kluwer, Dordrecht: 96–103.

Sket, B., 1999. The nature of biodiversity in hypogean waters and how it is endangered. Biodiversity & Conservation 8: 1319–1338.

Takhteev, V. V., 2000. Trends in the evolution of Baikal amphipods and evolutionary parallels with some marine malacostracan faunas. Advances in Ecological Research 31: 196–220.

Vader, W., 2005a. How Many Amphipod Species? Poster Presented at XII International Amphipod Colloquium. Cork, Ireland.

Vader, W., 2005b. New amphipod species described in the period 1974–2004. Amphipod Newsletter 28 (URL http://www.imv.uit.no/amphipod/AN28.pdf).

Väinölä, R. & R. M. Kamaltynov, 1999. Species diversity and speciation in the endemic amphipods of Lake Baikal: molecular evidence. Crustaceana 72: 945–956.

Vanderploeg, H. A., T. F. Nalepa, D. J. Jude, E. L. Mills, K. T. Holeck, J. R. Liebig, I. A. Grigorovich & H. Ojaveer, 2002. Dispersal and emerging ecological impacts of Ponto-Caspian species in the Laurentian Great Lakes. Canadian Journal of Fisheries and Aquatic Sciences 59: 1209–1228.

Vonk, R. & F. R. Schram, 2003. Ingolfiellidea (Crustacea, Malacostraca, Amphipoda): a phylogenetic and biogeographic analysis. Contributions to Zoology 72: 39–72.

Vonk, R. & F. R. Schram, 2005. World catalogue and bibliography of the Ingolfiellidea. URL http://www.science.uva.nl/onderzoek/cepa/ingolfiellideorumcatalogus.htm.

Witt, J. D. S. & P. D. N. Hebert, 2000. Cryptic species diversity and evolution in the amphipod genus Hyalella in Central Glaciated North America: a molecular phylogenetic approach. Canadian Journal of Fisheries and Aquatic Sciences 57: 687–698.

Witt, J. D. S., D. L. Threloff & P. D. N. Hebert, 2006. DNA barcoding reveals extraordinary cryptic diversity in an amphipod genus: implications for desert spring conservation. Molecular Ecology 15: 3073–3082.

Zhang, J. & J. R. Holsinger, 2003. Systematics of the freshwater amphipod genus Crangonyx (Crangonyctidae) in North America. Virginia Museum of Natural History, Memoir 6, 274 pp.
Acknowledgments
We thank all those who answered our queries, including J. Holsinger, H. Morino, G. Fenwick, and R. Kamaltynov. We are particularly grateful to W. Vader and C. Fišer for their contributions in compiling the data available at their websites. Partial support was provided by a grant from the University of Helsinki Research Funds.
Additional information
Guest editors: E. V. Balian, C. Lévêque, H. Segers and K. Martens
Freshwater Animal Diversity Assessment
About this article
Cite this article
Väinölä, R., Witt, J.D.S., Grabowski, M. et al. Global diversity of amphipods (Amphipoda; Crustacea) in freshwater. Hydrobiologia 595, 241–255 (2008). https://doi.org/10.1007/s10750-007-9020-6
Keywords
Biogeography

Continental invasions

Endemism

Gammaridea

Malacostraca

Species diversity