Abstract
The isopod crustaceans are diverse both morphologically and in described species numbers. Nearly 950 described species (∼9% of all isopods) live in continental waters, and possibly 1,400 species remain undescribed. The high frequency of cryptic species suggests that these figures are underestimates. Several major freshwater taxa have ancient biogeographic patterns dating from the division of the continents into Laurasia (Asellidae, Stenasellidae) and Gondwana (Phreatoicidea, Protojaniridae and Heterias). The suborder Asellota has the most described freshwater species, mostly in the families Asellidae and Stenasellidae. The suborder Phreatoicidea has the largest number of endemic genera. Other primary freshwater taxa have small numbers of described species, although more species are being discovered, especially in the southern hemisphere. The Oniscidea, although primarily terrestrial, has a small number of freshwater species. A diverse group of more derived isopods, the 'Flabellifera' sensu lato has regionally important species richness, such as in the Amazon River. These taxa are transitional between marine and freshwater realms and represent multiple colonisations of continental habitats. Most species of freshwater isopods species and many genera are narrow range endemics. This endemism ensures that human demand for fresh water will place these isopods at an increasing risk of extinction, as has already happened in a few documented cases.
Access options
Buy single article
Instant access to the full article PDF.
US$ 39.95
Tax calculation will be finalised during checkout.
Subscribe to journal
Immediate online access to all issues from 2019. Subscription will auto renew annually.
US$ 119
Tax calculation will be finalised during checkout.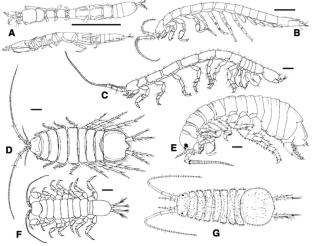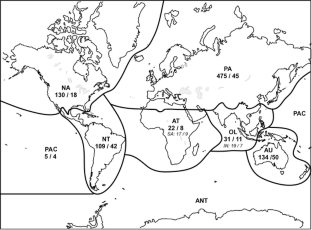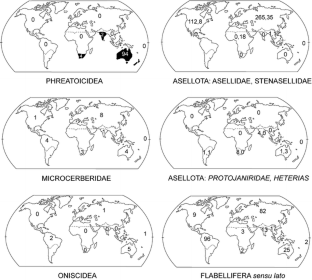 References
Argano, R., 1977. Asellota del messico meridionale e Guatemala (Crustacea, Isopoda). problemi attuali di scienza e di cultura. Accademia Nazionale dei Lincei, Quaderno N. 171: 101–124.

Banarescu, P. 1990. Zoogeography of Fresh Waters. General Distribution and Dispersal of Freshwater Animals, Vol. 1. Aula-Verlag, Wiesbaden, Germany: 511.

Baratti, M., M. Bazzicalupo, C. de Filippo & G. Messana, 1999. Detection of genetic variability in stygobitic isopods using RAPD markers. Crustaceana (Leiden) 72: 625–634.

Bowman, T. E., R. Prins & J. Arenas, 1987. The occurrence of the freshwater isopod Heterias (Fritzianira) exul in the Lakes region of Chile, with notes on the genus Heterias (Asellota: Janiridae). Hydrobiologia 146: 275–281.

Brandt, A. & G. C. B. Poore, 2003. Higher classification of the flabelliferan and related Isopoda based on a reappraisal of relationships. Invertebrate Systematics 17: 893–923.

Brusca, R. C. & G. D. F. Wilson, 1991. A phylogenetic analysis of the Isopoda with some classificatory recommendations. Memoirs of the Queensland Museum 31: 143–204.

Coineau, J.-P., J.-P. Henry, G. Magniez & I. Negoescu, 1994. Isopoda aquatica. In Juberthie C. & V. Decu (eds), Encyclopaedia Biospeologica. Société de Biospéologie Bucarest, 1, 123–140.

Gouws, G., B. A. Stewart & S. R. Daniels, 2004. Cryptic species within the freshwater isopod Mesamphisopus capensis (Phreatoicidea: Amphisopodidae) in the Western Cape, South Africa: allozyme and 12S rRNA sequence data and morphometric evidence. Biological Journal of the Linnean Society 81: 235–253.

Gouws, G., B. A. Stewart & C. A. Matthee, 2005. Lack of taxonomic differentiation in an apparently widespread freshwater isopod morphotype (Phreatoicidea : Mesamphisopidae : Mesamphisopus) from South Africa. Molecular Phylogenetics and Evolution 37: 289–305.

Guinot, D., G. D. F. Wilson & F. R. Schram, 2005. Jurassic isopod (Malacostraca: Peracarida) from Ranville, Normandy, France. Journal of Paleontology 79: 954–960.

Henry, J.-P. & G. Magniez, 1995. Nouvelles données sur les Asellidae épigés d'Extrême-Orient (Crustacea, Isopoda, Asellota). Contributions To Zoology (Bijdragen tot de Dierkunde) 65: 101–122.

Jaume, D., 2001. A new atlantasellid isopod (Asellota : Aselloidea) from the flooded coastal karst of the Dominican Republic (Hispaniola): evidence for an exopod on a thoracic limb and biogeographical implications. Journal of Zoology 255: 221–233.

Johnson, W. S., M. Stevens & L. Watling, 2001. Reproduction and Development of Marine Peracaridans. Advances in Marine Biology 39: 105–260.

Keable, S. J. & G. D. F. Wilson, 2006. New species of Pygolabis Wilson, 2003 (Isopoda, Tainisopidae) from Western Australia. Zootaxa Zootaxa 1116: 1–27.

Kensley, B. F., M. Schotte & S. Shilling, 2005. World list of marine, freshwater and terrestrial Crustacea Isopoda. National Museum of Natural History Smithsonian Institution: Washington D.C., USA. HTTP://www.nmnh.si.edu/iz/isopod/index.html; accessed 08 September 2005.

Ketmaier, V., 2002. Isolation by distance, gene flow and phylogeography in the Proasellus coxalis-group (Crustacea, Isopoda) in Central Italy: allozyme data. Aquatic Sciences 64: 66–75.

Ketmaier, V., R. Argano & A. Caccone, 2003. Phylogeography and molecular rates of subterranean aquatic Stenasellid Isopods with a peri-Tyrrhenian distribution. Molecular Ecology 12: 547–555.

Lewis, J. J. & T. E. Bowman, 1981. The subterranean asellids (Caecidotea) of Illinois (Crustacea: Isopoda: Asellidae). Smithsonian Contributions to Zoology 335: 1–66.

Magniez, G., 1974. Données faunistiques et ecologiques sur les Stenasellidae. International Journal of Speleology 6: 1–180.

Nicholls, G. E., 1944. The Phreatoicoidea. Part II. The Phreatoicidae. Papers and Proceedings of the Royal Society of Tasmania 1943: 1–156.

Sars, G. O. 1897. Isopoda. In Crustacea of Norway, part V, VI, Idotheidae, Arcturidae, Asellidae, Ianiridae, Munnidae. Bergen Museum, Norway: 81–116.

Tabacaru, I., 1999. L'adaptation a la vie aquatique d'un remarquable trichoniscide cavernicole, Cantabroniscus primitivus Vandel, et le probleme de la monophylie des isopods terrestres. Travaux del'Institut Speologie "Emile Racovitsa" 37–38: 115–132.

Tabacaru, I. & D. L. Danielopol, 1999. Contribution a la connaissance de la phylogénie des Isopoda (Crustacea). Vie et Milieu 49: 163–176.

Taiti, S. & W. F. Humphreys, 2001. New aquatic Oniscidea (Crustacea: Isopoda) from groundwater calcretes of Western Australia. Records of the Western Australia Museum, Supplement 64: 133–151.

Turk, S., B. Sket & S. Sarbu, 1996. Comparison between some epigean and hypogean populations of Asellus aquaticus (Crustacea: Isopoda: Asellidae). Hydrobiologia 337: 161–170.

Verovnik, R., B. Sket, S. Prevorcnik & P. Trontelj, 2003. Random amplified polymorphic DNA diversity among surface and subterranean populations of Asellus aquaticus (Crustacea: Isopoda). Genetica 119: 155–165.

Wägele, J. W., 1983. On the origin of the Microcerberidae (Crustacea: Isopoda). Zeitschrift fuer Zoologische Systematik und Evolutionsforschung 21: 249–262.

Wägele, J. W., 1989. Evolution und phylogenetisches System der Isopoda. Stand der Forschung und neue Erkenntnisse. Zoologica 140: 1–262.

Wägele, J.-W., N. J. Voelz & J. V. McArthur, 1995. Older than the Atlantic Ocean: Discovery of a fresh-water Microcerberus (Isopoda) in North America and erection of Coxicerberus, new genus. Journal of Crustacean Biology 15: 733–745.

Wilson, G. D. F., 1987. The road to the Janiroidea: Comparative morphology and evolution of the asellote isopod crustaceans. Zeitschrift für Zoologische Systematik und Evolutionsforschung 25: 257–280.

Wilson, G. D. F., 1991. Functional morphology and evolution of isopod genitalia. In: Bauer R. T. & J. W. Martin (eds), Crustacean Sexual Biology. Columbia University Press, New York/Oxford: 228–245.

Wilson, G. D. F., 1994. A phylogenetic analysis of the isopod family Janiridae (Crustacea). Invertebrate Taxonomy 8: 749–766.

Wilson, G. D. F., 1996. Of uropods and isopod crustacean trees: A comparison of "groundpattern" and cladistic methods. Vie et Milieu 46: 139–153.

Wilson, G. D. F., 1999. Some of the deep-sea fauna is ancient. Crustaceana (Leiden) 72: 1020–1030.

Wilson, G. D. F., 2003. A new genus of Tainisopidae fam. nov. (Crustacea: Isopoda) from the Pilbara, Western Australia. Zootaxa 245: 1–20.

Wilson, G. D. F. & G. D. Edgecombe, 2003. The Triassic isopod Protamphisopus wianamattensis (Chilton) and comparison with extant taxa (Crustacea, Phreatoicidea). Journal of Paleontology 77: 454–470.

Wilson, G. D. F. & G. D. Fenwick, 1999. Taxonomy and ecology of Phreatoicus typicus Chilton, 1883 (Crustacea, Isopoda, Phreatoicidae). Journal of The Royal Society of New Zealand 29: 41–64.

Wilson, G. D. F. & R. T. Johnson, 1999. Ancient endemism among freshwater isopods (Crustacea, Phreatoicidea). In: Ponder W. F. & D. Lunney (eds), The Other 99%. The conservation and Biodiversity of Invertebrates. Transactions of the Royal Zoological Society of New South Wales, Mossman: 264–268.

Wilson, G. D. F. & J.-W. Wägele, 1994. A systematic review of the family Janiridae (Crustacea: Isopoda: Asellota). Invertebrate Taxonomy 8: 683–747.

Zimmer, M., 2002. Nutrition in terrestrial isopods (Isopoda: Oniscidea): an evolutionary-ecological approach. Biological Reviews 77: 455–493.

Zimmer, M. & S. Bartholme, 2003. Bacterial endosymbionts in Asellus aquaticus (Isopoda) and Gammarus pulex (Amphipoda) and their contribution to digestion. Limnology and Oceanography 48: 2208–2213.
Acknowledgements
Information in this article comes from communications and specimens sent by colleagues around the world. In particular, I would like to recognise important contributors of specimens and/or information from particular localities: New South Wales and elsewhere in Australia - W. Ponder; Northern Territory - C. Humphrey; Western Australia - C. Francis, S. Halse & coworkers, S. Eberhard, P. Horwitz and W. Humphreys; South Africa - G. Gouws; Brazil - C. Noro; New Zealand - D. Olsen; Chile - J. Pérez-Schultheiss. I am grateful to Marilyn Schotte (National Museum of Natural History, USA), as the maintainer of the World List of Isopods, which formed the starting point for this article. Helpful advice on the distribution of parasitic taxa was kindly given by J. Markham and J. Shields. Two referees made helpful suggestions for the revision of this article. Research on freshwater isopods at the Australian Museum has been supported by Australian Biological Resources Survey grants to myself, Stephen Keable and Chris Humphrey (Environmental Research Institute of the Supervising Scientist), and a contract from the Department of Conservation and Land Management (Western Australia). Finally, I thank Estelle Balian and Koen Martens for inviting me to the workshop and handling this manuscript.
Additional information
Guest editors: E. V. Balian, C. Lévêque, H. Segers & K. Martens
Freshwater Animal Diversity Assessment
Electronic supplementary material
Below is the link to the electronic supplementary material.
About this article
Cite this article
Wilson, G.D.F. Global diversity of Isopod crustaceans (Crustacea; Isopoda) in freshwater. Hydrobiologia 595, 231–240 (2008). https://doi.org/10.1007/s10750-007-9019-z
Keywords
Isopoda

Crustacea

Gondwana

Laurasia

Diversity feeding

Reproduction

Habits

Fresh water

Classification