Abstract
Cumacea and Tanaidacea are marginal groups in continental waters. Although many euryhaline species from both groups are found in estuaries and coastal lagoons, most occur only temporarily in non-marine habitats, appearing unable to form stable populations there. A total of 21 genuinely non-marine cumaceans are known, mostly concentrated in the Ponto-Caspian region, and only four tanaids have been reported from non-marine environments. Most non-marine cumaceans (19 species) belong in the Pseudocumatidae and appear restricted to the Caspian Sea (with salinity up to 13‰) and its peripheral fluvial basins, including the northern, lower salinity zones of the Black Sea (Sea of Azov). There are nine Ponto-Caspian genera, all endemic to the region. Only two other taxa (in the family Nannastacidae) occur in areas free of any marine–water influence, in river basins in North and South America. Both seem able to survive in waters of raised salinity of the lower reaches of these fluvial systems; but neither has been recorded in full salinity marine environments. The only non-marine tanaidacean thus far known lives in a slightly brackish inland spring in Northern Australia. The genus includes a second species, from a brackish-water lake at the Bismarck Archipelago, tentatively included here as non-marine also. Two additional species of tanaidaceans have been reported from non-marine habitats but both also occur in the sea.
Access options
Buy single article
Instant access to the full article PDF.
US$ 39.95
Tax calculation will be finalised during checkout.
Subscribe to journal
Immediate online access to all issues from 2019. Subscription will auto renew annually.
US$ 119
Tax calculation will be finalised during checkout.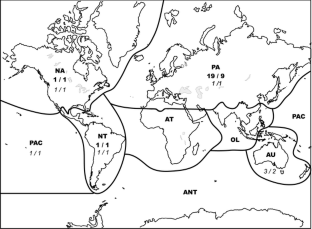 References
Antsulevich, A. E., 2005. First finding of Cumacea crustaceans in the Gulf of Finland. Vestnik Sankt-Peterburgskogo Universiteta: Seriia 3—Biologiia 1: 84–87 (in Russian with English summary).

Băcescu, M., 1992. Cumacea II. Crustaceorum Catalogus 8: 175–468.

Băcescu, M. & I. Petrescu, 1999. Ordre des Cumacés (Cumacea Krøyer, 1846). In Forest, J. (ed.), Traité de Zoologie. Anatomie, Systématique, Biologie. Tome VII (Fascicule III A), Crustacés Péracarides. Mémoires de l'Institut Océanographique, Monaco 19: 391–428.

Czerniavsky, V., 1868. Materialia ad zoographiam Ponticam comparatum. Transactions of the first meeting of Russian naturalists in Saint Petersburg, 1868: 19–136, 8 pls.

Derzhavin, A., 1912. Neue Cumaceen aus dem Kaspischen Meer. Zoologischer Anzeiger 39: 273–284.

Dumont, H. J., 2000. Endemism in the Ponto-Caspian Fauna, with special emphasis on the Onychopoda (Crustacea). Advances in Ecological Research 31: 181–196.

Jones, N. S. & W. D. Burbanck, 1959. Almyracuma proximoculi gen. et spec. nov. (Crustacea, Cumacea) from brackish water of Cape Cod, Massachusetts. Biological Bulletin 116: 115–124.

Kudinova-Pasternak, R. K., 1972. Notes about the tanaidacean fauna (Crustacea, Malacostraca) of the Kirmadec Trench. Complex Research of the Nature of the Ocean. Publications Moscow University 3: 257–258.

Larsen, K. & T. Hansknecht, 2004. A new genus and species of freshwater tanaidacean Pseudohalmyrapseudes aquadulcis (Apseudomorpha: Parapseudidae), from Northern Territory, Australia. Journal of Crustacean Biology 24: 567–575.

Mordukhai-Boltovskoi, F. D. & N. N. Romanova, 1973. A new genus of Cumacea from the Caspian Sea. Zoologicheskii Zhurnal 52: 429–432.

Roccatagliata, D., 1981. Claudicuma platensis gen. et sp. nov. (Crustacea, Cumacea) de la ribera argentina del Río de la Plata. Physis (Buenos Aires) 39: 79–87.

Roccatagliata, D., 1991. Claudicuma platense Roccatagliata, 1981 (Cumacea): a new reproductive pattern. Journal of Crustacean Biology 11: 113–122.

Sars, G. O., 1894. Crustacea Caspia, part II. Cumacea. Bulletin de l'Academie Impériale des Sciences de St Petersburg 16: 297–338.

Sars, G. O., 1897. On some additional Crustacea from the Caspian Sea. Annuaire du Musée Zoologique de l'Académie Imperiale des Sciences. St Petersburg 1897: 1–73, 8 pls.

Sars, G. O., 1914. Report on the Cumacea of the Caspian Expedition 1904. Trudy Kaspiĭskoĭ Ékspeditzī 1904 ghoda. 4: 1–34 (in Russian), 1–32 (in English), 12 pls.

Shiino, S. M., 1965. Tanaidacea from the Bismarck Archipelago. Videnskabelige Meddelelser fra Dansk Naturhistorisk Forening i Kjøbenhavn 128: 177–203.

Simpson, K. W., J. P. Fagnani, D. M. DeNicola & R. W. Bode, 1985. Widespread distribution of some estuarine crustaceans (Cyathura polita, Chiridotea almyra, Almyracuma proximoculi) in the limnetic zone of the Lower Hudson River, New York. Estuaries 8: 373–380.

Sowinski, W., 1893. Report on the Crustacea collected by Dr. Ostroumow in the Sea of Azov. Zapiski Kievskago Obshchestva Estestvoispytatelei 14: 289–405, (in Russian).
Acknowledgement
This is a contribution to Spanish MEC project CGL2005-02217/ BOS.
Additional information
Guest editors: E. V. Balian, C. Lévêque, H. Segers & K. Martens
Freshwater Animal Diversity Assessment
About this article
Cite this article
Jaume, D., Boxshall, G.A. Global diversity of cumaceans & tanaidaceans (Crustacea: Cumacea & Tanaidacea) in freshwater. Hydrobiologia 595, 225–230 (2008). https://doi.org/10.1007/s10750-007-9018-0
Keywords
Freshwater

Global assessment

Species richness

Peracarida

Crustacea