Abstract
Spelaeogriphaceans and thermosbaenaceans are two orders of eyeless, unpigmented peracarid crustaceans represented by very few species from subterranean waters. Spelaeogriphaceans occur only in continental waters, either running or still, in limestone or sandstone caves, or in calcrete aquifers. The four species known are limnic except one occurring in slightly brackish water loosely associated with an endorheic basin. The Thermosbaenacea are primarily marine, with only 18 species recorded in limnic conditions or in brackish inland waters whose salinity does not derive from dilution of seawater. They occur in limestone caves, the interstitial medium associated to alluvial deposits, or in thermo-mineral springs. Spelaeogriphaceans are found on the southern continents, in ancient cratons not affected by sea transgressions at least since the Early Cretaceous, when Gondwana started to break-up. The former integration of these terranes into Gondwana suggests that the penetration of spelaeogriphaceans in continental waters took place previous to the fragmentation of this super continent (starting ca. 140 Ma), and that their current distribution pattern was driven by continental drift. The distribution of the Thermosbaenacea matches precisely the area covered by the ancient Tethys Sea or its coastlines. They are most probably relicts of a once widespread shallow-water marine Tethyan fauna stranded in interstitial or crevicular groundwater during marine regressions.
Access options
Buy single article
Instant access to the full article PDF.
US$ 39.95
Tax calculation will be finalised during checkout.
Subscribe to journal
Immediate online access to all issues from 2019. Subscription will auto renew annually.
US$ 119
Tax calculation will be finalised during checkout.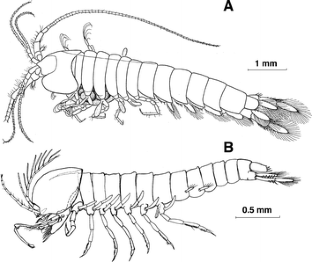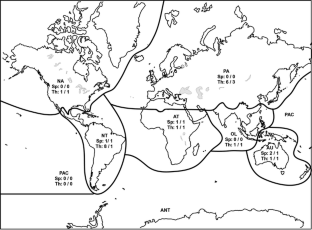 References
Boutin, C. & P. Cals, 1985. Importance en biogeography évolutive de la découverte d'un Crustacé phréatobie, Monodella atlantomaroccana n. sp. (Thermosbaenacea) dans la plaine alluviale de Marrakech (Maroc atlantique). Comptes Rendus de l'Académie des Sciences, Paris 300 (III, 7): 267–270.

Cals, P. & C. Boutin, 1985. Découverte au Cambodge, domaine ancien de la Téthys orientale, d'un nouveau <<fossile vivant>> Theosbaena cambodjiana n.g., n.sp. (Crustacea, Thermosbaenacea). Comptes rendus de l'Académie des sciences, (3) 300(8): 337–340.

Fryer, G., 1964. Studies on the functional morphology and feeding mechanism of Monodella argentarii Stella (Crustacea: Thermosbaenacea). Transactions of the Royal Society of Edinburgh 66: 49–90.

Gordon, I., 1957. On Spelaeogriphus, a new cavernicolous crustacean from South Africa. Bulletin of the British Museum (Natural History), (Zoology) 5: 31–47.

Gordon, I., 1960. On a Stygiomysis from the West Indies, with a note on Spelaeogriphus (Crustacea, Peracarida). Bulletin of the British Museum (Natural History), (Zoology) 6: 285–326.

Pires, A. M. S., 1987. Potiicoara brasiliensis: a new genus and species of Spelaeogriphacea (Crustacea: Peracarida) from Brazil, with a phylogenetic analysis of the Peracarida. Journal of Natural History 21: 225–238.

Poore, G. C. B. & W. F. Humphreys, 1998. First record of Spelaeogriphacea from Australasia: a new genus and species from an aquifer in the arid Pilbara of Western Australia. Crustaceana 71: 721–742.

Poore, G. C. B. & W. F. Humphreys, 2003. Second species of Mangkurtu (Spelaeogriphacea) from north-western Australia. Records of the Western Australian Museum 22: 67–74.

Richter, S. & G. Scholtz, 2001. Phylogenetic analysis of the Malacostraca (Crustacea). Journal of Zoological Systematics and Evolutionary Research 39: 113–136.

Schram, F. R., 1974. Paleozoic Peracarida of North America. Fieldiana Geology 33: 95–124.

Shen, Y.-B., F. R. Schram & R. S. Taylor, 1999. Liaoningogriphus quadripartitus (Malacostraca: Spelaeogriphacea) from the Jehol Biota and notes on its paleoecology. Palaeoworld 11: 175–187 (in Chinese).

Shen, Y. -B., R. S. Taylor & F. R. Schram, 1998. A new spelaeogriphacean (Crustacea: Peracarida) from the Upper Jurassic of China. Contributions to Zoology 68: 19–35.

Wagner, H. P., 1994. A monographic review of the Thermosbaenacea (Crustacea: Peracarida). Zoologische Verhandelingen 291: 1–338.
Acknowledgement
This is a contribution to Spanish MEC project CGL2005-02217/ BOS.
Additional information
Guest editors: E. V. Balian, C. Lévêque, H. Segers & K. Martens
Freshwater Animal Diversity Assessment
Electronic supplementary material
Below is the link to the electronic supplementary material.
About this article
Cite this article
Jaume, D. Global diversity of spelaeogriphaceans & thermosbaenaceans (Crustacea; Spelaeogriphacea & Thermosbaenacea) in freshwater. Hydrobiologia 595, 219–224 (2008). https://doi.org/10.1007/s10750-007-9017-1
Keywords
Freshwater

Global assessment

Species richness

Peracarida

Crustacea