Abstract
In this article we present a biogeographical assessment of species diversity within the Mysida (Crustacea: Malacostraca: Peracarida) from inland waters. Inland species represent 6.7% (72 species) of mysid diversity. These species represent three of the four families within the Mysida (Lepidomysidae, Stygiomysidae, and Mysidae) and are concentrated in the Palaearctic and Neotropical regions. The inland mysid species distributional patterns can be explained by four main groups representing different freshwater invasion routes: (1) Subterranean Tethyan relicts (24 spp.); (2) Autochthonous Ponto-Caspian endemics (20 spp.); (3) Mysis spp. 'Glacial Relicts' (8 spp.); and (4) Euryhaline estuarine species (20 spp.). The center of inland mysid species diversity is the Ponto-Caspian region, containing 24 species, a large portion of which are the results of a radiation in the genus Paramysis.
This is a preview of subscription content,
to check access.
Access this article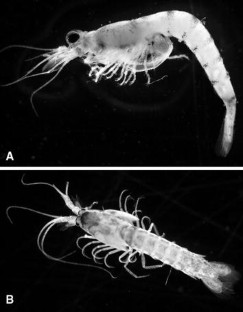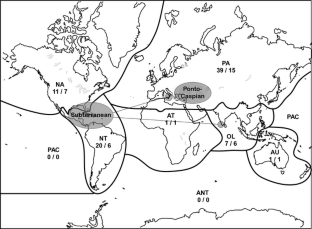 Similar content being viewed by others
References
Audzijonytë, A., 2006. Diversity and zoogeography of continental mysid crustaceans. Walter and Andrée de Nottbeck Foundation Scientific Reports 28: 1–46.

Audzijonytë, A. & R. Väinölä, 2005. Diversity and distributions of circumpolar fresh- and brackish-water Mysis (Crustacea: Mysida): descriptions of M. relicta Lovén, 1862, M. salemaai n. sp., M. segerstralei n. sp. and M. diluviana n. sp., based on molecular and morphological characters. Hydrobiologia 544: 89–141.

Audzijonytë, A., & R. Väinölä, 2006. Phylogeographic analyses of a circumarctic coastal and a boreal lacustrine mysid crustacean, and evidence of fast postglacial mtDNA rates. Molecular Ecology 15: 3287–3301.

Audzijonytë, A., M. E. Daneliya, & R. Väinölä, 2006. Comparative phylogeography of Ponto-Caspian mysid crustaceans: isolation and exchange among dynamic inland sea basins. Molecular Ecology 15: 2969–2984.

Audzijonytë, A., J. Damgaard, S.-L. Varvio, J. K. Vainio & R. Väinölä, 2005. Phylogeny of Mysis (Crustacea, Mysida): history of continental invasions inferred from molecular and morphological data. Cladistics 21: 575–596.

Banarescu P., 1991. Zoogeography of Fresh Waters, Vol. 2. Distribution and Dispersal of Freshwater Animals in North American and Eurasia. Aula Verlag, Wiesbaden.

Boxshall, G. A. & D. Jaume, 2000. Discoveries of cave misophrioids (Crustacea: Copepoda) shed new light on the origin of anchialine faunas. Zoologischer Anzeiger 239: 1–19.

De Vaate, A. B., K. Jazdzewski, H. A. M. Ketelaars, S. Gollasch, G. Van der Velde, 2002. Geographical patterns in range extension of Ponto-Caspian macroinvertebrate species in Europe. Canadian Journal of Fisheries and Aquatic Sciences 59: 1159–1174.

Ketelaars, H. A. M., F. E. Lambregts-van de Clundert, C. J. Carpentier, A. J. Wagenvoort & W. Hoogenboezem, 1999. Ecological effects of the mass occurrence of the Ponto-Caspian invader, Hemimysis anomala GO Sars, 1907 (Crustacea: Mysidacea), in a freshwater storage reservoir in the Netherlands, with notes on its autecology and new records. Hydrobiologia 394: 233–248.

Leppakoski, E., S. Golllasch, P. Gruszka, H. Ojaveer, S. Olenin & V. Panov, 2002. The Baltic: a sea of invaders. Canadian Journal of Fisheries and Aquatic Science 59: 1175–1188.

Martin, J. W. & G. E. Davis, 2001. An updated classification of the recent crustacea. Natural History Museum of Los Angeles County, Science Series 39: 1–124.

Mauchline, J., 1980. The biology of mysids and euphausiids. Advances in Marine Biology 18: 1–680.

Meland, K. & E. Willassen, 2007. The disunity of "Mysidacea" (Crustacea). Molecular Phylogenetics and Evolution. http://dx.doi.org/10.1016/j.ympev.2007.02.009

Mordukhai-Boltovskoi, F. D., 1979. Composition and distribution of Caspian fauna in the light of modern data. Internationale Revue der Gesamten Hydrobiologie 64: 1–38.

Northcote, T. G., 1991. Success, problems, and control of introduced mysid populations in lakes and reservoirs. American Fisheries Society Symposium 9: 5–16.

Spears, T., R. W. DeBry, L. G. Abele & K. Chodyla, 2005. Peracarid monophyly and interordinal phylogeny inferred from nuclear small-subunit ribosomal DNA sequences (Crustacea: Malacostraca: Peracarida). Proceedings of the Biological Society of Washington 118: 117–157.

Spencer, C. N., B. R. McClelland & J. A. Stanford, 1991. Shrimp stocking, salmon collapse, and eagle displacement. Bioscience 41: 14–21.

Väinölä, R., 1995. Origin and recent endemic divergence of a Caspian Mysis species flock with affinities to the "glacial relict" crustaceans in boreal lakes. Evolution 49: 1215–1223.

Väinölä, R., B. J. Riddoch, R. D. Ward & R. I. Jones, 1994. Genetic zoogeography of the Mysis relicta species group (Crustacea: Mysidacea) in northern Europe and North America. Canadian Journal of Fisheries and Aquatic Science 51: 1490–1505.

Wittmann K. J., 1999. Global biodiversity in Mysidacea, with notes on the effects of human impact. In Schram F. R. & J. C. von Vaupel Klein (eds), Crustaceans and the Biodiversity Crisis. Proceedings of the Fourth International Crustacean Congress, Amsterdam, The Netherlands, July 20–24, 1998, Vol. I. Brill NV, Leiden: 511–525.
Acknowledgments
We thank R. Väinölä for advice concerning the Ponto-Caspian mysid fauna and for the helpful suggestions of one anonymous reviewer. T. bowmani and A. almyra images by E. Peebles from 'Common and Scientific Names of Aquatic Invertebrates from the United States and Canada: Crustaceans' are courtesy of the American Fisheries Society. This work was supported by NSF grant DEB-0206537.
Additional information
Guest editors: E. V. Balian, C. Lévêque, H. Segers and K. Martens
Freshwater Animal Diversity Assessment
Electronic supplementary material
About this article
Cite this article
Porter, M.L., Meland, K. & Price, W. Global diversity of mysids (Crustacea-Mysida) in freshwater. Hydrobiologia 595, 213–218 (2008). https://doi.org/10.1007/s10750-007-9016-2
Published:

Issue Date:

DOI: https://doi.org/10.1007/s10750-007-9016-2
Keywords