Abstract
The term freshwater bivalve is very inclusive and not very informative. There are representatives of at least 19 families that have at least one representative living in freshwater. This suggests at least 14 different invasions of freshwater. At least nine families have small to large radiations in the freshwater environment: Corbiculidae, Sphaeriidae, Dreissenidae, and the unioniforme families: Hyriidae, Margaritiferidae, Unionidae, Etheriidae, Iridinidae, and Mycetopodidae. The unioniforme families contain at least 180 genera and about 800 species. This order is characterized by the unique parasitic larval stage on the gills, fins or the body of a particular host fish. This order of freshwater bivalves is suffering a very high rate of extinction, with about 37 species considered presumed extinct in North America alone. The level of endangerment and extinction facing these animals is primarily the result of habitat destruction or modification.
This is a preview of subscription content,
to check access.
Access this article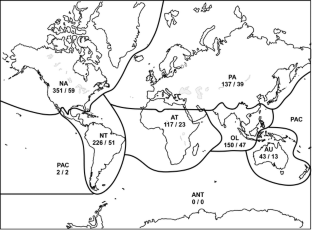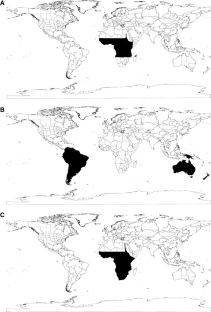 Similar content being viewed by others
References
Bogan, A. E., 1993. Freshwater bivalve extinctions: search for a cause. American Zoologist 33: 599–609.

Bogan, A. E., 1998. Freshwater molluscan conservation in North America: problems and practices. In Killeen, I. J., M. B. Seddon & A. M. Holmes (eds), Molluscan Conservation: A Strategy for the 21st Century. Journal of Conchology, Special Publication Number 2, 223–230.

Bogan, A. E. & W. R. Hoeh, 2000. On becoming cemented: evolutionary relationships among the genera in the freshwater bivalve family Etheriidae (Bivalvia: Unionoida). In Harper, E. M., Taylor, J. D. & Crame, J. A. (eds), The Evolutionary Biology of the Bivalvia. Geological Society, London Special Publication 177, 159–168.

Bonetto, A. A., 1997. Las 'ostras de agua dulce' (Muteloidea: Mutelidae). Su taxonomia y distribucion geografica en el conjunto de las Naiades del Mundo. Biociências 5: 113–142.

Brandt, R. A. M., 1974. The non-marine aquatic Mollusca of Thailand. Archiv für Molluskenkunde 105: 1–423.

Burch, J. B., 1975. Freshwater Sphaeriancean Clams (Mollusca: Pelecypoda) of North America. Malacological Publications, Hamburg, Michigan 96 pp.

Curole, J. P. & T. D. Kocher. 2002. Ancient sex-specific extension of the Cytochrome c Oxidase II Gene in bivalves and the fidelity of doubly-uniparental inheritance. Molecular Biology and Evolution 19: 1323–1328.

Daget, J., 1998. Catalogue raisonné des Mollusques bivalves d'eau africains. Backhuys Publishers, Leiden and OSTROM, Paris.

Deaton, L. E. & M. J. Greenberg, 1991. The adaptation of bivalve molluscs to oligohaline and fresh waters: phylogenetic and physiological aspects. Malacological Review 24: 1–18.

Dreher Mansur, M. C., 1993. Morphologische Untersuchungen an Eupera Bourguignat, 1854, und Byssanodonta Orbigny, 1846. Zur phylogenetischen Systematik der Sphaeriidae und Corbiculidae (Bivalvia, Venerioda). Doctoral dissertation, Eberhard-Karls-Universität, Tübingen, Germany, 125 pp., 152 Figures, 9 Tables.

Graf, D. L., 2000. The Etheriidae revisited: a phylogenetic analysis of hyriid relationships (Mollusca: Bivalvia: Paleoheterodonta: Unionoida). Occasional papers of the Museum of Zoology, The University of Michigan Number 729: 1–21.

Haas, F., 1969. Superfamilia Unionacea. Das Tierreich (Berlin) 88:x + 663 pp.

Hoeh, W. R., M. B. Black, R. Gustafson, A. E. Bogan, R. A. Lutz & R. C. Vrijenhoek, 1998. Testing alternative hypotheses of Neotrigonia (Bivalvia: Trigonioida) Phylogenetic relationships using Cytochrome c Oxidase Subunit 1 DNA sequences. Malacologia 40: 267–278.

Hoeh, W. R., A. E. Bogan, K. S. Cummings & S. E. Guttman, 1999. Evolutionary relationships among the higher taxa of freshwater mussels (Bivalvia: Unionoida): inferences on phylogeny and character evolution from analyses of DNA sequence Data. Malacological Review 31: 111–130.

Hoeh, W. R., A. E. Bogan & W. H. Heard. 2001. A phylogenetic perspective on the evolution of morphological and reproductive characteristics in the Unionoida. In Bauer G. & K. Wächtler (eds), Ecology and Evolutionary Biology of Freshwater Mussels, Unionoida. Ecological Studies, Vol. 145. Springer Verlag, 257–280.

Huff, S. W., D. Campbell, D. L. Gustafson, C. Lydeard, C. R. Altaba & G. Giribet, 2004. Investigations into the phylogenetic relationships of freshwater pearl mussels (Bivalvia: Margaritiferidae) based on molecular data: implications for their taxonomy and biogeography. Journal of Molluscan Studies 70: 379–388.

Korniushin, A. V. & M. Glaubrecht, 2002. Phylogenetic analysis based on the morphology of viviparous freshwater clams of the family Sphaeriidae (Mollusca, Bivalvia, Veneroida). Zoologica Scripta 31: 415–459.

Lee, T. & D. Ó Foighil, 2003. Phylogenetic structure of the Sphaeriinae, a global clade of freshwater bivalve mollusks, inferred from nuclear (ITS-1) and mitochondrial (16S) ribosomal gene sequences. Zoological Journal of the Linnean Society 137: 245–260.

Liu, Y. Y., 1979. Freshwater Mollusks of China. Economic Fauna of China. Beijing, China, 134 pp.

Lydeard, C., R. H. Cowie, A. E. Bogan, P. Bouchet, K. S. Cummings, T. J. Frest, D. G. Herbert, R. Hershler, O. Gargominy, K. Perez, W. F. Ponder, B. Roth, M. Seddon, E. E. Strong & F. G. Thompson, 2004. The global decline of nonmarine mollusks. BioScience 54: 321–330.

Mandahl-Barth, G., 1988. Studies on African freshwater bivalves. Danish Bilarziasis Laboratory, Charlottenlund.

McMahon, R. F. & A. E. Bogan. 2001. Mollusca: Bivalvia. In J. H. Thorpe & A. P. Covich. Ecology and Classification of North American Freshwater Invertebrates, 2nd edn. Academic Press, 331–429.

McMichael, D. F. & I. D. Hiscock, 1958. A monograph of the freshwater mussels (Mollusca: Pelecypoda) of the Australian region. Australian Journal of Marine and Freshwater Research 9: 372–508, pls. 1–19.

Morton, B., 1979. Corbicula in Asia. In Britton J. C. (ed.), Proceedings, First International Corbicula Symposium. Texas Christian University Research Foundation, Fort Worth, Texas, 16–38.

Neves, R. J., A. E. Bogan, J. D. Williams, S. A. Ahlstedt, & P. D. Hartfield. 1997 (March 1998). Status of aquatic mollusks in the southeastern United States: a downward spiral of diversity. In G. W. Benz & D. E. Collins (eds), Aquatic Fauna in Peril: The Southeastern Perspective. Special Publication No. 1, Southeast Aquatic Research Institute, Lenz Design and Communications, Decatur, GA. 554 pp. [Published May 1998], 43–86.

Ortmann, A. E., 1912. Notes upon the families and genera of the Najades. Annals of the Carnegie Museum 8: 222–365.

Pilsbry, H. A. & J. Bequaert, 1927. The aquatic mollusks of the Belgian Congo, with a geographical and ecological account of Congo malacology. Bulletin of the American Museum of Natural History 53: 69–602.

Rosenberg, G. & M. L. Ludyanskiy, 1994. A nomenclatural review of Dreissena (Bivalvia: Dreissenidae), with identification of the quagga mussel as Dreissena bugensis. Canadian Journal of Fisheries and Aquatic Sciences 51: 1474–1484.

Smith, B. J., 1992.Non-marine Mollusca. In Houston, W. W. K. (ed.), Zoological Catalogue of Australia, Vol. 8, xii. AGPS, Canberra, 405 pp.

Smith, D. G., 2001. Systematic and distribution of the Recent Margaritiferidae. In Harper, E. M., J. D. Taylor & J. A. Crame (eds), The Evolutionary Biology of the Bivalvia. Geological Society, London, Special Publication 177, 33–49.

Starobogatov, Y., 1995. The pearly freshwater mussels (Mollusca, Unionoida, Margaritiferidae) of Russia. In Proceedings of the 9th International Colloquium of the European Invertebrate Survey, Helsinki, 3–4 September 1993. WWF Finland Report No. 7, 109–112.

Subba Rao, N. V., 1989. Handbook Freshwater Molluscs of India. Zoological Survey of India, Calcutta, India, 289 pp.

Turgeon, D. D., J. F. Quinn, Jr., A. E. Bogan, E. V. Coan, F. G. Hochberg, W. G. Lyons, P. Mikkelsen, R. J. Neves, C. F. E. Roper, G. Rosenberg, B. Roth, A. Scheltema, M. J. Sweeney, F. G. Thompson, M. Vecchione & J. D. Williams. 1998. Common and Scientific Names of Aquatic Invertebrates from the United States and Canada: Mollusks. American Fisheries Society Special Publication 26. Second Edition, 536 pp.

Wächtler, K., M. C. Dreher-Mansur & T. Richter, 2001. Larval types and early postlarval biology in Naiads (Unionoida). In Bauer, G. & K. Wächtler (eds), Ecology and Evolution of the Freshwater Mussels Unionoida. Ecological Studies, Vol. 145. Springer-Verlag, Berlin, 95–125.

Walker, K. F., M. Byrne, C. W. Hickey & D. S. Roper. 2001. Freshwater mussels (Hyriidae) of Austalasia. In G. Bauer & K. Wächtler (eds), Ecology and Evolution of Freshwater Mussels, Unionoida. Ecological Studies, Vol. 145. Springer Verlag, 5–31.

Wu, X. P., 1998. Studies on Freshwater Mollusca in Mid-Lower Reaches of Chang Jiang River. Doctoral Dissertation. Academia Sinica, Wuhan, China, 197 pp.
Acknowledgments
Paula Mikkelsen provided insight into the variety of families occurring in brackish water. Cynthia M. Bogan and Jamie Smith have kindly read and criticized various versions of this article. Jonathan Raine assisted with the production of the maps.
Additional information
Guest editors: E. V. Balian, C. Lévêque, H. Segers & K. Martens
Freshwater Animal Diversity Assessment
About this article
Cite this article
Bogan, A.E. Global diversity of freshwater mussels (Mollusca, Bivalvia) in freshwater. Hydrobiologia 595, 139–147 (2008). https://doi.org/10.1007/s10750-007-9011-7
Published:

Issue Date:

DOI: https://doi.org/10.1007/s10750-007-9011-7
Keywords