Abstract
Leeches (Hirudinea) constitute a relatively small monophyletic group of highly specialized annelids, but may play important roles as invertebrate predators in freshwater, while others are infamous for their ectoparasitic bloodsucking. About 15% of the 680 described species are marine and slightly less have switched to terrestrial life; the rest are freshwater, divided among 91 genera. They are globally distributed on all continents except Antarctica, reaching the highest diversity in the Holarctic region with one-half of all continental species. Known areas of local endemism are the ancient Siberian lake Bajkal and lake Ohrid (about 10 species each) on the Balkan Peninsula, which is an endemicity area in itself. A small number of sanguivorous species known as "medicinal leeches" have played an important role in traditional and modern medicine, most noticeably four Hirudo spp. from the Western Palearctic.
This is a preview of subscription content, log in to check access.
Access options
Buy single article
Instant access to the full article PDF.
US$ 39.95
Price includes VAT for USA
Subscribe to journal
Immediate online access to all issues from 2019. Subscription will auto renew annually.
US$ 199
This is the net price. Taxes to be calculated in checkout.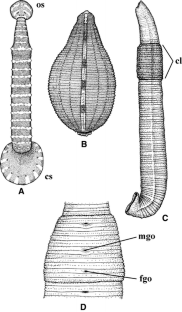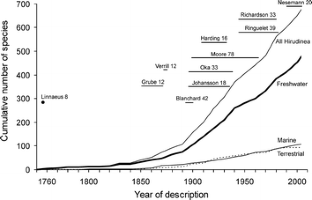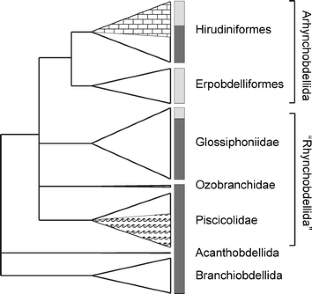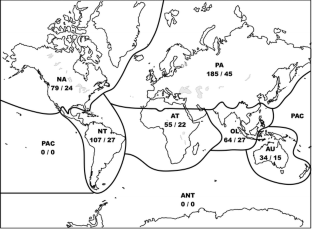 References
Apakupakul, K., M. E. Siddall & E. M. Burreson, 1999. Higher level relationships of leeches (Annelida: Clitellata: Euhirudinea) based on morphology and gene sequences. Molecular Phylogenetics and Evolution 12: 350–359.

Bielecki, A., 1997. Fish leeches of Poland in relation to the Palearctic piscicolines (Hirudinea: Piscicolidae: Piscicolinae). Genus 8: 223–375.

Borda, E. & M. E. Siddall, 2004. Arhynchobdellida (Annelida: Oligochaeta: Hirudinida): phylogenetic relationships and evolution. Molecular Phylogenetics and Evolution 30: 213–225.

Govedich, F. R., B. A. Bain, M. Burd & R. W. Davies, 2003. Reproductive biology of the invasive Asian freshwater leech Barbronia weberi (Blanchard, 1897). Hydrobiologia 510: 125–129.

Govedich, F. R., D. W. Blinn, R. H. Hevly & P. S. Keim, 1999. Cryptic radiation in erpobdellid leeches in xeric landscapes: a molecular analysis of population differentiation. Canadian Journal of Zoology 77: 52–57.

Harding W. A. & J. P. Moore, 1927. Hirudinea. In Shipley, E. (ed.), The Fauna of British India, including Ceylon and Burma. London.

Klemm, D. J., 1972. Freshwater leeches (Annelida: Hirudinea) of North America. Biota of freshwater ecosystems identification manual no. 8. Water Pollution Control Research Series. U.S. Environmental Protection Agency, Washington, D.C.

Kutschera, U., 2004. The freshwater leech Helobdella europaea (Hirudinea: Glossiphoniidae): an invasive species from South America? Lauterbornia 52: 153–162.

Kutschera, U. & M. Roth, 2006. Notes on the ecology of the Asian medicinal leech Hirudinaria manillensis (Hirudinea: Hirudinidae). Lauterbornia 56: 9–13.

Linnaeus, C., 1789. Systema Naturae. Vermes.

Lukin, E. I., 1976. Pijavki. Tom I. Pijavki presnyh i solonovatyh vodoemov, Izdatel'stvo "Nauka", Leningrad.

Martin, P., 2001. On the origin of the Hirudinea and the demise of the Oligochaeta. Proceedings of the Royal Society of London Series B––Biological Sciences 268: 1089–1098.

Moore, J. P., 1898. The leeches of the U. S. National Museum. Proceedings US National Museum 21(1160): 543–563.

Moquin-Tandon, A., 1846. Monographie de la famille des Hirudinees. Paris.

Nesemann, H. & E. Neubert, 1999. Annelida: Clitellata: Branchiobdellida, Acanthobdellea, Hirudinea. In: Süßwasserfauna von Mitteleuropa, 6/2. Spektrum Akademischer Verlag, Heidelberg, Berlin.

Oceguera-Figueroa, A., V. León-Règagnon & M. E. Siddall, 2005. Phylogeny and revision of the Erpobdelliformes (Annelida, Arhynchobdellida) from Mexico based on nuclear and mitochondrial gene sequences. Revista Mexicana de Biodiversidad 76: 191–198.

Pawlowski, L. K., 1948. Contributions á la systématique des sangsues dú genre Erpobdella de Blainville. Acta zoologica et oecologica Universitatis Lodziensis, sect. III 8: 1–55.

Pilcher, H., 2004. Medicinal leeches: stuck on you. Nature 432: 10–11.

Ringuelet, R. A., 1980. Biogeografia de los hirudineos de America del Sur y de Mesoamerica. Obra del Centenario del Museo de La Plata 6: 1–27.

Sawyer, R. T., 1986. Leech biology and behaviour. Clarendon Press, Oxford.

Siddall, M. E. & E. M. Burreson, 1998. Phylogeny of leeches (Hirudinea) based on mitochondrial cytochrome c oxidase subunit I. Molecular Phylogenetics and Evolution 9: 156–162.

Siddall, M. E., 2002. Phylogeny of the leech family Erpobdellidae (Hirudinea: Oligochaeta). Inveretbrate Systematics 16: 1–6.

Siddall, M. E., K. Apakupakul, E. M. Burreson, K. A. Coates, C. Erséus, S. R. Gelder, M. Källersjö & H. Trapido-Rosenthal, 2001. Validating Livanow: molecular data agree that leeches, Branchiobdellidans and Acanthobdella peledina form a monophyletic group of oligochaetes. Molecular Phylogenetics and Evolution 21: 346–351.

Sket, B., 1968. K poznavanju faune pijavk (Hirudinea) v Jugoslaviji (Zur Kenntnis der Egel–Fauna Jugoslawiens). Razprave SAZU, Cl. IV., 11(4): 127–197.

Sket B., 1986. Hirudinea. In Botosaneanu, L. (ed.), Stygofauna Mundi, pp. 250–253.

Sket, B., 1989. Intralacustrine speciation in the genus Dina (Hirudinea, Erpobdellidae) in Lake Ohrid (Yugoslavia). Hydrobiologia 182: 49–58.

Sohn, J. H., H. A. Kang, K. J. Rao, C. H. Kim, E. S. Choi, B. H. Chung & S. K. Rhee, 2001. Current status of the anticoagulant hirudin: its biotechnological production and clinical practice. Applied Microbiology and Biotechnology. 57: 606–613.

Soós, Á., 1965. Identification key to the leech (Hirudinoidea) genera of the world, with a catalogue of the species. I. Family: Piscicolidae. Acta zoologica Academiae scientiarum Hungaricae 11: 417–463.

Soós, Á., 1969. Identification key to the leech (Hirudinoidea) genera of the world, with a catalogue of the species. VI. Family: Glossiphoniidae. Acta zoologica Academiae scientiarum Hungaricae 15: 397–454.

Soós, Á., 1970. A zoogeographical sketch of the fresh-water and terrestrial leeches (Hirudinoidea). Opuscula zoologica Budapest 10(2): 313–324.

Trontelj, P., B. Sket, P. Dovč & G. Steinbrueck, 1996. Phylogenetic relationship in European erpobdellid leeches (Hirudinea: Erpobdellidae) inferred from restriction site data of the 18S ribosomal gene and ITS2 region. Journal of Zoological Systematics and Evolutionary Research 34: 85–93.

Trontelj, P., B. Sket & G. Steinbrück, 1999. Molecular phylogeny of leeches: congruence of nuclear and mitochondrial rDNA data sets and the origin of bloodsucking. Journal of Zoological Systematics and Evolutionary Research 37: 141–147.

Trontelj, P. & B. Sket, 2000. Molecular re-assessment of some phylogenetic, taxonomic and biogeographic relationships between the leech genera Dina and Trocheta (Hirudinea: Erpobdellidae). Hydrobiologia 438: 227–235.

Trontelj, P. & S. Y. Utevsky, 2005 Celebrity with a neglected taxonomy: molecular systematics of the medicinal leech (genus Hirudo). Molecular Phylogenetics and Evolution 34: 616–624.

Utevsky, S. & P. Trontelj, 2004. Phylogenetic relationships of fish leeches (Hirudinea, Piscicolidae) based on mitochondrial DNA sequences and morphological data. Zoologica Scripta 33: 375–385.

Whitaker, I. S., J. Rao, D. Izadi & P. E. Butler, 2004. Hirudo medicinalis: ancient origins of, and trends in the use of medicinal leeches throughout history. British Journal of Oral & Maxillofacial Surgery 42: 133–137.

Yang, T., 1996. Annelida Hirudinea. In Fauna Sinica. Science Press, Beijing.
Acknowledgments
We thank Hasko Nesemann for kindly providing his drawings, and Gregor Bračko for his help with copying out some literature data. This work was in part supported by the Slovenian Research Agency.
Additional information
Guest editors: E. V. Balian, C. Lévêque, H. Segers & K. Martens
Freshwater Animal Diversity Assessment
About this article
Cite this article
Sket, B., Trontelj, P. Global diversity of leeches (Hirudinea) in freshwater. Hydrobiologia 595, 129–137 (2008). https://doi.org/10.1007/s10750-007-9010-8
Keywords
Hirudinea

Leeches

Freshwater

Fauna

Biodiversity

Biogeography