Abstract
A literature review of Polychaeta (Annelida) including Aphanoneura (the oligochaete-like Aeolosomatidae and Potamodrilidae), living in freshwater yielded 168 species, 70 genera and 24 families representing all of the major polychaete clades, but less than 2% of all species. The best-represented families were, in order, Nereididae, Aeolosomatidae, Sabellidae, Spionidae and Histriobdellidae. Fourteen families were represented by a single species and genus. Regions supporting the highest diversity of freshwater polychaetes were in order, Palaearctic, Neotropical, Oriental, Nearctic, Australasian, and Afrotropical. More than half of all species and genera inhabitat lakes and rivers, followed by lagoons/estuaries, which have a high proportion of euryhaline species, and inland seas. Less common, atypical polychaete habitats include subterranean waters, the hyporheic zone of rivers and plant container habitats (phytotelmata). At least three distinct ecological/historical processes appear to account for the colonisation of continental waters: invasion of a clade prior to the break-up of Gondwana, as in Aphanoneura, Namanereis, Stratiodrilus, and Caobangia; relatively recent stranding of individual species (relicts); and the temporary visitation of euryhaline species.
This is a preview of subscription content, log in to check access.
Access options
Buy single article
Instant access to the full article PDF.
US$ 39.95
Tax calculation will be finalised during checkout.
Subscribe to journal
Immediate online access to all issues from 2019. Subscription will auto renew annually.
US$ 199
Tax calculation will be finalised during checkout.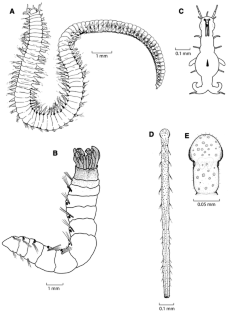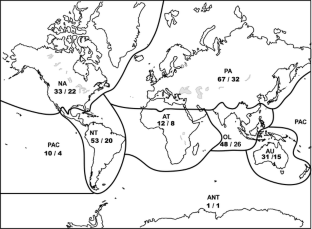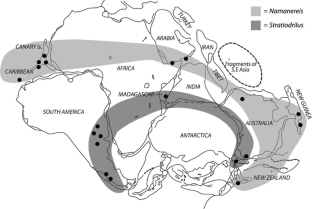 References
Amaral, A. C. Z. & E. H. Morgado, 1997. Stratiodrilus (Annelida: Polychaeta: Histriobdellidae) associated with a freshwater decapod, with the description of a new species. Proceedings of the Biological Society of Washington 110: 471–475.

Bartholomew, J. L., M. J. Whipple, D. G. Stevens & J. L. Fryer, 1997. The life cycle of Ceratomyxa shasta, a myxosporean parasite of salmonids, requires a freshwater polychaete as an alternate host. Journal of Parasitology 83: 859–868.

Bastrop, R., M. Roehner, C. Sturmbauer & K. Juerss, 1997. Where did Marenzelleria spp. (Polychaeta: Spionidae) in Europe come from? Aquatic Ecology 31: 119–136.

Bij de Vaate, A., K. Jazdzewski, H. A. M. Ketelaars, S. Gollasch & G. Van der Velde, 2002. Geographical patterns in range extension of Ponto-Caspian macroinvertebrate species in Europe. Canadian Journal of Fisheries and Aquatic Sciences 59: 1159–1174.

Brinkhurst, R. O., 1971. Phylogeny and Classification, Part 1. In Brinkhurst, R. O. & B. G. M. Jamieson (eds), Aquatic Oligochaeta of the World. Oliver & Boyd, Edinburgh, 165–177.

Bunke, D., 1967. Zur Morphologie und Systematik der Aeolosomatidae Beddard 1895 und Potamodrilidae nov. fam. (Oligochaeta). Zoologische Jahrbücher, Abteilung für Systematik, Ökologie und Geographie der Tiere 94: 187–368.

Castillo, G. C., H. W. Li & P. A. Rossignol, 2000. Absence of overall feedback in a benthic estuarine community: a system potentially buffered from impacts of biological invasions. Estuaries 23: 275–291.

Chamberlin, R. V., 1924. A new freshwater nereid from China. Proceedings of the Biological Society of Washington 37: 79–82.

Croskery, P., 1978. The freshwater co-occurrence of Eurytemora affinis (Copepoda: Calanoida) and Manayunkia speciosa (Annelida: Polychaeta): possible relicts of a marine incursion. Hydrobiologia 59: 237–241.

Day, J. H. & J. A. Day, 2002. Polychaeta, Chapter 12. In Day, J. A. & I. J. de Moor (eds), Guides to the Freshwater Invertebrates of Southern Africa. Volume 5: Non-Arthropods. The protozoans, Porifera, Cnidaria, Platyhelminthes, Nemertea, Rotifera, Nematoda, Nematomorpha, Gastrotrichia, Bryozoa, Tardigrada, Polychaeta, Oligochaeta & Hirudinea. Pretoria, Water research Commission, Report No. TT 167/02, 193–202.

Foster, N., 1972. Freshwater Polychaetes (Annelida) of North America. Biota of Freshwater Ecosystems. Identification Manual No. 4. US Government Printing Office, Washington D.C., 15 pp.

Gilliland, P. M. & W. G. Sanderson, 2000. Re-evaluation of marine benthic species of nature conservation importance: a new perspective on certain 'lagoonal specialists' with particular emphasis on Alkmaria romijni Horst (Polychaeta: Ampharetidae). Aquatic Conservation: Marine and Freshwater Ecosystems 10: 1–12.

Glasby, C. J., 1999. The Namanereidinae (Polychaeta: Nereididae). Part 1. Taxonomy and phylogeny. Part 2. Cladistic biogeography. Records of the Australian Museum Supplement 25: 1–144.

Glasby, C. J., P. A. Hutchings, K. Fauchald, H. Paxton, G. W. Rouse, C. Watson Russell, & R. S. Wilson, 2000. Class Polychaeta. In Beesley, P. L., G. J. B. Ross & C. J. Glasby (eds), Polychaetes & Allies: The Southern Synthesis. Fauna of Australia. Vol. 4A. Polychaeta, Myzostomida, Pogonophora, Echiura, Sipuncula. CSIRO Publishing, Melbourne, 1–296.

Harrison, L., 1928. On the genus Stratiodrilus (Archiannelida: Histriobdella), with a description of a new species from Madagascar. Records of the Australian Museum 16: 116–121.

Hartman, O. 1959. Polychaeta, Chapter 22. In Edmondson, W. T. (ed.), Freshwater Biology, 2nd edn. John Wiley & Sons Inc., 538–541.

Hartmann-Schröder, G., 1986. Polychaeta (incl. Archiannelida). In Botosaneanu, L. (ed.), Stygofauna mundi. A Faunistic, Distributional and Ecological Synthesis of the World Fauna Inhabiting Subterranean Waters (Including the Marine Interstitial). E.J. Brill, Leiden, Netherlands, 210–233.

Hutchings, P. A., P. de Deckker & M. C. Geddes, 1981. A new species of Manayunkia (Polychaeta) from ephemeral lakes near the Coorong, South Australia. Transactions of the Royal Society of South Australia 105: 25–28.

Jones, M. L., 1974. On the Caobangiidae, a new family of the Polychaeta, with a redescription of Caobangia billeti Giard. Smithsonian Contributions to Zoology 175: 1–55.

Khlebovich, V. V. & A. Y. Komendantov, 2002. Temporary variation of paragnath arrangement in Hediste diversicolor and H. japonica (Polychaeta, Nereididae). Zoologichesky Zhurnal 81: 503–505.

Kuhl, D. L. & L. C. Oglesby, 1979. Reproduction and survival of the pileworm Nereis succinea in higher Salton Sea salinities. Biological Bulletin, Woods Hole 157: 153–165.

Metcalfe, I., 1998. Palaeozoic and mesozoic geological evolution of the SE Asian region: multidisciplinary constraints and implications for biogeography. In Hall, R. & J. D. Holloway (eds), Biogeography and Geological Evolution of SE Asia. Backhuys, Leiden, 25–41.

Okuda, S., 1935. Some lacustrine polychaetes with a list of brackish-water polychaetes found in Japan. Annotationes Zoologicae Japonenses 15: 240–246.

Orensanz, J. M., 1977. Polychaeta. In Hurlbert, S. H. (ed.), Biota acuatica de Sudamerica austral. San Diego State University, San Diego, 97–98.

Orensanz, J. M., 1981. Polychaeta. In Hurlbert, S. H., G. Rodriguez & N. D. dos Santos (eds), Aquatic Biota of Tropical South America. (Being a Compilation of Taxonomic Bibliographies for the Fauna and Flora of Inland Waters of the Tropical Portion of South America). Part 2. Anarthropoda. San Diego University, San Diego, 167–169.

Orensanz, J. M., 1982. Polychaeta. In Hurlbert, S. H. & A. Villalobos-Figueroa (eds), Aquatic Biota of Mexico, Central America and the West Indies (Being a Compilation of Taxonomic Bibliographies for the Fauna and Flora of Island Waters of Mesoamerica and the Caribbean region). San Diego State University, San Diego, 159–161.

Proskurina, Y. S., 1979 [1980]. The state of introduced species in the Aral Sea and the prospects for their spread [English version]. Hydrobiological Journal 15: 30–34.

Rouse, G. W., 2004. Annelida: Polychaeta. In Yule, C. M. & H. S. Yong (eds), Freshwater Invertebrates of the Malaysian region. Academy of Sciences, Malaysia, 194–206.

Rouse, G. W. & F. Pleijel, 2001. Polychaetes. Oxford University Press Inc, New York.

Salgado-Barragan, J., N. Méndez & A. Toledano-Granados, 2004. Ficopomatus miamiensis (Polychaeta: Serpulidae) and Styela canopus (Ascidiacea: Styelidae), non-native species in Urias estuary, SE Gulf of California, Mexico. Cahiers de Biologie Marine 45: 167–174.

Shcherbina, G. K., 2001. Autoacclimatization of the ponto-caspian polychaete Hypania invalida from the Upper Volga River basin. Zoologichesky Zhurnal 80: 278–284.

Schmidt, H. & W. Westheide, 1999. Genetic relationships (RAPD-PCR) between geographically separated populations of the "cosmopolitan" interstitial polychaete Hesionides gohari (Hesionidae) and the evolutionary origin of the freshwater species Hesionides riegerorum. Biological Bulletin (Woods Hole) 196: 216–226.

Struck, T. H. & G. Purschke, 2005. The sister group relationship of Aeolosomatidae and Potamodrilidae (Annelida: "Polychaeta") – a molecular phylogenetic approach based on 18S rDNA and cytochrome oxidase 1. Zoologischer Anzeiger 243: 281–293.

Timm, T., 1981. On the origin and evolution of aquatic Oligochaeta. Eesti NSV Teaduste Akadeemia Toimetised, Bioloogia 30: 174–181.

Vanden Bossche, J.-P., F. Chérot, E. Delooz, F. Grisez & G. Josens, 2001. First record of the Pontocaspian invader Hypania invalida (Grube, 1860) (Polychaeta: Ampharetidae) in the River Meuse (Belgium). Belgian Journal of Zoology 131: 183–185.

Van der Land, J., 1971. Family Aeolosomatidae. In Brinkhurst, R. O. & B. G. M. Jamieson (eds), Aquatic Oligochaeta of the World. Oliver & Boyd, Edinburgh, 665–706.

Wesenberg-Lund, E., 1958. Lesser Antillean polychaetes chiefly from brackish waters, with a survey and a bibliography of fresh and brackish water polychaetes. Studies on the Fauna of Curaçao and other Caribbean Islands 8: 1–41.
Acknowledgments
CJG would like thank David Karlen and Hasko Nesemann for making available unpublished distribution data and the many colleagues, who provided helpful suggestions in response to a request for information. João Gil and Mary Petersen provided valuable constructive critique in review, and João also supplied literature references and distributional data. We thank Gloria Richards and Sue Dibbs for the preparation of figures.
Additional information
Guest editors: E. V. Balian, C. Lévêque, H. Segers & K. Martens
Freshwater Animal Diversity Assessment
About this article
Cite this article
Glasby, C.J., Timm, T. Global diversity of polychaetes (Polychaeta; Annelida) in freshwater. Hydrobiologia 595, 107–115 (2008). https://doi.org/10.1007/s10750-007-9008-2
Keywords
Annelida

Polychaeta

Aphanoneura

Relict

Introduced species

Endemicity

Zoogeography