Abstract
Global diversity of inland water cnidarians is low, containing <40 species belonging to phylogenetically distinct groups representing independent invasion events: the common and cosmopolitan hydras (12–15 species); the sporadically occurring freshwater medusae (6–16 sp.); the Cordylophorinae (2 sp.); the parasitic Polypodium (1 sp.); the medusae occurring in saline lakes (4 sp.). Freshwater cnidarians inhabit nearly all types of freshwater on all continents (except Antarctica), but only a few species have cosmopolitan distributions. Due to uncertainty in species knowledge, fine scale regions of endemicity are not yet clear.
This is a preview of subscription content,
to check access.
Access this article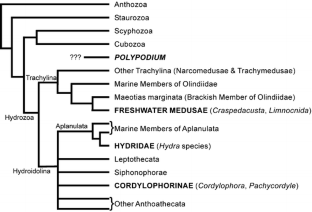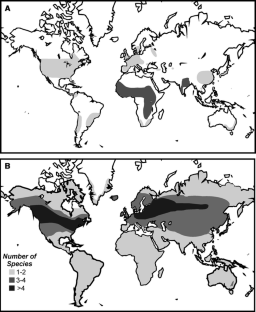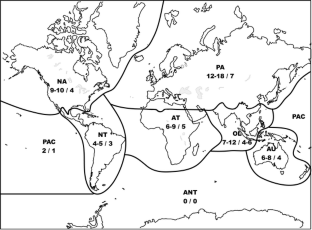 References
Bouillon, J. & F. Boero, 2000a. The hydrozoa: a new classification in the light of old knowledge. Thalassia Salentina 24: 3–45.

Bouillon, J. & F. Boero, 2000b. Synopsis of the families and genera of the Hydromedusae of the world, with a list of the worldwide species. Thalassia Salentina 24: 47–296.

Campbell, R. D., 1987. A new species of Hydra (Cnidaria: Hydrozoa) from North America with comments on species clusters within the genus. Zoological Journal of the Linnean Society 91: 253–263.

Collins, A. G., 2002. Phylogeny of Medusozoa and the evolution of cnidarian life cycles. Journal of Evolutionary Biology 18: 418–432.

Collins, A. G., P. Schuchert, A. C. Marques, T. Jankowski, M. Medina & B. Schierwater, 2006. Medusozoan phylogeny and character evolution clarified by new large and small subunit rDNA data and an assessment of the utility of phylogenetic mixture models. Systematic Biology 55: 97–115.

Collins, A. G., S. Winkelman, H. Hadrys & B. Schierwater, 2005. Phylogeny of Capitata and Corynidae (Cnidaria, Hydrozoa) in light of mitochondrial 16S rDNA data. Zoological Scripta 34: 91–99.

Croghan, P. C., 1983. Osmotic regulation and the evolution of brackish- and fresh-water faunas. Journal of the Geological Society London 140: 39–46.

Dumont, H. J., 1994. The distribution and ecology of the fresh- and brackish-water medusae of the world. Hydrobiologia 272: 1–12.

Folino, N. C., 2000. The freshwater expansion and classification of the colonial hydroid Cordylophora (Phylum Cnidaria, Class Hydrozoa). In Pederson, J. (ed.), Marine Bioinvasions: Proceedings of the First National Conference, January 24–27, 1999. Massachusetts Institute of Technology Sea Grant College Program, Cambridge, MA: 139–144.

Holstein, T., 1995. Cnidaria: Hydrozoa. In Schwoerbel, J. & P. Zwick (eds), Süßwasserfauna von Mitteleuropa, Vol. 1–2. Gustav Fischer, Stuttgart: 67–101.

Jankowski, T., 2001. The freshwater medusae of the world – a taxonomic and systematic literature study with some remarks on other inland water jellyfish. Hydrobiologia 462: 91–113.

Jankowski, T., T. Strauss & H. T. Ratte, 2005. Trophic interactions of the freshwater jellyfish Craspedacusta sowerbii. Journal of Plankton Research 27: 811–823.

Kim, J. H., W. Kim & C. W. Cunningham, 1999. A new perspective on lower metazoan relationships from 18S rDNA sequences. Molecular Biology and Evolution 16: 423–427.

Raikova, E. V., 2002. Polypodium hydriforme infection in the eggs of acipenseriform fishes. Journal of Applied Ichthyology 18: 405–415.

Schulze, P., 1917. Neue Beiträge zu einer Monographie der Gattung Hydra. Archiv für Biontologie 4: 29–119.

Slobodkin, L. B. & P. E. Bossert, 2001. Cnidaria. In Thorp, J. E. & A. P. Covich (eds), Ecology and Classification of North American Freshwater Invertebrates. Academic Press: 135–154.

Stepanjants, S. D., O. A. Timoshkin, B. A. Anokhin & T. A. Napara, 2000. A new species of Pachycordyle (Hydrozoa, Clavidae) from Lake Biwa (Japan), with remarks on this and related Clavid genera. Scientia Marina 64(Suppl. 1): 225–236.
Acknowledgements
This work was partly funded by the Swiss Federal Office of Education and Science within the framework of the European Union Environment and Climate projects CLIME (EVK1-CT-2002-00121) and Eurolimpacs (GOCE-CT-2003-505540).
Additional information
Guest editors: E. V. Balian, C. Lévêque, H. Segers & K. Martens
Freshwater Animal Diversity Assessment
About this article
Cite this article
Jankowski, T., Collins, A.G. & Campbell, R. Global diversity of inland water cnidarians. Hydrobiologia 595, 35–40 (2008). https://doi.org/10.1007/s10750-007-9001-9
Published:

Issue Date:

DOI: https://doi.org/10.1007/s10750-007-9001-9
Keywords