Abstract
In 1967 Garfinkel and Bittner were investigating good organizational reasons for bad clinic records, demonstrating how the reading of such records as sociological data should be reported to the understanding of their production's practical contingencies and to the situated circumstances of their use. This seminal paper opened new avenues of research related to the study of records in various professional contexts and of their transformation, to the development of praxiological approaches to practical and professional texts, or to the study of historical documents and archives. To contribute to this ethnomethodological strand of research, I propose a case-study of artworks' records management at the museum, investigated as a perspicuous site to reflect upon how artworks are experienced, apprehended and defined in the institutional ordinary business. Drawing on observations and materials collected at the French National Museum of Modern Art, I study records' careers (how they are produced, used and transformed by museum's members) and describe their material and organizational properties, by giving a close look at some elements (initial artworks' descriptions, installation instructions and confidential correspondence). More particularly, I focus on one distinctive property of some records: their thickness, investigated as a scheme of interpretation of the situated features of documentation work. By reading artworks' records as local collective practices of assemblage, disruption and reconfiguration of pieces of documentation, I demonstrate that what is documented in this process is not only the artwork: it is also the collective work of working with artworks, dealt with as ongoing achievements of institutional practices.
Access options
Buy single article
Instant access to the full article PDF.
US$ 39.95
Tax calculation will be finalised during checkout.
Subscribe to journal
Immediate online access to all issues from 2019. Subscription will auto renew annually.
US$ 79
Tax calculation will be finalised during checkout.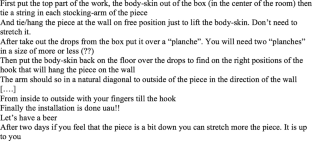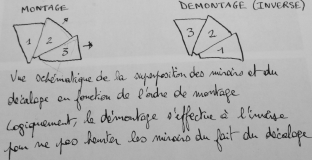 Notes
1.

2.

In this paper, I focus on documentation as a professional practice. For a study of visitors' documentation practices and innovations in museum documentation systems, see Cameron and Mengler (2009).

3.

See Garfinkel (1967), Heath and Luff (1996), Hartswood et al. (2011), on patient records; Bittner (1967), Cicourel (1968), Meehan (1986), Komter (2006), on police records; Zimmerman (1969), on the management of records in Welfare Institutions; and, for more broaden considerations on professional texts and practices of working with documents in an ethnomethodological perspective, see Wolff (2004), Watson (2009), Atkinson and Coffey (2011).

4.

As Garfinkel and Bittner write, "In reviewing the contents of case folders it seemed to us that a case folder could be read in one or the other of two contrasting and irreconcilable ways. On the one hand, it could be read as an actuarial record. On the other hand, it could be read as the record of a therapeutic contract between the clinic as a medico-legal enterprise and the patient" (1967: 198).

5.

The MNAM's collection is constituted indeed of around 120,000 artworks (at the time of the study), among which only a few thousands are presented to the public (at the museum or in other institutions), while the others are kept in the museum's storage, in-between two presentations.

6.

For a broader reflection on "complexity" in knowledge practices, see also Law and Mol (eds.) (2002), and more particularly, in relation to the topic of this paper, Callon's chapter for a discussion of writing practices as a tool for managing complexity. I owe this relevant reference to one of the anonymous reviewers.

7.

The MNAM also uses a digital information system to manage its collection, entitled G-coll. Some of the pieces of information are to be found on both sites, paper and digital: for instance, some elements available online have their source in the paper record, and some documents in the record are printed from the online database. Nevertheless, the two systems are not equivalent and are not used for the same purposes. In this paper, I focus on the record as a documentary unit.

8.

Indeed, there is not only one record about the artwork in the museum: for instance, one might find a record at the conservation and restoration department, or in the registrars' own archives. But the record I focus on here presents itself as a centralized collection of pieces of information about the artwork in the museum.

9.

As Domínguez Rubio (2015) explains about Da Vinci's Mona Lisa, the best way to preserve an artwork is sometimes to keep it stored.

10.

As Meehan explains: "When records have a projected external career, they will be primarily accountable to formal legal and organizational expectations and will be taken at face value. Indeed, they are designed to fulfill these expectations. […]. Although such records can be used internally and interpreted 'between the lines,' this possible interpretation does not define its production. Similarly, records with internal careers differ greatly in form and content. Although these could be used externally, it is questionable what use could be made of them by outsiders as they do not provide an 'objective' account to be taken at face value. Rather, they depend upon an interpretive 'between the lines' reading and access to the organizational routines and expectations that define their production and are presupposed in such a reading" (1986: 88).

11.

Although I do net delve into this matter here, and as a reviewer fruitfully suggested, it would be worth engaging in a proper study of how such standards of description emerged—following, for instance, Bowker and Star's perspectives on classification (1999).

12.

Museums indeed purchase a supposedly fixed version of the artwork: that is why a practice such as the French painter Bonnard's, who is famous for giving brushstrokes on his canvas on the museum's wall, is not tolerated. Of course, such a principle is challenged by pieces which imply a process of change, or even loss, as part of their definition, like sculptures made of ice (50 Cakes of Ice, by Rafael Ferrer, presented at the MoMA in 1970).

13.

For another study of this situation, see Kreplak (2018).

14.

15.

For instance, see Scholte and Wharton (2011).

16.

For an investigation of the reproducibility of protocols in the context of molecular biology, see Lynch 2002.
References
Atkinson, P., & Coffey, A. (2011). Analyzing documentary realities. In D. Silverman (Ed.), Qualitative research (pp. 56–75). London: Sage Publications.

Bittner, E. (1967). Police discretion in emergency apprehension of mentally ill persons. Social Problems, 14, 278–292.

Bowker, G., & Star, S. L. (1999). Sorting things out. Classification and its consequences. Cambridge (MA): MIT Press.

Cameron, F., & Mengler, S. (2009). Complexity, transdisciplinarity and museum collections documentation. Emergent metaphors for a complex world. Journal of Material Culture, 14(2), 189–218.

Cicourel, A. V. (1968). The social organization of Juvenile justice. New York: Wiley.

Domínguez Rubio, F. (2014). Preserving the unpreservable: Docile and unruly objects at MoMA. Theory and Society, 43(6), 617–645.

Domínguez Rubio, F. (2015). On the discrepancy of objects and things: An ecological approach. Journal of Material Culture, 21(1), 59–86.

Garfinkel, H. (1967). Studies in ethnomethodology. Englewood Cliffs: Prentice Hall.

Garfinkel, H. (2002). Ethnomethodology's program. Working out Durkheim's aphorism. Lanham: Rowman & Littlefield Publishers.

Garfinkel, H., Lynch, M., & Livingston, E. (1981). The work of a discovering science construed with materials from the optically discovered pulsar. Philosophy of the Social Sciences, 11(2), 131–158.

Goffman, E. (1981). Forms of talk. Philadelphia: University of Pennsylvania Press.

Goodwin, C. (1994). Professional vision. American Anthropologist, 96(3), 606–633.

Hartswood, M., Rouncefield, M., Slack, R., & Carlin, A. (2011). Documents. In M. Rouncefield & P. Tolmie (Eds.), Ethnomethodology at work (pp. 151–172). Farnham: Ashgate.

Heath C., & Luff P. (1996). Documents and professional practice: 'Bad' organizational reasons for 'good' clinical records. In Proceedings of the conference on computer supported cooperative work (pp. 54–363). Boston: ACM Press.

Komter, M. L. (2006). From talk to text: The interactional construction of a police record. Research on Language and Social Interaction, 39(3), 201–228.

Koschmann, T., LeBaron, C., & Goodwin, C. (2011). Can you see the cystic artery yet? A simple matter of trust. Journal of Pragmatics, 43, 521–541.

Koschmann, T., & Zemel, A. (2014). Instructed objects. In M. Nevile, P. Haddington, T. Heinemann & M. Rauniomaa (Eds.), Interacting with things: The social life of objects (pp. 357–377). Amsterdam: John Benjamins.

Kreplak Y. (2014). L'œuvre en pratiques. Une approche interactionnelle des activités artistiques et esthétiques, ENS de Lyon, PhD thesis.

Kreplak, Y. (2017). Docile documents. Propositions for a reading of the documentation of collections. In É. Bullot & S. Grassi (Eds.), Document bilingue (pp. 201–204). Marseille: Mucem/Manuella Editions.

Kreplak, Y. (2018). Artworks in and as practices. The relevance of particulars. In P. Sormani, P. Giesler & G. Carbone (Eds.), Practicing art/science: Experiments in an emerging field (pp. 142–163). Abingdon/New York: Routledge.

Law, J., & Mol, A. (Eds.). (2002). Complexities. Social studies of knowledge practices. Duke: Duke University Press.

Lynch, M. (1985). Disciplines and the material form of images: An analysis of scientific visibility. Social Studies of Sciences, 15(1), 37–66.

Lynch, M. (1999). Archives in formation: Privileged spaces, popular archives and paper trails. History of the Human Sciences, 12(2), 65–87.

Lynch, M. (2002). Protocols, practices and the reproduction of techniques in molecular biology. British Journal of Sociology, 53(2), 203–220.

Lynch, M., & Jordan, K. (1995). Instructed actions in, of and as molecular biology. Human Studies, 18, 227–244.

Meehan, A. J. (1986). Record-keeping practices in the policing of Juveniles. Urban Life, 15(1), 70–102.

Ryle, G. (1971). Collected papers. London: Hutchinson.

Scholte, T., & Wharton, G. (Eds.). (2011). Inside installations. Theory and practice in the care of complex artworks. Amsterdam: Amsterdam University Press.

Star, S. L., & Griesemer, J. (1989). Institutionnal ecology, 'translations,' and boundary objects: Amateurs and professionals on Berkeley's museum of vertrebate zoologie. Social Studies of Science, 19(3), 387–420.

Suchman, L. (1996). Constituting shared workplaces. In Y. Engeström & D. Middleton (Eds.), Cognition and communication at work (pp. 35–60). Cambridge: Cambridge University Press.

Watson, R. (2009). Analyzing practical and professional texts. A naturalistic approach. Farnham: Ashgate.

Wolff, S. (2004). Analysis of documents and records. In U. Flick, E. von Kardorff & I. Steinke (Eds.), A companion to qualitative research (pp. 284–290). London: Sage.

Zimmerman, D. H. (1969). Record-keeping and the intake process in a public welfare agency. In S. Wheeler (Ed.), On record: Files and dossiers in American life (pp. 319–354). New York: Russell Sage Foundation.
Acknowledgements
This study was funded by the Laboratoire d'excellence Créations, Arts et Patrimoine (Labex CAP) and by the French national council for visual arts (CNAP) and hosted at the French National Museum of Modern Art in Paris. It would not have been possible without the constant support and generosity of the staff at the contemporary collections department. Previous versions of this paper were presented at the Université de Lausanne, in Paris (at the École des hautes études en sciences sociales and the Archives nationales), as well as at the International Institute of Ethnomethodology and Conversation Analysis in Westerville (Ohio). This paper benefited a lot from numerous comments by Albert J. Meehan: I am very grateful for his careful and generous reading. I owe, among other things, the title of this paper to Albert Ogien. The two anonymous reviewers provided with insightful comments, references and ideas for further research: many thanks to them as well.
Ethics declarations
Conflict of interest
The authors declare that she has no conflict of interest.
Ethical Approval
All pictures were made by the author, with the consent of the museum staff for reproduction.
About this article
Cite this article
Kreplak, Y. On Thick Records and Complex Artworks: A Study of Record-Keeping Practices at the Museum. Hum Stud 41, 697–717 (2018). https://doi.org/10.1007/s10746-018-9479-3
Keywords
Ethnomethodology

Contemporary art

Museum practices

Documentation

Archives

Record-keeping

Instructions

Descriptions