Abstract
Western epistemologies on race defined blackness and indigeneity through scales of poverty, or more precisely, in frameworks privileging economic deprivation. Indigenous fishing communities are typically constructed as subsistence fishers whose practices only served to exacerbate resource scarcity as a result. I present a case study of the Gullah Geechee, self-defined as culturally indigenous and racially black, to explore how consciousness, indigenous knowledge, and cultural practices allow access to resources that enable them to achieve a level of autonomy. I draw on the livelihoods of three fishers, ranging from familial to commercial, to examine how the power of giving, through the cultural practices of reciprocity, sharing, and cooperation, yield abundances vital to building a sense of community. I suggest that indigenous ontologies offer alternate ways to conceptualize indigeneity in the Americas.
Access options
Buy single article
Instant access to the full article PDF.
US$ 39.95
Tax calculation will be finalised during checkout.
Subscribe to journal
Immediate online access to all issues from 2019. Subscription will auto renew annually.
US$ 79
Tax calculation will be finalised during checkout.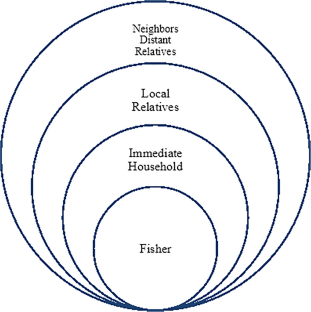 Notes
1.

I use pseudonyms, and "fisher" as a general nomenclature for livelihoods including crabber, oysterman, shrimper, and pole fisher in commercial or artisanal fisheries.
References
Agrawal, Arun. 2005. Environmentality: technologies of government and the making of subjects. Durham: Duke University Press.

Anderson, Mark A. 2009. Black and indigenous: Garifuna activism and consumer culture in Honduras. University of Minnesota Press.

Béné, C., E. Steel, B. K. Luadia, and A. Gordon. 2009. "Fish as the "bank in the water" - evidence from chronic-poor communities in the Congo." Food Policy 34: 108-118.

Bennett, Elizabeth. 2005. "Genderm fisheries, and development." Marine Policy 451-459.

Blake, J. Herman, and Ervin R. Simmons. 2008. "A Daufuski Island Lad in an Academic Community: An Extraordinary Journey of Personal Transformation." Journal of College and Character (Medical University of South Carolina) X (1): 1-11.

Brown, Ralph B, and John F Toth Jr. 2001. "Natural resource access and interracial associations: Black and White subsistence fishing in the Mississippi Delta." Southern Rural Sociology 17: 81-110.

Burrage, D. 2011. Business of shrimping. Biloxi: Coastal Research and Extension Mississippi State University.

Burrell, Jr., Victor, J. Whitaker, Elizabeth Wenner, and Lawrence DeLancey. 2009. History of the South Carolina blue crab fishery. Columbia: South Carolina Department of Natural Resources.

Campbell, Emory. 2002. Gullah Cultural Legacies: a synopsis of Gullah traditions, customary beliefts, artforms and speech on Hilton Head Island. Hilton Head: Gullah Heritage Consulting Service.

US Census. 2000. South Carolina: Beaufort County. Washington, DC: US Census Bureau.

Center for Heirs Property Preservation. 2013. "Beaufort County Heirs Property." Center for Heirs Property Preservation. Accessed March 15, 2015. www.heirsproperty.org.

Clifford, James. 2001. "Indigenous Articulations." The Contemporary Pacific (University of Hawaii Press) 13 (2): 468-490.

Collard, Rosemary-Claire, Jessica Dempsey, and Juanita Sundberg. 2015. "A manifesto for abundant futures." Annuals of the Association of American Geographers 105 (2): 322-330.

Creel, Margaret Washington. 1998. A Peculiar Peopl: Slave Religion and Community-Culture Amond the Gullah. New York: New York University Press.

Beaufort County Planning Dept. 2012. Demographic Handbook. Beaufort: Beaufort County SC.

Dyer, J., C. Bailey, and N. van Tran. 2009. "Ownership characteristics of heir property in Black belt county: A quantitative approach." Southern Rural Sociology 24: 192-217.

Edgar, Walter. 1998. South Carolina a history. Columbia: University of South Carolina Press.

Food and Agriculture Organization. 2005. Increasing the contribution to small-scale fisheries to poverty allevation and food security. Rome: FAO United Nations.

Glanton, Dahleen. 2006. "Freed slaves' land mired in controversy Gullah/Geechees battle with developers." Washington Post, September 3.

Glissant, Édouard. 2010. Poetics of Relation. Ann Arbor: The University of Michigan Press.

Guthrie, Patricia. 1996. Catching sense: African American communities on a South Carolina sea island. Greenwood Publishing Group.

Howe, Jim, McMahon, Edward and Propst, Luther. 1997. Balancing nature and commerce in gateway communities. Washington: Island Press.

Jones-Jackson, Patricia. 1987. When Roots Die: Engangered Traditions on the Sea Islands. Athens: The University of Georgia Press.

Joyner, Charles. 1985. Down by the riverside: a South Carolina slave community. Chicago: University of Illinois Press.

Matory, J. Lorand. 2015. Stigma and Culture: Last-place anxiety in Black America. Chicago: University of Chicago Press.

McKenzie, Michael. 1980. Ecological characterization of the Sea Island coastal region of South Carolina. Office of Biological Services. Washington: U. S. Fish and Wildlife Service.

Miles, Tiya, and Sharon Holland. 2006. Crossing water, crossing worlds. Durham: Duke University Press.

Miley, Gallo & Associates. 2008. The Economic Impact of the Agribusiness Industry In South Carolina. Columbia: Palmetto Agribusiness Council.

Nasielski, J., K B KC, G Johnstone, and E Baran. 2016. "When is a fisher (not) a fisher? Factors that influence the decision to report fishing as an occupation in rural Cambodia." Fisheries Management and Ecology 23: 478-488.

Ng'weno, Bettina. 2007. "Can ethnicity replace race? Afro-Colombians, indigeneity and the Colombian multicultural state." Journal of Latin American and Caribbean Anthropology 414-440.

Opala, Joseph A. 1987. The Gullah: rice, slavery, and hte Sierra Leone-American connection. USIS.

Ostrom, Elinor. 2010. "Beyond markets and states: polycentric governance of complex ecnomic systems." American Economic Review 1-33.

Polanyi, Karl. 2001. The great transformation: the political and economic origins of our time. Boston: Beacon Press.

Rosengarten, Theodore. 1986. Tombee: portrait of a cotton planter. New York: Morrow.

South Carolina Department of Natural Resources. 1999. Ashepoo, Combahee, and Edisto (ACE) Basin Charactrization. Columbia: South Carolina Department of Natural Resources.

South Carolina Department of Natural Resources. 2012. SCDNR Regulations. Accessed June 9, 2016. http://www.dnr.sc.gov/regulations.html.

Swanton, John R. 1984. The Indian Tribes of North America. Washington: Smithsonian Institute Press.

TallBear, Kim. 2013. Native American DNA: Tribal Belonging and the False Promise of Genetic Science. Minneapolis: University of Minneapolis Press.

Tsing, Anna. 2005. Friction: An ethnography of global connection. Princeton: Princeton University Press.

Wood, Peter. 1974. Black majority: Negroes in Colonial South Carolina. New York: W. W. Norton & Company.
Funding
This dissertation research was supported in part by the Ford Foundation Dissertation Fellowship Program and the National Science Foundation Graduate Research Fellowship Program.
Ethics declarations
Conflict of Interest
The author declares that she has no conflict of interest.
Informed Consent
All procedures in this study were in accordance with the ethical standards of the University of California at Berkeley Committee for the Protection of Human Subjects, Institutional Review Board. Informed consent was obtained from all individuals participating.
Additional information
Publisher's Note
Springer Nature remains neutral with regard to jurisdictional claims in published maps and institutional affiliations.
About this article
Cite this article
Fuller, S.Y. Indigenous Ontologies: Gullah Geechee Traditions and Cultural Practices of Abundance. Hum Ecol 49, 121–129 (2021). https://doi.org/10.1007/s10745-021-00215-2
Accepted:

Published:

Issue Date:
Keywords
Indigeneity

Abundance

Subsistence fisheries

Indigenous knowledge

Cultural practices

African diaspora

Subsistence fishing

Gullah Geechee

St. Helena Island

Sea Islands

South Carolina

United States