Abstract
Surveys conducted across sections of the pastoral Maasai of Kenya show a wide variety of values for wildlife, ranging from utility and medicinal uses to environmental indicators, commerce, and tourism. Attitudes toward wildlife are highly variable, depending on perceived threats and uses. Large carnivores and herbivores pose the greatest threats to people, livestock, and crops, but also have many positive values. Attitudes vary with gender, age, education, and land holding, but most of all with the source of livelihood and location, which bears on relative abundance of useful and threatening species. Traditional pastoral practices and cultural views that accommodated coexistence between livestock and wildlife are dwindling and being replaced by new values and sensibilities as pastoral practices give way to new livelihoods, lifestyles, and aspirations. Human-wildlife conflict has grown with the transition from mobile pastoralism to sedentary livelihoods. Unless the new values offset the loss of traditional values, wildlife will continue to decline. New wildlife-based livelihoods show that continued coexistence is possible despite the changes underway.
This is a preview of subscription content, log in to check access.
Access options
Buy single article
Instant access to the full article PDF.
US$ 39.95
Price includes VAT for USA
Subscribe to journal
Immediate online access to all issues from 2019. Subscription will auto renew annually.
US$ 99
This is the net price. Taxes to be calculated in checkout.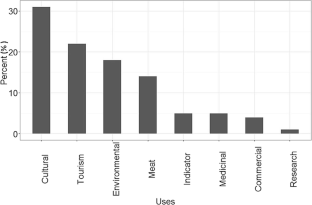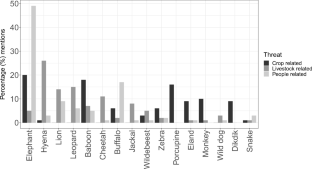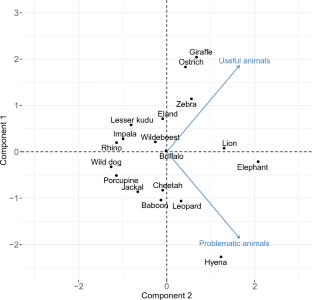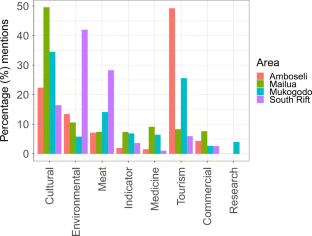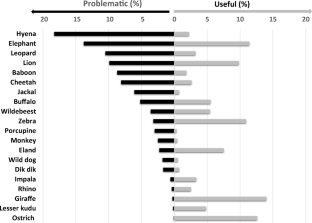 References
Akama, J. S., Lant, C. S., and Wesley, G. (1996). A Political-Ecology Approach to Wildlife Conservation in Kenya. Environmental Values 5: 4335–4347.

Ali, I. M. (2005). An ethnocentric approach to seeing biodiversity: Kenya pupils' attitudes towards parks and wildlife. Applied Environmental Education and Communication 4: 1–12.

Anderson, D., and Grove, R. (eds.) (1987). Conservation in Africa. People, Policies and Practices, Cambridge University Press, Cambridge.

Barua, M., Bhagwat, S. A., and Jadhav, S. (2013). The hidden dimensions of human-wildlife conflict: Health impacts, opportunity and transaction costs. Biological Conservation 157: 309–316.

Bernsten, J. L. (1976). The Maasai and their Neighbours: Variables of Interaction. African Economic History 2: 1–11.

Brosius, J. P., Lowenhaupt Tsing, A., and Zerner, C. (2005). Communities and Conservation: Histories and Politics of Community-Based Natural Resource Management, Alta Mira Press, Walnut Creek.

Browne -Nuñez, C., and Jonker, S. A. (2008). Attitudes Towards Wildlife and Conservation Across Africa: A Review of Survey Research. Human Dimensions of Wildlife: An International Journal 13(1): 47–70.

Campbell, D. J. (1993). Land as Ours, Land as Mine: Economic, Political and Ecological Marginalization in Kajiado District. In Spear, T., and Waller, R. (eds.), Being Maasai, James Currey, London.

Child, G. (1995). Wildlife and People: The Zimbabwe Success. WIsdom Press. In Harare.

Cronk, L. (1989). From Hunters to Herders: Subsistence change as a Reproductive Strategy among the Mukogodo. Current Anthropology 30: 2224–2234.

Draheim, M. M., Patterson, K. W., Rockwood, L. L., Guagnano, G. A., and Parsons, E. C. M. (2013). Attitudes of College Undergraduates towards Coyotes (Canis latrans) in an Urban Landscape: Management and Public Outreach Implications. Animals 3: 1–18.

Flores, D. (2016). Coyote America: A Natural and Supernatural History, Basic Books, New York.

Fosbrooke, H. A. (1948). An Administrative Survey of the Masai Social System. Tanganyika Notes and Records 26: 1–50.

Frank, B. (2016). Human-Wildlife conflicts, the need to include tolerance and coexistence: An introductory comment. Society and Natural Resources: An International Journal 29(6): 738–743.

Gadd, M. E. (2005). Conservation outside of parks: attitudes of local people in Laikipia, Kenya. Environmental Conservation 32(1): 50–63.

Galaty, J. G. (1982). Being Maasai; being people-of-cattle: ethnic shifters in East Africa. American Ethnologist 9(1): 1–20.

Galaty, J. G. (1993). Maasai Expansion and the New East African Pastoralism. In Spear, T., and Waller, R. (eds.), Being Maasai, James Currey, London.

Gardner, T. A., Caro, T., Fitzherbert, E. B., Banda, T., and Lalbhai, P. (2007). Conservation Values of Multiple Use Areas in East Africa. Conservation Biology 21: 61516–61525.

Goldman, M. J., Roque de Pinho, J., and Perry, J. (2013). Beyond ritual and economics: Maasai lion hunting and conservation Politics. Oryx 47: 4490–4500.

Grzimek, B., and Grzimek, M. (1960). Serengeti Shall Not Die, Hamish Hamilton, London.

Hardin, G. (1968). The Tragedy of the Commons. Science 162(3859): 1243–1248.

Hazzah, L., Dolrenry, S., Naughton, L., Edwards, C. T. T., Mwebi, O., Kearney, F., and Frank, L. (2014). Efficacy of Two Lion Conservation Programs in Maasailand, Kenya. Conservation Biology 28: 3851–3860.

Hazzah, L., Bath, A., Dolrenry, S., Dickman, A., and Frank, L. (2017). From Attitudes to Actions:Predictors of Lion Killing by Maasai Warriors. PLoS ONE 12(1): 0170796. https://doi.org/10.1371/journal.pone.0170796.

Homewood, K. M., and Rogers, W. A. (1991). Maasailand Ecology: pastoralist development and wildlife conservation in Ngorongoro, Tanzania, Cambridge University Press, Cambridge.

Hughes, L. (2006). Moving the Maasai: A Colonial Misadventure, Palgrave Macmillan, Oxford.

Hulme, D., and Murphree, M. (2001). African Wildlife and Livelihoods, Oxford University Press, Oxford.

Hurn, S. (2012). Humans and Other Animals: Cross-Cultural Perspectives on Human-Cultural Interactions, Pluto Press, London.

Huxley, J. S. (1961). The Conservation of Wild Life and Natural Habitats in Central and East Africa, UNESCO, Paris.

Jacobs, A. (1965). The Traditional Political Organization of the Pastoral Maasai, Unpublished PhD Thesis, Oxford.

Kaltenborn, B. P., Bjerke, T., Nyahongo, J. W., and Williams, D. R. (2006). Animal Preferences and Acceptability of Wildlife Management Actions around Serengeti National Park, Tanzania. Biodiversity and Conservation 15: 4633. https://doi.org/10.1007/s10531-005-6196-9.

Kansky, R., and Knight, A. T. (2014). Key factors driving attitudes towards large mammals in conflict with humans. Biological Conservation 179: 93–105.

Keane, A., Gurd, H., Kaelo, D., Said, M. Y., de Leeuw, J., Rowcliffe, J. M., and Homewood, K. (2016). Gender Differentiated Preferences for a Community-Based Conservation Initiative. PLoS ONE 11(3): e0152432. https://doi.org/10.1371/journal.pone.0152432.

Knight, J. (2000). Natural Enemies: People-Wildlife Conflicts in Anthropological Perspective, Routledge, London.

Knight, J. (2006). Waiting for Wolves in Japan: An Anthropological Study of People-Wildlife Relations, University of Hawai'i Press, Honolulu.

Lee, D. E., and Bond, M. L. (2018). Quantifying the ecological success of a community-based wildlife conservation area in Tanzania. Journal of Mammalogy gyy014. https://doi.org/10.1093/jmammal/gyy014 February 28, 2018.

Lee, P.C. and N.E.C. Priston. (2005). "Human Attitudes to Primates: Perceptions of Pests, Conflict and Consequences for Primate Conservation. In Commensalism and Conflict: The Human- Primate Interface, by J. Patterson and J. Wallace (eds). pp. 1–23. Winnipeg: Hignell Printing.

Lindsey, P. A., du Toit, J. T., and Mills, M. G. L. (2005). Attitudes of ranchers towards African wild dogs Lycaon pictus: Conservation implications on private land. Biological Conservation 125: 113–121.

Lopez, B. (1978). Of Wolves and Men, Charles Scribner's Sons, New York.

Madden, F. (2004). Can traditions of tolerance help minimize conflict? An exploration of cultural factors supporting human-wildlife coexistence. Policy Matters 13: 234–241.

Manfredo, M. J., and Dayer, A. A. (2004). Concepts for Exploring the Social Aspects of Human-Wildlife Conflict in a Global Context. Human Dimensions of Wildlife 9: 317–328.

McCormick, J. (1989). The Global Environmental Movement, Belhaven Press, London.

Merker, M. (1910). Die Mäsai, D. Riemer, Berlin.

Messmer, T. (2000). The emergence of human-wildlife conflict management: turning challenges into opportunities. International Biodeterioration and Biodegradation 45: 97–102.

Mol, F. (1978). Maa: A Dictionary of the Maasai Language and Folklore (English/Maasai), Marketing Publishing, Nairobi.

Morris, B. (1995). Woodland and Village Reflections on the Animal Estate in Rural Malawi. The Journal of the Royal Anthropological Institute 1(2 (Jun): 301–315.

Mullin, M. H. (1999). Mirrors and Windows: Sociocultural Studies of Human-animal Relationships. Annual Review of Anthropology 28: 201–224.

Nash, R. (1968). Wilderness and the American Mind, Yale University Press, New Haven and London.

Neumann, R. P. (1998). Imposing Wilderness: Struggles over Livelihood and Nature Preservation in Africa, University of California Press, Berkley and Los Angeles.

Ogutu, J. O., Piepho, H.-P., Said, M. Y., Ojwang, G. O., Njino, L. W., and Kifugo, S. C. (2016). Extreme Wildlife Declines and Concurrent Increase in Livestock Numbers in Kenya: What Are the Causes? PLoS ONE 11(9): e0163249. https://doi.org/10.1371/journal.pone.0163249.

Okello, M. M. (2005). Land Use Changes and Human-Wildlife Conflicts in the Amboseli Area, Kenya. Human Dimensions of Wildlife: An International Journal 10(1): 19–28.

Pratt, D. J., and Gwynne, M. D. (1977). In Pratt, D. J., and Gwynne, M. D. (eds.), Rangeland Management and Ecology in East Africa, Hodder and Stoughton, London.

Romañach, S. S., Lindsey, P. A. and. R. Woodroffe. 2010. Attitudes Towards Predators and Options for Their Conservatoin in the Ewaso Ecosystem. Smithsonian Contributions to Zoology pp. 85–93.

Roque de Pinho, J. (2009). Staying Together: People-Wildlife Relationships in a Pastoral Society in Transition, Amboseli Ecosystem, Southern Kenya. PhD Thesis, Fort Collins, USA: Colorado State Univeristy.

Roque de Pinho, J., Grilo, C., Boone, R. B., Galvin, K. A., and Snodgrass, J. G. (2014). Influence of Aesthetic Appreciation of Wildlife species on Attitudes towards Their Conservation in Kenyan Agropastoralist Communities. PLOS ONE 9(2): 1–10.

Sandford, S. 1983 Management of Pastoral Development in the Third World. Wiley, Chichester and Overseas Developmeent Institute, London.

Shanklin, E. (1985). Sustenance and Symbol: Anthropological Studies of Domesticated Animals. Ann. Rev. Anthropol. 14: 375–403.

Shetler, J. B. (2007). Imagining Serengeti: A History of Landscape Memory in Tanzania from Earliest Times to the Present, Ohio University Press, Athens.

Shibia, M. G. (2010). Determinants of Attitudes and Perceptions on Resource Use and Management of Marsabit National Reserve, Kenya. Journal of Human Ecology 30(1): 55–62.

Sindiyo, D. M. (1968). Game Department field experience in public education. Agricultural and Forestry Journal 33: 237–240.

Sommer, G., and Vossen, R. (1993). Dialects, Sectiolects or Simply Lects? The Maa Language in Time Perspective. In Spear, T., and Waller, R. (eds.), Being Maasai, James Currey, London.

Southgate, C., and Hulme, D. (2000). Uncommon Property: The Scramble for Wetland in Southern Kenya. In Woodhouse, P., Bernstein, H., and Hulme, D. (eds.), African Enclosures? The Social Dynamics of Wetlands in Drylands, James Currey, Oxford, pp. 75–117.

Sterba, J. (2012). Nature Wars, Crown Publishers, New York.

Thomas, K. (1983). Man and the Natural World. A History of the Modern Sensibility, Pantheon Books, New York.

Tyrell, P., Russel, S., and Western, D. (2017). Seasonal movements of wildlife and livestock in a heterogenous pastoral landscape: implications for coexistence and community-based conservation. Global Ecology and Conservation. 12: 57–73.

Waithaka, J. (2004). The Role of Community Wildlife-Based Enterprises in Reducing Human Vulnerability. In Africa Environment Outlook Case Studies: Human Vulnerability to Environmental Change, United Nations Environment Programme, Nairobi.

Western, D. (1982). The environment and ecology of pastoralists in arid savannas. Development and Change 13: 183–211.

Western, D. (1997). In the Dust of Kilimanjaro, Island Press, Washington, D. C.

Western, D., Wright, R. M., and Strum, S. C. (eds.) (1994). Natural Connections: Perspectives in Community-based Conservation, Island, Washington D.C.

Western, D., Russell, S., and Cuthill, I. (2009). The Status of protected areas compared to non-protected areas of Kenya. PLoS One. 4(7): 1–6.

Western, D., Waithaka, J., and Kamanga, J. (2015). Finding space for wildlife beyond national parks and reducing conflict through community-based conservation: the Kenya experience. Parks 21(1): 51–62.

Wilson, E. O. (ed.) (1988). Biodiversity, National Academic Press, Washington, D. C.

Woodroffe, R., Thirgood, S., and Rabinowitiz, A. (2005). The impact of human-wildlfe conflict on natural systems. In Woodroffe, R., Thirgood, S., and Rabinowitz, A. (eds.), People and Wildlife: Conflict or Coexistence, Cambridge University Press, Cambridge.

Yeager, R., and Miller, N. N. (1986). Wildlife, Wild Death: Land Use and Survival in Eastern Africa, State University of New York Press, Albany.
Acknowledgements
We thank the many Resource Assessors (RAs) for help with data collection and the African Conservation Centre (ACC) for coordinating the survey in different study areas.
Ethics declarations
The Scientific and Ethical Review Commission of Research with Human Beings of the National Commission for Science, Technology and Innovation (NACOSTI) NO.28 (Revised 2013) in the Republic of Kenya approved this study. Local Maasai communities granted permission to conduct the surveys during group ranch meetings at the different study sites. The respondents voluntarily agreed to take part in the surveys.
Conflict of Interest
The authors declare that they have no conflict of interest.
Additional information
Publisher's Note
Springer Nature remains neutral with regard to jurisdictional claims in published maps and institutional affiliations.
Electronic Supplementary Material
About this article
Cite this article
Western, D., Nightingale, D.L.M., Mose, V.N. et al. Variability and Change in Maasai Views of Wildlife and the Implications for Conservation. Hum Ecol 47, 205–216 (2019). https://doi.org/10.1007/s10745-019-0065-8
Keywords
Maasai attitudes

Human-wildlife conflict

Variability

Pastoralism

Sedentary livelihoods

Economic transition

Kenya