Abstract
Small-scale fisheries face similar challenges and constraints, including marginalization, spatial competition, unequal power relations, limited participation in decision-making processes, and climate stressors. We compare the vulnerability of small-scale fishing communities under pressure from climate change in the southern Cape in South Africa and the South Brazil Bight in Brazil using a standardized vulnerability framework to identify the differences and/or similarities between the fishing communities in both countries. In Brazil, high dependence on fishing and attachment to place increased the vulnerability of the fishers; in contrast, in South Africa strong dependence on markets to buy food threatened food security of the fishers. These findings provide noteworthy insights into the regional vulnerability of fishing communities in both countries; additionally, the results support the development of local climate change mitigation plans and provide examples for similar communities that are likely to experience climate stressors in other regional locations.
This is a preview of subscription content, log in to check access.
Access options
Buy single article
Instant access to the full article PDF.
US$ 39.95
Price includes VAT for USA
Subscribe to journal
Immediate online access to all issues from 2019. Subscription will auto renew annually.
US$ 99
This is the net price. Taxes to be calculated in checkout.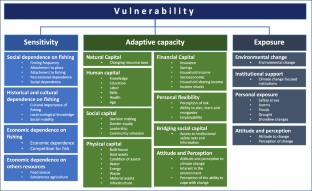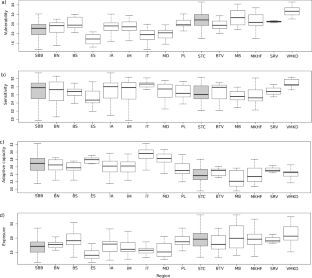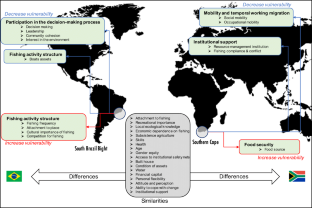 References
Adams, C. (2000). Caiçaras na Mata Atlantica: Pesquisa cientifica versus planejamento e gestão ambiental, FAPESP, São Paulo.

Allison, E. H., and Ellis, F. (2001). The Livelihoods Approach and Management of Small-Scale Fisheries. Marine Policy 25: 377–388.

Arnal, E., and Forster, M. (2010). Growth, employment and inequality in Brazil, China, India and South Africa: An overview. In OECD. Tackling Inequalities in Brazil, China, India and South Africa, OECD Publishing, Paris, pp. 13–55.

Aswani, S., Howard, J., Gasalla, M. A., Jennings, S., Malherbe, W., Martins, I. M., Narayanakumar, R., van Putten, I. E., Salim, S. S., Swathilekshmi, P. S., and Watmough, G. R. (2018). An Integrated Framework for Assessing Coastal Community Vulnerability Across Cultures, Oceans and Scales. Climate and Development. https://doi.org/10.1080/17565529.2018.1442795.

Bauer, D. F. (1972). Constructing Confidence Sets using Rank Statistics. Journal of the American Statistical Association 67: 687–690.

Begossi, A., Salivonchyk, S. V., Hanazaki, N., Martins, I. M., and Bueloni, F. (2012). Fishers (Paraty, RJ) and Fish Manipulation Time: A Variable Associated to the Choice for Consumption and Sale. Brazilian Journal of Biology 72(4): 973–975.

Béné, C. R., Arthur, H., Norbury, E. H., Allison, M. C. M., Beveridge, S., Bush, L., Campling, W., Leschen, D., Little, D., Squires, S., Thilsted, S. H., Troell, M., and Williams, M. (2016). Contribution of Fisheries and Aquaculture to Food Security and Poverty Reduction: Assessing the Current Evidence. World Development 79: 177–196.

Berkes, F., Mahon, R., McConney, P., Pollnac, R., and Pomeroy, R. (2001). Managing Small-Scale Fisheries: Alternative Directions and Methods, International Development Research Centre, Ottawa.

Brugere, C., Holvoet, K., and Allison, E. (2008). Livelihood Diversification in Coastal and Inland Fishing Communities: Misconceptions, Evidence and Implications for Fisheries Management. Working Paper, Sustainable Fisheries Livelihoods Programme (SFLP), FAO/DFID, Rome.

Castro, B. M., and Miranda, L. B. (1998). Physical oceanography of the Western Atlantic continental shelf located between 4N and 34S coastal segment 4W. In Robinson, A. R., and Brink, K. H. (eds.), The Sea 11, Wiley, New York, pp. 209–251.

Castro, M. S., Martins, I. M., and Hanazaki, N. (2016). Trophic Relationships Between People and Resources: Fish Consumption in an Artisanal Fishers Neighborhood in Southern Brazil. Ethnobiology and Conservation 5: 4. https://doi.org/10.15451/ec2016-7-5.4-1-16.

Diegues, A. C. (2006) Artisanal fisheries in Brazil. Chennai, India, International Collective in Support of Fishworkers,(SAMUDRA Monograph). http://aquaticcommons.org/252/.

Duggan, G. (2018) Return to the Realm of the Kob Kings: Social Capital, Learning, Resilience and Action Resarch in a Changing Fishery. Dissertation, University of Cape Town.

FAO (2015). Voluntary Guidelines for Securing Sustainable Small-Scale Fisheries in the Context of Food Security and Poverty Eradication, FAO, Rome.

FAO (2016). The State of World Fisheries and Aquaculture 2016. Contributing to Food Security and Nutrition for All, FAO, Rome.

Freire, K. M. F., Aragão, J. A. N., Araújo, A. R. R., Ávila-da-Silva, A. O., Bispo, M. C. S., Velasco, G., Carneiro, M. H., Gonçalves, F. D. S., Keunecke, K. A., Mendonça, J. T., Moro, P. S., Motta, F. S., Olavo, G., Pezzuto, P. R., Santana, R. F., Santos, R. A., Trindade-Santos, I., Vasconcelos, J. A., Vianna, M., and Divovich, E. (2015). Reconstruction of catch statistics for Brazilian marine waters (1950-2010). In Freire, K. M. F., and Pauly, D. (eds.), Fisheries Catch Reconstructions for Brazil's Mainland and Oceanic Islands, University of British Columbia, Fisheries Centre Research Reports, pp. 3–30.

Gammage, L. C. (2015) Considering One's Options when the Fish Leave. A Case Study of the Traditional Commercial Hand Line Fishery of the Southern Cape. Dissertation, University of Cape Town.

Gammage, L. C., Jarre, A., and Mather, C. (2017). A Case Study from the Southern Cape Linefishery 1: The Difficulty of Fishing in a Changing World. South African Journal of Science 113(5/6): 8. https://doi.org/10.17159/sajs.2017/ 20160252.

Gammage, L. C., Jarre, A., and Mather, C. (2019). A Changing Fishery System: Perspectives from Crew in the Southern Cape's Handline Fishery. South African Geographical Journal 101(2): 210–252. https://doi.org/10.1080/03736245.2019.1581656.

Garcia, S. M., Zerbi, A., Aliaume, C., Do Chi, T., and Lasserre, G. (2003). The ecosystem approach to fisheries. Issues, terminology, principles, institutional foundations, implementation and outlook, FAO Fisheries Technical Paper.No.443. Fao, Rome.

Gasalla, M. A., and Rossi-Wongtschowski, C. L. D. B. (2004). Contribution of Ecosystem Analysis to Investigating the Effects of Changes in Fishing Strategies in the South Brazil Bight Coastal Ecosystem. Ecological Modelling 172: 283–306. https://doi.org/10.1016/j.ecolmodel.2003.09.012.

Giraldi, M., and Hanazaki, N. (2014). Use of Cultivated and Harvested Edible Plants by Caicaras-what can Ethnobotany Add to Food Security Discussions? Human Ecology Review 20(2): 51–73.

Glavovic, B. C., and Boonzaier, S. (2007). Confronting Coastal Poverty: Building Sustainable Coastal Livelihoods in South Africa. Ocean & Coastal Management 50: 1–23.

Griffiths, M. H. (2000). Long-Term Trends in Catch and Effort of Commercial Linefish Off South Africa's Cape Province: Snapshots of the 20th Century. South African Journal of Marine Science 22(1): 81–110. https://doi.org/10.2989/025776100784125663.

Hanazaki, N., Berkes, F., Seixas, C. S., and Peroni, N. (2013). Livelihood Diversity, Food Security and Resilience among the Caiçara of Coastal Brazil. Human Ecology 41(1): 153–164.

Hobday, A. J., and Pecl, G. T. (2014). Identification of Global Marine Hotspots: Sentinels for Change and Vanguards for Adaptation Action. Reviews in Fish Biology and Fisheries 24(2): 415–425.

Hobday, A. J., Cochrane, K., Downey-Breedt, N., Howard, J., Aswani, S., Byfield, V., Duggan, G., Duna, E., Dutra, L. X. C., Frusher, S. D., Fulton, E. A., Gammage, L., Gasalla, M. A., Griffiths, C., Guissamulo, A., Haward, M., Jarre, A., Jennins, S. M., Jordan, T., Joyner, J., Ramani, N. K., Shanmugasundaram, S. L. P., Malherbe, W., Cisneros, K. O., Paytan, A., Pecl, G. T., Plaganyi, E. E., Razafindrainibe, H., Roberts, M., Rohit, P., Sainulabdeen, S. S., Sauer, W., Valappil, S. T., Zacharia, P. U., and van Putten, E. I. (2016). Planning Adaptation to Climate Change in Fast-Warming Marine Regions with Seafood-Dependent Coastal Communities. Reviews in Fish Biology and Fisheries: 1–16. https://doi.org/10.1007/s11160-016-9419-0.

Isaacs, M. (2011). Individual Transferable Quotas, Poverty Alleviation and Challenges for Small-Country Fisheries Policy in South Africa. MAST 10(2): 63–84.

Jarre, A., Hutchings, L., Kirkman, S., Kreiner, A., Tchipalanga, P., Kainge, P., Uanivi, U., van der Plas, A. K., Blamey, L. K., Coetzee, J. C., Lamont, T., Samaai, T., Verheye, H. M., Yemane, D. G., Axelsen, B. E., Ostrowski, M., Stenevik, E. K., and Loeng, H. (2015). Synthesis: Climate Effects on Biodiversity, Abundance and Distribution of Marine Organisms in the Benguela. Fisheries Oceanography 24: 122149. https://doi.org/10.1111/fog.12086.

Kawarazuka, N., and Bene, C. (2010). Linking Small-Scale Fisheries and Aquaculture to Household Nutritional Security: An Overview. Food Security 2: 343–357.

Kent, G. (1997). Fisheries, Food Security, and the Poor. Food Policy 22(5): 393–404.

Kleinschmidt, H., Sauer, W. H. H., and Britz, P. (2003). Commercial Fishing Rights Allocation in Post-Apartheid South Africa: Reconciling Equity and Stability. African Journal of Marine Science 25(1): 25–35. https://doi.org/10.2989/18142320309503998.

Lopes, P. M., Silvano, R. A. M., and Begossi, A. (2011). Extractive and Sustainable Development Reserves in Brazil: Resilient Alternatives to Fisheries? Journal of Environmental Planning and Management 54(4): 421–443.

Marschke, M., and Berkes, F. (2007). Exploring Strategies that Build Livelihood Resilience: A Case from Cambodia. Ecology and Society 11(42) www.ecologyandsociety.org/vol1/iss1/art42. Accessed Feb 2018.

Martins, I. M. (2018) Vulnerability to and Perception of Climate Change among Small-Scale Fishing Communities from the South Brazil Bight. Doctoral Dissertation, University of São Paulo.

Martins, I. M., Medeiros, R. P., and Hanazaki, N. (2014). From Fish to Ecosystems: The Perceptions of Fishermen Neighboring a Southern Brazilian Marine Protected Area. Ocean and Coastal Management 91: 50–57.

Martins, I. M., Medeiros, R. P., Di Domenico, M., and Hanazaki, N. (2018). What Fishers' Local Ecological Knowledge can Reveal about the Changes in Exploited Fish Catches. Fisheries Research 198: 109–116.

Maru, Y. T., Smith, M. S., Sparrow, A., Pinho, P. F., and Dube, O. P. (2014). A Linked Vulnerability and Resilience Framework for Adaptation Pathways in Remote Disadvantaged Communities. Global Environmental Change 28: 337–350.

McDonald, J. H. (2008). Handbook of Biological Statistics, Sparky House Publishing, Baltimore.

Moura, R. L., Minte-Vera, C. V., Curado, I. B., Francini-Filho, R. B., Rodrigues, H. D. C. L., Dutra, G. F., Alves, C. D., and Souto, F. J. B. (2009). Challenges and Prospects of Fisheries Co-Management under a Marine Extractive Reserve Framework in Northeastern Brazil. Coastal Management 37: 617–632.

MPA (Ministério da Pesca e Aquicultura) 2011. Boletim estatístico da pesca e aquicultura, 60p.

Nayak, P. K., Oliveira, L. E., and Berkes, F. (2014). Resource Degradation, Marginalization, and Poverty in Small-Scale Fisheries: Threats to Social-Ecological Resilience in India and Brazil. Ecology and Society 19(2): 73.

Norton, M. (2014) At the Interface: Marine Compliance Inspectors at work in the Western Cape. Doctoral Dissertation, University of Cape Town.

OECD (2009). Economic Outlook, OECD Publishing, Paris.

OECD (2019). Economic Outlook, OECD Publishing, Paris.

Pauly, D. (2006). Major Trends in Small-Scale Marine Fisheries, Woth Emphasis on Developing Countries, and Some Implications for the Social Science. MAST 4(2): 7–22.

Pauly, D., and Zeller, D. (2016). Catch Reconstructions Reveal that Global Marine Fisheries Catches are Higher than Reported and Declining. Nature Communications 7: 10244.

Popova, E. E., Yool, A., Byfield, V., Cochrane, K., Coward, A., Salim, S. S., Gasalla, M. A., and Henson, S. A. (2016). From global to regional and back again: unifying mechanisms of climate change relevant for adaptation across five ocean warming hotspots. Global Change Biology 22: 2038–2053.

Royston, P. (1982). An Extension of Shapiro and Wilk's W test for Normality to Large Samples. Applied Statistics 31: 115–124.

Seixas, C. S., Kalikoski, D. C., Almudi, T., Batista, V. S., Costa, A. L., Diogo, H. L., Ferreira, B. P., Futemma, C. R. T., Moura, R. L., Ruffino, M. L., Salles, R., and Thé, A. P. G. (2011). Gestão compartilhada do uso de recursos pesqueiros no Brasil: elementos para um programa nacional. Ambiente & Sociedade 14: 23–44.

Silva, T. A., Borba, P., Duarte, M., Dutra, C., Fajardo, M., Borges, F. S. (2015). Effectiveness of the Participation Principle in the Implementation of Marine Protected Areas: Brazilian Case Study. Law for Sustainability, IUCN, Brasilia: Brazil. https://www.iucn.org/sites/dev/files/participation_principle_in_mpas_in_brazil.pdf.

Silveira, I. C. A., Schmidt, A. C. K., Campos, E. J. D., Godoi, S. S., and Ikeda, Y. (2000). A corrente do Brasil ao largo da costa leste brasileira. Brazilian Journal of Oceanography 48: 171–183. https://doi.org/10.1590/S1679-87592000000200008.

Sowman, M., Scott, D., Green, L. J. F., Hara, M. M., Hauck, M., Kirsten, K., Paterson, B., Raemaekers, S., Jones, K., Sunde, J., and Turpie, J. K. (2013). Shallow Waters: Social Science Research in South Africa's Marine Environment. African Journal of Marine Science 35(3): 385–402.

Sowman, M., Sunde, J., Raemaekers, S., and Schultz, O. (2014). Fishing for Equality: Policy for Poverty Alleviation for South Africa's Small-Scale Fisheries. MAST 46: 31–42.

Trimble, M., and Johnson, D. (2013). Artisanal Fishing as an Undesirable Way of Life? The Implications for Governance of Fishers' Wellbeing Aspirations in Coastal Uruguay and Southern Brazil. Marine Policy 37: 37–44.

Trimble, M., Araujo, L. G., and Seixas, C. S. (2014). One Party does not Tango! Fishers' Non-Participation as a Barrier to Co-Management in Paraty, Brazil. Ocean and Coastal Management 92: 9–18.

van Sittert, L. (2002). Those who Cannot Remember the Past are Condemned to Repeat it: Comparing Fisheries Reforms in South Africa. Marine Policy 26: 295–305.

Visser, N. (2015). The Origins of the Present: Economic Conflicts in the Fisheries of the South African South Coast, Circa 1910 to 1950. MAST 14: 9. https://doi.org/10.1186/s40152-015-0029-6.

Wickham, H., Chang, W. (2016). Devtools: Tools to Make Developing R Packages Easier. R Package Version 1 12.0. https://CRAN.R-project.org/package=devtools. Accessed Feb 2018.
Acknowledgements
We thank CNPq (Conselho Nacional de Desenvolvimento Científico e Tecnológico) for the scholarship for the first author (IMM) and FAPESP (Fundação de Amparo à Pesquisa do Estado de São Paulo) for the research grant to MAG and IMM. The support of the South African Research Chair in Marine Ecology and Fisheries, funded by the South African Department of Science and Technology and administered by the South African National Research Foundation, to LCG and AJ is gratefully acknowledged. All authors thank the GULLS project (Belmont Forum research initiative) for the opportunity to interact, and for collating part of the data underlying this study. We express our sincere gratitude to all fishers who kindly collaborated with the study.
Ethics declarations
Conflict of Interest
The authors declare that they have no conflict of interest.
Additional information
Publisher's Note
Springer Nature remains neutral with regard to jurisdictional claims in published maps and institutional affiliations.
Electronic supplementary material
About this article
Cite this article
Martins, I.M., Gammage, L.C., Jarre, A. et al. Different but Similar? Exploring Vulnerability to Climate Change in Brazilian and South African Small-Scale Fishing Communities. Hum Ecol 47, 515–526 (2019). https://doi.org/10.1007/s10745-019-00098-4
Keywords
Small-scale

Fisheries

Climate change

Vulnerability

Management

Southern cape, South Africa, South Brazil bight, Brazil