Access options
Buy single article
Instant access to the full article PDF.
US$ 39.95
Tax calculation will be finalised during checkout.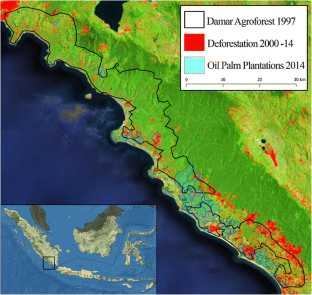 Notes
1.

The Institut Pertanian Bogor carried out a comparative survey of smallholder oil palm and damar agroforestry in Krui in 2002, the only direct comparison of these distinct agricultural systems I am aware of. The results support the view of forest-farmers I interviewed, that damar agroforests have a larger net economic value through time, as compared to oil palm monocultures. In addition, and perhaps most importantly for labor-time constrained smallholders, the economic return on smallholder labor invested in the agroforests was double that of oil palm plantations (Contreras-Hermosilla and Fay 2005).

2.

As more Krui agroforesters and their children seek urban work and leave their damar agroforests unattended, damar resin theft has increased (Kusters et al. 2008). My informants reported damar theft was rare and not a big problem, but acknowledged thefts contribute to reduction in the perceived profitability of the long-term investment required for damar agroforestry.
References
Bernstein, H. (1981). Concepts for the Analysis of Contemporary Peasantries. In Galli, R. (ed.), The Political Economy of Rural Development, State University of New York Press, Albany.

Budidarsono S., Arifatmi B., De Foresta H., and Tomich T. P. (2000). Damar Agroforest Establishment and Sources of Livelihood: A Profitability Assessment of damar Agroforest Systems in Krui, Lampung, Sumatra, Indonesia, ICRAF-SE Asia, Bogor.

Colchester M., Ekadinata A., Fay C., Pasya G., Situmorang L., Sirait M., Van Noordwijk M., Cahyaningsih N., Budidarsono S., Suyanto S., Kusters K., Manalu P., and Gaveau D. (2005). Facilitating agroforestry development through land and tree tenure reforms Indonesia, ICRAF Southeast Asia Working Paper no. 2005 2, Bogor, ICRAF.

Colchester M., Jiwan N., Andiko S., Firdaus A., Surambo A., and Pane H. (2006). Promised land: Palm oil and land acquisition in Indonesia - Implications for local communities and indigenous peoples, Forest Peoples Programme, Moreton-in-Marsh.

Contreras-Hermosilla A., and Fay C. (2005). Strengthening Forest Management in Indonesian Through Land Tenure Reform: Issues and Framework for Action, World Agroforestry Center, Bogor.

Denevan W. M., and Padoch C. (1987). Swidden-Fallow Agroforestry in the Peruvian Amazon, New York Botanical Garden, New York.

Endert F. (1935). Het harsonderzoek in Nederlandsch-Indie. Tectona XXVIII: 249–332.

Fay, C., and Sirait, M. (2002). Reforming the Reformists in Post-Suharto Indonesia. In Colfer, C. and Resosudarmo, I. (eds.), Which Way Forward? People, Forests, and Policymaking in Indonesia, Resources for the Future, Washington D.C.

Fay C., De Foresta H., Sirait M., and Tomich T. (1998). A policy breakthrough for Indonesian farmers in the Krui damar agro-forests. Agroforestry Today 10: 225–226.

Geertz C. (1963). Agricultural Involution: The Processes of Ecological Change in Indonesia, University of California Press, Berkeley.

Hansen M., Potapov P., Moore R., Hancher M., Turubanova S., Tyukavina A., Thau D., Stehman V., Goetz S., Loveland T., Kommareddy A., Egorov A., Chini L., Justice C., and Townshend J. (2013). High-Resolution Global Maps of 21st-Century Forest Cover Change. Science 342(6160): 850–853.

Hecht, S. B. (2014). Forests Lost and Found in Tropical Latin America: The Woodland 'Green Revolution.' The Journal of Peasant Studies:1–33. http://dx.doi.org/10.1080/03066150.2014.917371

Kusters K., De Foresta H., Ekadinata A., and van Noordwijk M. (2007). Towards Solutions for State vs. Local Community Conflicts over Forestland: The Impact of Formal Recognition of User Rights in Krui, Sumatra, Indonesia. Human Ecology 35: 427–438.

Kusters K., Perez R., de Foresta H., Dietz T., Ros-Tonen M., Belcher B., Manalu P., Nawir A., and Wollenburg E. (2008). Will Agroforests Vanish? The Case of damar Agroforests in Indonesia. Human Ecology 36(3): 357–370.

Li T. M. (2010). Indigeneity, Capitalism, and the Management of Dispossession. Current Anthropology 51(3): 385–414.

Li T. M. (2014). Land's End: Capitalist Relations on an Indigenous Frontier, Duke University Press, Durham.

Marsden W. (1783). The History of Sumatra, Thomas Payne and Son, London.

Mary F., and Michon V. (1987). When agroforests drive back natural forests: A socio-economic analysis of a rice-agroforest system in Sumatra. Agroforestry Systems 5: 27–55.

Michon, G., and De Foresta, H. (1995). The Indonesian Agro-Forest Model. In Halladay, P., and Gilmour, D. (eds.), Conserving Biodiversity Outside Protected Areas: The role of traditional agro-ecosystems, IUCN The World Conservation Union, Gland, p. 229.

Michon, G., De Foresta, H., Kusworo A., and Levang P. (2000). The Damar Agroforests of Krui, Indonesia: Justice for Forest Farmers. In Zerner, C. (ed.), People, Plants and Justice: The Politics of Nature Conservation, Columbia University Press, New York.

Michon, G., De Foresta H., Levang, P., and Verdeaux F. (2007). Domestic Forests: A New Paradigm for Integrating Local Communities' Forestry into Tropical Forest Science. Ecology and Society 12(2):1.

Rappard F. W. (1937). Oorspronkelijke bijdragen: De damar van Bengkoelen. Tectona D1(30): 897–915.

Torquebiau E. (1984). Man-Made Dipterocarp Forest in Sumatra. Agroforestry Systems 2: 103–127.

Verhoef L. (1937). De toekomst der Nederlandsch Indiche harsen. Tectona XXX: 759–770.

Vincent G., De Foresta H., and Mulia R. (2009). Co-occurring tree species show contrasting sensitivity to ENSO-related droughts in planted dipterocarp forests. Forest Ecology and Management 258(7): 1316–1322.

Walker A. (2004). Seeing Farmers for the Trees: Community Forestry and the Arborealisation of Agriculture in Northern Thailand. Asia Pacific Viewpoint 45(3): 311–324.

Watts, M. J. (1985). Social Theory and Environmental Degradation. In Gradus, Y. (ed.), Desert Development, D. Reidel Publishing Company, Dordrecht, pp. 14–32.

Waylen K. A., Fischer A., McGowan P. J. K., and Milner-Gulland E. J. (2013). Deconstructing Community for Conservation: Why Simple Assumptions Are Not Sufficient. Human Ecology 41(4): 575–585.

Wolf E. R. (1957). Closed Corporate Peasant Communities in Mesoamerica and Central Java. Southwestern Journal of Anthropology 13(1): 1–18.

Wollenberg E., Nawir A. A., Uluk A., and Pramono H. (2001). Income Is Not Enough: The Effect of Economic Incentives on Forest Product Conservation, CIFOR, Bogor.
Acknowledgements
I am grateful for the forest-farmers, researchers, and activists that shared their knowledge and experiences with me during my time in Sumatra. Unfortunately, because of the dangers rural workers and environmentalists face in the countryside, they must remain anonymous. I thank the journal's three referees for their constructive comments.
Ethics declarations
Compliance with Ethical Standards
Grants from the National Science Foundation (#1524490) and Wenner-Gren Foundation (#8676) funded this research.
Conflict of Interest
The author declares no conflicts of interest.
About this article
Cite this article
Gilbert, D.E. The 'Capitalist Squeeze' and the Rise and Fall of Sumatra's Krui Agroforests. Hum Ecol 45, 711–717 (2017). https://doi.org/10.1007/s10745-017-9932-3
Keywords
Political economy of environmental change

Agroforestry

Deforestation

Oil palm

Indonesia