Abstract
Shared ecological knowledge about the impacts of biological invasions can facilitate the collective action necessary to achieve desired management outcomes. Since its introduction to an island archipelago in South America, the North American beaver has caused major changes to the ecosystem. We examined landowners' mental models of how beavers impact ecosystem services in riparian areas to understand the potential to implement a large-scale eradication program. We used ethnographic interviews to characterize individual landowners' perceptions about beaver-caused changes to ecosystems and landowners' wellbeing, and examined the degree to which they are shared. While the eradication initiative focuses on ecosystem integrity, landowners considered impacts on provisioning services to be most salient. Landowners did not have a highly shared causal model of beaver impacts, which indicates a diverse knowledge system. This lack of consensus on how beavers impact riparian areas provides some optimism for garnering support for eradication, and also offers insights into challenges with mental modeling methodologies.
This is a preview of subscription content, log in to check access.
Access options
Buy single article
Instant access to the full article PDF.
US$ 39.95
Price includes VAT for USA
Subscribe to journal
Immediate online access to all issues from 2019. Subscription will auto renew annually.
US$ 99
This is the net price. Taxes to be calculated in checkout.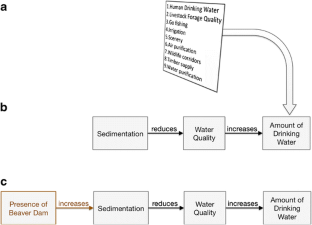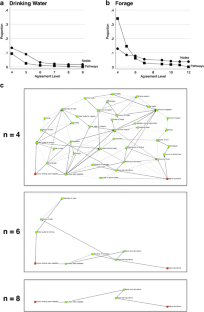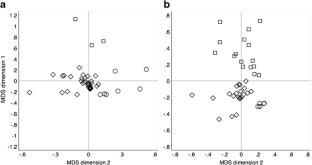 References
Abel N., Ross H., and Walker P. (1998). Mental Models in Rangeland Research, Communication and Management. The Rangeland Journal 20(1): 77–91.

Adams W. M., Brockington D., Dyson J., and Vira B. (2003). Managing Tragedies: Understanding Conflict over Common Pool Resources. Science 302(5652): 1915–1916.

(AAPOR) American Association for Public Opinion Research. (2011a). Response rate calculator V3.1

(AAPOR) American Association for Public Opinion Research. (2011b). Standard definitions: final dispositions of case codes and outcome rates for surveys.

Anadon J. D., Gimenez A., Ballestar R., and Perez I. (2009). Evaluation of Local Ecological Knowledge as a Method for Collecting Extensive Data on Animal Abundance. Conservation Biology 23(3): 617–625.

Aswani S., and Lauer M. (2006). Incorporating Fishermen's Local Knowledge and Behavior into geographical information Systems (giS) for Designing marine Protected areas in Oceania. Human Organization 65(1): 81–102.

Bailey, C. A. (2007). A guide to qualitative field research. Sage Publications.

Berkes F., Colding J., and Folke C. (2000). Rediscovery of traditional ecological knowledge as adaptive management. Ecological Applications 10: 1251–1262.

Biggs D., Abel N., Knight A. T., Leitch A., Langston A., and Ban N. C. (2011). The implementation crisis in conservation planning: could "mental models" help? Conservation Letters 4(3): 169–183.

Bohensky, E. L., Butler, J. R. A., Davies, J. (2013). Integrating indigenous ecological knowledge and science in natural resource management: perspectives from Australia. Ecology and Society 18(3).

Borgatti, S. P., Everett, M. G., Freeman, L. C. (2002). Ucinet for windows: software for social network analysis.

Borgatti, S. P., Everett, M. G., Johnson, J. C. (2013). Analyzing social networks. SAGE Publications Limited.

Breakwell G. M. (2004). Doing social psychology research, Blackwell, Malden.

Campos M., Velázquez A., Verdinelli G., Priego-Santander Á., McCall M., and Boada M. (2012). Rural People's Knowledge and Perception of Landscape: A Case Study From the Mexican Pacific Coast. Society & Natural Resources 25(8): 759–774.

Carley K., and Palmquist M. (1992). Extracting, Representing, and Analyzing Mental Models. Social Forces 70(3): 601–636.

Carrion V., Donlan C. J., Campbell K. J., Lavoie C., and Cruz F. (2011). Archipelago-Wide Island Restoration in the Galápagos Islands: Reducing Costs of Invasive Mammal Eradication Programs and Reinvasion Risk. PLoS ONE 6(5): e18835.

Cash D. W., Clark W. C., Alcock F., Dickson N. M., Eckley N., Guston D. H., Jäger J., and Mitchell R. B. (2003). Knowledge systems for sustainable development. Proceedings of the National Academy of Sciences 100(14): 8086–8091.

Castree N., Adams W. M., Barry J., Brockington D., Büscher B., Corbera E., Demeritt D., Duffy R., Felt U., and Neves K. (2014). Changing the intellectual climate. Nature Climate Change 4(9): 763–768.

Collins S. L., Carpenter S. R., Swinton S. M., Orenstein D. E., Childers D. L., Gragson T. L., Grimm N. B., Grove J. M., Harlan S. L., and Kaye J. P. (2011). An integrated conceptual framework for long-term social-ecological research. Frontiers in Ecology and the Environment 9(6): 351–357.

Craik K. (1967). The nature of explanation. 1943, Cambridge University, Cambridge.

Crona B., and Bodin Ö. (2006). What you know is who you know? Communication patterns among resource users as a prerequisite for co-management. Ecology and Society 11(2): 7.

Cullen-Unsworth L. C., Hill R., Butler J. R. A., and Wallace M. (2012). A research process for integrating Indigenous and scientific knowledge in cultural landscapes: principles and determinants of success in the Wet Tropics World Heritage Area, Australia. The Geographical Journal 178(4): 351–365.

Dea D., and Scoones I. (2003). Networks of knowledge: how farmers and scientists understand soils and their fertility. a case study from Ethiopia. Oxford Development Studies 31(4): 461–478.

(DGEC) Direccion General de Estadistica y Censos. (2010). 2010 Census.

Eden C. (2004). Analyzing cognitive maps to help structure issues or problems. European Journal of Operational Research 159(3): 673–686.

Eden C., Jones S., and Sims D. (1979). Thinking in organizations, Macmillan, London.

Elton C. S. (1958). The Ecology of Invasions by Animals and Plants, University of Chicago, Chicago.

Eyssartier C., Ladio A. H., and Lozada M. (2011). Traditional horticultural knowledge change in a rural population of the Patagonian steppe. Journal of Arid Environments 75(1): 78–86.

Ferguson M. A. D., and Messier F. (1997). Collection and Analysis of Traditional Ecological Knowledge about a Population of Arctic Tundra Caribou. Arctic 50(1): 17–28.

Ghimire S. K., McKey D., and Aumeeruddy-Thomas Y. (2004). Heterogeneity in ethnoecological knowledge and management of medicinal plants in the Himalayas of Nepal: implications for conservation. Ecology and Society 9(3): 6.

Goldman M. (2003). Partitioned nature, privileged knowledge: Community-based conservation in Tanzania. Development and Change 34(5): 833–862.

Gómez-Baggethun E., Reyes-García V., Olsson P., and Montes C. (2012). Traditional ecological knowledge and community resilience to environmental extremes: A case study in Doñana, SW Spain. Global Environmental Change 22(3): 640–650.

Gratani M., Butler J. R., Royee F., Valentine P., Burrows D., Canendo W. I., and Anderson A. S. (2011). Is validation of indigenous ecological knowledge a disrespectful process? A case study of traditional fishing poisons and invasive fish management from the Wet Tropics, Australia. Ecology and Society 16: 1–14.

Gray, S. A. (2012). Mental modeler software.

Gray S., Chan A., Clark D., and Jordan R. (2012). Modeling the integration of stakeholder knowledge in social–ecological decision-making: Benefits and limitations to knowledge diversity. Ecological Modelling 229: 88–96.

Gray S. R. J., Gagnon A. S., Gray S. A., O'Dwyer B., O'Mahony C., Muir D., Devoy R. J. N., Falaleeva M., and Gault J. (2014). Are coastal managers detecting the problem? Assessing stakeholder perception of climate vulnerability using Fuzzy Cognitive Mapping. Ocean and Coastal Management 94: 74–89.

Gray S. A., Gray S., De Kok J. L., Helfgott A. E., O'Dwyer B., Jordan R., and Nyaki A. (2015). Using fuzzy cognitive mapping as a participatory approach to analyze change, preferred states, and perceived resilience of social-ecological systems. Ecology and Society 20(2): 11.

Halbrendt J., Gray S. A., Crow S., Radovich T., Kimura A. H., and Tamang B. B. (2014). Differences in farmer and expert beliefs and the perceived impacts of conservation agriculture. Global Environmental Change 28: 50–62.

Hobbs R. J., Higgs E., Hall C. M., Bridgewater P., Chapin F. S., Ellis E. C., Ewel J. J., Hallett L. M., Harris J., and Hulvey K. B. (2014). Managing the whole landscape: historical, hybrid, and novel ecosystems. Frontiers in Ecology and the Environment 12(10): 557–564.

Hodgkinson G. P., Maule A. J., and Bown N. J. (2004). Causal Cognitive Mapping in the Organizational Strategy Field: A Comparison of Alternative Elicitation Procedures. Organizational Research Methods 7(1): 3–26.

Isaac M. E., Dawoe E., and Sieciechowicz K. (2009). Assessing Local Knowledge Use in Agroforestry Management with Cognitive Maps. Environmental Management 43(6): 1321–1329.

Johnson-Laird, P. N. (1983). Mental models: towards a cognitive science of language, inference, and consciousness. Harvard University Press.

Jones, N. A., Ross, H., Lynam, T., Perez, P., Leitch, A. (2011). Mental models: an interdisciplinary synthesis of theory and methods. Ecology and Society 16%6:1-13%&.

Jones H. P., Holmes N. D., Butchart S. H. M., Tershy B. R., Kappes P. J., Corkery I., Aguirre-Muñoz A., Armstrong D. P., Bonnaud E., Burbidge A. A., et al (2016). Invasive mammal eradication on islands results in substantial conservation gains. Proceedings of the National Academy of Sciences 113(15): 4033–4038.

Kachigan, S. K. (1991). Multivariate statistical analysis: a conceptual introduction.

King B. H. (2007). Conservation and community in the new South Africa: A case study of the Mahushe Shongwe Game Reserve. Geoforum 38(1): 207–219.

King B., and Peralvo M. (2010). Coupling community heterogeneity and perceptions of conservation in rural South Africa. Human Ecology 38(2): 265–281.

Knapp C. N., and Fernandez-Gimenez M. E. (2009). Knowledge in Practice: Documenting Rancher Local Knowledge in Northwest Colorado. Rangeland Ecology & Management 62(6): 500–509.

Knoke D., and Yang S. (2008). Social network analysis, Sage Publications, Los Angeles.

La Prensa Austral. (2013). Capturan castor que era intensamente buscado en Ultima Esperanza.

La Prensa Austral. (2014). Sag aseguró que Chile y Argentina están alineados para combatir la plaga de castores.

Lave R., Wilson M. W., Barron E. S., Biermann C., Carey M. A., Duvall C. S., Johnson L., Lane K. M., McClintock N., and Munroe D. (2014). Intervention: Critical physical geography. The Canadian Geographer/Le Géographe Canadien 58(1): 1–10.

Leonard S., Parsons M., Olawsky K., and Kofod F. (2013). The role of culture and traditional knowledge in climate change adaptation: Insights from East Kimberley, Australia. Global Environmental Change 23(3): 623–632.

Lövbrand E., Beck S., Chilvers J., Forsyth T., Hedrén J., Hulme M., Lidskog R., and Vasileiadou E. (2015). Who speaks for the future of Earth? How critical social science can extend the conversation on the Anthropocene. Global Environmental Change 32: 211–218.

Lynam T., and Brown K. (2011). Mental Models in Human-Environment Interactions: Theory, Policy Implications, and Methodological Explorations. Ecology and Society 17(3): 24.

Malmierca L., Menvielle M. F., Ramadori D., Saavedra B., Saunders A., Soto N., and Schiavini A. (2011). Eradication of beaver (Castor Canadensis), an ecosystem engineer and threat to southern Patagonia. In Veitch C., Clout M., and Towns D. (eds.), Island invasives: eradication and management. International Conference on Island Invasives, IUCN (International Union for Conservation of Nature), Gland, pp. 87–90.

(MEA) Millennium Ecosystem Assessment (2005). Ecosystems and human well-being: synthesis, Island Press, Washington.

(MMA) Ministerio del Ambiente. (2014). Estudio revela que en Chile hay 128 especies exóticas invasoras que amenazan la biodiversidad. http://portal.mma.gob.cl/studio-revela-que-en-chile-hay-128-especies-exoticas-invasoras-que-amenazan-la-biodiversidad/. Accessed 20 June 2016.

Morgan, M. G., Fischhoff, B., Bostrom, A., Atman, C. J. (2002). Risk communication: a mental models approach. Cambridge University Press.

Olsson P., and Folke C. (2001). Local Ecological Knowledge and Institutional Dynamics for Ecosystem Management: A Study of Lake Racken Watershed, Sweden. Ecosystems 4(2): 85–104.

Otto-Banaszak I., Matczak P., Wesseler J., and Wechsung F. (2011). Different perceptions of adaptation to climate change: a mental model approach applied to the evidence from expert interviews. Regional Environmental Change 11(2): 217–228.

Özesmi U., and Özesmi S. L. (2004). Ecological models based on people's knowledge: a multi-step fuzzy cognitive mapping approach. Ecological Modelling 176(1–2): 43–64.

Pahl-Wostl C. (2006). The importance of social learning in restoring the multifunctionality of rivers and floodplains. Ecology and Society 11(1): 10.

Papageorgiou E. I. (2014). Fuzzy Cognitive Maps for Applied Sciences and Engineering: From Fundamentals to Extensions and Learning Algorithms, Springer Berlin Heidelberg, Berlin.

Parkes, J., Paulson, J., Donlan, C., Campbell, K. (2008). Control of North American beavers in Tierra del Fuego: feasibility of eradication and alternative management options. Landcare Research Contract Report LC0708. Available in Spanish at: http://www.tierradelfuego.gov.ar/s_desuamb/docs/erradica_castor.pdf.

Peloquin C., and Berkes F. (2009). Local Knowledge, Subsistence Harvests, and Social-Ecological Complexity in James Bay. Human Ecology 37(5): 533–545.

Pfeiffer, J. M. and Voeks, R. A. (2008). Biological invasions and biocultural diversity: Linking ecological and cultural systems. Environmental Conservation 35:281.

Quinlan M. (2005). Considerations for collecting freelists in the field: examples from ethobotany. Field Methods 17(3): 219–234.

Robinson, C. J., Wallington, T. J. (2012). Boundary work: engaging knowledge systems in Co-management of Feral Animals on Indigenous Lands. Ecology and Society 17(2).

Robinson, C., Maclean, K., Hill, R., Bock, E., Rist, P. (2015). Participatory mapping to negotiate indigenous knowledge used to assess environmental risk. Sustainability Science 1–12.

Rodan, S. (2011). Choosing the 'β'parameter when using the Bonacich power measure. Journal of Social Structure 12(4).

Rodríguez L. C., Pascual U., and Niemeyer H. M. (2006). Local identification and valuation of ecosystem goods and services from Opuntia scrublands of Ayacucho, Peru. Ecological Economics 57(1): 30–44.

Santo A. R. (2015). A Human-Centered Approach to Designing an Invasive Species Eradication Program, Virginia Tech, Blacksburg.

Santo A. R., Sorice M. G., Donlan C., Franck C. T., and Anderson C. B. (2015). A human-centered approach to designing invasive species eradication programs on human-inhabited islands. Global Environmental Change 35: 289–298.

Savory, A., Butterfield, J. (1998). Holistic management: a new framework for decision making. Island Press.

Sayer, J., Campbell, B. M. (2004). The science of sustainable development: local livelihoods and the global environment. Cambridge University Press.

Schlaepfer M. A., Sax D. F., and Olden J. D. (2012). Toward a More Balanced View of Non-Native Species. Conservation Biology 26(6): 1156.

Scoones I. (1999). New ecology and the social sciences: what prospects for a fruitful engagement? Annual Review of Anthropology: 479–507.

Shepardson D. P., Wee B., Priddy M., and Harbor J. (2007). Students' mental models of the environment. Journal of Research in Science Teaching 44(2): 327–348.

Sorice, M. G., Donlan, C. J. (2015). A human-centered framework for innovation in conservation incentive programs. Ambio.

Stone-Jovicich S. S., Lynam T., Leitch A., and Jones N. A. (2011). Using Consensus Analysis to Assess Mental Models about Water Use and Management in the Crocodile River Catchment, South Africa. Ecology and Society 16(1): 45.

(SDRA) Subsecretaria de Desarrollo Regional y Administrativo. (2014). 2014 Census.

Sundaram B., Krishnan S., Hiremath A., and Joseph G. (2012). Ecology and Impacts of the Invasive Species, Lantana camara, in a Social-Ecological System in South India: Perspectives from Local Knowledge. Human Ecology 40(6): 931–942.

Sutrop U. (2001). List task and a cognitive salience index. Field Methods 13(3): 263–276.

Thomas C. D., and Palmer G. (2015). Non-native plants add to the British flora without negative consequences for native diversity. Proceedings of the National Academy of Sciences 112(14): 4387–4392.

Van Vugt M. (2009). Averting the tragedy of the commons: Using social psychological science to protect the environment. Current Directions in Psychological Science 18: 169–173.

Vitule J. R. S., Freire C. A., Vazquez D. P., Nuñez M. A., and Simberloff D. (2012). Revisiting the potential conservation value of non-native species. Conservation Biology 26(6): 1153.

Weller, S. C., Romney, A. K. (1988). Systematic data collection. SAGE Publications, Incorporated.

Zorondo-Rodríguez, F. (2012). Natural capital and human well-being: what are the links? A study among rural inhabitants from Kodagu district (Karnataka state), India. Universitat Autònoma de Barcelona.
Acknowledgements
We thank the participating landowners as well as the following institutions and people who provided additional support: Asociación de Ganaderos de Magallanes, Asociación de Ganaderos de Tierra del Fuego, Asociación Rural de Tierra del Fuego, B. Garcia, Centro Austral de Investigaciones Científicas, M. Cvitanic Mekiavic, K. Guillozet, Institución de Investigación Agropecuaria de Chile, Instituto Nacional de Tecnología Agropecuaria de Argentina, S. Martínez Mora, G. Martínez-Pastur, F. Patagonia, Patagonia Wildlife Ltda., Servicio Agrícola y Ganadero, S. Vojnovic, R. Vukasovic, Wildlife Conservation Society Chile Chapter.
Ethics declarations
This work was supported by the U.S. National Science Foundation, Dynamics of Coupled Natural and Human Systems (CNH) program (GEO-1211877), and in part by the Virginia Agricultural Experiment Station and the USDA National Institute of Food and Agriculture McIntire-Stennis Program project 1007271.
Conflict of Interest
The authors declare no conflict of interest.
About this article
Cite this article
Santo, A.R., Guillozet, K., Sorice, M.G. et al. Examining Private Landowners' Knowledge Systems for an Invasive Species. Hum Ecol 45, 449–462 (2017). https://doi.org/10.1007/s10745-017-9920-7
Keywords
North American beaver (Castor Canadensis)

concept mapping

local ecological knowledge

mental models

private lands

network analysis

Tierra del Fuego