Abstract
Humans have historically played a critical role in the management of Mediterranean-type ecosystems (MTEs) through traditional fire use. Although chestnut forests are widespread across the Mediterranean Basin, little is known about their historical fire regimes. Our goal here is to generate testable hypotheses about the drivers of fire regime dynamics in chestnut dominated ecosystems. To examine anthropogenic fire management we selected two sites in Spain that have similar biophysical characteristics but divergent levels of economic development and fire management policies. Fire regime-landscape feedbacks were characterized through a pilot dendroecological study, official fire statistics, aerial photography and forest inventory data. Our results suggest that fire incidence in both sites has increased since the pre-industrial era but fire season, fire size, and forest structure have changed to a greater extent in the more developed site. These changes are probably driven by the decline in annual anthropogenic burning of litterfall by local communities at the more developed site during the non-vegetative season.
This is a preview of subscription content, log in to check access.
Access options
Buy single article
Instant access to the full article PDF.
US$ 39.95
Tax calculation will be finalised during checkout.
Subscribe to journal
Immediate online access to all issues from 2019. Subscription will auto renew annually.
US$ 79
Tax calculation will be finalised during checkout.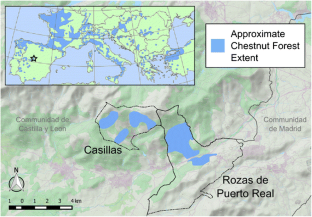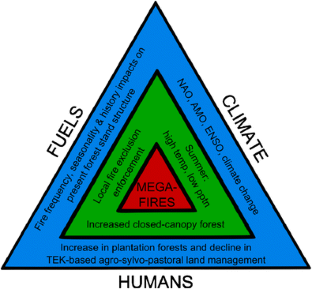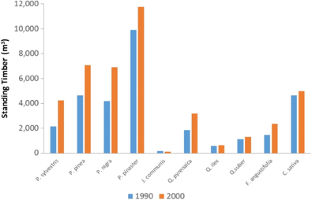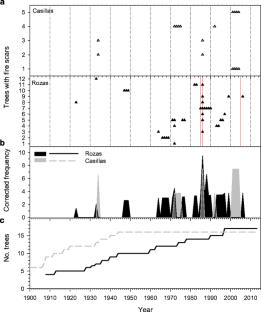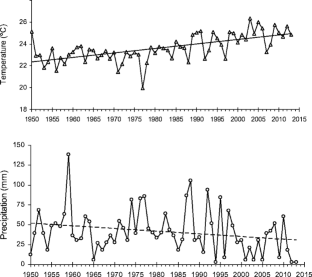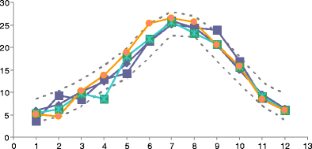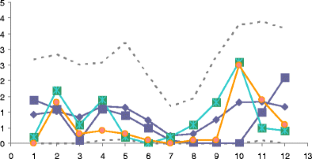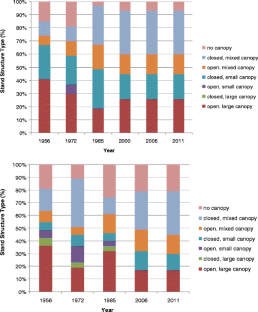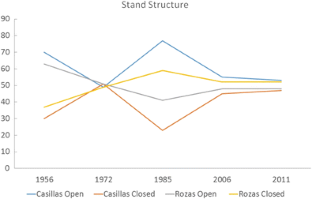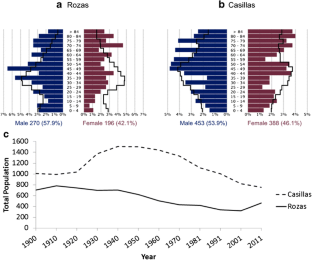 References
AIS (Aplicaciones de Inteligencia Artificial SA). 2014. http://www.aisint.com

Alberti, M., Asbjornsen, H., Baker, L.A., Brozovic, N., Drinkwater, L.E., Drzyzga, S.A., Jantz, C.A., Fragoso, J. et al. 2011. Research on Coupled Human and Natural Systems (CHANS): Approach, Challenges, and Strategies. Bulletin of the Ecological Society of America 92: 218–228.

Arno, S; Sneck, K. 1977.A method for determining fire history in coniferous forests of the mountain west. USDA Forest Service General Technical Report INT-42

ASEMFO (Asociación Nacional de Empresas Forestales). 2006. http://www.asemfo.org/escaparate/paginas.cgi?idpadre=7050&idempresa=1008

Berkes F., Colding J., and Folke C. (2000). Rediscovery of traditional ecological knowledge as adaptive management. Ecological Applications 10: 1251–1262.

Bigio E., Gartner H., and Conedera M. (2010). Fire-related features of wood anatomy in a sweet chestnut (Castanea sativa) coppice in southern Switzerland. Trees-Structure and Function 24: 643–655.

Caja España. 2012. Fichas de datos municipales (www.cajaespana-duero.es/obrasocial/asistencia-social-y-sanitaria/estudios-sociales/index.aspx)

Camisón A., Miguel R., Marcos J. L., Revilla J., Tardáguila M. A., Hernández D., Lakicevic M., Jovellar L. C., and Silla F. (2015). Regeneration dynamics of Quercus pyrenaica Willd. In the central system (Spain). Forest Ecology and Management 343: 42–52.

Christopoulou A., Fulé P. Z., Andriopoulos P., Sarris D., and Arianoutsou M. (2013). Dendrochronology-based fire history of Pinus nigra forests in mount Taygetos, southern Greece. Forest Ecology and Management 293: 132–139.

Conedera M., Krebs P., Tinner W., Pradella M., and Torriani D. (2004). The cultivation of Castanea sativa (mill) in Europe from its origin to its diffusion on a continental scale. Vegetational History and Archaeobotany 13: 161–179.

Coughlan M. R. (2014). Farmers, flames, and forests: historical ecology of pastoral fire use and landscape change in the French western Pyrenees, 1830–2011. Forest Ecology and Management 312: 55–66.

Coughlan M. R. (2015). Traditional fire-use, landscape transition, and the legacies of social theory past. Ambio 44: 705–717.

Duncan S. L., McComb B. C., and Johnson K. N. (2010). Integrating ecological and social ranges of variability in conservation of biodiversity: past, present, and future. Ecology and Society 15: 5.

Fernandez-Gimenez M., and Fillat F. (2012). Pyrenean pastoralists' ecological knowledge: documentation and application to natural resource management and adaptation. Human Ecology 40: 287–300.

Fernandes P., Davies M., Ascoli D., Fernandez C., Moreira F., Rigolot E., Stoof C., Vega J. A., and Molina D. (2013). Prescribed burning in southern Europe: developing fire management in a dynamic landscape. Frontiers in Ecology and the Environment 11: e4–e14.

Fritts H. C. (2001). Tree rings and climate, Blackburn Press, London.

Fulé P. Z., Ribas M., Gutiérrez E., Vallejo R., and Kaye M. W. (2008). Forest structure and fire history in an old Pinus nigra forest, eastern Spain. Forest Ecology and Management 255: 1234–1242.

Gill A. M., Sharples J., and Johnston G. (2014). Edge effects on between-fire interval in landscape fragments such as fire-prone terrestrial conservation reserves. Biological Conservation 169: 54–59.

Grove A. T., and Rackham O. (2000). The nature of Mediterranean Europe: an ecological history, Yale University Press, New Haven.

Grissino-Mayer H. D. (2001). Evaluating crossdating accuracy: a manual > and tutorial for the computer program COFECHA. Tree-Ring Research 57(2): 205–221.

Grund K., Conedera M., Schroder H., and Walther G. R. (2005). The role of fire in the invasion process of evergreen broad-leaved species. Basic and Applied Ecology 6: 47–56.

Hardy C. C., Schmidt K. M., Menakis J. M., and Samson N. R. (2001). Spatial data for national fire planning and fuel management. International Journal of Wildland Fire 10: 353–372.

Haylock, M.R., N. Hofstra, A.M.G. Klein Tank, E.J. Klok, P.D. Jones, M. New. 2008: A European daily high-resolution gridded dataset of surface temperature and precipitation. Journal of Geophysical Research (Atmospheres) 113: D20119.

Heyerdahl E. K., and McKay S. J. (2008). Condition of live fire-scarred ponderosa pine eleven years after removing partial cross-sections. Tree-Ring Research 64: 61–64.

Holmes R. L. (1983). Computer-assisted quality control in tree-ring dating and measurement. Tree-Ring Bulletin 43: 69–78.

Hull V., Tuanmu M.-N., and Liu J. (2015). Synthesis of human-nature feedbacks. Ecology and Society 20: 17.

Huffman M. R. (2013). The many elements of traditional fire knowledge: synthesis, classification, and aids to cross-cultural problem solving in fire-dependent systems around the world. Ecology and Society 18: 3.

IFN2. 1990. Ministerio de Medio Ambiente. Madrid, Spain.

IFN3. 2000. Ministerio de Medio Ambiente. Madrid, Spain.

IPCC (2014). In Edenhofer O., Pichs-Madruga R., Sokona Y., Farahani E., Kadner S., Seyboth K., Adler A., Baum I., Brunner S., Eickemeier P., Kriemann B., Savolainen J., Schlomer S., von Stechow C., Zwickel T., and Minx J. C. (eds.), Summary for policymakers, in: climate change 2014, mitigation of climate change. Contribution of working group III to the fifth assessment report of the intergovernmental panel on climate change, Cambridge University Press, Cambridge, United Kingdom and New York, NY, USA.

Keane R., Hessburg P., Landres P., and Swanson F. (2009). The use of historical range and variability (HRV) for landscape management. Forest Ecology and Management 258: 1025–1037.

Khabarov N., Krasovskii A., Obersteiner M., Swart R., Dosio A., San-Miguel-Ayanz J., Durrant T., Camia A., and Migliavacca M. (2016). Forest fires and adaptation options in Europe. Regional Environmental Change. doi:10.1007/s10113-014-0621-0.

Krebs P., Koutsias N., and Conedera M. (2012). Modelling the eco-cultural niche of giant chestnut trees: new insights into land use history in southern Switzerland through distribution analysis of a living heritage. Journal of Historical Geography 38: 372–386.

López-Sáez J. A., Blanco-González A., López-Merino L., Ruiz-Zapata M. B., Dorado-Valiño M., Pérez-Díaz S., Valdeolmillos A., and Burjachs F. (2009). Landscape and climatic changes during the end of the late prehistory in the Amblés Valley (Ávila, Central Spain), from 1200 to 400 cal BC. Quaternary International 200: 90–101.

McBride J. R. (1983). Analysis of tree rings and fire scars to establish fire history. Tree-Ring Bulletin 43: 51–67.

Metailie J. P. (1981). Le feu pastoral dans les Pyrénées centrales, CNRS, Paris.

Millington J. D. A., Perry G. L. W., and Romero-Calcerrada R. (2007). Regression techniques for examining land use/cover change: a case study of a Mediterranean landscape. Ecosystems 10: 562–578.

Minnich R. (1983). Fire mosaics in Southern California and northern Baja California. Science 219: 1287–1294.

Moreira, F. and Fernandes P. Online comment to Reform forest fire management (North et al. 2015) http://comments.sciencemag.org/content/10.1126/science.aab2356

Morgan P., Aplet G. H., Haufler J. B., Humphries H. C., Moore M. M., and Wilson W. D. (1994). Historical range of variability: a useful tool for evaluating ecosystem change. Journal of Sustainable Forestry 2: 87–111.

Osborn T. J., Briffa K. R., and Jones P. D. (1997). Adjusting variance for sample-size in tree-ring chronologies and other regional-mean time-series. Dendrochronologia 15: 89–99.

Pausas J. (2004). Changes in fire and climate in the eastern Iberian peninsula. Climatic Change 63: 337–350.

Pausas J., and Fernandez-Muñoz S. (2012). Fire regime changes in the western Mediterranean basin: from fuel limited to drought driven fire regime. Climatic Change 110: 215–226.

Perry G. L. W., and Millington J. D. A. (2008). Spatial modelling of succession-disturbance dynamics in forest ecosystems: concepts and examples. Perspectives in Plant Ecology, Evolution and Systematics 9: 191–210.

Pezzatti G., Zumbrunnen T., Burgi T., Ambrosetti P., and Conedera M. (2013). Fire regime shifts as a consequence of fire policy and socio-economic development: an analysis based on the change point approach. Forest Policy and Economics 29: 7–18.

Postigo-Mijarra J. M., Morla C., Barrón E., Morales-Molino C., and García S. (2010). Patterns of extinction and persistence of Arctotertiary flora in Iberia during the quaternary. Review of Palaeobotany and Palynology 162: 416–426.

Rist, L., A. Felton, L. Samuelsson, C. Sandström, and O. Rosvall. 2013. A new paradigm for adaptive management. Ecology and Society 18 (4): 63.

San Roman A., Fernandez C., Mouillot F., Ferrat L., Istria D., and Pasqualini V. (2013). Long-term forest dynamics and land-use abandonment in the Mediterranean mountains, Corsica, France. Ecology and Society 18: 38.

Seijo F. (2005). The politics of fire. Environmental Politics 14(3): 380–402.

Seijo F., and Gray R. (2012). Pre-industrial anthropogenic fire regimes in transition. Human Ecology Review 19: 58–69.

Seijo F., Millington J. D. A., Gray R. W., Sanz V., Lozano J., Garcia-Serrano F., Sanguesa-Barreda G., and Camarero J. J. (2015). Forgetting fire: traditional fire knowledge in two chestnut forest ecosystems of the Iberian peninsula and its implications for European fire management policy. Land Use Policy 47: 130–144.

Sigaut F. (1975). L'Agriculture et le Feu, Mouton et Cie, Paris.

Stephens S. L., Burrows N., Buyantuyev A., Gray R. W., Keane R. E., Kubian R., Liu S., Seijo F., Shu L., Tolhurst K. G., and van Wagtendonk J. W. (2014). Temperate and boreal mega-fires: characteristics and challenges. Frontiers in Ecology and the Environment 12: 115–122.

Swetnam T., Allen C., and Betancourt J. (1999). Applied historical ecology: using the past to manage for the future. Ecological Applications 9: 1189–1206.

Swetnam, T. and Baisan, C. 1996. Historical fire regime patterns in the southwestern United States since AD 1700. In: C.D. Allen (ed.), Fire Effects in Southwestern Forests: Proceedings of the 2nd La Mesa Fire Symposium, pp. 11–32. USDA Forest Service, Rocky Mountain Research Station, General Technical Report RM-GTR-286.

Touraine A. (1971). The post-industrial society. tomorrow's social history: classes, conflicts and culture in the programmed society, Random house, New York.

Van Horne M. L., and Fulé P. Z. (2006). Comparing methods of reconstructing fire history using fire scars in a southwestern United States ponderosa pine forest. Canadian Journal of Forest Research 36: 855–867.

Zlatanov T., Shleppi P., Velichkov I., Hinkov G., Georgieva M., Eggertson O., Zlatanova M., and Vacki H. (2013). Structural diversity of abandoned chestnut (Castanea sativa mill.) dominated forests: implications for forest management. Forest Ecology and Management 291: 326–335.
Acknowledgements
This research was made possible by an Academic Outreach Engagement Grant from Middlebury College. F. Seijo would like to thank the municipal governments of Rozas de Puerto Real and Casillas - and particularly David Saugar and Daniel Moreno - for their kind and disinterested collaboration in the implementation of this research project. FS would also like to express his gratitude to Peter Fulé (Northern Arizona University) and Beatriz Pérez Ramos (Universidad de Castilla-La Mancha) for their help in obtaining the official fire statistics for Casillas, and to Captain Jorge García Rodriguez (Spanish Army) for facilitating us access to aerial photographs. Middlebury College, Swarthmore and Pomona students Jacqueline Wyard-Yates, George Lampe, Nathaniel Truman and Heidi Yuan also contributed valuable insights for this study. J. Millington would like to acknowledge the Leverhulme Trust for his Early Career Fellowship, which funded his fieldwork in the study area. G. Sangüesa-Barreda's and J.J. Camarero' contributions to this study were supported by projects CGL2011-26654 (Spanish Ministry of Economy and Competitiveness).
Ethics declarations
The authors declare that they have no conflict of interest.
About this article
Cite this article
Seijo, F., Millington, J.D., Gray, R. et al. Divergent Fire Regimes in Two Contrasting Mediterranean Chestnut Forest Landscapes. Hum Ecol 45, 205–219 (2017). https://doi.org/10.1007/s10745-016-9879-9
Keywords
Mediterranean fire ecology

Spain

Chestnut forest ecosystems (Castanea sativa mill.)

Traditional ecological knowledge

Traditional fire knowledge

Coupled human and natural systems theory

Dendroecology