Abstract
This paper examines the effect of a state-led sedentarization scheme on pastoralist adaptation in northern Xinjiang, China. Drawing on surveys and semi-structured interviews with 159 Kazak pastoral households, our results indicate that socio-environmental challenges made extensive herding more tenuous but less profitable. Consequently, certain pastoralists voluntarily adopted sedentarization under state facilitation, although this process was accompanied with declines in household income and asset holdings. Our findings suggest that pastoralists were subject to the combined effects of institutional push and socio-environmental risks, making sedentarization seemingly the only viable choice. We thus argue that pastoral sedentarization in northern Xinjiang represents a constrained adaptation strategy. Future policy should build on pastoralists' motivation to sedentarize and seek their knowledge to facilitate adaptive development in the pastoral regions.
Access options
Buy single article
Instant access to the full article PDF.
USD 39.95
Price excludes VAT (USA)
Tax calculation will be finalised during checkout.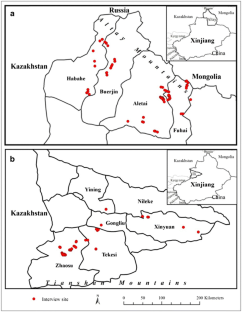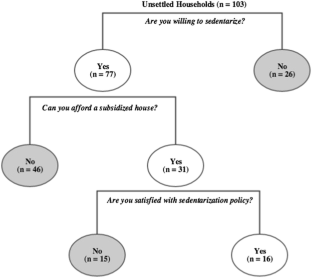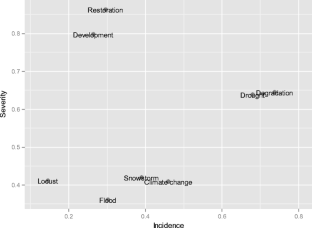 Notes
Land ownership in this study does not mean that households privately own the land, but rather that they have 50 years' land tenure. According to the Chinese land law, all lands in China are owned by the state, while individuals only have the right to use them. Land sales are prohibited, but the right to use land can be transferred in the form of rent and bequest.

In 2010, the price was about 1100 yuan for a lamb, 2500 yuan for a calf, and 5000 yuan for a horse. The average income from one mu of crop field is 800 yuan.

In 2010, the price for herding one cattle is 50 yuan/month, the price for herding a sheep/goat is 8 yuan/month.

The hukou is a record in the system of household registration in China.

These two groups of households shared substantial similarities before sedentarization. According to respondents' recall during our interviews, both groups were capable to purchase a subsidized house because they had a relatively large number of livestock. They also had similar expectations from sedentarization, hoping that by selling part of their livestock, they can buy a house and shift into non-pastoral livelihoods that will allow them to avoid the risks associated with extensive herding.
References
Agrawal, A. (2010). Local Institutions and Adaptation to Climate Change. Social Dimensions of Climate Change: Equity and Vulnerability in a Warming World. Washington, DC, World Bank, 173–198.

Agrawal A., and Lemos M. (2015). Adaptive Development. Nature Climate Change 5(3): 185–187.

Agrawal A., and Redford K. (2009). Conservation and displacement: an overview. Conservation and Society 7(1): 1–10.

Banks, T., & Doman, S. (2001). Kazakh nomads, rangeland policy and the environment in Altay: insights from new range ecology. In Second International Convention of Asia Scholars, Free University, Berlin.

Barnett J., and O'Neill S. (2010). Maladaptation. Global Environmental Change 20(2): 211–213.

Bauer K. (2005). Development and the Enclosure Movement in Pastoral Tibet Since the 1980s. Nomadic Peoples, 9 1(2): 53–81.

Bedunah D., and Harris R. (2005). Observations on Changes on Kazak Pastoral Use in Two Townships in Western China: a Loss of Traditions. Nomadic Peoples 9(1&2): 107–129.

Behnke, R., Scoones, I., & Kerven, C. (1993). Range ecology at disequilibrium: new models of natural variability and pastoral adaptation in African savannas. London: Overseas Development Institute.

Boru D., Schwartz M., Kam M., and Degen A. A. (2015). Effects of Family Size and Wealth on Size of Land Cultivated by Borana Pastoralists in Southern Ethiopia. Human Ecology 43(1): 15–28.

Brockhaus M., Djoudi H., and Locatelli B. (2013). Envisioning the Future and Learning from the Past: Adapting to a Changing Environment in Northern Mali. Environmental Science & Policy 25: 94–106.

Butt B. (2010). Seasonal Space-Time Dynamics of Cattle Behavior and Mobility among Maasai Pastoralists in Semi-Arid Kenya. Journal of Arid Environments 74(3): 403–413.

Cernea M. (1997). The Risks and Reconstruction Model for Resettling Displaced Populations. World Development 25(10): 1569–1587.

Cerny A. (2010). Going where the Grass is Greener: China Kazaks and the Oralman Immigration Policy in Kazakhstan. Pastoralism 1(2): 218–247.

Chilonda P., and Otte J. (2006). Indicators to Monitor Trends in Livestock Production at National, Regional and International Levels. Livestock Research for Rural Development 18(8): 117–117.

Conway D., and Mustelin J. (2014). Strategies for Improving Adaptation Practice in Developing Countries. Nature Climate Change 4(5): 339–342.

Coppock D. L., Desta S., Tezera S., and Gebru G. (2011). Capacity Building Helps Pastoral Women Transform Impoverished Communities in Ethiopia. Science 334(6061): 1394–1398.

Dickinson D., and Webber M. (2007). Environmental Resettlement and Development, on the Steppes of Inner Mongolia, PRC. Journal of Development Studies 43(3): 537–561.

Dong S., Wen L., Liu S., Zhang X., Lassoie J. P., Yi S., and Li Y. (2011). Vulnerability of Worldwide Pastoralism to Global Changes and Interdisciplinary Strategies for Sustainable Pastoralism. Ecology And Society 16(2): 1–23.

Fan M., Li W., Zhang C., and Li L. (2014). Impacts of Nomad Sedentarization on Social and Ecological Systems at Multiple Scales in Xinjiang Uyghur Autonomous Region, China. Ambio 43(5): 673–686.

Fan M., Li Y., and Li W. (2015). Solving One Problem by Creating a Bigger One: The Consequences of Ecological Resettlement for Grassland Restoration and Poverty Alleviation in Northwestern China. Land Use Policy 42: 124–130.

Goldman M. J., and Riosmena F. (2013). Adaptive Capacity in Tanzanian Maasailand: Changing Strategies to Cope with Drought in Fragmented Landscapes. Global Environmental Change 23(3): 588–597.

Hardin G. (1968). The Tragedy of the Commons. Science 162: 1243–1248.

Harris R. B. (2010). Rangeland Degradation on the Qinghai-Tibetan Plateau: A Review of the Evidence of its Magnitude and Causes. Journal of Arid Environments 74(1): 1–12.

Herrero M., Thornton P. K., Gerber P., and Reid R. S. (2009). Livestock, Livelihoods and the Environment: Understanding the Trade-Offs. Current Opinion in Environmental Sustainability 1(2): 111–120.

Ho P. (2001). Rangeland Degradation in North China Revisited? A Preliminary Statistical Analysis to Validate Non-Equilibrium Range Ecology. Journal of Development Studies 37(3): 99–133.

Homann S., Rischkowsky B., and Steinbach J. (2008). The Effect of Development Interventions on the Use of Indigenous Range Management Strategies in the Borana Lowlands in Ethiopia. Land Degradation & Development 19(4): 368–387.

Kang L., Han X., Zhang Z., and Sun O. J. (2007). Grassland Ecosystems in China: Review of Current Knowledge and Research Advancement. Philosophical Transactions of the Royal Society B: Biological Sciences 362(1482): 997–1008.

Kates R. W., Travis W. R., and Wilbanks T. J. (2012). Transformational Adaptation when Incremental Adaptations to Climate Change are Insufficient. Proceedings of the National Academy of Sciences 109(19): 7156–7161.

Kerven C., Robinson S., Behnke R., Kushenov K., and Milner-Gulland E. J. (2016). A Pastoral Frontier: From Chaos to Capitalism and the Re-Colonisation of the Kazakh Rangelands. Journal of Arid Environments 127: 106–119.

Korf B., Hagmann T., and Emmenegger R. (2015). Re-Spacing African Drylands: Territorialization, Sedentarization and Indigenous Commodification in the Ethiopian Pastoral Frontier. The Journal of Peasant Studies 42(5): 881–901.

Leslie P., and McCabe J. T. (2013). Response Diversity and Resilience in Social-Ecological Systems. Current Anthropology 54(2): 114–143.

Liao C., Morreale S. J., Kassam K.-A. S., Sullivan P. J., and Fei D. (2014). Following the Green: Coupled Pastoral Migration and Vegetation Dynamics in the Altay and Tianshan Mountains of Xinjiang, China. Applied Geography 46: 61–70.

Liao C., Barrett C., and Kassam K.-A. (2015). Does Diversification Improve Livelihoods? Pastoral Households in Xinjiang, China. Development and Change 46(6): 1302–1330.

Liao C., Ruelle M.L., and Kassam K.-A.S. (2016). Indigenous Ecological Knowledge as the Basis for Adaptive Environmental Management: Evidence from Pastoralist Communities in the Horn of Africa. Journal of Environmental Management 182: 70–79.

Little, P. D., & McPeak, J. G. (2014). Resilience and Pastoralism in Africa South of the Sahara. Resilience for Food And Nutrition Security, 75–82.

Little P. D., Smith K., Cellarius B. A., Coppock D. L., and Barrett C. (2001). Avoiding Disaster: Diversification and Risk Management among east African Herders. Development and Change 32(3): 401–433.

Longworth, J. W., & Williamson, G. J. (1993). China's pastoral region : sheep and wool, minority nationalities, rangeland degradation and sustainable development. Oxon, UK; Canberra, ACT, Australia: CAB International; ACIAR, The Australian Centre for International Agricultural Research.

Manderscheid A. (2001). Decline and Re-Emergence of Nomadism: Tibetan Pastoralists Revive a Nomadic Way of Life and Production. GeoJournal 53(2): 173–182.

Mi'erzhahan J. (2004). Kazak People, Minzu Press, Beijing.

National Development and Reform Commission. (2007). China's National Climate Change Programme. National Development and Reform Commission Beijing.

Ptackova J. (2011). Sedentarisation of Tibetan nomads in China: implementation of the nomadic settlement project in the Tibetan Amdo area; Qinghai and Sichuan provinces. Pastoralism: Research, Policy and Practice 1(1): 1–11.

Quinn C. H., Ziervogel G., Taylor A., Takama T., and Thomalla F. (2011). Coping with multiple stresses in rural South Africa. Ecology and Society 16(3): 2.

R Development Core Team. (2014). R: A language and environment for statistical computing. Vienna, Austria: R Foundation for Statistical Computing.

Scoones I. (1994). Living with Uncertainty : New Directions in Pastoral Development in Africa, Intermediate Technology Publications, London.

Smith K., Barrett C. B., and Box P. W. (2000). Participatory Risk Mapping for Targeting Research and Assistance: With an Example from East African Pastoralists. World Development 28(11): 1945–1959.

Wang J., Brown D. G., Riolo R. L., Page S. E., and Agrawal A. (2013). Exploratory Analyses of Local Institutions for Climate Change Adaptation in the Mongolian Grasslands: An Agent-Based Modeling Approach. Global Environmental Change 23(5): 1266–1276.

Wario H.T., Roba H.G., and Kaufmann B. (2015). Shaping the Herders' "Mental Maps": Participatory Mapping with Pastoralists' to Understand Their Grazing Area Differentiation and Characterization. Environmental Management 56(3): 721–737.

Xinhua. (2007a). China's Economic and Social Development Plan. China Daily. http://www.chinadaily.com.cn/china/2007-03/19/content_830762_2.htm

Xinhua. (2007b). Hu Jintao proposes Scientific Outlook on Development for tackling China's immediate woes, challenges. http://nxinhuanet.com/english/2007-10/15/content_6883135.htm

Yeh E. T. (2009). Greening Western China: A Critical View. Geoforum 40: 884–894.

Yeh E. T. (2013). The Politics of Conservation in Contemporary Rural China. Journal of Peasant Studies 40(6): 1165–1188.

Zukosky M. L. (2007). Making Pastoral Settlement Visible in China. Nomadic Peoples 11(2): 107–133.
Ethics declarations
Acknowledgments
This study was funded by the Towards Sustainability Foundation, the Sigma Xi Grant at Cornell University, and the Summer Fellowship from Department of Geography, Environment and Society at the University of Minnesota. We appreciate the Kazak pastoralists who generously shared their knowledge with us. We also thank Christopher Barrett, Kathleen Collins, Vinay Gidwani, Karim-Aly Kassam, Stephen Morreale, Abdi Samatar, Patrick Sullivan, and Xinshi Zhang for their support and advice on our research, as well as the two anonymous reviewers for their constructive comments.
Conflict of Interest
The authors declare that they have no conflict of interest.
About this article
Cite this article
Liao, C., Fei, D. Sedentarization as Constrained Adaptation: Evidence from Pastoral Regions in Far Northwestern China. Hum Ecol 45, 23–35 (2017). https://doi.org/10.1007/s10745-016-9872-3
Published:

Issue Date:

DOI: https://doi.org/10.1007/s10745-016-9872-3
Keywords