Abstract
In the last 60 years, the livelihoods of agro-pastoral and pastoral families in the arid and semi-arid zones in North Africa and the Middle East have undergone major changes caused by significant incentives to adopt a sedentary lifestyle and the increasing intensity of drought events. Such changes have also been influenced by land reclamation projects accompanied by the construction of reservoirs and dikes in the dry lands as well as the extension of irrigation canals in the desert in the Coastal Zone of the Western Desert, Egypt. To understand the changes in the traditional social organization of this desert society, and how these social changes have affected families' ability to adapt to external shocks such as the recent 15-year drought, we developed a typological approach to investigate the link between family livelihoods and social capital in Bedouin society. We showed a clear link between physical assets (mainly land and animals), the nature and intensity of social links within the traditional society, and level of education. The analysis revealed also some new wealth accumulation processes in link with the socio-political influence of urban zones and the increasing level of education in the zone.
Access options
Buy single article
Instant access to the full article PDF.
USD 39.95
Price includes VAT (USA)
Tax calculation will be finalised during checkout.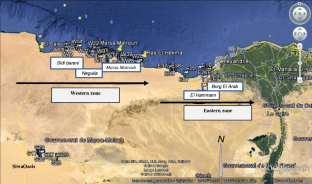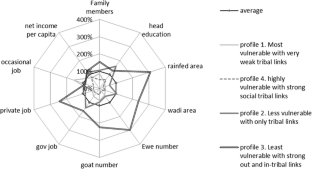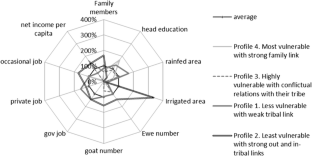 References
Adger W. N. (2003) Social capital, collective action, and adaptation to climate change. Econ Geogr 79(4):387–404. doi:10.1111/j.1944-8287.2003.tb00220.x

Alary V., Daoud I., Salama O., Aboul-Naga A. et al (2012) Adaptation des sociétés bédouines de la Côte Nord-Ouest de l'Égypte au changement global. Autrepart 62:183–200. doi:10.3917/autr.062.0183

Alary V., Messad S., Aboul-Naga A. et al (2014a) Livelihood strategies and the role of livestock in the processes of adaptation to drought in the coastal Zone of Western Desert (Egypt). Agric Syst 128:44–54. doi:10.1016/j.agsy.2014.03.008

Alary V., Hassan F., Daoud I. et al (2014b) Bedouin adaptation to the last 15-years of drought (1995–2010) in the north coastal zone of Egypt: continuity or rupture? World Dev 62:125–137. doi:10.1016/j.worlddev.2014.05.004

Altorki S., Cole D. P. (2006) Land and identity among Awlad 'Ali Bedouin: Egypt's Northwest Coast. In: Chatty D (ed) Nomadic societies in the Middle East and North Africa: entering the 21st Century, Leiden, Brill, pp 634–653

Bonnet P., Alary V., Aboulnaga A. (2014) Atlas of changes in livestock farming systems, livelihoods and landscapes of the North West coast of Egypt. CIRAD, Montpellier

Chambers R. (2006) Vulnerability, coping and policy (Editorial Introduction). IDS Bulletin 37(4):33–40

Chambers R., Conway G. (1992) Sustainable rural livelihoods: Practical concepts for the 21st century. IDS discussion paper 296, Brighton

Christensen J. H., Hewitson B., Busuioc A. et al (eds.) (2007) Climate change 2007: the physical science basis. Contribution of working group I to the fourth assessment report of the intergovernmental panel on climate change, Cambridge University Press, United Kingdom and New York

Eakin H. (2005) Institutional change, climate risk, and rural vulnerability: cases from central Mexico. World Dev 33(11):1923–1938. doi:10.1016/j.worlddev.2005.06.005

Ellis F. (2000) Rural livelihoods and diversity in developing countries. Oxford University Press, New York

Ellis F., Ndoe N. (2003) Livelihoods and rural poverty reduction in Tanzania. World Dev 31(8):1367–1384. doi:10.1016/S0305-750X(03)00100-1

El Miniawy H., Mark F., Tobah S. (1990) Qars rural development project, development plan: phase II draft report development strategy. The Egyptian Environmental Affairs Agency, Cairo

Glenn J. (1988) Livestock production in North Africa and the Middle East: Problems and perspectives. World Bank Discussion Paper 39, Washington

Hoffet N., Daoud I., Alary V. et al (2012) Participation, power and sustainable water resource management: a case study of the rainfed desert region of Matruh, Egypt. Communication IFSA, Denmark. http://ifsa2012.dk/?page_id=755. Accessed 15 March 2013

Hahn M. B., Riederer A. M., Foster S. O. (2009) The livelihood vulnerability index: a pragmatic approach to assessing risks from climate variability and change: a case study in Mozambique. Glob Environ Change 19:74–88. doi:10.1016/j.gloenvcha.2008.11.002

Manly B. F. (1994) Multivariate statistical methods: a primer, 2nd edn. Chapman & Hall, London

Morineau A. (1984) Note sur la caractérisation statistique d'une classe et les valeurs-tests. Bulletin Technique du Centre de Statistique et d'Informatique Appliquées 2(1–2):20–27. http://www.deenov.com/analyse-de-donnees/documents/article-valeur-test.aspx. Accessed 9 September 2014

O'Brien K., Leichenko R., Kelkar U. et al (2004) Mapping vulnerability to multiple stressors: climate change and globalization in India. Glob Environ Change 14:303–313. doi:10.1016/j.gloenvcha.2004.01.001

Putnam R. D. (1993) Making democracy work: civic traditions in modern Italy. Princeton University Press, Princeton

R Core Team (2012) R: a language and environment for statistical computing. R Foundation for Statistical Computing URL http://www.R-project.org/. Accessed on 13 March 2013

Scoones I. (2009) Livelihoods perspectives and rural development. J Peasant Stud 36(1):171–196. doi:10.1080/03066150902820503

Sietz D., Edgar S., Choque M., Lüdeke M. K. B. (2012) Typical patterns of smallholder vulnerability to weather extremes with regard to food security in the Peruvian Altiplano. Reg Environ Change 12:489–505. doi 10.1007/s10113-011-0246-5

Thioulouse J., Chessel D., Dolédec S., Olivier J. M. (1997) ADE-4: a multivariate analysis and graphical display software. Statistics and Comput 7:75–83 a

Vincent K. (2007) Uncertainty in adaptive capacity and the importance of scale. Glob Environ Change 14:12–24. doi:10.1016/j.gloenvcha.2006.11.009

Woolcock M., Narayan D. (2000) Social capital: implications for development theory, research, and policy. World Bank Res Obs15(2):225–249. doi:10.1093/wbro/15.2.225
Acknowledgments
The authors wish to thank the French National Agency of Research for funding the study through two projects (project ELVULMED - ANR CEP&S, 2011 and project CLIMED - ARIMNet/ ERA Net) and all the staff involved in the household survey in Marsa Matruh. We also wish to thank our colleagues from APRI (Animal Production Research Institute), DRC (Desert Research centre), CIRAD (Agricultural Research for development), and INRA (French National Institute for Agricultural Research) for the many opportunities to debate on indicators, and all the tribal and official representatives to explain us the complexity of the Bedouin society. We also offer special thanks to all the families in the study sites.
About this article
Cite this article
Alary, V., Messad, S., Daoud, I. et al. Social Network and Vulnerability: A Clear Link in Bedouin Society (Egypt). Hum Ecol 44, 81–90 (2016). https://doi.org/10.1007/s10745-016-9807-z
Keywords
Social capital

Livelihood

Typology

Bedouin

Egypt