Abstract
This study assessed the socioecological resilience of family farms in three land reform settlements in Mato Grosso, Brazil, located in the ecologically threatened Cerrado biome. Using focus groups, a household survey, and analysis of soil samples we characterized farming systems and quantified indicators of resilience, which we contextualized with a qualitative analysis of distributions of power and access to rights and resources. In Mato Grosso, where diversified agriculture is a marginal presence in an industrialized agricultural landscape, none of the communities were achieving participant-defined threshold levels of any measured indicator of resilience. However, farmers who were members of a marketing cooperative selling produce through a federal public procurement program had significantly greater agrobiodiversity, plant-available soil phosphorus, household food self-sufficiency, and access to stable markets. Our pilot study suggests that the convergence of grassroots mobilization and political-institutional change is a central leverage point for developing more resilient food systems.
This is a preview of subscription content, log in to check access.
Access options
Buy single article
Instant access to the full article PDF.
US$ 39.95
Tax calculation will be finalised during checkout.
Subscribe to journal
Immediate online access to all issues from 2019. Subscription will auto renew annually.
US$ 99
Tax calculation will be finalised during checkout.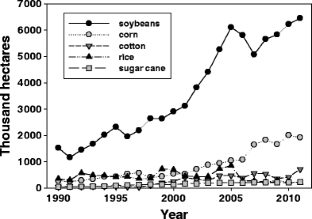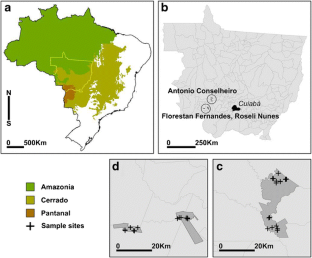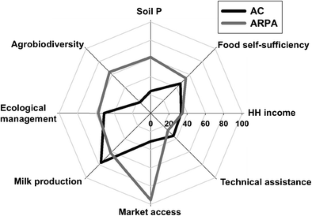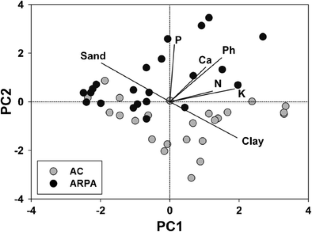 References
Anderies, J. M., Folke, C., Walker, B., and Ostrom, E. (2013). Aligning Key Concepts for Global Change Policy: Robustness, Resilience, and Sustainability. Ecology and Society 18: 8.

Astier, M., García-Barrios, L., Galván-Miyoshi, Y., González-Esquivel, C. E., and Masera, O. R. (2012). Assessing the Sustainability of Small Farmer Natural Resource Management Systems. A Critical Analysis of the MESMIS Program (1995–2010). Ecology and Society 17.

Blesh, J., and Drinkwater, L. (2013). The Impact of Nitrogen Source and Crop Rotation on Nitrogen Mass Balances in the Mississippi River Basin. Ecological Applications 23: 1017–1035.

Blesh, J., and Wolf, S. A. (2014). Transitions to Agroecological Farming Systems in the Mississippi River Basin: Toward an Integrated Socioecological Analysis. Agriculture and Human Values 31: 621–635.

Browder, J. O., Pedlowski, M. A., and Summers, P. M. (2004). Land Use Patterns in the Brazilian Amazon: Comparative Farm-Level Evidence from Rondonia. Human Ecology 32: 197–224.

Carpenter, S., Walker, B., Anderies, J. M., and Abel, N. (2001). From Metaphor to Measurement: Resilience of What to What? Ecosystems 4: 765–781.

Cleveland, C. C., Townsend, A. R., and Schmidt, S. K. (2002). Phosphorus Limitation of Microbial Processes in Moist Tropical Forests: Evidence from Short-Term Laboratory Incubations and Field Studies. Ecosystems 5: 0680–0691.

Crutzen, P. J. (2006). The "anthropocene". In Earth System Science in the Anthropocene: Springer, pp. 13–18.

Davidson, E. A., de Araujo, A. C., Artaxo, P., Balch, J. K., Brown, I. F., Bustamante, M. M. C., et al. (2012). The Amazon Basin in Transition. Nature 481: 321–328.

Drinkwater, L. E., and Snapp, S. S. (2007). Nutrients in Agroecosystems: Rethinking the Management Paradigm. Advances in Agronomy 92: 163–186.

Drinkwater, L. E., Schipanski, M., Snapp, S. S., and Jackson, L. E. (2008). Ecologically Based Nutrient Management. In Snapp, S. S., and Pound, B. (eds.), Agricultural Systems: Agroecology and Rural Innovation for Development. Academic, Burlington, MA, pp. 159–208.

FAOSTAT (2014). http://faostat.fao.org August 2014.

Galt, R. E. (2013). Placing Food Systems in First World Political Ecology: a Review and Research Agenda. Geography Compass 7: 637–658.

Gliessman, S. R. (2007). Agroecology: The Ecology of Sustainable Food Systems. CRC Press, Boca Raton.

Goodman, D., Sorj, B., and Wilkinson, J. (1987). From Farming to Biotechnology: A Theory of Agro-industrial Development. Basil Blackwell, Oxford.

Graeub, B. E., et al. (2015). The State of Family Farms in the World, World Development. doi:10.1016/j.worlddev.2015.05.012.

Gunderson, L. H., and Holling, C. S. (2002). Panarchy: Understanding Transformations in Systems of Humans and Nature. Island, Washington.

IBGE (2009). Censo Agropecuário 2006: Brasil, Grandes Regiões e Unidades da Federação. IBGE, Rio de Janiero.

INCRA (2012). Projetos de Reforma Agrária Conforme Fases de Implementação. In: Ministerio de Desenvolvimento Agrícola (MDA); Instituto Nacional de Colonização e Reforma Agrária (INCRA), pp. 1–315.

INMET (2012). Monitoramento das Estações Convencionais. http://www.inmet.gov.br/sim/sonabra/convencionais.php.

Jackson, L. E., Pascual, U., and Hodgkin, T. (2007). Utilizing and Conserving Agrobiodiversity in Agricultural Landscapes. Agriculture, Ecosystems & Environment 121: 196–210.

Jepson, W. (2006). Private Agricultural Colonization on a Brazilian Frontier, 1970–1980. Journal of Historical Geography 32: 839–863.

Kremen, C., and Miles, A. (2012). Ecosystem Services in Biologically Diversified Versus Conventional Farming Systems: Benefits, Externalities, and Trade-Offs. Ecology and Society 17.

Lapola, D. M., Martinelli, L. A., Peres, C. A., Ometto, J. P., Ferreira, M. E., Nobre, C. A., et al. (2014). Pervasive Transition of the Brazilian Land-Use System. Nature Climate Change 4: 27–35.

Lathuillière, M. J., Johnson, M. S., and Donner, S. D. (2012). Water Use by Terrestrial Ecosystems: Temporal Variability in Rainforest and Agricultural Contributions to Evapotranspiration in Mato Grosso, Brazil. Environmental Research Letters 7: 024024.

López-Ridaura, S., Masera, O., and Astier, M. (2002). Evaluating the Sustainability of Complex Socio-Environmental Systems. The Mesmis Framework. Ecological Indicators 2: 135–148.

Macedo, M. N., DeFries, R. S., Morton, D. C., Stickler, C. M., Galford, G. L., and Shimabukuro, Y. E. (2012). Decoupling of Deforestation and Soy Production in the Southern Amazon During the Late 2000s. PNAS 109: 1341–1346.

Marriott, E. E., and Wander, M. (2006). Qualitative and Quantitative Differences in Particulate Organic Matter Fractions in Organic and Conventional Farming Systems. Soil Biology and Biochemistry 38: 1527–1536.

Matson, P. A., Parton, W. J., Power, A. G., and Swift, M. J. (1997). Agricultural Intensification and Ecosystem Properties. Science 277: 504–509.

McMichael, P. (2009). A Food Regime Genealogy. Journal of Peasant Studies 36: 139–169.

Myers, N., Mittermeier, R. A., Mittermeier, C. G., Da Fonseca, G. A., and Kent, J. (2000). Biodiversity Hotspots for Conservation Priorities. Nature 403: 853–858.

Ostrom, E. (2009). A General Framework for Analyzing Sustainability of Social-Ecological Systems. Science 325: 419–422.

Pacheco, P. (2009). Smallholder Livelihoods, Wealth and Deforestation in the Eastern Amazon. Human Ecology 37: 27–41.

Perfecto, I., Vandermeer, J. H., and Wright, A. L. (2009). Nature's Matrix: Linking Agriculture, Conservation and Food Sovereignty: Earthscan.

Peterson, G. (2000). Political Ecology and Ecological Resilience: an Integration of Human and Ecological Dynamics. Ecological Economics 35: 323–336.

Rada, N. (2013). Assessing Brazil's Cerrado Agricultural Miracle. Food Policy 38: 146–55.

Rocheleau, D. E. (2008). Political Ecology in the Key of Policy: from Chains of Explanation to Webs of Relation. Geoforum 39: 716–727.

Rosset, P. M., and Martínez-Torres, M. E. (2012). Rural Social Movements and Agroecology: Context, Theory, and Process. Ecology and Society 17.

Sauer, S., and Pereira Leite, S. (2012). Agrarian Structure, Foreign Investment in Land, and Land Prices in Brazil. Journal of Peasant Studies 39: 873–898.

Schipanski, M. E., and Drinkwater, L. E. (2010). Nitrogen Fixation of Red Clover Interseeded with Winter Cereals Across a Management-Induced Fertility Gradient. Nutrient Cycling in Agroecosystems 90: 105–119.

Shennan, C. (2008). Biotic Interactions, Ecological Knowledge and Agriculture. Philosophical Transactions of the Royal Society B 363: 717–739.

Simmons, C., Walker, R., Perz, S., Aldrich, S., Caldas, M., Pereira, R., et al. (2010). Doing it for Themselves: Direct Action Land Reform in the Brazilian Amazon. World Development 38: 429–444.

Smaling, E., Roscoe, R., Lesschen, J., Bouwman, A., and Comunello, E. (2008). From Forest to Waste: Assessment of the Brazilian Soybean Chain, Using Nitrogen as a Marker. Agriculture, Ecosystems & Environment 128: 185–197.

Snapp, S., Mafongoya, P., and Waddington, S. (1998). Organic Matter Technologies for Integrated Nutrient Management in Smallholder Cropping Systems of Southern Africa. Agriculture, Ecosystems & Environment 71: 185–200.

Soares-Filho, B., Rajão, R., Macedo, M., Carneiro, A., Costa, W., Coe, M., et al. (2014). Cracking Brazil's Forest Code. Science 344: 363–364.

Tomich, T. P., Brodt, S., Ferris, H., Galt, R., Horwath, W. R., Kebreab, E., et al. (2011). Agroecology: a Review from a Global-Change Perspective. Annual Review of Environment and Resources 36: 193–222.

Turner, M. D. (2015). Political Ecology II Engagements with Ecology. Progress in Human Geography: 0309132515577025.

VanWey, L. K., Spera, S., de Sa, R., Mahr, D., and Mustard, J. F. (2013). Socioeconomic Development and Agricultural Intensification in Mato Grosso. Philosophical Transactions of the Royal Society B 368: 20120168.

Vivan, J. L., May, P. H., da Cunha, L. H., de Boef, W. S., and Clement, C. R. (2009). Analysis of Information Used in the Management of Plant Genetic Resources: a Case Study from Northwestern Mato Grosso, Brazil. Agroforestry Systems 76: 591–604.

Walsh-Dilley, M., Wolford, W., and McCarthy, J. (2013). Rights for Resilience: Bringing Power, Rights and Agency into the Resilience Framework. Prepared for the Strategic Initiative of Oxfam America and the ACSF-Oxfam Rural Resilience Project. Available online: http://www.acsf.cornell.edu/collaborations/oxfam-cu.php.

Wander, M. (2004). Soil Organic Matter Fractions and Their Relevance to Soil Function. Soil Organic Matter in Sustainable Agriculture CRC Press, Boca Raton, pp. 67–102.

Wittman, H. (2009). Reframing Agrarian Citizenship: Land, Life and Power in Brazil. Journal of Rural Studies 25: 120–130.

Wittman, H. (2010). Agrarian Reform and the Environment: Fostering Ecological Citizenship in Mato Grosso, Brazil. Canadian Journal of Development Studies 29: 281–298.

Wittman, H. (2011). Food Sovereignty: a New Rights Framework for Food and Nature? Environment and Society: Advances in Research 2: 87–105.

Wittman, H., and Blesh, J. (in press). Food Sovereignty and Fome Zero: Connecting Public Food Procurement Programs to Sustainable Rural Development In Brazil. Journal of Agrarian Change.

Wolford, W. (2008). Environmental Justice and the Construction of Scale in Brazilian Agriculture. Society & Natural Resources 21: 641–655.

Wolford, W. (2010). This Land is Ours Now: Social Mobilization and the Meanings of Land in Brazil: Duke University Press.
Acknowledgments
We thank Brooke Pian and Johan Oldekop for research assistance, and Ryan Galt and the peer reviewers for comments on the manuscript. We are especially grateful to the farmers who participated in the study. Funding for this research was provided by the National Science Foundation (Blesh, Award # 1064807) and the Social Sciences and Humanities Research Council of Canada.
About this article
Cite this article
Blesh, J., Wittman, H. "Brasilience:" Assessing Resilience in Land Reform Settlements in the Brazilian Cerrado. Hum Ecol 43, 531–546 (2015). https://doi.org/10.1007/s10745-015-9770-0
Keywords
Agroecology

Food sovereignty

Brazil

Resilience