Abstract
Like all humans, mobile pastoralists alter their ecological niche to their advantage; however, archaeological discussions of mobile pastoralists in Central Asia often focus on environmental factors as a sole driving force in decision making. In reality, anthropogenic modification of the landscape are evident as far back at the Bronze Age. Herders altered the overall ecology of the region by converting forest into pasturelands and indirectly enhanced focal points on the landscape through herding processes. These ecological nodes are locations with higher nutrient-rich biomass, their productivity is further enhanced through grazing. Hence, the overall process of herding in Central Asia has constructed a niche over the long-term that is better suited for this economic pursuit.
Access options
Buy single article
Instant access to the full article PDF.
USD 39.95
Price includes VAT (USA)
Tax calculation will be finalised during checkout.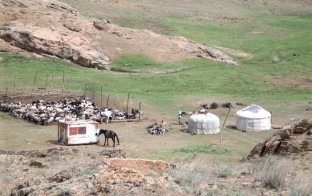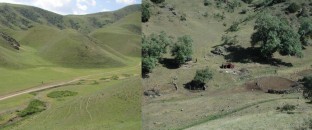 Notes
1.

I use the term Central Asia to include the ex-Soviet states of Kazakhstan, Turkmenistan, Tajikistan, Uzbekistan, and Kyrgyzstan; Central Eurasia is a broader geographic term including Central Asia and its neighboring mountainous and steppe regions, such as western China.

2.

This is loosely similar to what Wallace n1987:8–9) refers to as a 'niche space.'
References
Anthony D, Brown D (2012) The Secondary Products Revolution, Horse-Riding, and Mounted Warfare. Journal of World Prehistory 30:131–160

Anthony DW, Brown D, Brown E, Goodman A, Kokhlov A, Kosintsev P, Kuznetsov P, Mochalov O, Murphy E, Peterson D, Pike-Tay A, Popova L, Rosen A, Russel N, Weisskopf A (2005) The Samara Valley Project: Late Bronze Age Economy and Ritual in the Russian Steppes. Eurasia Antiqua 11:395–417

Asouti E, Kabukcu C (2014) Holocene Semi-arid Oak Woodlands in the Irano-Anatolian Region of Southwest Asia: Natural or Anthropogenic? Quaternary Science Reviews 90:158–182

Bacon E (1958) Obok: A Study of Social Structure in Eurasia. Viking Fund Publications in Anthropology 25. Wenner-Gren Foundation, New York

Barfield TJ (1993) The Nomadic Alternative. Prentice Hall, Englewood Cliffs, England

Barth F (1964) Nomads of Southern Persia: The Basseri Tribe of the Khamseh Confederacy. Humanities Press, New York

Basilov VN (1989) Introduction. In: Basilov VN (ed) In Nomads of Eurasia. Natural History Museum of Los Angeles County, University of Washington Press, Seattle, Washington, pp 1–24

Bates DG, Lees SH (1977) The Role of Exchange in Productive Specialization. American Anthropologist 79(4):824–841

Bendrey R (2011) Some Like it Hot: Environmental Determinism and the Pastoral Economies of the Later Prehistoric Eurasian Steppe. Pastoralism 1(8):1–16

Boserup E (1983) The Impact of Scarcity and Plenty on Development. In: Rotberg RI, Rabb TK (eds) In Hunger and History: The Impact of Changing Food Production and Consumption Patterns on Society. Cambridge University Press, Cambridge, pp 185–21

Bourdieu P (1977) Outline of a Theory of Practice. Cambridge University Press, Cambridge

Browman DL (1983) Andean Arid Land Pastoralism and Development. Mountain Research and Development 3(3):241–252

Browman DL (1987a) Andean Pastoralism and Development in Bolivia and Peru. Pastoral Development Network, Agricultural Administration Unit, London

Browman DL (1987b) Arid Land Use Strategies and Risk Management in the Andes: a Regional Anthropological Perspective. Westview Press, Boulder, Colorado

Browman DL (1997) Pastoral Risk Perception and Risk Definition for Altiplano Herders. Nomadic Peoples 1(1):22–36

Bunyatyan EP (1999) On Correlation of Agriculture and Pastoralism in the Northern Pontic Steppe During the Bronze Age. In: Levine M, Rassamakin Y, Kislenko A, Tataintseva N (eds) Late Prehistoric Exploitation of the Eurasian Steppe. Cambridge University Press, Cambridge, pp 30–39

Casimir MJ (1992) The Determinants of Rights to Pasture: Territorial Organization and Ecological Constraints. In: Casimir MJ, Rao A (eds) Mobility and Territoriality: Social and Spatial Boundaries among Foragers, Fishers, Pastoralists and Peripatetics. Bloomsbury Academic, New York, pp 153–203

Chang C, Benecke N, Grigoriev FP, Rosen AM, Tourtellotte PA (2003) Iron Age Society and Chronology in South-east Kazakhstan. Antiquity 77(296):298–312

Chernikov SS (1960) On the Topic of Early Nomadism. In: Brief Reports and Field Studies of the Institute of History and Material Culture, 80th edn. USSR (in Russian), Moscow, pp 17–21

Cribb R (1991) Nomads in Archaeology. Cambridge University Press, Cambridge

Dahl G, Hjort A (1976) Having Herds: Pastoral Herd Growth and Household Economy. Department of Social Anthropology, University of Stockholm, Stockholm

Day RL, Laland KN, Odling-Smee J (2003) Rethinking Adaptation: the Niche-Construction Perspective. Perspectives in Biology and Medicine 46:80–95

di Castri F (1981) Mediterranean-type Shrublands of the World. In: di Castri F, Goodall DW, Specht L (eds) Ecosystems of the World. Elsevier, Amsterdam, pp 1–52

Fernández-Giménez M (1994) The Role of Ecological Perception in Indigenous Resource Management: a Case Study from the Mongolian Forest-Steppe. In: Hjort af Ornäs A (ed) In Nomadic Peoples International Union of Anthropological and ethnological Sciences Commission on Nomadic Peoples. Reprocentralen HSC, Montreal, Quebec, pp 31–46

Frachetti MD (2004) Bronze Age Pastoral Landscape of Eurasia and Nature of Social Interaction in the Mountain Steppe Zone of Eastern Kazakhstan. Unpublished Ph.D. Dissertation, Department of Anthropology, University of Pennsylvania, Philadelphia, Pennsylvania

Frachetti MD (2008) Pastoralist Landscapes and Social Interaction in Bronze Age Eurasia. University of California Press, Berkeley

Frachetti MD (2012) Multi-regional Emergence of Mobile Pastoralism and Non-uniform Institutional Complexity Across Eurasia. Current Anthropology 53(1):2–38

Gryaznov MT (1955) Some Questions Regarding the History and Development of Early Societies, In: Brief Reports about History, Ethnography, and Academic Science. USSR, Moscow, pp 19–29, Vol. XXIV (in Russian)

Hardin G (1968) The Tragedy of the Commons. Science 162:1243–1248

Honeychurch W, Amartushin C (2007) Hinterlands, Urban Centers, and Mobile Settings: The "New" Old World Archaeology from the Eurasian Steppe. Asian Perspectives 46(1):36–64

Humphrey C, Mongush M, Telengid B (1994) Attitudes to Nature in Mongolia and Tuva: a Preliminary Report. In: Hjort af Ornäs A (ed) In Nomadic Peoples International Union of Anthropological and ethnological Sciences Commission on Nomadic Peoples. Reprocentralen HSC, Montreal, Quebec, pp 51–62

Irons W, Dyson-Hudson N (1972) Perspectives on Nomadism. Based on a Symposium on Nomadic Studies Held in New Orleans, Louisiana, 1969. E. J. Brill, Leiden, Netherlands

Ivanov IV (1996) The Bronze Age Eurasian Steppe: It's Area in Systems of Landscape and Climate Change and the Historical Process. In The Antiquity of the Volga-Dons Steppe in System Eastern Europe in the Bronze Age. Izdatelstvo, Volgograd (in Russian)

Klinge J, Fall P (2010) Archaeobotanical Inference of Bronze Age Land Use and Land Cover in the Eastern Mediterranean. Journal of Archaeological Science 37:2622–2629

Kremenetski CV, Chichagova OA, Shishlina NI (1999) Paleoecological Evidence for Holocene Vegetation, Climate and Land-use Change in the Low Don Basin and Kalmuk Area, Southern Russia. Vegetation History and Archaeobotany 8:233–246

Kuz'mina EE (1998) The Tarim Basin People and Pastoralists of the Asian Steppes. In: Mair VH (ed) The Bronze Age and Early Iron Age Peoples of Eastern Central Asia: Volume One: Archaeology, Migration and Nomadism, Linguistics. The Institute for the Study of Man, Philadelphia, pp 63–93

Kuz'mina EE (2000) The Eurasian Steppes, the Transition from Early Urbanism to Nomadism. In: Davis-Kimball J, Murphy EM, Koryakova L, Yablonsky LT (eds) Kurgans, Ritual Sites and Settlements Eurasian Bronze and Iron Age. BAR International Series, Oxford, pp 118–189

Laland KN, Brown GR (2006) Niche Construction, Human Behavior and Adaptive-lag Hypothesis. Evolutionary Anthropology 15:95–104

Laland KN, O'Brien MJ (2010) Niche Construction Theory and Archaeology. Journal of Archaeological Methods and Theory 17:303–322

Laland KN, Odling-Smee J, Feldman MW (2001) Cultural Niche Construction and Human Evolution. Journal of Evolutionary Biology 14:22–33

Laland KN, Kendal JR, Brown GR (2007) The Niche Construction Perspective: Implications for Evolution and Human Behavior. Journal of Evolutionary Psychology 5:51–66

Lees SH, Bates DG (1974) The Origins of Specialized Pastoralism: A Systemic Model. American Antiquity 39:187–193

Leslie PW, Little MA (1999) Turkana Herders of the Dry Savanna: Ecology and Behavioral Response of Nomads to an Uncertain Environment. Research Monographs on Human Population Biology, Oxford Press, Oxford

Levishin AI (1840) Description of the Hordes in the Steppe from Kirghiz-Kazaks to Kirghiz-Kaissaks. Imprimerie Royale, Paris, Ann Arbor, Michigan (in French)

Lewontin RC (1982) Organism and Environment. In: Plotkin HC (ed) Learning, Development and Culture. John Wiley, New York

Lewontin RC (1983) Gene, Organizm, and Environment. In: Bendall DS (ed) Evolution from Molecules to Men. Cambridge University Press, Cambridge

Liberov PD (1960) The Story of Livestock Breeding in the Northern Territory of Prichernomoriya, Lambing in the Early Green Season. MIA 53:110–164 (in Russian)

Lisitsina GN, Popov KP (1988) On the Woody Vegetation in the Lowlands of South Turkmenistan during the Neolithic, Eneolithic, Bronze and Early Iron Ages. Izvestia Akademi Nauk Turkmeniskoi SSR 1988:68–70 (in Russian)

Masanov N (1995) Northern Areas (Transoxania and the Steppes) Pastoral Production. In: Baipakov KM, Moosvi S, Burton A (eds) History of Civilizations of Central Asia: Development in Contrast: From the Sixteenth to the Mid-nineteenth Century. UNESCO Publishing, Moscow, pp 373–375

Masanov NE (2000) Features of Traditional Nomadic Kazakh Life-ways. In: Shishlina N (ed) The Seasonal Economic Cycle of Populations of the Northwest Caspian in the Bronze Age. Proceedings of the National Historic Caspian in the Bronze Age, Moscow, pp 116–130 (in Russian)

McCabe JT (1990) Turkana Pastoralism: A Case against the Tragedy of the Commons. Human Ecology 18(1):81–103

Miller NF (2004). Long-term Vegetation Changes in the Near East. In The Archaeology of Global Change: The Impact of Humans on their Environment. C. L. Redman, S. R. James, P. R. Fish, and J. D. Rogers, eds. Pp. 130–140. Washington D.C.: Smithsonian Institution Press.

Miller NF (2013) Agropastoralism and Archaeobiology: Connecting Plants, Animals and People in West And Cnetral Asia. Journal of Environmnetal Archaeology 18(3):247--256

Odling-Smee J, Laland KN, Feldman MW (2003) Niche Construction: The Neglected Process of Evolution. Monographs in Population Biology 37. Princeton University Press, Princeton

Popova LM (2006) Political Pastures: Navigating the Steppe in the Middle Volga Region (Russia) During the Bronze Age. Unpublished Ph.D. Dissertation, Department of Anthropology, University of Chicago, Chicago

Rendell L, Fogarty L, Laland KN (2011) Runaway Cultural Niche Construction. Philosophical Transactions of the Royal Society B 366:823–835

Rosen AM, Chang C, Grigoriev FP (2000) Paleoenvironments and Economy of Iron Age Saka-Wusun Agro-pastoralists in Southeastern Kazakhstan. Antiquity 74:611–623

Rowley-Conwy P, Layton R (2011) Foraging and Farming as Niche Construction: Stable and Unstable Adaptations. Philosophical Transactions of the Royal Society B 366:849–862

Sedova MS (2000) Settlements of the Srubnaya Culture. In: Kolev YUI, Mamonov AE, Turetskii MA (eds) In History of Samaskoe Povolzh'ye Ancient Time to Our Day: Bronze Age. Tsentr Integratsiia, Samara, pp 209–255 (in Russian)

Semenova AP (2000) Settlements of the Srubnaya Culture. In: Kolev AE, Mamonov AE, Turetskii MA (eds) History of Samaskoe Povolzh'ye Ancient Time to Our Day: Bronze Age. Tsentr Integratsiia, Samara, pp 152–208 (in Russian)

Sen A (1981) Poverty and Famines: An Essay on Entitlement and Deprivation. Oxford University Press, Oxford

Shilov VP (1975) Models of Pastoral Economies in the Steppe Regions of Eurasia in the Enolithic and Early Bronze Ages. Sovietskaya Arkeologiya 1:5–16 (in Russian)

Shishlina N (2008) Reconstruction of the Bronze Age of the Caspian Steppe: Life Styles and Life Ways of Pastoral Nomads. BAR International Series, 1896 Oxford

Shishlina N (2000) Seasonal and Economic Cycles of Katakomba Culture: The Issue of Reconstruction in the North-West Caspian Sea Littoral Area. In: Shishlina N (ed) The Seasonal Economic Cycle of Populations of the Northwest Caspian in the Bronze Age. Proceedings of the National Historic Caspian in the Bronze Age, Moscow, pp 91–106 (in Russian)

Shishlina N, Bulatov VE (2000) The Interpretation of the Archaeological Data of the Bronze Age (The Third Millennium B.C.). In: Shishlina N (ed) The Seasonal Economic Cycle of Populations of the Northwest Caspian in the Bronze Age. Proceedings of the National Historic Caspian in the Bronze Age, Moscow, pp 172–175 (in Russian)

Shishlina NI, Gak EI, Borisov AV (2008) Nomadic Sites of the South Yergueni Hills on the Eurasian Steppe: Models of Seasonal Occupation and Production. In: Hans B, Willeke W (eds) The Archaeology of Mobility: Old World and New World Nomadism. Cotsen Institute of Archaeology, University of California, Los Angeles, pp 230–249

Smith BD (2007a) Niche Construction and the Behavioral Context of Plant and Animal Domestication. Evolutionary Anthropology 16:188–199

Smith BD (2007b) The Ultimate Ecosystem Engineers. Science 315:1797–1798

Smith BD (2011) General Patterns of Niche Construction and the Management of Wild Plants and Animal Resources by Small-scale Pre-industrial Societies. Philosophical Transactions of the Royal Society B 366:836–848

Smith BD (2012) A Cultural Construction Theory of Initial Domestication. Biological Theory 6:1–12

Smith BD, Zeder MA (2014) The Onset of the Anthropocene. Anthropocene, Online First. (in press)

Spengler RN, Willcox G (2013) Archaeobotanical Results from Sarazm, Tajikistan, an Early Bronze Age Village on the Edge: Agriculture and Exchange. Journal of Environmental Archaeology 18(3):211–221

Spengler RN, Frachetti MD, Fritz GJ (2013a) Ecotopes and Herd Foraging Practices in the Steppe/Mountain Ecotone of Central Asia during the Bronze and Iron Ages. Journal of Ethnobiology 33(1):125–147

Spengler RN, Chang C, Tourtellotte PA (2013b) Agricultural Production in the Central Asian Mountains at the Dawn of the Silk Road: Tuzusai, Kazakhstan (410–150 BC). Journal of Field Archaeology 38(1):68–85

Spooner B (1971) Toward a Generative Model of Nomadism. Anthropological Quarterly 44:198–210

Spooner B (1973) The Cultural Ecology of Pastoral Nomads. An Addison-Wesley Module in Anthropology No. 45.

Sugita S, Gaillard M-J, Brostrom A (1999) Landscape Openness and Pollen Records: A Simulation Approach. Holocene 9(4):409–421

Tarasov P, Williams JW, Andreev A, Nakagawa T, Bezrukova E, Herzschuh U, Igarashi Y, Muller S, Werner K, Zheng Z (2007) Satellite- and Pollen-based Quantitative Woody Cover Reconstructions for Northern Asia: Verification and Application to Late-Quaternary Pollen Data. Earth and Planetary Science Letters 264:284–298

Tchebakova NM, Blyakharchuk TA, Parfernova EI (2009) Reconstruction and Prediction of Climatic and Vegetation Change in the Holocene in the Altai-Sayan Mountains, Central Asia. Environmental Research Letters 4:1–11

Vainshtein S (1980) Nomads of South Siberia the Pastoral Economies of Tuva. M.Colenso, transl. Cambridge University Press, Cambridge

Wallace A (1987) The Niche in Competition and Evolution. John Wiley and Sons, New York

Western D, Dunne T (1979) Environmental Aspects of Settlement Site Decisions Among Pastoral Maasai. Human Ecology 7(1):75–98

Whittaker RH, Levin SA, Root RB (1973) Niche, Habitat, and Ecotope. The American Naturalist 107(955):321–338

Wilkinson TJ (2003) The Archaeological Landscape of the Near East. University of Arizona Press, Tucson, Arizona

Willcox G (2002) Evidence for Ancient Forest Cover and Deforestation from Charcoal Analysis of Ten Archaeological Sites on the Euphrates. In Charcoal Analysis. Methodological Approaches, Palaeoecological Results and Wood Uses. S. Thiébault, ed. Pp. 141–145: BAR Int. Series 1063.

Wollstonecroft MM (2011) Investigating the Role of Food Processing in Human Evolution: a Niche Construction Approach. Archaeological and Anthropological Science 3:141–150

Wright J, Honeychurch W, Amartuvshin C (2009) The Xiongnu Settlements of Egiin Gol, Mongolia. Antiquity 83:372–387
Acknowledgments
Archaeobotanical research was funded by National Science Foundation (2010–2011), Grant Number 1010678 PI-Michael Frachetti, Co-PI Robert Spengler, and by support from Washington University in St. Louis. I would also like to thank Gayle Fritz and Michael Frachetti for their mentorship and advice.
About this article
Cite this article
Spengler, R.N. Niche Dwelling vs. Niche Construction: Landscape Modification in the Bronze and Iron Ages of Central Asia. Hum Ecol 42, 813–821 (2014). https://doi.org/10.1007/s10745-014-9697-x
Keywords
Niche construction

Pastoralism

Central Asia

Bronze Age

Landscape modification