Abstract
Fuelwood is the principal energy resource for millions of households around the world, yet its use, availability and management remain poorly understood in many areas. We document fuelwood consumption, growth/yield and standing biomass in a Bhutanese village and alpine area used seasonally by villagers where the government is concerned about harvesting in a recently designated national park. Pinus wallichiana was the only fuelwood used in the village and assessments suggest 52 ha could sustain local needs at current consumption levels (54 m3/household/yr). In contrast, Rhododendron aeruginosum was used in the alpine site and at current consumption rates all will be consumed by 2023. Our findings emphasize the need to manage fuelwood based on site-specific consumption, growth and standing biomass criteria rather than single, nation-wide regulations. We provide methods to develop sustainable fuelwood harvesting and forest management guidelines that are applicable to government and community-managed forests in Bhutan and elsewhere.
This is a preview of subscription content, log in to check access.
Access options
Buy single article
Instant access to the full article PDF.
US$ 39.95
Tax calculation will be finalised during checkout.
Subscribe to journal
Immediate online access to all issues from 2019. Subscription will auto renew annually.
US$ 99
Tax calculation will be finalised during checkout.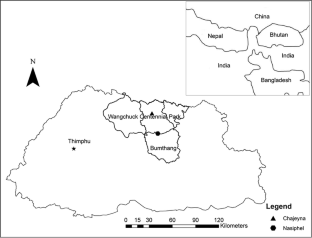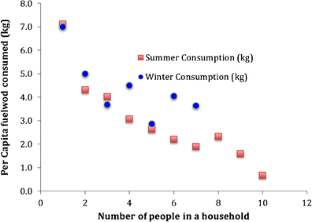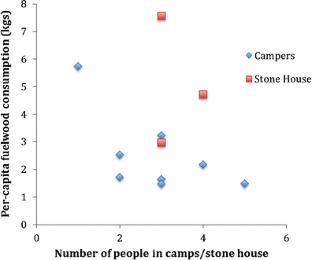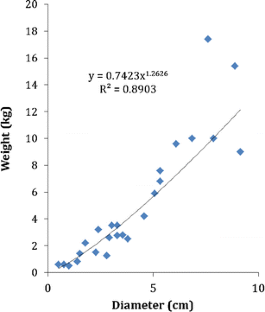 References
Ali, J., and Benjaminsen, T.A. (2004). Fuelwood, Timber and Deforestation in the Himalayas: The case of Basho Valley, Baltistan Region, Pakistan. Mountain Research and Development 24: 312–318.

Arnold, M., and Persson, R. (2003). Reassessing the Fuelwood Situation in Developing Countries. International Forestry Review 5: 379–383.

Bari, M.N., Hall, D.O., Lucas, N.J.D., and Hossain, S.M.A. (1997). Biomass Energy use at the Household Level in two Villages of Bangladesh: Assessment of Field Methods. Biomass and Bioenergy 15: 171–180.

Bhatt, B.P., and Sachan, M.S. (2003). Firewood Consumption Along an Altitudinal Gradient in Mountain Villages of India. Biomass and Bioenergy 27: 69–75.

Bhatt, B.P., Sarang, S.K., and De, L.C. (2009). Fuelwood Characteristics of Some Firewood Trees and Shrubs of Eastern Himalaya, India. Energy Source, Part A: Recovery, Utilization, and Environmental Effects 32: 469–474.

Broadhead, J.S., Bahdon, J., and Whiteman, A. (2001). Past Trends and Future Prospects for the Utilization of Wood for Energy. Global Forest Products Outlook Study Working Paper No.5. FAO, Rome.

Cannon, P.F., Hywel-Jones, N.L., Maczey, N., Norbu, L., Samdrup, T., and Lhendup, P. (2009). Steps Towards Sustainable Harvest of Ophiocordyceps sinensis in Bhutan. Biodiversity Conservation 18: 2263–2281.

Chettri, N., and Sharma, E. (2009). A Scientific Assessment of Traditional Knowledge on Firewood and Fodder Values in Sikkim, India. Forest Ecology and Management 257: 2073–2078.

Chettri, B.B., Schmidt, K., and Gilmour, D. (2009). Community Forestry in Bhutan-Exploring Opportunities and Facing Challenges. Paper Presented in the Community Forestry International Workshop, Pokhara, Nepal, 15–18th September, 2009.

CIFOR (2003). Fuelwood Revisited: What has Changed in the Last Decade? CIFOR Infobrief No.6. Bogor, Indonesia.

Dhital, D.B. (n.d). National Forest Products Statistics-Bhutan. FRDD. Downloaded from http://www.fao.org/DOCREP/005/AC778E/AC778E08.htm#5913.

Dovie, D.B.K., Witkowski, E.T.F., and Shackleton, C.M. (2004). The Fuelwood Crisis in Southern Africa-Relating Fuelwood use to Livelihoods in a Rural Village. GeoJournal 60: 123–133.

Eckholm, E. (1975). The Deterioration of Mountain Environments. Science 189: 764–770.

FAO. (1997). Regional Study on Wood Energy Today and Tomorrow in Asia. Field Document No.50. Bangkok, Thailand.

FAO. (2008). Forests and Energy, Key Issues, FAO Forestry Paper 154, Rome.

FAO. (2010). Criteria and Indicators for Sustainable Woodfuels. FAO Forestry Paper 160, Rome.

Ghilardi, A., Guerrero, G., and Masera, O. (2009). A GIS-Based Methodology for Highlighting Fuelwood Supply/Demand Imbalances at the Local Level: A Case Study for Central Mexico. Biomass and Energy 33: 957–972.

Gregory, S.A., Hyde, W.F., and Kanel, K.R. (1999). Nepali Fuelwood Production and Consumption: Regional and Household Distinctions, Substitution and Successful Intervention. Journal Development Studies 35: 138–163.

Hall, D.O., and Scrase, J.I. (1998). Will Biomass be the Environmental Friendly Fuel of the Future? Biomass and Bioenergy 15: 357–367.

Heltberg, R., Arndt, T.C., and Sekhar, N.U. (2000). Fuelwood Consumption and Forest Degradation: A Household Model for Domestic Energy Substitution in Rural India. Land Economics 76: 213–232.

IEA. (2006). World Energy Outlook 2006. Paris.

Ives, J. (2004). Himalayan Perceptions. Routledge, London.

Katel, O., and Schmidt-Vogt, D. (2011). Use of Forest Resources by Residents of Jigme Singye Wangchuck National Park, Bhutan. Mountain Research and Development 31: 325–333.

Koopmans, A. (2004). Biomass Energy Demand and Supply for South and South-East Asia-Assessing the Resource Base. Biomass and Bioenergy 28: 133–150.

Liu, J., Linderman, M., Ouyang, Z., An, L., Yang, J., and Zhang, H. (2001). Ecological Degradation in Protected Areas: The Case of Wolong Nature Reserve for Giant Pandas. Science 292: 98–101.

Liu, J., Dietz, T., Carpenter, S., Alberti, M., Folke, C., Moran, E., Pell, A., Deadman, P., Kratz, R., Lubchenco, J., Ostrom, E., Ouyang, Z., Provencher, W., Redman, C., Schneider, S., and Taylor, W. (2007). Complexity of Coupled Human and Natural Systems. Science 317: 1513–1516.

Macht, C., Axinn, W.G., and Ghimire, D. (2007). Household Energy Consumption: Community Context and the Fuelwood Transition. Population Studies Center, Report 07-629. University of Michigan, Institute for Social Research, Ann Arbor, Michigan.

MoA. (2006). Forest and Nature Conservation Rules of Bhutan, 2006. Ministry of Agriculture, Thimphu, Bhutan.

MoA. (2009a). RNR Sector Tenth Plan (2008–2013): Enabling Farming Communities to Overcome Poverty. Vol I. Main Document. Ministry of Agriculture, Thimphu, Bhutan.

MoA. (2009b). Bhutan Biodiversity Action Plan, 2009. NBC, Ministry of Agriculture, Thimphu, Bhutan.

MoA. (n.d.). Volume Tables for Blue Pine. Forest Resources and Management Division, Department of Forest and Park Services, Ministry of Agriculture. Thimphu, Bhutan.

NSB (National Statistics Bureau). (2009). Statistical Year Book of Bhutan, Royal Government of Bhutan, Thimphu, Bhutan.

NSSC and PPD. (2011). Bhutan Land Cover Assessment 2010 (LCMP-2010). Ministry of Agriculture and Forests. Thimphu, Bhutan.

Palmer, C., and Macgregor, J. (2009). Fuelwood Scarcity, Energy Substitution, and Rural Livelihoods in Namibia. Environment and Development Economics 14: 693–715.

Pandey, D. (2002). Fuelwood Studies in India: Myth and Reality. Center for International Forestry Research (CIFOR), Bogor, Indonesia.

Pattanayak, S.K., Sills, E.O., and Kramer, R.A. (2004). Seeing the Forest for the Fuel. Environment and Development Economics 9: 155–179.

Phuntsho, S., Schmidt, K., Kuyakanon, R., and Temphel, K.J. (eds.) (2011). Community Forestry in Bhutan: Putting People at the Heart of Poverty Reduction. Ugyen Wangchuck Institute for Conservation and Environment and Social Forestry Division, Ministry of Agriculture, Royal Government of Bhutan. Thimphu, Bhutan.

Rawat, Y.S., Vishvakarma, S.C.R., and Todaria, N.P. (2009). Fuelwood Consumption Pattern of Tribal Communities in Cold Desert of Lahaul Valley, North-Western Himalaya, India. Biomass and Energy 33: 1547–1557.

Richter, D., Jenkins, D., Karakash, J., Knight, J., McCreery, L., and Nemestothy, K. (2009). Wood Energy in America. Science 323: 1432–1433.

Sharma, B., and Banskota, K. (2005). Women, Energy and Water in the Himalayas- Incorporating the Needs and Roles of Women in Water and Energy Management Project Learning. UNEP and ICIMOD, Kathmandu, Nepal.

Siebert, S. and Belsky, J. (2013). Household Fuelwood Security in Bhutan: Towards Energy Independence and Sustainable Livelihoods and Landscapes. Paper Presented At: International Symposium on Society and Resource Management, June 4–8, 2013, Estes Park, CO, USA.

Siebert, S., Belsky, J., Wangchuk, S., and Riddering, J. (2014). The end of Swidden in Bhutan: implications for forest cover and biodiversity. In Cairns, M. (ed.), Shifting Cultivation and Environmental Change: Indigenous People. Agriculture, and Forest Conversion, Earthscan, London.

Singh, N. and Sundriyal, R. (2009). Fuelwood, Fodder Consumption and Deficit Pattern in Central Himalayan Village. Nature and Society 7(4): 85–88.

Singh, G., Rawat, G.S., and Verma, D. (2009). Comparative Study of Fuelwood Consumption by Villagers and Seasonal Dhaba Owners in the Tourist Affected Regions of Garhwal Himalaya, India. Energy Policy 38: 1895–1899.

Uddin, S.N., Taplin, R., and Yu, X. (2006). Energy, Environment and Development in Bhutan. Renewable and Sustainable Energy Reviews 11: 2083–2103.

Webb, E.L., and Dhakal, A. (2010). Patterns and Drivers of Fuelwood Collection and Tree Planting in a Middle Hill Watershed of Nepal. Biomass and Energy 35: 121–132.
Acknowledgements
We greatly appreciate the assistance provided by D. Affleck in research design and statistical analysis, and the valuable comments and suggestions provided by anonymous reviewers and the editor. Research funding was provided by a grant from the MacArthur Foundation.
About this article
Cite this article
Wangchuk, S., Siebert, S. & Belsky, J. Fuelwood Use and Availability in Bhutan: Implications for National Policy and Local Forest Management. Hum Ecol 42, 127–135 (2014). https://doi.org/10.1007/s10745-013-9634-4
Keywords
Community forestry

Household livelihood

Sustainable harvesting