Abstract
Rice breeding and crop research predominantly emphasize adaptation to ecological conditions. Based on qualitative and quantitative research conducted between 2000 and 2012 we show how ecological factors, combined with socioeconomic variables, cultural norms and values, shape the use and development of local technologies related to the cultivation of African rice (Oryza glaberrima Steud.) in seven West African countries (Ghana, Guinea, Guinea-Bissau, Senegal, Sierra Leone, The Gambia and Togo). In this region the role of African rice is diverse across ethnic groups. Findings suggest that farmers, through various pathways, are active in the development of promising new varieties based on genetic resources of Asian rice, African rice, or both, as well as in the adoption of modern varieties. These findings require further research into interactions among ecological, genetic, socioeconomic and cultural factors within farmers' innovation systems and recognition of emergent knowledge and technologies resulting from such interactions.
Access options
Buy single article
Instant access to the full article PDF.
USD 39.95
Price excludes VAT (USA)
Tax calculation will be finalised during checkout.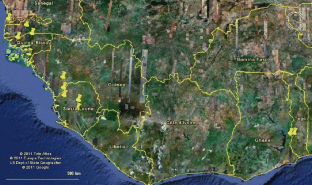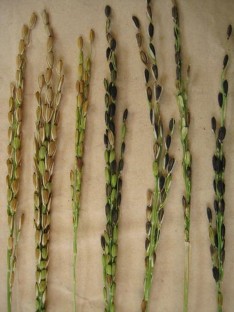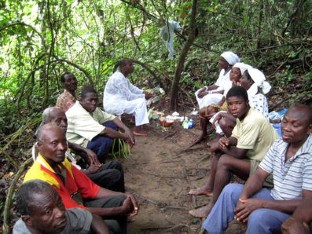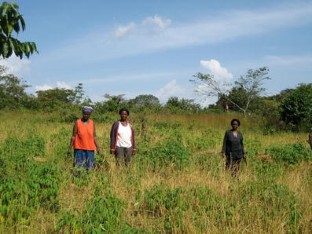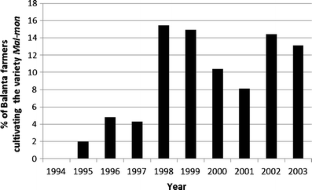 Notes
Researchers from the University of Reading, England were mentioned several times (see Dorward et al. 2007).

The black husk African rice varieties are reported by Jola and Balanta farmers as being adventitious plants that appeared in the white husks varieties' fields and that afterwards were selected and propagated.

This history contradicts Portères' (1962) version of a domestication center in the inland delta of the Niger and two secondary centers of diversification.

A set of varieties produced by AfricaRice by crossbreeding African and Asian rice.
References
Almekinders, C., and Elings, A. (2001). Collaboration of farmers and breeders: Participatory crop improvement in perspective. Euphytica 122: 425–438.

van Andel, T. (2010). African Rice (Oryza glaberrima Steud.): Lost crop of the enslaved Africans discovered in Suriname. Economic Botany 64(1): 1–10.

Bao, J., Shen, S., Sun, M., and Corke, H. (2006). Analysis of Genotypic Diversity in the Starch Physicochemical Properties of Nonwaxy Rice: Apparent Amylose Content, Pasting Viscosity and Gel Texture. Starch-Starke 58: 259–267.

Brydon, L. (1981). Rice, yams and chiefs in Avatime: Speculations on the development of a social order. Africa 51(2): 659–677.

Ceccarelli, S., and Grando, S. (2007). Decentralized-participatory plant breeding: An example of demand driven research. Euphytica 155: 349–360.

Cernea, M. M. (2005). Studying the Culture of Agri-Culture. Culture & Agriculture 27(2): 73–87.

Chambers, R., Pacey, A., and Thrupp, L. A. (eds.) (1989). Farmer first: Farmer innovation and agricultural research. ITP, London.

Davidson, J. (2010). Cultivating knowledge: Development, dissemblance, and discursive contradictions among the Djola of Guinea-Bissau. American Ethnologist 37(2): 212–226.

Dorward, P., Craufurd, P., Marfo, K., Dogbe, W., and Bam, R. (2007). Improving participatory varietal selection processes: participatory varietal selection and the role of informal seed diffusion mechanisms for upland rice in Ghana. Euphytica 155(3): 315–327.

Farrington, J. (1988). Farmer participatory research: editorial introduction. Experimental Agriculture 24: 269–279.

Futakuchi, K., and Sié, S. (2009). Better exploitation of African rice (Oryza glaberrima Steud.) in varietal development for resource-poor farmers in West and Central Africa. Agricultural Journal 4(2): 96–102.

Gridley, H., Jones, M., and Wopereis-Pura, M. (2002). Development of New Rice for Africa (Nerica) and participatory varietal selection. In Witcombe, J., Parr, L., and Atlin, G. (eds.), Breeding rainfed rice for drought-prone environments: Integrating conventional and participatory plant breeding in South and Southeast Asia. Centre for Arid Zone Studies, University of Wales, Gwynedd, pp. 23–28.

Hawthorne, W. (2003). Planting rice and harvesting slaves: Transformations along the Guinea-Bissau Coast, 1400–1900. Heinemann, Portsmouth.

Isubikalu, P. (2007). Stepping-stones to improve upon functioning of participatory agricultural extension programs farmer field schools in Uganda. Wageningen Academic Publishers, Wageningen.

Jusu, M. (1999). Management of genetic variability in rice (Oryza sativa L. and O. glaberrima Steud.) by breeders and farmers in Sierra Leone. PhD Thesis, Wageningen University.

Linares, O. (2002). African rice (Oryza glaberrima): History and future potential. Proceedings of the National Academy of Sciences 99(25): 16360–16365.

Linares, O. (1992). Power, prayer and production: The Jola of Casamance, Senegal. Cambridge University Press, Cambridge.

Mokuwa, A., Nuijten, E., Okry, F., Teeken, B., Maat, H., Richards, P. and Struik, P. C. (2012). Robustness and strategies of adaptation within farmer varieties of African rice (Oryza glaberrima) and Asian rice (Oryza sativa) across West Africa. [PLoS One (in press)].

Mouser, B., Okry, F., Nuijten, E., and Richards, P. (2012). Red and white rice at Sierra Leone: linked histories of slavery, emancipation and seed selection. In: Bray, F. et al. (eds.), Global rice: promiscuity, knowledge and power. [Forthcoming].

Nuijten, E. (2005). Farmer management of gene flow: the impact of gender and breeding system on genetic diversity and crop improvement in The Gambia. PhD Thesis, Wageningen University, Wageningen.

Nuijten, E., van Treuren, R., Struik, P. C., Mokuwa, A., Okry, F., Teeken, B., and Richards, P. (2009). Evidence for the emergence of new rice types of interspecific hybrid origin in West African farmers' fields. PLoS One 4(10): e7335 doi:10.1371/journal.pone.0007335.

Nuijten, E., Temudo, M. P., Richards, P., Okry, F., Teeken, B., Mokuwa, A. and Struik, P. C. (2012). Towards a new approach for understanding interactions of technology with environment and society in small-scale rice farming In Wopereis, M. C. S., Johnson, D., Ahmadi, N., Tollens, E., and Jalloh, A. (eds.), Realizing Africa's Rice Promise. CABI [Forthcoming].

Nugent, P. (2002). Smugglers, secessionists and loyal citizens on the Ghana-Togo frontier: The lie of the borderlands since 1914. Ohio University Press, Athens.

Offei, S. K., Almekinders, C., Crane, T. A., Hughes, S. G., Mokuwa, A., Nuijten, E., Okry, F., Struik, P. C., Teeken, B., Richards, P. (2010). Making better seeds for African food security - a new approach to scientist-farmer partnerships. In: Agriculture: Africa's "engine for growth" Plant science and biotechnology hold the key. Aspects of Applied Biology 96: 141–148.

Okry, F. (2011). Strengthening rice seed systems and agro-biodiversity conservation in West Africa. PhD Thesis, Wageningen University, Wageningen.

Okry, F., Van Mele, P., Nuijten, E., Struik, P. C., and Mongbo, L. (2011). Organizational analysis of the seed sector of rice in Guinea: stakeholders, perception and institutional linkages. Experimental Agriculture 47(1): 137–157.

Portères, R. (1962). Berceaux Agricoles Primaires Sur Le Continent Africain. Journal of African History III 2: 195–210.

Quarcoopome, N. (1993). Notse's ancient kingship: some archaeological and art-historical considerations. African Archaeological Review 1(11): 109–128.

Rana, R., Garforth, C., Sthapit, B., and Jarvis, D. (2007). Influence of socio-economic and cultural factors in rice varietal diversity management on-farm in Nepal. Agric Hum Values 24: 461–472.

Richards, P. (1996). Agrarian creolization: the ethnobiology, history, culture and politics of West African Rice. In Ellen, R., and Fukui, K. (eds.), Redefining Nature: Ecology Culture and Domestication. Berg, Oxford, pp. 291–318.

Richards, P. (2006). The history and future of African Rice: Food security and survival in a West African war zone. Africa Spectrum 41(1): 77–93.

Richards, P. (2007). How does participation work? Deliberation and performance in African food security. IDS Bulletin 38(5): 21–35.

Sall, S., Norman, D., and Featherstone, A. (1998). Adaptability of improved rice varieties in Senegal. Agricultural Systems 57(1): 101–114.

Tanzubil, P., Dittoh, J., and Kranjac-Berisavljevic, B. (2004). Conservation of indigenous rice varieties by women of Gore in the northern savanna zone, Ghana. In Gyasi, E., Kranjac-Berisavljevic, G., Blay, E., and Oduro, W. (eds.), Managing agrodiversity the traditional way: Lessons from West Africa in sustainable use of biodiversity and related natural resources. United Nations University Press, Tokyo, pp. 97–105.

Temudo, M. P. (2011). Planting knowledge, harvesting agro-biodiversity: a case study on southern Guinea-Bissau rice farming. Human Ecology 39(3): 309–321.

Westermann, D. (1954). Die Togorestvölker und ihre Sprachen. Tribus 4–5: 63–68.
Acknowledgments
We thank Paul Van Mele, Kwame Offei and Harro Maat for their advice and suggestions when developing the research methodology and at various stages during the fieldwork. This research was mainly supported by NWO-WOTRO (Science for Global Development, part of the Netherlands Organisation for Scientific Research), with additional support from CSG (Centre for Society and Genomics), NUFFIC (Netherlands Organization for International Cooperation in Higher Education) and AfricaRice (Africa Rice Center). Marina Temudo's research in Guinea-Bissau was conducted under de framework of several consecutive projects (PRAXIS/P/SOC/1110/1998; PPCDT/BIABDE/ 57965/2004; Carboveg-GB; PTDC/AFR/111546/2009).
About this article
Cite this article
Teeken, B., Nuijten, E., Temudo, M.P. et al. Maintaining or Abandoning African Rice: Lessons for Understanding Processes of Seed Innovation. Hum Ecol 40, 879–892 (2012). https://doi.org/10.1007/s10745-012-9528-x
Published:

Issue Date:

DOI: https://doi.org/10.1007/s10745-012-9528-x
Keywords
Oryza glaberrima

West Africa

Technology development

Farmer interspecific rice hybrids