Abstract
Indigenous people of northern Australia make extensive use of wild resources as a source of food, in their art and craft, and for medicinal purposes. These resources are part of a socially and culturally significant landscape. Using data collected from household surveys across two catchments in northern Australia, the Daly River, Northern Territory (NT) and the Fitzroy River, Western Australia (WA), we describe indigenous aquatic resource use patterns. The former is a perennial system with extensive vegetated wetlands that can remain inundated for 4–5 months, while the latter can cease to flow during the winter dry season (May–October) and its floods usually last for weeks. Subsistence strategies depend on seasonal availability of a wide array of aquatic species and are attuned to the life histories and movement patterns of key species, such as Long-necked Turtle (Chelodina rugosa) and Magpie Goose (Anseranas semipalmata). Indigenous households harvested resources from different habitats. Our results show a clear progression from use of the main river channel shortly after the wet season to use of billabongs late in the dry season in the Daly River, and a constant reliance on the main river channel and tributaries in the Fitzroy River. Difference in the main species utilised appears strongly related to habitat use, with four of the five most commonly harvested in the Daly catchment being non-fish species associated with billabong habitats. Commonly harvested species from the Fitzroy catchment included small bodied species used as bait and two popular food species, Black Bream (Hephaestus jenkinsi) and Catfish (Neoarius spp.). Results suggest that indigenous subsistence strategies are vulnerable to changes in the natural systems that provide the "ecosystem goods," particularly annual inundation of floodplains that drives productivity and provides habitat for some key species. Water resource developments, such as river regulation and increased abstraction for irrigated agriculture, could adversely affect a highly valued customary component of the indigenous economies of tropical Australia.
Access options
Buy single article
Instant access to the full article PDF.
US$ 39.95
Tax calculation will be finalised during checkout.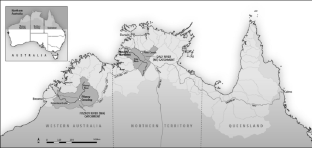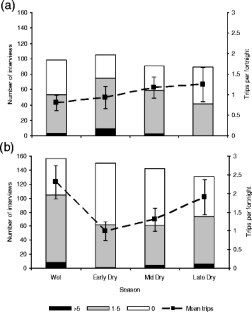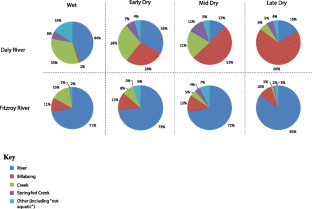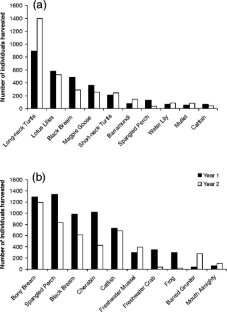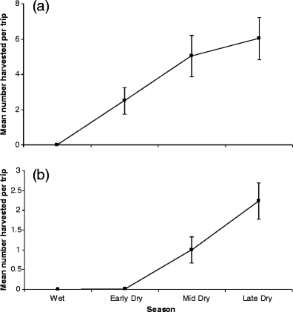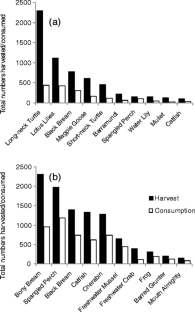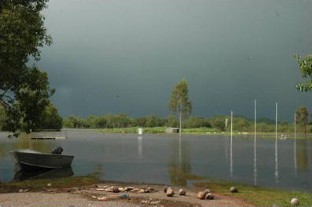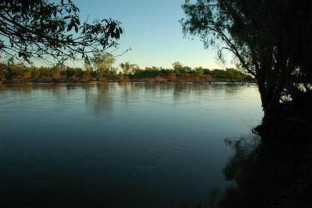 Notes
1.

The Yanner v Eaton High Court judgment of 1999 tested the legal significance of s.211 of the Native Title Act and found that the vesting in the crown of property rights in wildlife did not extinguish native title (Altman and Cochrane 2005).

2.

In Aboriginal English this term refers to wild food resources.

3.

According to this approach, environmental or recreational water use is considered to be non-consumptive whereas industrial and other human water use are considered to be consumptive.

4.

As noted by Altman (1984) and others (e.g., Russell-Smith et al. 1997), indigenous people do not merely distinguish between the 'wet' and 'dry' seasons, as do most non-indigenous residents of tropical north Australia, but divide the year into a far greater number of seasons. Indigenous seasonal knowledge in the study areas is described in Woodward et al. (2012).

5.

6.

Here we define "high-value species" as those for which the replacement cost is high, calculated by estimating the market price of a proxy bought from a grocery store to replace the wild resource. For a full discussion of the methods and assumptions involved in the economic valuation see Jackson et al. (2011).
References
Altman, J. C. (1984). The Dietary Utilisation of Flora and Fauna by Contemporary Hunter-Gatherers at Momega Outstation, North-Central Arnhem Land. Australian Aboriginal Studies 1: 35–46.

Altman, J. C. (1987). Hunter Gatherer's Today: An Aboriginal Economy in North Australia. Australian Institute of Aboriginal Studies, Canberra.

Altman, J. C. (2001). Sustainable Development Options on Aboriginal Land: The Hybrid Economy in the Twenty-First Century. Australian National University, Canberra, ACT, Centre for Aboriginal Economic Policy Research.

Altman, J. C. (2004). Economic Development and Indigenous Australia: Contestation Over Property, Institutions and Ideology. Australian Journal of Agricultural and Resource Economics 48: 513–534.

Altman, J. C. (2006). The Indigenous Hybrid Economy: A Realistic Sustainable Option for Remote Communities? In Australian Fabian Society, Melbourne.

Altman, J. C., Biddle, N., and Buchanan, G. (2012). The Indigenous hybrid economy: Can the NATSISS adequately recognise productive difference? In Hunter, B., and Biddle, N. (eds.), Social Science Perspectives on the 2008 National Aboriginal and Torres Strait Islander Social Survey. ANU E Press, Canberra.

Altman, J. C., and Cochrane, M. (2005). Sustainable Development in the Indigenous-Owned Savannah: Innovative Institutional Design for Cooperative Wildlife Management. Wildlife Research 32: 473–480.

Altman, J. C., and Jackson, S. (2008). Indigenous land and sea management: Recognise, respect and resource. In Lindenmayer, D., Dovers, S., Harriss Olson, M., and Morton, I. (eds.), Ten Commitments: Reshaping the Lucky Country's Environment. CSIRO Publishing, Melbourne, pp. 207–214.

Asafu-Adjaye, J. (1996). Traditional Production Activities and Resource Sustainability: The Case of Indigenous Societies in Cape York Peninsula, Australia. International Journal of Social Economics 23: 125–135.

Baird, I. G., and Flaherty, M. S. (2005). Mekong River Fish Conservation Zones in Southern Laos: Assessing Effectiveness Using Local Ecological Knowledge. Environmental Management 36: 439–454.

Barber, K. (2006). Indigenous values and the Ord River. In Jackson, S. (ed.), Recognising and Protecting Indigenous Values in Water Resource Management: A Report from a Workshop Held at CSIRO in Darwin, NT, 5–6 April 2006. CSIRO, Darwin.

Barletta, M., and Costa, M.F. (2009). Living and non-living resources exploitation in a tropical semi-arid estuary. Journal of Coastal Research, SI 56, Proceedings of the 10th International Coastal Symposium. Portugal Lisbon, pp. 371–375.

Berkes, F. (1983). Quantifying the harvest of native subsistence fisheries. In Wein, R. W., Riewe, R. R., and Methven, L. R. (eds.), Resources and dynamics of the boreal zone. Ottawa: Association of Canadian Universities for Northem Studies. 346–363.

Berkes, F. (1990). Native Subsistence Fisheries: A Synthesis of Harvest Studies in Canada. Arctic 43: 35–42.

Bird, D. W., Bliege, B. R., and Parker, C. H. (2005). Aboriginal Burning Regimes and Hunting Strategies in Australia's Western Desert. Human Ecology 33: 443–464.

Brimblecombe, J. (2007). Enough for rations and a little bit extra: Challenges of nutrition improvement in an Aboriginal community in North-East Arnhem Land. PhD thesis. Menzies School of Health Research and Institute of Advanced Studies, Charles Darwin University, Darwin.

Brook, B. W., and Whitehead, P. J. (2005). Sustainable Harvest Regimes for Magpie Geese (Anseranas semipalmata) Under Spatial and Temporal Heterogeneity. Wildlife Research 32: 459–464.

Brooks, S. E., Reynolds, J. D., and Allison, E. A. (2008). Sustained by Snakes? Seasonal Livelihood Strategies and Resource Conservation by Tonle Sap Fishers in Cambodia. Human Ecology 36: 835–851.

Buchanan, G., Altman, J. C., Arthur, B., Oades, D., and Rangers, B. J. (2009). "Always Part of Us": The Socioeconomics of Indigenous Customary Use and Management of Dugong and Marine Turtles—A View from Bardi and Jawi sea Country. Western Australia. Centre for Aboriginal Economic Policy Research, Canberra.

Burgess, C. P., Johnston, F. H., Berry, H. L., McDonnell, J., Yibarbuk, D., Gunabarra, C., Mileran, A., and Bailie, R. S. (2009). Healthy Country, Healthy People: The Relationship Between Indigenous Health Status and "Caring for Country". Medical Journal of Australia 190: 567–572.

Chambers, R., and Conway, G. (1992). Sustainable Rural Livelihoods: Practical Concepts for the 21st Century. Institute of Development Studies, University of Sussex, Sussex.

Chan, T. U., Hart, B. T., Kennard, M. J., Pusey, B. J., Shenton, W., Douglas, M. M., Valentine, E., and Patel, S. (2012). Bayesian Network Models for Environmental Flow Decision-Making in the Daly River, Northern Territory. Australia. River Research and Applications 28: 283–301.

Chase, A., and Sutton, P. (1981). Hunters and gatherers in a rich environment: Aboriginal coastal exploitation in Cape York Peninsula. In Keast, A. (ed.), Ecological Biogeography of Australia. Dr Junk, London, pp. 1818–1852.

CSIRO (Commonwealth Scientific and Industrial Research Organisation) (2009). Water in the Timor Sea Drainage Division. A report to the Australian Government from the CSIRO Northern Australia Sustainable Yields Project. CSIRO Water for a Healthy Country Flagship, Australia. Xl + 508pp.

Cresswell, R., Petheram, C., Harrington, I, Buetlikofer H., Hodgen, M., Davies, P., and Li, L. (2009). Water resources of northern Australia. In: Northern Australia Land and Water Science Review 2009, Publication Number INFRA-09155, Department of Infrastructure, Transport, Regional Development and Local Government, Canberra

Delaney, R., Fukuda, Y., and Saalfield, K. (2009). Management Program for the Magpie Goose (Anseranas semipalmata) in the Northern Territory of Australia, 2009–14. Northern Territory Department of Natural Resources, the Environment, the Arts and Sport, Darwin.

Douglas, M., Jackson, S., Setterfield, S., Pusey, B., Davies, P., Kennard, M., Burrows, D., and Bunn, S. (2011). Northern futures: Threats and opportunities for freshwater systems. In Pusey, B. (ed.), Aquatic Biodiversity in Northern Australia: Patterns, Threats and Future. Charles Darwin University Press, Darwin, pp. 203–220.

Finn, M. A., and Jackson, S. (2011). Protecting Indigenous Values in Water Management: A Challenge to Conventional Environmental Flow Assessments. Ecosystems 14(8): 1232–1248 doi:10.1007/s10021-011-9476-0.

FAO (2004). The State of World Fisheries and Aquaculture, 2000. Food and Agricultural Association, Rome.

Garaway, C. J. (2005). Fish, Fishing and the Rural Poor: A Case Study of the Household Importance of Small Scale Fisheries in the Lao PDR. Aquatic Resources, Culture, Development 1: 131–144.

Goodman, L. A. (1961). Snowball Sampling. The Annals of Mathematical Statistics 32: 148–170.

Gould, R. A. (1969). Subsistence behaviour among the Western Desert Aborigines of Australia Oceania 39: 253–274.

Gray, M., and Altman, J. C. (2006). The Economic Value of Harvesting Wild Resources to the Indigenous Community of the Wallis Lake Catchment, NSW. Family Matters 75: 24–33.

Griffiths, A. D. (2003). Aboriginal Hunting and its Role in Wildlife Conservation for Northern Australia. Third International Wildlife Management Congress. University of Christchurch, Christchurch, New Zealand.

Griffiths, A. D., Phillips, A., and Godjuwa, C. (2003). Harvest of Bombax Ceiba for the Aboriginal Arts Industry, Central Arnhem Land, Australia. Biological Conservation 113: 295–305.

Holcombe, S., Yates, P., and Walsh, F. (2011). Reinforcing Alternative Economies:Self-Motivated Work by Central Anmatyerr People to Sell Katyerr (Desert Raisin, Bush Tomato) in Central Australia. Rangeland Journal 33: 255–265.

Jackson, S. (2006). Compartmentalising Culture: The Articulation and Consideration of Indigenous Values in Water Resource Management. Australian Geographer 37: 19–32.

Jackson, S., and Altman, J. C. (2009). Indigenous Rights and Water Policy: Perspectives from Tropical Northern Australia. Australian Indigenous Law Review 13: 27–48.

Jackson, S. (2011). Aboriginal Access to Water in Australia: Opportunities and Constraints, In Grafton, Q., and Hussey, K. (eds.), Water Resources, Planning and Management, Cambridge University Press, Cambridge: 601–628.

Jackson, S., Finn, M., Woodward, E., and Featherston, P. (2011). Indigenous Socio-Economic Values and River Flows. CSIRO Ecosystem Sciences, Darwin.

Jackson, S., and Langton M., (2012). Trends in the recognition of indigenous water needs in Australian water reform: the limitations of 'cultural' entitlements in achieving water equity, Journal of Water Law 22(2/3): 109–123.

Jackson, S., Tan, P, Mooney, C., Hoverman, S. and White, I. (2012). Principles and guidelines for good practice in Indigenous engagement in water planning. Journal of Hydrology. doi:10.1016/j.jhydrol.2011.12.015.

Jardine, T. D., Pettit, N. E., Warfe, D. M., Pusey, B. J., Ward, D. P., Douglas, M. M., Davies, P., and Bunn, S. E. (2011). Consumer-Resource Coupling in wet-dry Tropical Rivers. Journal of Animal Ecology doi:10.1111/j.1365-2656.2011.01925.

Keen, I. (2004). Aboriginal Economy and Society: Australia at the Threshold of Colonisation. Oxford University Press, South Melbourne.

Kennard, M. J., Pusey, B. J., Olden, J. D., Mackay, S. J., Steni, J. L., and Marsh, N. (2010). Classification of Natural Flow Regimes in Australia to Support Environmental Flow Management. Freshwater Biology 55: 171–193.

Kent, G. (1998). Fisheries, Food Security and the Poor. Food Policy 22: 393–404.

King, J., and Brown, C. (2010). Integrated Basin Flow Assessments: Concepts and Method Development in Africa and South-East Asia. Freshwater Biology 55: 127–146.

Langton, M. (2006). Earth, wind, fire, water: The social and spiritual construction of water in Aboriginal societies. In David, B., Barker, B., and McNiven, I. (eds.), The Social Archaeology of Australian Indigenous Societies. Aboriginal Studies Press, Canberra.

Langton, M., Mazel, O., and Palmer, L. (2006). The 'Spirit' of the Thing: The Boundaries of Aboriginal Economic Relations at Australian Common Law. The Australian Journal of Anthropology 17: 307–321.

Lee, A., O'Dea, K., and Mathews, J. (1994). Apparent Dietary Intake in Remote Aboriginal Communities. Australian Journal of Public Health 18: 190–197.

Matete, M., and Hassan, R. (2005). An Ecological Economics Framework for Assessing Environmental Flows: The Case of Inter-Basin Water Transfers in Lesotho. Global and Planetary Change 47: 193–200.

McGregor, S., Lawson, V., Christophersen, P., Kennett, R., Boyden, J., Bayliss, P., Liedloff, A., McKaige, B., and Andersen, A. N. (2010). Indigenous Wetland Burning: Conserving Natural and Cultural Resources in Australia's World Heritage-Listed Kakadu National Park. Human Ecology 38: 721–729.

Meehan, B. (1982). Shell Bed to Shell Midden. Australian Institute of Aboriginal Studies, Canberra.

Naughton, J., O'Dea, K., and Sinclair, G. (1986). Animal Foods in Traditional Australian or Aboriginal Diets: Polyunsaturated and Low in Fat. Lipids 21: 684–690.

Pearson, N. (2000). Our Right to Take Responsibility. Noel Pearson and Associates, Cairns.

Petheram, C., McMahon, T., and Peel, M. (2008). Flow Characteristics of Rivers in Northern Australia: Implications for Development. Journal of Hydrology 357: 93–111.

Prober, S. M., O'Connor, M. H., and Walsh, F. J. (2011). Australian Aboriginal Peoples' Seasonal Knowledge: A Potential Basis for Shared Understanding in Environmental Management. Ecology and Society 16: 12.

Pusey, B. (ed.) (2011). Aquatic Biodiversity in Northern Australia: Patterns, Threats and Future. Charles Darwin University Press, Darwin.

Rae, C. J., Lamprell, V. J., Lion, R. J., and Rae, A. M. (1982). The Role of Bush Foods in Contemporary Aboriginal Diets. Proceedings of the Nutrition Society of Australia 7: 45–48.

Rouja, P. M., Dewailly, E., Blanchet, C., and Bardi, C. (2003). Fat, Fishing Patterns, and Health Among the Bardi People of North Western Australia. Lipids 38: 399–405.

Russell-Smith, J., Lucas, D., Gapindi, M., Gunbunuka, B., Kapirigi, N., Namingum, G., Lucas, K., Giuliani, P., and Chaloupka, G. (1997). Aboriginal Resource Utilization and Fire Management Practice in Western Arnhem Land, Monsoonal Northern Australia: Notes for Prehistory, Lessons for the Future. Human Ecology 25: 159–195.

Scoones, I. (1998). Sustainable Rural Livelihoods. A Framework for Analysis. Institute of Development Studies, Brighton.

Shackelton, C. M., Timmermans, H. G., Nongwe, N., Hamer, N., Palmer, N., and Palmer, R. (2007). Direct-Use Value of non-Timber Forest Products from Two Areas on the Transkei Wild Coast. Agrekon 46: 135–156.

SCRGSP (Steering Committee for the Review of Government Service Provision). 2011. Overcoming Indigenous Disadvantage: Key Indicators 2011. Productivity Commission, Canberra. Retrieved 14 March 2012, from http://www.pc.gov.au/__data/assets/pdf_file/0018/111609/key-indicators-2011-report.pdf.

Toussaint, S. (2010). Fitzroy Valley Indigenous Groups and the Multi-Criteria Value of Fishing and Fish: A Report for the Social and Economic Values Project (2.2) For Tropical Rivers and Coastal Knowledge (TRaCK). University of Western Australia, Perth.

Turner, C. (1998). Indigenous Subsistence Fishing Survey Kit—Good Fishing for the Future, Queensland Department of Environment and Heritage, Balkanu, and Queensland Department of Primary Industry and Fisheries, Brisbane.

Usher, P. J., and Wenzel, P. (1987). Native Harvest Surveys and Statistics: A Critique of Their Construction and Use. Arctic 40: 145–160.

van Oostenbrugge, J. A. E., van Densen, W. L. T., and Machiels, M. A. M. (2004). How the Uncertain Outcomes Associated with Aquatic and Land Resource use Affect Livelihood Strategies in Coastal Communities in the Central Moluccas, Indonesia. Agricultural Systems 82: 57–91.

Venn, T., and Quiggin, J. (2007). Accommodating Indigenous Cultural Heritage Values in Resource Assessment: Cape York Peninsula and the Murray-Darling Basin, Australia. Ecological Economics 61: 334–344.

Veth, P., and Walsh, F. (1988). The Concept of 'Staple' Plant Foods in the Western Desert of Western Australia. Australian Aboriginal Studies 2: 19–25.

Walsh, F. (1990). An Ecological Study of Traditional Aboriginal Use of 'Country': Martu in the Great and Little Sandy Deserts, Western Australia. Proceedings of the Ecological Society of Australia 16: 23–37.

Walsh, F., and Douglas, J. (2011). No Bush Foods Without People: The Essential Human Dimension to the Sustainability of Trade in Native Plant Products from Desert Australia. Rangeland Journal 33: 395–416.

Weir, J. (2009). Murray River Country: An Ecological Dialogue with Traditional Owners. Aboriginal Studies Press, Canberra.

Williams, N. M., and Hunn, E. S. (1982). Resource Managers: North American and Australian Hunter Gatherers. Australian Institute of Aboriginal Studies, Canberra.

Wilson, G. R., Edwards, M. J., and Smits, J. K. (2010). Support for Indigenous Wildlife Management in Australia to Enable Sustainable Use. Wildlife Research 37: 255–263.

Woodward, E., Jackson, S., Finn, M., and Marrfurra McTaggart, P. (2012). Utilising Indigenous Seasonal Knowledge to Understand Aquatic Resource Use and Inform Water Resource Management in Northern Australia. Ecological Management and Restoration 13(1): 58–64 doi:10.1111/j.1442-8903.2011.00622.x.
Acknowledgments
The paper is based on research conducted under a large multi-disciplinary research program, the Tropical Rivers and Coastal Knowledge Research Hub (TRaCK). TRaCK receives major funding for its research through the Australian Government's Commonwealth Environment Research Facilities initiative; the Australian Government's Raising National Water Standards Program; Land and Water Australia; the Fisheries Research and Development Corporation and the Queensland Government's Smart State Innovation Fund.
The authors would also like to acknowledge the contributions of indigenous traditional owners in the Daly, Katherine and Fitzroy River regions of north Australia. Representing traditional owners from these regions, the Northern Land Council and the Kimberley Land Council have both supported the research presented here. Constructive input has been provided on various aspects of the research by Jon Altman, Michael Douglas, Brad Pusey, Mark Kennard, Natalie Stoeckl, Emma Woodward, Alan Andersen, Marcus Barber, Tony Griffiths, Sandy Toussaint and Geoff Buchanan. We are very grateful for a careful review of our work by Adam Liedloff of CSIRO who significantly improved Fig. 2 after considering our data. The paper has benefited from comments by Glenn Harrington, Michael Douglas, Peter Bayliss and the three anonymous reviewers who suggested many improvements. Any errors and omissions are the responsibility of the authors.
About this article
Cite this article
Jackson, S., Finn, M. & Featherston, P. Aquatic Resource Use by Indigenous Australians in Two Tropical River Catchments: the Fitzroy River and Daly River. Hum Ecol 40, 893–908 (2012). https://doi.org/10.1007/s10745-012-9518-z
Keywords
Customary resource use

Subsistence hunting and fishing

Bush tucker

Australian indigenous peoples

Aquatic resource management