Abstract
Among many indigenous peoples of Amazonia, shamanism and Christianity co-exist as central cultural elements shaping the ways in which people interpret and interact with the world. Despite centuries of co-existence, the relationship between shamanism and Christianity has entered an especially dynamic era as many of Amazonia's indigenous peoples abandon Catholicism for Evangelical and Sabbatarian churches. Testing the relationship between Christian church affiliation and shamanism in 23 Makushi and Wapishana communities in southern Guyana, we found that Evangelicals and Sabbatarians are less likely to visit shamans or accept their legitimacy than are Anglicans and Catholics. However, conversion does not necessarily imply a complete rejection of indigenous religious systems as many self-identified Evangelicals and Sabbatarians continue to adhere to some indigenous beliefs and practices. We conclude by positing possible implications of religious conversion for natural resource use on indigenous lands.
Access options
Buy single article
Instant access to the full article PDF.
USD 39.95
Price excludes VAT (USA)
Tax calculation will be finalised during checkout.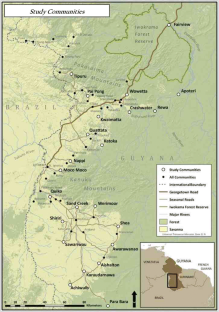 Notes
While most shamans in the study region are male, at least one female shaman currently practices in the Rupununi region.

While other data were collected in the course of the study, only data relevant to the present analysis are discussed here.

"Amerindian" is the official term for indigenous peoples used by the Guyanese government and is widely used by both indigenous and non-indigenous peoples in Guyanese as both an adjective and noun.

Ethnically mixed households and villages are also present in the study site (usually Makushi and Wapishana). While this can have profound implications for language transmission, as English is often used as a lingua franca in inter-ethnic households and villages, the implications for village cohesion and governance appear to be relatively minimal.

However, the Wapishana, like the Makushi, share various cultural practices such as blowing, as well as motifs in their creation stories, including two brothers as culture heroes and the felling of a tree, the stump of which became Mt. Roraima.

Although our study did not find any evidence of tapir population declines due to hunting in the Rupununi, overhunting has been documented to have impacts in other regions.
References
Bacchiddu, G. (2009). 'Before we were all Catholics': changing religion in Apiao, southern Chile. In Aparecida, V., and Wright, R. M. (eds.), Native Christians: Modes and Effects of Christianity among Indigenous Peoples of the Americas. Ashgate, Burlington, VT, pp. 53–70.

Balée, W. (1985). Ka'apor Ritual Hunting. Human Ecology 13(4): 485–510.

Belaunde, L. E. (2000). Epidemics, Psycho-actives and Evangelical Conversion among the Airo-Pai of Amazonian Peru. Journal of Contemporary Religion 15(3): 349–359.

Beyer, S. (2009). Singing to the Plants: A Guide to Mestizo Shamanism in the Upper Amazon. University of New Mexico Press, Albuquerque.

Bonilla, O. (2009). The skin of history: Paumari perspectives on conversion and transformation. In Aparecida, V., and Wright, R. M. (eds.), Native Christians: Modes and Effects of Christianity among Indigenous Peoples of the Americas. Ashgate, Burlington, VT, pp. 127–146.

Butt, A. J. (1960). The Birth of a Religion: The Origins of a Semi-Christian Religion among the Akawaio. Journal of the Royal Anthropological Institute 90(1): 66–106.

Butt, A. J. (1961). Symbolism and Ritual among the Akawaio of British Guyana. Nieuwe West-Indische Gids 2: 141–161.

Butt Colson, A. J. (1989). Guyana: Akawaio. In Walker Jr., D. E. (ed.), Witchcraft and Sorcery of the American Native Peoples. University of Idaho Press, Moscow, pp. 245–255.

Colding, J., and Folke, C. (2001). Social Taboos: "Invisible" Systems of Local Resource Management and Biological Conservation. Ecological Applications 11(2): 584–600.

Dowdy, H. (1963). Christ's Witchdoctor: From Savage Sorcerer to Jungle Missionary. Harper & Row, New York.

Farage, N. (1986). As Muralhas dos Sertões: Os Povos Indigenas do Rio Branco e a Colonização (Ph.D. dissertation). Universidade Estadual de Campinas, São Paulo, Brazil.

Forte, J. (ed.) (1996). Makusipe komanto iseru: a Makushi way of life. North Rupununi District Development Board, Annai, Guyana.

Fragoso, J. M. V. (1997). Tapir-generated Seed Shadows: Scale-dependent Patchiness in the Amazon Rain Forest. Journal of Ecology 85: 519–529.

Fragoso, J. M. V., Silvius, K. M., Read, J. M., Gibbs, J. P., Martins, L. L., and Chave, J. (2005). Biodiversity Dynamics and Land-use Changes in the Amazon: Multi-scale Interactions between Ecological Systems and Resource-use Decisions by Indigenous Peoples (Unpublished proposal). National Science Foundation, Arlington, VA.

Godoy, R. A. (2001). Indians, Markets, and Rainforests: Theory, Methods, Analysis. Columbia University Press, New York.

Grotti, V. E. (2009). Protestant evangelism and the transformability of Amerindian Bodies in Northeastern Amazonia. In Aparecida, V., and Wright, R. M. (eds.), Native Christians: Modes and Effects of Christianity among Indigenous Peoples of the Americas. Ashgate, Burlington, VT, pp. 109–126.

Hemming, J. (1978). Red Gold: The Conquest of the Brazilian Indians, 1500–1760. Harvard University Press, Cambridge, MA.

Henfrey, T. (2002). Ethnoecology, Resource Use, Conservation and Development in a Wapishana Community in the South Rupununi, Guyana (PhD dissertation). University of Kent, Canterbury, UK.

Hill, K., Padwe, J., Bejyvagi, C., Bepurangi, A., Jakugi, F., Tykuarangi, R., and Tykuarangi, T. (1997). Impact of Hunting on Large Vertebrates in the Mbaracayu Reserve, Paraguay. Conservation Biology 11(6): 1339–1353.

Hugh-Jones, S. (1994). Shamans, prophets, priests and pastors. In Thomas, N., and Humphrey, C. (eds.), Shamanism, History and the State. University of Michigan Press, Ann Arbor, pp. 32–75.

Im Thurn, E. F. (1883). Among the Indians of Guiana. Kegan Paul, Trench and Co, London.

Instituto Socio-Ambiental. (2012). http://pib.socioambiental.org/en/povo/waiwai/print

Lu, F. E. (2007). Integration into the Market among Indigenous Peoples: A Cross-Cultural Perspective from the Ecuadorian Amazon. Current Anthropology 48(4): 593–602.

Luzar, J. B., Silvius, K. M., Overman, H., Giery, S. T., Read, J. M., and Fragoso, J. M. V. (2011). Large-scale Environmental Monitoring by Indigenous Peoples. BioScience 61(10): 771–781.

Luzar, J. B. Silvius, K. M., and Fragoso, J. M. V. (In press). Church Affiliation and Meat Taboos in Indigenous Communities of Guyanese Amazonia. Human Ecology.

Ogilvie, J. (1940). Creation Myths of the Wapishana and Taruma. Folklore 51(4): 64–72.

Ostrom, E. (2009). A General Framework for Analyzing Sustainability of Social-Ecological Systems. Science 325: 419–422.

Pezzuti, J. C. B., Lima, J. P., Da Silva, D. F., and Begossi, A. (2010). Uses and Taboos of Turtles and Tortoises along Rio Negro, Amazon Basin. Journal of Ethnobiology 30(1): 153–168.

Posey, D. A., and Dutchfield, G. (1997). Indigenous Peoples and Sustainability: Cases and Actions. IUCN Inter-Commission Task Force on Indigenous Peoples, International Books, Netherlands.

Read, J. M., Fragoso, J. M. V., Silvius, K. M., Luzar, J. B., Cummings, A. R., Giery, S. T., and de Oliveira, D. F. (2010). Space, Place, and Hunting Patterns among Amerindians of the Guyanese Amazon. Journal of Latin American Geography 9(3): 213–245.

Read, J. M., Fragoso, J. M. V., Luzar, J. B., and Overman, H. (2011). Wowetta Village, Rupununi, Guyana, Project Fauna Community Atlas (Unpublished report). Geography Dept., Syracuse University, Syracuse, NY.

Redford, K. H., and Robinson, J. G. (1987). The Game of Choice: Patterns of Indian and Colonist Hunting in the Neotropics. American Anthropologist 89(3): 650–667.

Ricketts, T. H., Soares-Filho, B., da Fonseca, G. A. B., Nepstad, D., Pfaff, A., Petsonk, A., Anderson, A., Boucher, D., Cattaneo, A., Conte, M., Creighton, K., Linden, L., Maretti, C., Moutinho, P., Ullman, R., and Victurine, R. (2010). Indigenous Lands, Protected Areas, and Slowing Climate Change. PLoS Biology 8(3): e1000331.

Ross, E. B. (1978). Food Taboos, Diet, and Hunting Strategy: The Adaptation to Animals in Amazon Cultural Ecology. Current Anthropology 19: 1–36.

Santos-Granero, F. (2009). Hybrid Bodyscapes: A Visual History of Yanesha Patterns of Cultural Change. Current Anthropology 40(4): 477–512.

Silvius, K. M. (2004). Bridging the gap between western scientific and traditional indigenous wildlife management: the Xavante of Rio Das Mortes Indigenous Reserve, Mato Grosso, Brazil. In Silvius, K. M., Bodmer, R. E., and Fragoso, J. M. V. (eds.), People in Nature: Wildlife Conservation in South and Central America. Columbia University Press, New York, pp. 37–49.

Smilde, D. (2005). A Qualitative Comparative Analysis of Conversion to Venezuelan Evangelicalism: How Networks Matter. American Journal of Sociology 111(3): 757–796.

Soares Diniz, E. (1971). O Xamanismo dos Indios Makuxi. Journal de la Société des Americanistes 60: 65–73.

Staats, S. K. (1996). Fighting in a different way: Indigenous resistance through the Alleluia religion of Guyana. In Hill, J. D. (ed.), History, Power and Identity: Ethnogenesis in the Americas, 1492–1992. University of Iowa Press, Iowa City, pp. 161–179.

Ulloa, A., Rubio-Torgler, H., and Campos-Rozo, C. (2004). Conceptual basis for the selection of wildlife management strategies by the Embera people in Utría National Park, Chocó, Colombia. In Silvius, K. M., Bodmer, R. E., and Fragoso, J. M. V. (eds.), People in Nature: Wildlife Conservation in South and Central America. Columbia University Press, New York, pp. 11–36.

Vilaça, A. (1997). Christians Without Faith: Some Aspects of the Conversion of the Wari' (Pakaa Nova). Ethnos 62(1): 91–115.

Vilaça, A. (2002). Missions et Conversions chez les Wari': Entre Protestantisme et Catholicisme. L'Homme 164: 57–79.

Vilaça, A., and Wright, R. M. (2009). Introduction. In Aparecida, V., and Wright, R. M. (eds.), Native Christians: Modes and Effects of Christianity among Indigenous Peoples of the Americas. Ashgate, Burlington, VT, pp. 1–19.

Whitehead, N. (2002). Dark Shamans: Kanaima and the Poetics of Violent Death. Duke University Press, Durham, N.C.

Wirsing, R. F., Logan, M. H., Micozzi, M. S., Nyamwaya, D. O., Pearce, T. O., Renshaw, D. C., and Schaefer, O. (1985). The Health of Traditional Societies and the Effects of Acculturation. Current Anthropology 26(3): 303–322.

Wright, R. M. (2009). The Art of Being Crente: The Baniwa Protestant Ethic and the Spirit of Sustainable Development. Identities 16(2): 202–226.
Acknowledgments
We thank the Guyana Environmental Protection Agency and the Ministry of Amerindian Affairs for authorizing the study and for their attentiveness to permit extensions. The National Science Foundation (BE/CNH 05 08094) provided funding for this project. We thank the program officers and division leaders at the NSF who provided excellent guidance and support throughout the project. The Iwokrama International Centre for Rainforest Conservation and Development and the North Rupununi District Development Board acted as in-country partners and provided important logistic support. We thank the Makushi and Wapishana technicians whose hard work and dedication made the research possible, as well as the leaders and members of all our partner communities for their innumerable contributions to the project. We thank the graduate students, post docs, data transcribers, and volunteers who are not authors on this paper but who contributed essential work and ideas to the project, as well as Lisa Curran, for her logistical support at Stanford University. Dominique (Nickie) Irvine, Taal Levi, Kirsten Silvius and Oskar Burger provided insightful comments and context. Finally, we would like to thank two anonymous reviewers for their valuable comments on a draft of this paper.
About this article
Cite this article
Luzar, J.B., Fragoso, J.M.V. Shamanism, Christianity and Culture Change in Amazonia. Hum Ecol 41, 299–311 (2013). https://doi.org/10.1007/s10745-012-9515-2
Published:

Issue Date:

DOI: https://doi.org/10.1007/s10745-012-9515-2
Keywords