Abstract
When faced with a species that is seldom encountered or discussed, can local or indigenous people piece together their accumulated experience to make inferences about the ecology of that species? In this paper the Greenland shark acts as a model to study how the Inuit of southern Baffin Island are able to produce ecological knowledge. We examine experiential information, reflections, variations in knowledge, and sense-making related to the Greenland Shark, and present a knowledge co-production process based on heuristic reasoning. The process of knowledge co-production has similarities to fuzzy logic, and highlights the adaptability and versatility of indigenous knowledge systems to generate new understandings about the species and its role in the Arctic marine environment. Interactions between the Inuit and researchers can provide a forum to facilitate knowledge co-production, and can be used as a strategy to engage the Indigenous and traditional peoples in resource management and conservation.
This is a preview of subscription content,
to check access.
Access this article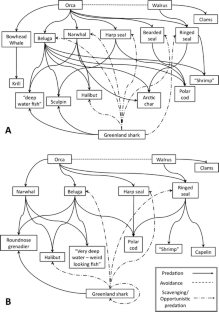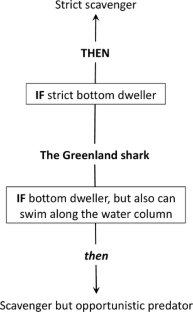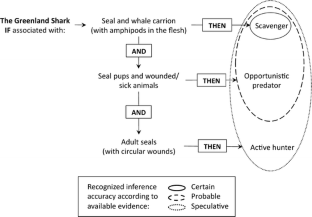 References
Armitage, D., Berkes, F., Dale, A., Kocho-Schellenberg, E., and Patton, E. (2011). Co-management and the co-production of knowledge: learning to adapt in Canada's Arctic. Global Environmental Change 21: 995–1004.

Bennet, J., and Rowley, S. (2004). Uqalurait: An Oral History of Nunavut. McGill-Queen's University Press, Montreal and Kingston.

Berkes, F. (2012). Sacred Ecology, 3rd ed. Routledge, New York and London.

Berkes, F., and Kislalioglu Berkes, M. (2009). Ecological complexity, fuzzy logic, and holism in indigenous knowledge. Futures 41: 6–12.

Bernard, H. R. (2006). Research methods in anthropology: Qualitative and quantitative approaches. Altamira Press, Los Angeles.

Creswell, J. W. (2009). Research Design: Qualitative, Quantitative, and Mixed Methods Approaches, 3rd ed. Sage, London.

David, M., and Sutton, C. D. (2004). Social Research: The Basics. Sage, Thousand Oaks.

Davidson-Hunt, I. J. (2006). Adaptive learning networks: developing resource management knowledge through social learning forums. Human Ecology 34: 593–614.

Davidson-Hunt, I. J., and O'Flaherty, R. M. (2007). Researchers, indigenous peoples and place-based learning communities. Society and Natural Resources 20: 291–305.

Dennard, S. T., MacNeil, M. A., Treble, M. A., Campana, S., and Fisk, A. T. (2010). Hierarchical analysis of a remote, Arctic, artisanal longline fishery. ICES Journal of Marine Science 67: 41–51.

Freeman, M. M. R. (1993). Traditional land users as a legitimate source of environmental expertise. In Williams, N. M., and Baines, G. (eds.), Traditional Ecological Knowledge: Wisdom for Sustainable Development. Centre for Resource and Environmental Studies, Australian National University, Canberra, pp. 153–161.

Goldstein, B. E. (2008). Skunkworks in the embers of the cedar fire: Enhancing resilience in the aftermath of disaster. Human Ecology 36: 15–28.

Grant, S., and Berkes, F. (2007). Fisher knowledge as expert system: a case from the longline fishery of Grenada, the Eastern Caribbean. Fisheries Research 84: 162–170.

Hammersley, M., and Atkinson, P. (2005). Ethnography: Principles in Practice. Routledge, London and New York.

Hart, E. J., and Amos, B. (2004). Learning about Marine Resources and their Use through Inuvialuit Oral History. Inuvialuit Cultural Resource Centre, Inuvik.

Hay, K., Aglukark, D., Igutsaq, D., Ikkidluak, J., and Mike, M. (2000). Final Report on the Inuit Bowhead Knowledge Study, Nunavut, Canada. Nunavut Management Board, Iqaluit.

Idrobo, C. J. (2008). The Pangnirtung Inuit and the Greenland shark. Master's Thesis. Natural Resources Institute—University of Manitoba, Winnipeg. http://www.umanitoba.ca/institutes/natural_resources/canadaresearchchair/thesis/Idrobo.Masters%20Thesis.Feb%2009.pdf.

Iskandar, J., and Ellen, R. (2007). Innovation, 'hybrid' knowledge and the conservation of relict rainforest in upland Banten. In Ellen, R. (ed.), Modern Crises and Traditional Strategies. Berghahn, New York, pp. 133–165.

Kilabuk, P. (1998). A Study of Inuit Knowledge of the Southeast Baffin Beluga. Nunavut Wildlife Management Board, Iqaluit.

Laidler, G. J., Dialla, A., and Joamie, E. (2008). Human geographies of sea ice: freeze/thaw processes around Pangnirtung, Nunavut, Canada. Polar Record 44: 335–361.

Laidler, G. J., Ford, J. D., Gough, W. A., et al. (2009). Travelling and hunting in a changing Arctic: assessing Inuit vulnerability to sea ice change in Igloolok, Nunavut. Climatic Change 94: 363–397.

Leclerc, L. M., Lydersen, C., Haug, T., et al. (2011). Greenland sharks (Somniosus microcephalus) scavenge offal from minke (Balaenoptera acutorostrata) whaling operations in Svalbard (Norway). Polar Research 30: 7342 doi:10.3402/polar.v30i0.7342.

Mackinson, S. (2000). An adaptive fuzzy expert system for predicting structure, dynamics and distribution of herring shoals. Ecological Modelling 126: 155–178.

Marquardt, O., and Caulifield, R. A. (1996). Development of west Greenlandic markets for country foods since the 18th century. Arctic 49: 107–119.

Nazarea, V. (1998). Cultural Memory and Biodiversity. The University of Arizona Press, Tucson.

Noongwook, G., The Native Village of Savoonga, The Native Village of Gambell, Huntington, H. P., and George, J. C. (2007). Traditional knowledge of the bowhead whale (Balaena mysticetus) around St. Lawrence Island, Alaska. Arctic 60: 47–54.

Pearce, T., Wright, H., Notaina, R., Kudlak, A., Smit, B., Ford, J. D., and Furgal, C. (2011). Transmission of environmental knowledge and land skills among Inuit men in Ulukhaktok, Northwest Territories, Canada. Human Ecology 39: 271–288.

Peloquin, C., and Berkes, F. (2009). Local knowledge, subsistence harvests, and social–ecological complexity in James Bay. Human Ecology 37: 533–545.

Priest, H., and Usher, P. J. (2004). The Nunavut Wildlife Harvest Study. Final Report. Nunavut Wildlife Management Board, Iqaluit.

Randa, V. (1994). Inuillu uumajuillu: Les animaux dans les savoirs, les représentations et la langue des Iglulingmiut (Arcticque oriental canadien). Doctoral thesis. Ecole des Hautes Etudes en Sciences Sociales, University of Paris, Paris.

Robson, J. P., Miller, A. M., Idrobo, C. J., et al. (2009). Building communities of learning: Indigenous ways of knowing in contemporary natural resources and environmental management. Journal of the Royal Society of New Zealand 39: 173–177.

Skomal, G. B., and Benz, G. W. (2004). Ultrasonic tracking of Greenland sharks, Somniosus microcephalus, under Arctic ice. Marine Biology 145: 489–498.

Stevenson, M. G. (1997). Inuit, Whalers, and Cultural Persistence: Structure in Cumberland Sound and Central Inuit Social Organization. Oxford University Press, Toronto.

Treble, M. (2008). Cumberland Sound Greenland halibut (turbot) inshore fishery. Canadian Science Advisory Report, 2008/040. Fisheries and Oceans Canada, Central and Arctic Region, Winnipeg.

Turner, N. J., and Berkes, F. (2006). Coming to understanding: Developing conservation through incremental learning in the Pacific Northwest. Human Ecology 34: 495–513.

Van Londen, S. (1996). Mythology and Ecology: A Problematic "Pas de Deux". Cultural Dynamics 8(1): 25–50.

Vogel, C., Moser, S. C., Kasperson, R. E., and Dabelko, G. D. (2007). Linking vulnerability, adaptation, and resilience science to practice: pathways, players and partnerships. Global Environmental Change 17: 349–364.

Weichselbaum, E., Benelam, B., and Costa, H.S. (2005). Traditional Foods in Europe. European Food Information Resource Consortium. Synthesis Report 6. 78 pp. Available at: http://www.eurofir.net/.

Yano, K. J., Stevens, D., and Campagno, L. J. V. (2007). Distribution, reproduction and feeding of Greenland shark Somniosus (Somniosus) microcephalus, with notes on two other sleeper sharks, Somniosus (Somniosus) pacificus and Somniosus (Somniosus) antarcticus. Journal of Fish Biology 70: 374–390.
Acknowledgements
We thank the people of Pangnirtung for their contributions to the research and for opening the doors of their world. In particular, we are indebted to the late Noah and Alukie Metuq for home stay, Jaco Ishulutaq and the late Joeelee Papatsie for their teachings during hunting and fishing trips, and Andrew John Dialla for translation and acting as community liaison. C.J. Idrobo's work was supported by a Manitoba Graduate Scholarship; the International Polar Year (IPY) program through a grant to Dr. Aaron Fisk, PI; and the Canada Research Chair (CRC) in Community-based Resource Management. F. Berkes' work has been supported by the Social Sciences and Humanities Research Council (SSHRC) and the Canada Research Chairs program (http://www.chairs.gc.ca).
About this article
Cite this article
Idrobo, C.J., Berkes, F. Pangnirtung Inuit and the Greenland Shark: Co-producing Knowledge of a Little Discussed Species. Hum Ecol 40, 405–414 (2012). https://doi.org/10.1007/s10745-012-9490-7
Published:

Issue Date:

DOI: https://doi.org/10.1007/s10745-012-9490-7
Keywords