Abstract
This paper discusses issues of agrarian change in south-central Bali. The proximity to urban areas, especially the tourist centers along the southern coast, provides many off-farm employment opportunities for small-scale farming households. Although rice farming continues, for many households it has become a side business. The flexible nature of rice farming in terms of labor input and available casual off-farm work allows farming households to allocate their available labor to a variety of on-farm and off-farm income generating activities. The subak which unites farmers in the irrigation and cultivation of the rice crop plays an important role in supporting this flexibility. Still, the future of rice farming and the organization behind it looks rather dim with a younger generation unwilling to work in the "mud" and little appreciation of the many benefits the subak provides not only to the farming but to the wider community.
Access options
Buy single article
Instant access to the full article PDF.
USD 39.95
Price excludes VAT (USA)
Tax calculation will be finalised during checkout.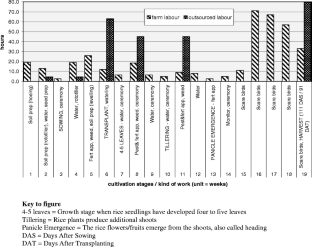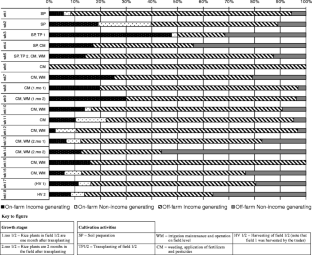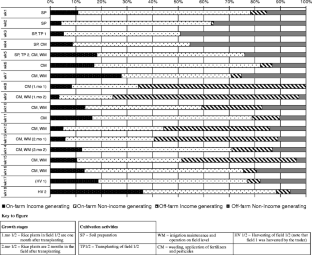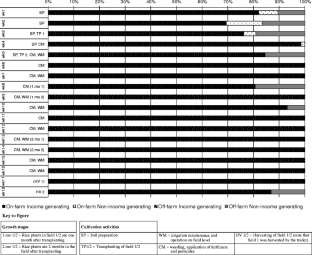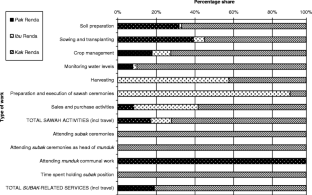 Notes
By on-farm work we mean work in relation to attending farm animals, the cultivation of sharecropped and owned rice fields including work for the subak as well as ritual and ceremonial activities pertaining to and integral to all of these tasks. Work for the subak comprises attendance at meetings, preparations and attendance of ceremonies as well as operation and maintenance work on irrigation infrastructure. Off-farm work relates to any other work―community based and household income generating―that does not derive from means on the farm.

Bali presently harvests 5.8 tons of rice per hectare, which is above the national average of 5 tons per hectare (BPS Indonesia 2010).

In the early 1970s the Indonesian government implemented a first Master plan for tourism development in Bali which included, for example, the construction of major resorts in the island's south and road network extensions (Picard 1996).

Employment indirectly related to tourism is in those industries which produce goods used in the tourist industry, such as the building or textile industries.

The trade industry includes wholesale and retail trade, hotels and restaurants.

As part of the Green Revolution large infrastructural improvement work was undertaken (Bali Irrigation Project), especially in lowland areas, which merged several subaks to share a single dam. With the new arrangements in place shared structures which include the dam at the river, the main canal and a diversion weir to the different subaks, are now maintained and operated by the public works department. (For more details on the consequences of these changes see Lorenzen and Lorenzen 2005.)

With fixed permanent structures in place operation and maintenance is minimal as infrastructural modifications are not permitted.

Payment is in cash and calculated by day or unit size worked.

Teenagers are rarely seen working in the rice fields. Parents and children alike see education as the key to good and permanent off-farm employment.

The hiring of the hand-held tractor and its operator is organized through the munduk but paid by each household individually.

The six subaks in the study area stagger their cultivation cycles with a time interval of 3 weeks to avoid water stress during the plowing phase. For more on rotational cropping, see Lorenzen and Lorenzen (2005).

While a hand-held tractor can plow an average field of 0.5 ha in half a day, it takes up to 2 days to do the same work using draught cattle. In addition, cattle need to be trained to do this work and the work itself is physically more strenuous.

The transplanting period, which lasts between 1 and 2 weeks, is set by the subak head, who starts transplanting in his field. Subak members then have to transplant their seedlings at some time within this window.

The Balinese calendar system is a complex overlay of several calendars based on solar, lunar and ritual cycles which combined together determine auspicious days for specific activities related to life in general but also to the cultivation of rice and animal husbandry.

Fields are weeded three times during the cultivation period: once shortly before and twice after (around 15 days and around 40 days) transplanting seedlings.

See also Lorenzen et al. (2005).

All names appearing in this text are changed.

Nenek Renda is marginally involved in on-farm activities because she suffers from serious gout and migraine. Occasionally, she engages in secular and religious household activities to support Ibu Renda and, if her health allows, she joins one of the hamlet-based labor groups for transplanting of weeding.

They cultivate a smaller area compared to the average owner-tenant (0.67 ha).

The data for these figures is derived from a detailed time-use survey over a period of five-month complemented with our own observations, experiences cultivating a rice field, and personal communication with the survey participants. We asked participants to individually record their daily activities divided into 30 min brackets on a daily basis for the previous day. For the analysis we coded the data into seven main categories: on-farm production activities; off-farm production activities; management of household; care of family members; community services and help to other households; social and cultural activities; and personal care and self maintenance. All categories contained several sub-categories, each of which was again subdivided. On-farm production activities, for example, were broken down into seven sub-categories: rice field activities; animal husbandry, dry land activities; processing and storage (for own use); construction, maintenance and operation of farm infrastructure; manufacturing activities; and on-farm religious activities. Each of these sub-categories was broken down into even more categories, so that the main category (on-farm production activities) actually consisted of 76 different coded activities. Figures 2, 3 and 4 in this paper represent a simplified version of the whole data set.

Balinese cannot live by themselves, says Kak Renda. The hamlet community is as important as the extended family, and every household is required to be fully committed to its hamlet. Balinese maintain that hamlet members have to build strong relationships in good times, so that they are strong in times of need. They call this relationship between households and their hamlet 'suka-duka'—meaning compassion and solidarity.

See for example Eder (1993: 665) who ascribes the persistence of part-time farming to the 'extraordinarily resilient social organizational' nature of the farming household.
References
Arthawiguna, W. A., Lorenzen, R. P., and Lorenzen, S. (2005). Past, present and future―Perspectives of Balinese rice farming. In Sumarno, Suparyono, Fagi, A. M., and Adnyana, M. O. (eds.), Proceedings of the International Rice Conference 2005, September 12–14, 2005, Tabanan, Bali. Indonesian Center for Rice Research (ICRR), Subang, pp. 123–130.

Barker, R., and Molle, F. (2004). Evolution of irrigation in South and Southeast Asia. In Comprehensive Assessment Secretariat (ed.), Comprehensive Assessment Research Report 5. International Water Management Institute (IWMI), Colombo.

Bendesa, K. G., and Sukarsa, M. (1980). An Economic Survey of Bali. Bulletin of Indonesian Economic Studies 16(2): 31–53.

BPS Bali. (2010a). Tourist Arrivals: Number of Foreign Visitors Arriving Directly to Bali by Month, 2006–2008. Badan Pusat Statistik Propinsi Bali. Viewed 25/6/2010 at http://bali.bps.go.id/tabeldetail.php?ed=51000801&od=8&rd=&id=8.

BPS Bali. (2010b). Number of Population Aged 15 Years and Over Who Worked During Previous Week by Industrial Origin and Sex in Bali Province, 2008. Badan Pusat Statistik Propinsi Bali. Viewed 1/07/10 at http://bali.bps.go.id/tabeldetail.php?ed=51000302&od=3&rd=&id=3.

BPS Bali. (2010c). Area of Land by Regency/Municipality and Type of Use, 2008 (ha). Badan Pusat Statistik Propinsi Bali. Viewed 4/08/2010 at http://bali.bps.go.id/tabeldetail.php?ed=51000501&od=5&rd=&id=5.

BPS Indonesia. (2010). Table of Harvested Area, Productivity, and Production of Paddy in All Provinces. Badan Pusat Statistik Indonesia. Viewed 25/6/2010 at http://www.bps.go.id/tnmn_pgn.php?eng=1.

Bray, F. (1994). The Rice Economies: Technology and Development in Asian Societies. Blackwell, Oxford.

Breman, J., and Wiradi, G. (2002). Good Times and Bad Times in Rural Java: Case Study of Socio-economic Dynamics in Two Villages Towards the End of the Twentieth Century. KITLV Press, Leiden.

Eder, J. F. (1993). Family Farming and Household Enterprise in a Philippine Community, 1971–1988: Persistence or Proletarianization? The Journal of Asian Studies 52(3): 647–671.

Eder, J. F. (1999). A Generation Later: Household Strategies and Economic Change in the Rural Philippines. University of Hawai'i Press, Honolulu.

Elson, R. E. (1997). The End of the Peasantry in Southeast Asia—a Social and Economic History of Peasant Livelihood, 1800–1990s. MacMillan Press Ltd., London.

Foster, A. D., and Rosenzweig, M. (2004). Agricultural Productivity Growth, Rural Economic Diversity, and economic Reforms: India, 1970–2000. Economic Development and Cultural Change 52(3): 509–542.

Francks, P. (2005). Multiple Choices: Rural Household Diversification and Japan's Path to Industrialization. Journal of Agrarian Change 5(4): 451–475.

Geertz, C. (1972). The Wet and the Dry: Traditional Irrigation in Bali and Morocco. Human Ecology 1(1): 23–39.

Geertz, C. (1980). Organization of the Balinese Subak. In Coward, E. (ed.), Irrigation and Agricultural Development in Asia: Perspectives from the Social Sciences. Cornell University Press, Ithaca, pp. 70–90.

Groenfeldt, D. (2006). Multifunctionality of Agricultural Water: Looking Beyond Food Production and Ecosystem Services. Irrigation and Drainage 55(1): 73–83.

Harriss, J. (1982). Rural Development: Theories of Peasant Economy and Agrarian Change. Hutchinson & Co. Ltd., London.

Hayami, Y., and Kikuchi, M. (2000). A Rice Village Saga: Three Decades of Green Revolution in the Philippines. Macmillan, Basingstoke.

Horst, L. (1996). Intervention in irrigation water division in Bali, Indonesia. In Geert, D., and Huibers, F. (eds.), Crops, People and Irrigation. Intermediate Technology Publications, London.

Lansing, J. S. (1991). Priests and Programmers: Technologies of Power in the Engineered Landscape of Bali. Princeton University Press, Princeton.

Lansing, J. S. (2006). Perfect Order: Recognizing Complexity in Bali. Princeton University Press, Princeton.

Lorenzen, S. (2008). Seeing Like a Farmer: Principles and Practices in the Balinese Subak. PhD Thesis, Australian National University.

Lorenzen, S., and Lorenzen, R. P. (2005). A Case Study of Balinese Irrigation Management: Institutional Dynamics and Challenges. Paper presented at the Second Southeast Asia Water Forum. Nusa Dua, Bali, August 29–September 3, 2005.

Lorenzen, S., Lorenzen, R. P., and Perez, P. (2005). 'I am just borrowing water but I will return it in an hour': How Balinese Farmers negotiate their daily use of irrigation water. In Hehanussa, P., et al. (eds.), Proceedings of the International Symposium on Ecohydrology. LIPI Press, Kuta, pp. 213–218.

MacRae, G. (2005). Growing Rice After the Bomb: Where is Balinese Agriculture Going? Critical Asian Studies 37(2): 209–232.

Molle, F., Srijantr, T., Latham, L., and Thepstitsilp, P. (2001). The Impact of the Access to Irrigation Water on the Evolution of Farming Systems: A Case Study of Three Villages in the Chao Phraya Delta. Doras Delta research report no. 11, Orstom, Kasetsart University, Bangkok.

Netting, R. (1989). Smallholders, householders, freeholders: why the family farm works well worldwide. In Wilk, R. (ed.), The Household Economy: Reconsidering the Domestic Mode of Production. Westview, Boulder, pp. 221–244.

Netting, R. (1993). Smallholders, Householders: Farm Families and the Ecology of Intensive, Sustainable Agriculture. Stanford University Press, Stanford.

OECD (2001). Multifunctionality: Towards an Analytical Framework. OECD Publishing, Paris.

Ostrom, E. (1990). Governing the Commons: The Evolution of Institutions for Collective Action. Cambridge University Press, Cambridge.

Ostrom, E. (1992). Crafting Institutions for Self-governing Irrigation Systems. Institute for Contemporary Studies, San Francisco.

Picard, M. (1996). Bali: Cultural Tourism and Touristic Culture. Archipelago Press, Singapore.

Rigg, J. (1998). Rural-urban Interactions, Agriculture and Wealth: a Southeast Asia Perspective. Progress in Human Geography 22(4): 497–522.

Rigg, J. (2003). Southeast Asia: The Human Landscape of Modernization and Development, 2nd ed. Routledge, New York.

Skeldon, R. (1999). Ageing of rural populations in South-East and East Asia (part 1 and 2). In Sustainable Development Department (ed.), SD Dimensions—People—Population, Food and Agriculture Organization of the United Nations (FAO), Rome. Viewed 25/6/2010 at http://www.fao.org/sd/wpdirect/WPan0028.htm and http://www.fao.org/sd/wpdirect/WPan0029.htm.

Sutawan, N. (2004). Tri Hita Karana and Subak: In Search for an Alternative Concept of Sustainable Irrigated Rice Culture. Paper presented at the International Network for Water and Ecosystem in Paddy Fields Conference, Tokyo, November 1, 2004.

Sutawan, N., et al. (1990). Community-based irrigation system in Bali, Indonesia. In Gooneratne, W., and Hirashima, S. (eds.), Irrigation and Water Management in Asia. Sterling Publishers, New Delhi, pp. 81–147.

Wall, G. (1996). Perspectives on Tourism in Selected Balinese Villages. Annals of Tourism Research 23(1): 123–137.
About this article
Cite this article
Lorenzen, R.P., Lorenzen, S. Changing Realities—Perspectives on Balinese Rice Cultivation. Hum Ecol 39, 29–42 (2011). https://doi.org/10.1007/s10745-010-9345-z
Published:

Issue Date:

DOI: https://doi.org/10.1007/s10745-010-9345-z
Keywords
Rice cultivation

Agrarian change

Household labor

Subak

Off-farm work

Indonesia

Paddy rice