Abstract
In this study, we examine the effect of Tarangire National Park (TNP) on local perceptions of risk and how these perceptions may influence behavioral responses. Data were collected during 2004–2005 through household surveys and participatory risk mapping (PRM) in eight villages east of TNP. By identifying and rank-ordering respondents' perceived risks, PRM enhances understanding of the nature and variation of risks faced within a population by distinguishing between the incidence and severity of subjective risk perceptions. Results indicate that proximity to the park has a strong effect on the type and severity of perceived risks. Within villages close to the park, however, behavioral response to perceived risks varies considerably. This study contributes to an appreciation of how behavioral response to environmental and socioeconomic factors is mediated by human perception.
Access options
Buy single article
Instant access to the full article PDF.
US$ 39.95
Tax calculation will be finalised during checkout.
Subscribe to journal
Immediate online access to all issues from 2019. Subscription will auto renew annually.
US$ 79
Tax calculation will be finalised during checkout.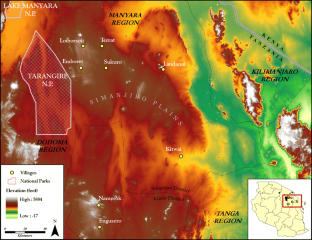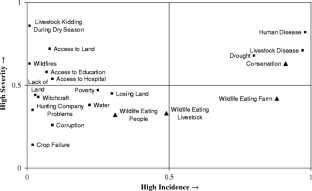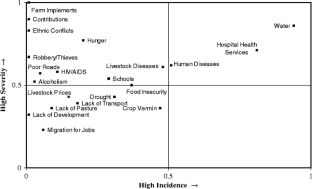 Notes
1.

The term "contextual environment" is used here to refer to the social, economic, political, and ecological environment which provides the context in which households make decisions.

2.

While a few widowed women were interviewed, household heads were generally men and therefore the sample reflects a strong gender bias.

3.

In the case of a small sample, non-random sampling (esp. controlled sampling) may be better than random sampling at including small groups within the larger population - groups than may be lost with a strictly random sample (Bilsborrow RE, 2009, personal communication).

4.

5.

For example, if a respondent ranked one or more of the four park related risks (see Table 2) as either no. 1 or no. 2 on his ranking of perceived risks, he was coded 1 for the first set of models. If not, he was coded 0. This same logic applies for non-park related risks in the second set of models.

6.

Several measures of wealth were examined here including total herd size, land holdings, agricultural yields (including per capita measures of these), source of income, and total household size (see McCabe 2004). Only the composite measure of wealth described above yielded any significant results.

7.

To improve clarity on the risk maps, some very low incidence points are deliberately omitted. In this analysis we focus on high incidence risks.

8.

With this arrangement, local Maasai retain tenure privileges for all the land (which amount to 100 year leases from the government) and sharecroppers, having already provided payment in the form of tractor services, retain all the proceeds from the sale of their harvest.

9.

We might expect perceived wildlife-related risks in the villages near the park even if the park was not there as these are the areas where wildlife would normally congregate.
References
Adger, W. N., Hughes, T. P., Folke, C., Carpentar, S. R., and Rockstrom, J. (2005). Social-Ecological Resilience to Coastal Disasters. Science 309: 57371036–1039.

Alfsen, K. H., De Franco, M. A., Glomsrod, S., and Johnsen, T. (1996). The Cost of Soil Erosion in Nicaragua. Ecological Economics 16: 2129–145.

Bilsborrow, R. E., Barbieri, A. F., and Pan, W. (2004). Changes in Population and Land Use Over Time in the Ecuadorian Amazon. Acta Amazonica 34: 4635–647.

Bollig, M., and Schulte, A. (1999). Environmental Change and Pastoral Perceptions: Degradation and Indigenous Knowledge in Two African Pastoral Communities. Human Ecology 27: 3493–514.

Borner, M. (1985). The Increasing Isolation of Tarangire National Park. Oryx 19: 291–96.

Brockington, D. (1999). Conservation, Displacement and Livelihoods. The Consequences of the Eviction for Pastoralists Moved from the Mkomazi Game Reserve, Tanzania. Nomadic Peoples 3: 274–96.

Brockington, D. (2002). Fortress Conservation: The Preservation of the Mkomazi Game Reserve. Indiana University Press, Tanzania, Bloomington.

Brookfield, H. (1969). On the Environment as Perceived. Progress in Geography 1: 51–80.

Campbell, D. J. (1999). Response to Drought Among Farmers and Herders in Southern Kajiado District, Kenya: A Comparison of 1972–1976 and 1994–1995. Human Ecology 27: 3377–416.

Cernea, M. M., and Schmidt-Soltau, K. (2006). Poverty Risks and National Parks: Policy Issues in Conservation and Resettlement. World Development 34: 101808–1830.

de Bruijn, M., van Dijk, R., and Foeken, D. (eds.) (2001). Mobile Africa: Changing Patterns of Movement in Africa and Beyond, Koninklijke Brill, Leiden.

Doss, C., McPeak, J., and Barrett, C. B. (2008). Interpersonal, Intertemporal and Spatial Variation in Risk Perceptions: Evidence from East Africa. World Development 36: 81453–1468.

Entwisle, B., Walsh, S. J., Rindfuss, R. R., and Chamratrithirong, A. (1998). Land-use/land-cover and population dynamics, Nang Rong, Thailand. In Liverman, D., Moran, E. F., Rindfuss, R. R., and Stern, P. C. (eds.), People and Pixels: Linking Remote Sensing and Social Science. National Academy Press, Washington, pp. 121–144.

Foley, C. (2006). Tarangire Elephant Project. Wildlife Conservation Society, New York.

Foley, C., and Foley, L. (2005). Wildlife Trends in the Tarangire Ecosystem. Wildlife Conservation Society, Arusha, Tanzania.

Gadd, M. (2005). Conservation Outside Parks: Attitudes of Local People in Laikipia, Kenya. Environmental Conservation 32: 150–63.

Geisler, C. C. (2003). Your park, my poverty. Using impact analysis to counter displacement effects of environmental greenlining. In Brechin, S. R., Wilshusen, P. R., Fortwangler, C. L., and West, P. (eds.), Contested Nature: Promoting International Biodiversity with Social Justice in the Twenty-First Century. State University N.Y. Press, Albany, pp. 217–229.

Gunderson, L. H., and Holling, C. S. (2002). Panarchy: Understanding Transformations in Human and Natural Systems. Island Press, Washington.

Henry, S., Schomaker, B., and Beauchemin, C. (2004). The Impact of Rainfall on the First Out-Migration: A Multi-level Event History Analysis in Burkina Faso. Population and Environment 25: 5423–459.

Igoe, J. (1999). Roadblocks to Community Conservation in Tanzania: A Case Study from Simanjiro District. W.P. No 218. African Studies Center, Boston University, Boston.

Igoe, J. (2002). National parks and human ecosystems: the challenge to community conservation. A case study from Simanjiro Tanzania. In Chatty, D., and Colchester, M. (eds.), Conservation and Mobile Indigenous Peoples. Berghahn Books, New York, pp. 77–96.

Kahurananga, J. (1981). Population Estimates, Densities and Biomass of Large Herbivores in Simanjiro Plains, Northern Tanzania. African Journal of Ecology 19: 225–238.

Lamprey, H. (1964). Estimation of the Large Mammal Densities, Biomass, and Energy Exchange in the Tarangire Game Reserve and the Maasai Steppe in Tanzania. East African Wildlife Journal 1: 63–92.

Lichtenberg, E. (2006). A Note on Soil Depth, Failing Markets and Agricultural Pricing: Comment. Journal of Development Economics 81: 1236–243.

McCabe, J. T. (2003). Sustainability and Livelihood Diversification Among the Maasai of Northern Tanzania. Human Organization 62: 2100–111.

McCabe, J. T. (2004). Cattle Bring Us to Our Enemies: Turkana Ecology, Politics, and Raiding in a Disequilibrium System. The University of Michigan Press, Ann Arbor.

McClanahan, T., Davies, J., and Maina, J. (2005). Factors Influencing Resource Users and Managers' Perceptions Towards Marine Protected Area Management in Kenya. Environmental Conservation 32: 142–49.

Naughton-Treves, L. (1998). Predicting Patterns of Crop Damage by Wildlife around Kibale National Park, Uganda. Conservation Biology 12: 1156–168.

Naughton-Treves, L., and Treves, A. (2005). Socio-ecological factors shaping local support for wildlife: crop-raiding by elephants and other wildlife in Africa. In Woodroffe, R., Thirgood, S., and Rabinowitz, A. (eds.), People and Wildlife: Conflict or Coexistence. Cambridge University Press, Cambridge, pp. 252–277.

Neumann, R. P. (1998). Imposing Wilderness: Struggles Over Livelihood and Nature Preservation in Africa. University of California Press, Berkeley.

Newmark, W. D., Leonard, N. L., Sariko, H. I., and Gamassa, D. G. M. (1993). Conservation Attitudes of Local People Living Adjacent to Five Protected Areas in Tanzania. Biological Conservation 63: 2177–183.

Olson, D., and Dinerstein, E (1998). The Global 200: A Representation Approach to Conserving the Earth's Most Biologically Valuable Ecoregions. Conservation Biology 12: 3502–515.

Quinn, C., Huby, M., Kiwasila, H., and Lovett, J. C. (2003). Local Perceptions of Risk to Livelihood in Semi-arid Tanzania. Journal of Environmental Management 68: 1111–119.

Reid, R. S., Kruska, R. L., Wilson, C. J., and Thornton, P. K. (1998). Conservation Crises of the 21st Century: Tension Zones Among Wildlife, People and Livestock Across Africa in 2040. International Congress of Ecology. Florence, Italy.

Robbins, P. (2004). Political Ecology. Blackwell, Malden.

Sachedina, H. (2006). Conservation, Land Rights and Livelihoods in the Tarangire Ecosystem of Tanzania: Increasing Incentives for Non-conservation Compatible Land Use Change Through Conservation Policy. Pastoralism and Poverty Reduction in East Africa: A Policy Research Conference. International Livestock Research Institute, Nairobi, Kenya.

Sachedina, H. T. (2008). Wildlife is Our Oil: Conservation, Livelihoods and NGOs in the Tarangire Ecosystem, Tanzania. Dissertation, School of Geography and the Environment, Oxford University, Oxford, p. 559.

Sjoberg, L. (2000). Factors in Risk Perception. Risk Analysis 20: 11–11.

Smith, K., Barrett, C. B., and Box, P. W. (2000). Participatory Risk Mapping for Targeting Research and Assistance: With an Example from East African Pastoralists. World Development 28: 111945–1959.

Smith, K., Barrett, C. B., and Box, P. W. (2001). Not Necessarily in the Same Boat: Heterogeneous Risk Assessment Among East African Pastoralists. The Journal of Development Studies 37: 51–30.

Tanzanian National Bureau of Statistics. (2004). 2002 Population and Housing Census: General Report. http://www.tanzania.go.tz/census/census/index.html.

Tarangire Conservation Project/OIKOS. (1998). Tarangire Conservation Project: Analysis of Migratory Movements of Large Mammals and their Interaction with Human Activities in the Tarangire Area in Tanzania as a Contribution to a Conservation and Sustainable Development Strategy, University of Milan (Varese Branch) and OIKOS: 122.

Thompson, E. P. (1971). The Moral Economy of the English Crowd in the Eighteenth Century. Past and Present 50: 76–136.

Voeten, M. M., and Prins, H. H. T. (1999). Resource Partitioning Between Sympatric Wild and Domestic Herbivores in the Tarangire Region of Tanzania. Oecologia 120: 2287–294.

Walker, B., and Salt, D. (2006). Resilience Thinking: Sustaining Ecosystems and People in a Changing World. Island Press, Washington.

Walker, R., Perz, S., Caldas, M., and Silva, L. G. T. (2002). Land Use and Land Cover Change in Forest Frontiers: The Role of Household Life Cycles. International Regional Science Review 25: 2169–199.

Ward, D., Ngairorue, B. T., Apollus, A., and Tjiveze, H. (2000). Perceptions and Realities of Land Degradation in Arid Otjimbingwe, Namibia. Journal of Arid Environments 45: 4337–356.

Western, D., and Gichohi, H. (1993). Segregation Effects and Impoverishment of Savanna Parks: The Case for Ecosystem Viability Analysis. African Journal of Ecology 31: 4269.

Western, D., and Ssemakula, J. (1981). The Future of Savanna Ecosystems. African Journal of Ecology 19: 7–19.

Wittemyer, G., Elsen, P., Bean, W. T., Coleman, A., Burton, O., and Brashares, J. S. (2008). Accelerated Human Population Growth at Protected Area Edges. Science 321: 5885123–126.
About this article
Cite this article
Baird, T.D., Leslie, P.W. & McCabe, J.T. The Effect of Wildlife Conservation on Local Perceptions of Risk and Behavioral Response. Hum Ecol 37, 463–474 (2009). https://doi.org/10.1007/s10745-009-9264-z
Keywords
Conservation

Risk perception

Africa

Tanzania