Abstract
This paper provides ethnographic and historical evidence for the existence, in time and space, of a network of well-established trails connecting most Inuit settlements and significant places across the Canadian Arctic. The geographic and environmental knowledge relating to trails (and place names associated with the trails) has been orally transmitted through many generations of Inuit. I use historical documents, ethnographic research, and new geographic tools such as GPS, GIS and Google Earth, to show the geographic extent of the network and its historical continuity. I particularly draw on a trip following Inuit along a traditional trail connecting the communities of Iglulik and Naujaat (Repulse Bay). Inuit have made systematic use of the Arctic environment as a whole and trails are, and have been, significant channels of communication and exchange across the Arctic. There are some types of oral history and knowledge that can be accurately transmitted through generations, and I propose that some aspects of Inuit culture are better understood in terms of moving as a way of living.
Access options
Buy single article
Instant access to the full article PDF.
USD 39.95
Price excludes VAT (USA)
Tax calculation will be finalised during checkout.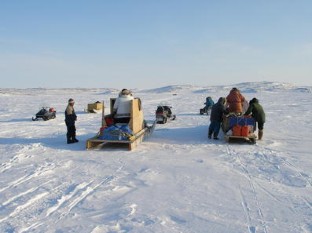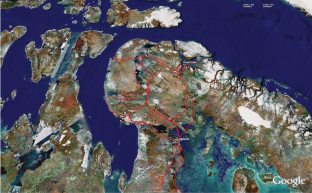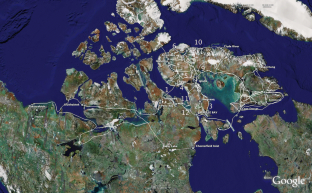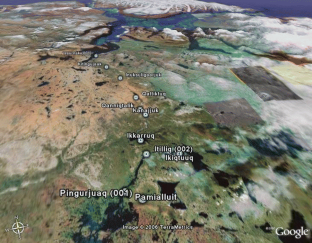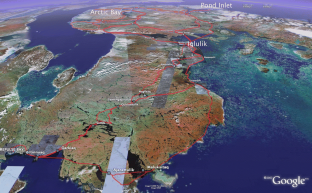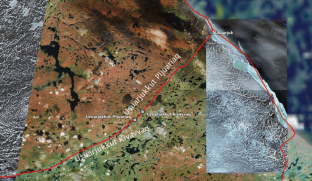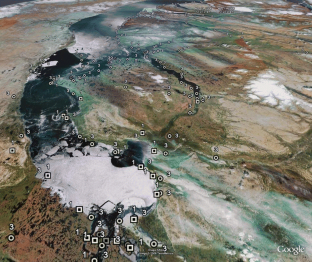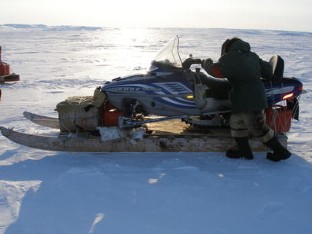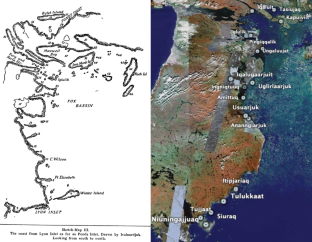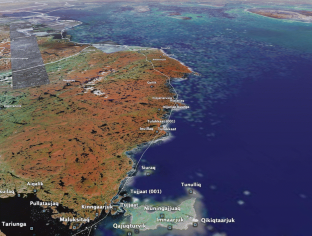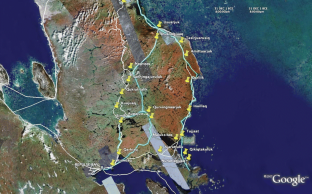 Notes
Parry and Lyon were the first non-Inuit to travel the Foxe Basin region in the Canadian Arctic in search of the Northwest Passage.

The use of ephemeral maps drawn on the snow has been reported, and the Inuit in Greenland used to carve maps in wood. The Inuit of the areas that are the focus of this study, however, employ oral descriptions as the main way to transmit geographic knowledge.

Many Canadian Arctic communities have reverted to using their original Inuktitut names instead of the English names given by explorers and governments. Since this paper presents evidence that is often based on written historical documents, and that could be compared with topographic maps, I have chosen to keep the English names in some cases (Pond Inlet, Hall Beach, Arctic Bay), and use the Inuktitut in others (Iglulik, Naujaat, Taluqjuaq).

Archaeological sites and linguistic analyses of place names could eventually be used as evidence to prove the longevity of the trail network, but they are outside of the scope of this research.

This included stops for fishing and hunting along the way.

The data come from the following sources: original mapping conducted by the author in Iglulik, Repulse Bay, Arctic Bay, Hall Beach and Taluqjuaq. Some of the place names of Repulse Bay were collected by Ludger Muller-Willie (Project Nunatop) in the 1980s, and mapped by the author. The place names of Pond Inlet were collected by the Inuit Heritage Trust. Some trails were mapped in Iglulik by Kelly Karpala and in Cape Dorset by Karen Kelly.

In order to recreate the journeys, the interviews were open, often with a single question, asking to remember a particular journey or to describe a route. The interviews were conducted in Inuktitut, with the help of interpreters. In some cases, younger hunters were asked to conduct the interviews themselves, and the author was not present. This helped create a more spontaneous setting for the narratives.

For an in-depth look at Inuit sense of time, see MacDonald (1998).

The use of new technologies such as GPS and, especially, the snowmobile, is creating the notion of trails as transitional places towards a final destination (Aporta and Higgs 2005). The oral history and place names, however, continue to reinforce the concept of lived trails.

It should be noted that Inuit elders express concern related to the loss of Inuit knowledge (oral) due to the contemporary context of life in the settlement, formal schooling, etc. One of the main reasons for Inuit-supported oral history projects and mapping projects is to avoid the loss of oral knowledge with the passing of knowledgeable elders.

The place names do not involve discrete renderings of geographic locations (comparable to a set of coordinates). The information is transmitted in the context of a larger narrative. In fact, names like Tasiujaq (big lake) are used to describe several features (lakes and in some cases other water features such as bays). What makes a particular Tasiujaq unique is the context provided by the narrative.

Mapping projects are being conducted all across the Arctic, mainly because of the fear that some names will be forgotten when older people pass away and also for political reasons, as a way of reclaiming the land and recognizing the existence of Inuit names (see Müller-Wille 1983).

The newly created maps with local place names are in fact helping new Inuit migrants (usually government workers coming from other Nunavut communities) to adapt to the new place and the new community faster, as they can learn names that otherwise would take a long process of personal connections.

The interview was conducted by John MacDonald and Louis Tapardjuk.

It should also be noted that Parry's journal was published (and perhaps edited) by the Admiralty, while Hall's work was edited and published by the US Government Printing Office in Washington, D.C., after his death.
References
Aporta, C. (2002). Life on the Ice: Understanding the Codes of a Changing Environment. Polar Record 38(207): 341–354.

Aporta, C. (2003). Using GPS Mapping Software to Map Inuit Place Names and Trails. Arctic 56(4): 321–327.

Aporta, C. (2004). Routes, Trails and Tracks: Trail-Breaking Among the Inuit of Igloolik. Études Inuit Studies 28(2): 9–38.

Aporta, C. (2005). From Map to Horizons; from Trail to Journey: The Challenges of Documenting Inuit Geographic Knowledge. Études Inuit Studies 29(1–2): 221–231.

Aporta, C., and Higgs, E. (2005). Satellite Culture: Global Positioning Systems, Inuit Wayfinding, and the Need for a New Account of Technology. Current Anthropology 46(5): 729–754.

Arima, E. (1976). An assessment of the reliability of informant recall. In Freeman M. M. R. (ed.), Inuit Land Use and Occupancy Project, Indian and Northern Affairs, Ottawa. Vol. 2, pp. 31–38.

Asch, M., and Zlotkin, N. (1997). Affirming Aboriginal title: a new basis for comprehensive claims negotiations. In Asch, M. (ed.), Aborginal and Treaty Rights in Canada: Essays on Law, Equality, and Respect for Difference. UBC, Vancouver, pp. 208–230.

Attwood, B. (2005). Telling the Truth About Aboriginal History. Allen and Unwin, Crows Nest, NSW (Australia).

Boas, F. (1888). The Central Eskimo. Bureau of Ethnology, Washington.

Bravo, M. (1996). The Accuracy of Ethnoscience: A Study of Inuit Cartography and Cross-Cultural Commensurability. Manchester Papers in Social Anthropology, Manchester.

Brody, H. (1981). Maps and Dreams. Douglas & McIntyre Ltd., Vancouver.

Collignon, B. (1996). Les Inuit: ce qu'ils savent du territoire. L'Harmattan, Paris.

Fortescue, M. (1988). Eskimo Orientation Systems. Meddelelser øm Grønland, Man and Society 11. Commission for Scientific Research in Greenland, Copenhagen.

Hall, C. F. (1864). Life with the Esquimaux. Sampson Low, Son, and Marston, London.

Hooper, W. H. (n.d.). The Unpublished Journal of William Harvey Hooper, National Archives, Ottawa.

Ijjangiaq, M. (1990). IE-478. Archives of the Inullariit Society. Igloolik Research Centre, Igloolik, Nunavut.

Ikummaq, T. (2000). IE-478. Archives of the Inullariit Society. Igloolik Research Centre, Igloolik, Nunavut.

Lyon, G. F. (1824). The Private Journal of Captain G. F. Lyon of H.M.S. Hecla During the Recent Voyage of Discovery Under Captain Parry. John Murray, London.

Macdonald, J. (1998). The Arctic Sky: Inuit Astronomy, Star Lore, and Legend. Nunavut Research Institute, Iqaluit; The Royal Ontario Museum, Toronto.

Mary-Rousselière, G. (1980). Qitdlarssuaq: l'histoire d'une migration polaire. Les Presses de l'université de Montréal, Montréal.

Mathiassen, T. (1928). Material Culture of the Iglulik Eskimos. Report of the Fifth Thule Expedition, Vol. 6 (1), Gyldendalske Boghandel, Nordisk Forlag, Copenhagen.

McGhee, R. (1969–1970). Speculations on Climatic Change and Thule Culture Development. Folk 11–12: 173–184.

Morrison, D. (1999). The Earliest Thule Migration. Canadian Journal of Archaeology 22: 139–153.

Müller-Wille, L. (1983). Inuit toponymy and cultural sovereignty. In Müller-Wille, L. (ed.), Conflict in Development in Nouveau-Québec. McGill Centre of Northern Studies and Research, Montréal, pp. 131–150.

Müller-Wille, L. (ed.) and Barr, W. (tr.). (1998). Franz Boas among the Inuit of Baffin Island, 1883–1884: Journals and Letters, University of Toronto Press, Toronto.

Parry, W. E. (1824). Journal of a Second Voyage for the Discovery of a Northwest Passage from the Atlantic to the Pacific. John Murray, London.

Petitot, É., père. (1889). Quinze ans sous le cercle polaire Mackenzie, Anderson, Youkan, E. Dentu, Paris.

Piugaattuk, N. (1991) Interview for Igloolik Oral History Project. Archives of the Inullariit Society, Igloolik Research Centre (IE-170).

Rasing, W. C. E. (1994). Too Many People: Order and Nonconformity in Iglulingmiut Social Process. Rish & Samenleving, Nijmegen.

Rasmussen, K. (1929). Intellectual Culture of the Iglulik Eskimos. In Report of the Fifth Thule Expedition, Vol. 7 (1), Gyldendalske Boghandel, Nordisk Forlag, Copenhagen.

Rasmussen, K. (1930, 1976). Iglulik and Caribou Eskimo Texts. In Report of the Fifth Thule Expedition, Vol. 7 (3), AMS, New York.

Rowley, G. W. (1996). Cold Comfort: My Love Affair with the Arctic. McGill-Queen's University Press, Montreal.

Speck, F. G. (1924). Eskimo Collection from Baffin Land and Ellesmere Land. Indian Notes 1(3): 143–149.

Spink, J., and Moodie, D. W. (1972). Eskimo maps from the Canadian Eastern Arctic. Cartographica, Monograph No. 5.

Stefánsson, V. (1912). My Life with the Eskimo. Harcourt, Brace and Company, New York.

Wonders, W. C. (1987). Native Claims and Place Names in Canada's Western Arctic. The Canadian Journal of Native Studies 7(1): 111–120.
Acknowledgements
The main source of funding for this research was a grant from the Committee for Research and Exploration of the National Geographic Society. Additional sources included a Carleton University Startup Grant and travel funds provided by the Inuit Heritage Trust for mapping of place names. Some of the work done in Iglulik and Cape Dorset received support from an IPY Canada grant (Project ISIUOP), and from NSTP (Northern Scientific Training Program). The Igloolik Research Centre (Nunavut Research Institute) provided considerable support during most of this research. John MacDonald and his wife Carolyn were exceptional hosts in Iglulik. John also provided critical help in the organization of the trip to Naujaat, and he offered crucial feedback and constructive critique on earlier drafts of this paper. Conversations with John through many years helped developed some of the ideas expressed in this paper. A key person in this research was Maurice Arnatsiaq, who guided the trip between Iglulik and Naujaat, aided with interviews and mapping, and helped me understand the importance of Inuit travel. Several elders in all the communities the research took place collaborated in providing geographic information. Of those, the key participants were Herve Paniaq in Iglulik, and Abraham Tagunak and Maliki in Naujaat. Theo Ikummaq, in Iglulik, also provided critical information and helped with interviews and translations. This research also benefited from the work of several graduate and undergraduate students at Carleton University who helped with data collection (Kelly Karpalla and Karen Kelley) and data analysis (Allison Berman, Ana Fonseca and Andrew Black). Timothy Di Leo Browne helped in editing this paper. Finally, I would like to thank the reviewers of the journal, whose critiques and suggestions made this paper better.
About this article
Cite this article
Aporta, C. The Trail as Home: Inuit and Their Pan-Arctic Network of Routes. Hum Ecol 37, 131–146 (2009). https://doi.org/10.1007/s10745-009-9213-x
Published:

Issue Date:

DOI: https://doi.org/10.1007/s10745-009-9213-x
Keywords
Inuit

Oral knowledge

Arctic Canada

Hunters and gatherers

Indigenous knowledge