Abstract
Cultivation of agave was common in pre-Hispanic northern Mexico and the American Southwest, and scholars generally accept that it was a strategy to ensure food supply during years of drought when the maize crop failed. Some even suggest that incorporating agave cultivation make large, nucleated settlements possible in arid northern Mexico ca. 500–900 CE. Yet the environmental circumstances under which farmers could reasonably expect such a strategy to decrease the chances of agricultural failure are not well understood. We explore the potential of this crop complementarity by assessing the risk of famine-induced migration events in different idealized environmental settings. We use Monte Carlo simulation to analyze a simple discrete-time, age-structured stochastic model for maize and agave agroecology, deriving the climatological conditions under which agave could have significantly reduced the probability of short- and long-term famine events. Investments in agave production made the most sense where average annual rainfall was between the levels that would ensure maximum maize yield and those that would mean loss of the maize crop due to drought-related mortality. Cultivating agave had little impact on famine risk at high (maize yields sufficient) and low (failure of both maize and agave) rainfall levels. Perhaps more surprisingly, it had its highest impact at moderate rainfall levels when variance in rainfall was relatively low. While a higher variance in rainfall increased the number of 'good' years for maize—where production would exceed demand and allow for storage—it also increased the probability of simultaneous failures in both agave and maize production. These findings are difficult to apply to specific times and places in the past, because rainfall distribution in complex, environments change, and it is difficult to take all relevant human interventions into account. The analysis does, however, offer support for the proposition that agave cultivation could have significantly enhanced survival probabilities of large, nucleated settlements in certain circumstances. It remains for further study to identify such circumstances more precisely geographically and temporally.
Access options
Buy single article
Instant access to the full article PDF.
USD 39.95
Price excludes VAT (USA)
Tax calculation will be finalised during checkout.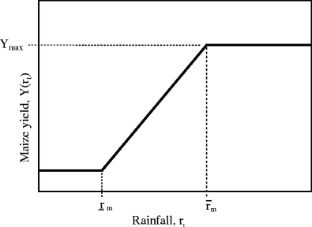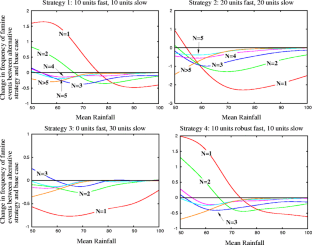 Notes
This is a stylized assumption; even established agave plants can die in a prolonged drought. But because mature agave can be harvested prior to mortality in a drought year, the main impacts of drought on agave production occur in years subsequent to the drought. Young plants are also more susceptible to drought than are adults (Suzanne Fish 2006, personal communication), so the major production shortfalls will occur after a generation's lag. In contrast, shortfalls in maize production are concurrent with drought. This is the main distinction between agave and maize we are trying to test with these simplified assumptions.

Because many agave produce stalks within the age cohort nearly simultaneously, the window of opportunity for harvest is fairly narrow. Farmers might have achieved adequate buffering by continuously planting agaves or cultivating more than one agave species, employing species that matured at different rates (Wendy Hodgson 2006, personal communication). Our model does not take this complexity into account, but we assume that farmers had some such strategies.
References
Armillas, P. (1964). Condiciones ambientales y movimientos de pueblos en la frontera septentrional de mesoamerica. In Marquez-Miranda, H. F. (ed.), Madrid: Publicaciones del Seminario de Antropología Americana. Universidades de Madrid y Sevilla, pp. 62–82.

Berger, A. (1915). Die Agaven. Beiträge zu einer Monographie. Gustav Fisher, Jena.

Blake, M., Clark, J. E., Voorhies, B., Love, M. W., and Chisholm, B. S. (1992). Prehistoric Subsistence in the Soconusco Region. Current Anthropology 33: 83–94.

Braniff, B., and Hers, M. (1998). Herencias Chichimecas. Arqueología 19: 55–80.

Brouwer, C., and Heibloem, M. (1986). Irrigation Water Management Training Manual No. 3: Irrigation Water Needs. FAO, Rome, Italy.

Castetter, E. F., Bell, W., and Grove, A. (1938). The Early Utilization and Distribution of Agave in the American Southwest, Bulletin 6. University of New Mexico, Albuquerque.

Clark, J. E., and Blake, M. (1994). The power of prestige: Competitive generosity and the emergence of rank societies in lowland Mesoamerica. In Brumfiel, E. E., and Fox, J. W. (eds.), Factional Competition and Political Development in the New World, Cambridge University Press, Cambridge, England, pp. 17–30.

Coe, M. D. (1994). Mexico, 4th edn., Thames and Hudson, New York.

Elliott, M. (2005). Evaluating Evidence for Warfare and Environmental Stress in Settlement Pattern Data from the Malpaso Valley, Zacatecas, Mexico. Journal of Anthropological Archaeology 24: 297–315.

Evans, S. T. (1992). Productivity of maguey terrace agriculture in central Mexico during the Aztec period. In Killion, T. W. (ed.), Gardens of Prehistory: The Archaeology of Settlement Agriculture in Greater Mesoamerica. Tuscaloosa, University of Alabama Press, pp. 92–115.

Fish, S. K. and Fish, P. R. (1992). The Marana community in comparative perspective. In Fish S. K., Fish P. F., and Madsen J. H. (eds.), The Marana Community in the Hohokam World, Anthropological Papers of the University of Arizona No. 65. University of Arizona, Tucson.

Fish, S. K., Fish, P. R., and Madson, J. H. (1992). Evidence for large-scale agave cultivation in the marana community. In Fish S. K., Fish P. F., and Madsen J. H. (eds.), The Marana Community in the Hohokam World, Anthropological Papers of the University of Arizona No. 65. University of Arizona, Tucson.

Fisher, C. T., Pollard, H. P., and Frederick, C. (1999). Intensive Agriculture and Socio-political Development in the Lake Pàtzcuaro Basin, Michoacán, Mexico. Antiquity 73: 642–649.

Flannery, K. V. (1986). Guila Naquitz. Academic, Orlando.

Fritz, G. J. (1994). Are the First American Foragers Getting Younger? Current Anthropology 35: 305–309.

Gunn, J., and Adams, R. (1981). Climatic Change, Culture, and Civilization in North America. World Archaeology 13: 87–100.

Hegmon, M. (1996). Variability in food production, strategies of storage and sharing, and the pit house to pueblo transition in the northern southwest. In Tainter, J., and Tainter, B. (eds.), Evolving Complexity and Environmental Risk in the Prehistoric Southwest, Studies in the Sciences of Complexity. Santa Fe, Santa Fe Institute.

Howard, J. B. (1993). A Paleohydraulic Approach to Examining Agricultural Intensification in Hohokam Irrigation Systems. Research in Economic Anthropology (Supplement) 7.

Huckell, B. B. (1995). Of Marshes and Maize: Preceramic Agricultural Settlements in the Cienega Valley, Southeastern Arizona. Anthropological Papers 59. University of Arizona, Tucson.

Jiménez-Betts, P. F., and Darling, J. A. (2000). Archaeology of Southern Zacatecas: The Malpaso, Juchipila, and Valparaiso-bolaños Valleys. In Foster, M. S., and Gorenstein, S. (eds.), Greater Mesoamerica: The Archaeology of West and Northwest Mexico. University of Utah Press, Salt Lake City, pp. 155–180.

Jiménez-Moreno, W. (1959). Síntesis de la historia pretolteca de mesoamérica. In El esplendor del México antiguo, volume 2. Centro de Investigaciones Antropológicos, Mexico, DF, pp. 1109–1196.

Kelley, J. C. (1971). Archaeology of the Northern frontier: Zacatecas and Durango. In Ekholm, G. F., and Bernal, I. (eds.), Archaeology of Northern Mesoamerica, Part Two, volume 11, Part 2 of Handbook of Middle American Indians. University of Texas Press, Austin, pp. 768–804.

Leach, J. (2007). A brief comment on estimating caloric yields from cultivated agave in southern arizona. In Exploring Human Evolution, Nutrition & Health. Paleobiotics Lab, http://www.paleobioticslab.com/agave_yields.htm.

López Corral, A., and Urñuela y Ladón de Guevara, G. (2005). Capacidad de almacenamiento en pozos Troncocónicos de Cholula, Puebla. Paper presented at the conference, "Arqueolgía del Almacenamiento en Tiempos Prehispánicosdesde el Norte de Mexico Hasta el Altiplano Central".

McClung de Tapia, E., González Vázquez, J., Zurita-Noguera, J., and Serra Puche, M. C. (1992). Evidencia Para el uso del Agave sp. Durante el Periodo Formativo en el Sur de la Cuenca de México. Antropologí a y Técnica 5: 99–114.

Minnis, P. E., and Plog, S. E. (1976). A Study of the Site Specific Distribution of Agave Parryi in East Central Arizona. Kiva 41: 299–308.

Nelson, B. A. (1992). El maguey y nopal en la economía de subsistencia de La Quemada, Zacatecas. In Boehm de Lameiras, B., and Weigand, P. C. (eds.), Origen y Desarollo de la Civilización en el Occidente de México. Colegio de Michoacán, Zamora, Michoacán.

Nelson, B. A., and Anyon, R. (1996). Fallow Valleys: Asynchronous Occupations in Southwestern New Mexico. Kiva 61: 275–294.

Nelson, M. C., and Schachner, G. (2002). Understanding abandonments in the North American Southwest. Journal of Archaeological Research 10: 167–206.

Parsons, J. R., and Parsons, M. H. (1990). Maguey Utilization in Highland Central Mexico: An Archaeological Ethnography. Anthropological papers 82, Museum of Anthropology, University of Michigan, Ann Arbor.

Phippen, R. (1999). Burned-rock features and middens: 4,800 years of roasting in Southeastern New Mexico. In Whittlesey, S. M. (ed.), Sixty Years of Mogollon Archaeology. SRI, Tucson, pp. 173–181.

Pohl, M. D., Pope, K. O., Jones, J. G., Jacob, H. S., Piperno, D., deFrance, S., Lentz, D. L., and Gifford, J. A. (1996). Early agriculture in the Maya Lowlands. Latin American Antiquity 7: 355–372.

Sauer, C. O. (1963). Land and Life: A Selection from the Writing of C. O. Sauer. University of California Press, Berkeley.

Seymour, D. J. (1994). Peripheral Considerations: Defining the Spatial and Physical Correlates of Storage Behavior in Hohokam Structures. Kiva 59: 377–394.

Trealease, W. (1910). Species in Agave. Proceedings of the American Philosophical Society 49: 232–237.

Trealease, W. (1911). Species in Agave. Proceedings of the American Philosophical Society 50: 439.

Trombold, C. D. (1985). A summary of the archaeology of the La Quemada Region. In Foster, M. S., and Weigand, P. C. (eds.), The Archaeology of West and Northwest Mesoamerica. Westview Press. Boulder, CO, pp. 327–352.

Trombold, C. D. (1990). A Reconsideration of the Chronology for the La Quemada Portion of the Northern Mesoamerican Frontier. American Antiquity 55: 308–323.

Trombold, C. D., and Israde-Alcántara, I. (2005). Paleoenvironment and Plant Cultivation on Terraces at La Quemada, Zacatecs, Mexico: The Pollen, Phytolith and Diatom Evidence. Journal of Archaeological Science 32: 341–353.

Turkon, P. (2004). Food and Status in the Prehispanic Malpaso Valley, Zacatecas, Mexico. Journal of Anthropological Archaeology 23: 225–251.

Van Buren, M., Skibo, J., and Sullivan III, A. (1992). The archaeology of an agave roasting location. In Fish, S. K., Fish, P. F., and Madsen, J. H. (eds.), The Marana Community in the Hohokam World, Anthropological Papers of the University of Arizona No 65. University of Arizona, Tucson.

Weigand, P. C. (1977). The prehistory of the state of Zacatecas: An interpretation. In Esparza Sánchez, C. (ed.), Anuario de Historia Zacatecana. Universidad Autonoma de Zacatecas. Zacatecas, Mexico, pp. 1–39.

Weintraub, P. D. (1992). The Use of Wild and Domestic Plants at La Quemada, Zacatecas, Mexico, Master's thesis, State University of New York, Buffalo.

Wills, W. H. (1993). Recent Evidence for the Introduction of Maize to the American Southwest from Mesoamerica. Revista de Arqueología Americana 1: 83–97.

Young, L. C. (1996). Pits, rooms, baskets, pots: Storage among southwestern farmers. In Fish, P. R., and Reid, J. J. (eds.), Interpreting Southwestern Diversity: Underlying Principles and Overarching Patterns, Anthropological Research Papers No. 28. Arizona State University, Tempe, pp. 201–210.

Zorrilla, L., and Batanero, L. (1988). El Maguey: Arbol de las Maravillas. Museo Nacional de las Culturas Populares, México, DF.
Acknowledgments
The authors would like to thank three anonymous reviewers for their careful reading and insightful remarks that improved the manuscript considerably. The authors gratefully acknowledge financial support for this research under National Science Foundation Grants BCS-0508001 and BCS-0527744.
About this article
Cite this article
Anderies, J.M., Nelson, B.A. & Kinzig, A.P. Analyzing the Impact of Agave Cultivation on Famine Risk in Arid Pre-Hispanic Northern Mexico. Hum Ecol 36, 409–422 (2008). https://doi.org/10.1007/s10745-008-9162-9
Published:

Issue Date:

DOI: https://doi.org/10.1007/s10745-008-9162-9
Keywords
Maize cultivation

Agave cultivation

Risk management

Historical ecology

Mathematical model

Northern Mexico