Abstract
Among the remaining tropical forests of lowland Latin America, many are inhabited by indigenous peoples, and the sustainability of their land uses is a point of heated debate in the conservation community. Numerous small-scale studies have documented changes in indigenous land use in individual communities in the context of expanding frontier settlements and markets, but few studies have included larger populations or multiple ethnic groups. In this paper we use data from a regional-scale survey of five indigenous populations in the Northern Ecuadorian Amazon to describe their agricultural land use practices and investigate the factors that affect those practices. We find the areas cultivated by indigenous households to be small compared to those of nearby mestizo colonists, but a large proportion of indigenous cultivated area is in commercial land uses. We also construct multilevel statistical models to investigate the household and community-level factors that affect indigenous land use. The results reveal significant influences on cultivated area from contextual factors such as access to markets, oil company activities, and the land tenure regime, as well as from household characteristics such as demographic composition, participation in alternative livelihood activities, and human, social and physical capitals. Overall the results are most consistent with market integration as an underlying driver of land use change in indigenous territories of the study area.
Access options
Buy single article
Instant access to the full article PDF.
USD 39.95
Price includes VAT (USA)
Tax calculation will be finalised during checkout.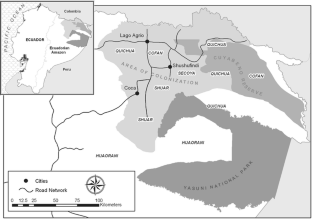 Notes
1.

Future analyses will combine these two datasets to attempt to explain differences between colonist and indigenous land use. This paper focuses on variation among indigenous land uses.

2.

Thirteen households with no active agricultural plots and 14 households with missing data on the regression predictors have been excluded from the analysis. Households with missing data for variables included only in the descriptive analysis were not excluded; thus sample sizes are noted in Table 1.

3.

Previous studies of indigenous land use in the Amazon found such reports of current land use to be accurate (Vadez et al. 2003).

4.

An alternative approach is to model using ordinary least squares regression (OLS) and to correct for clustering using Huber–White standard errors as available in Stata and other software packages. This approach typically produces results similar to the multilevel approach, but the estimation is somewhat less efficient and the intra-class correlation interpretation is not available (Angeles et al. 2005). For the model described here, OLS with the cluster correction produces similar results but with slightly larger standard errors for the household-level predictors, consistent with the less efficient estimation.

5.

Modeling this outcome also simplifies issues of censoring (e.g. many zero values) and cross-equation error correlations which would arise from modeling multiple areas separated by land use, issues which we plan to address in future research.

6.

These factors are largely exogenous to current household land use as they change only over long time scales and/or are driven by regional-scale processes.

7.

To capture nonlinear effects, age and residence time have each been included in the model as a trichotomous categorical variable. This specification provides a better fit than a linear and squared term, and maintains consistency with the other categorical and count predictors.

8.

The measure was the number of animals caught per hour on the most recent hunting trip, calculated at the community-level as a mean across all households that hunted in the past year.

9.

Increases in education might also lead to increases in out-migration (and thus fewer agricultural laborers) and remittances, thus the overall impact on land use is difficult to predict.
References
Andrade, G., and Rubio-Torgler, H. (1994). Sustainable Use of the Tropical Rain-forest: Evidence from the Avifauna in a Shifting-cultivation Habitat Mosaic in the Colombian Amazon. Conservation Biology 8(2): 545–554.

Angeles, G., Guilkey, D., and Mroz, T. (2005). The Impact of Community-level Variables on Individual-level Outcomes: Theoretical Results and Applications. Sociological Methods and Research 34(1): 76–121.

Angelsen, A., and Kaimowitz, D. (1999). Rethinking the Causes of Deforestation: Lessons from Economic Models. World Bank Research Observer 14(1): 73–98.

Barbieri, A., Bilsborrow, R., and Pan, W. (2006). Farm Household Lifecycles and Land Use in the Ecuadorian Amazon. Population and Environment 27(1): 1–27.

Beckerman, S. (1987). Swidden in Amazonia and the Amazon Rim. In Turner, B., and Brush, S. (eds.), Comparative Farming Systems, Guilford Press, New York, pp. 55–94.

Behrens, C., Baksh, M., and Mothes, M. (1994). A Regional Analysis of Bari Land-use Intensification and its Impact on Landscape Heterogeneity. Human Ecology 22(3): 279–316.

Bilsborrow, R., Barbieri, A., and Pan, W. (2004). Changes in Population and Land Use Over Time in the Ecuadorian Amazon. Acta Amazonica 34(4): 635–647.

Bilsborrow, R., Bremner, J., Holt, F., and Oña, A. (2007). El Comportamiento Reproductivo de Poblaciones Indígenas: Un Estudio de la Amazonía Ecuatoriana, United Nations Population Fund, Quito.

Bremner, J., and Lu, F. (2006). Common Property among Indigenous Peoples of the Ecuadorian Amazon. Conservation and Society 4(4): 499–521.

Bryk, A., and Raudenbush, S. (1992). Hierarchical Linear Models, Sage, Thousand Oaks, CA.

Carr, D. (2005). Forest Clearing among Farm Households in the Maya Biosphere Reserve. Professional Geographer 57(2): 157–168.

Caviglia-Harris, J., and Sills, E. (2005). Land Use and Income Diversification: Comparing Traditional and Colonist Populations in the Brazilian Amazon. Agricultural Economics 32(3): 221–237.

Chayanov, A. (1986). A.V. Chayanov on the Theory of Peasant Economy, The University of Wisconsin Press, Madison, WI.

Chowdhury, R., and Turner, B. (2006). Reconciling Agency and Structure in Empirical Analysis: Smallholder Land Use in the Southern Yucatán Peninsula. Annals of the Association of American Geographers 96(2): 302–322.

Denevan, W., and Padoch, C. (1988). Swidden-fallow Agroforestry in the Peruvian Amazon, New York Botanical Garden, New York.

Ellis, F. (2000). Rural Livelihoods and Diversity in Developing Countries, Oxford University Press, New York.

FAO. (2005). State of the World's Forests 2005, United Nations Food and Agricultural Organization, Rome.

Gerlach, A. (2003). Indians, Oil, and Politics: A Recent History of Ecuador, Scholarly Resources, Wilmington.

Godoy, R., O'Neill, K., Groff, S., Kostishack, P., Cubas, A., Demmer, J., McSweeney, K., Overman, J., Wilkie, D., Brokaw, N., and Martinez, M. (1997). Household Determinants of Deforestation by Amerindians in Honduras. World Development 25(6): 977–987.

Godoy, R., Jacobson, M., De Castro, J., Aliaga, V., Romero, J., and Davis, A. (1998a). The Role of Tenure Security and Private Time Preference in Neotropical Deforestation. Land Economics 74(2): 162–170.

Godoy, R., Franks, J., and Claudio, M. (1998b). Adoption of Modern Agricultural Technologies by Lowland Indigenous Groups in Bolivia: The Role of Households, Villages, Ethnicity, and Markets. Human Ecology 26(3): 351–369.

Godoy, R., Groff, S., and O'Neill, K. (1998c). The Role of Education in Neotropical Deforestation: Household Evidence from Amerindians in Honduras. Human Ecology 26(4): 649–675.

Godoy, R., Reyes-García, V., Byron, E., Leonard, W., and Vadez, V. (2005a). The Effect of Market Economies on the Well-being of Indigenous Peoples and on their use of Renewable Natural Resources. Annual Review of Anthropology 34: 121–138.

Godoy, R., Reyes-Garcia, V., Huanta, T., Leonard, W., Vadez, V., Valdes-Galicia, C., and Zhao, D. (2005b). Why do Subsistence-level People Join the Market Economy? Testing Hypotheses of Push and Pull Determinants in Bolivian Amazonia. Journal of Anthropological Research 61(2): 157–178.

Greenberg, J., Kefauver, S., Stimson, H., Yeaton, C., and Ustin, S. (2005). Survival Analysis of a Neotropical Rainforest Using Multitemporal Satellite Imagery. Remote Sensing of Environment 96(2): 202–211

Gross, D., Eiten, G., Flowers, N., Leoi, F., Ritter, M., and Werner, D. (1979). Ecology and Acculturation Among Native Peoples of Central Brazil. Science 206(4422): 1043–1050.

Halvorsen, R., and Palmquist, R. (1980). The Interpretation of Dummy Variables in Semi-logarithmic Equations. American Economic Review 70(3): 474–475.

Hammond, D., Dolman, P., and Watkinson, A. (1995). Modern Ticuna Swidden-fallow Management in the Colombian Amazon: Ecologically Integrating Market Strategies and Subsistence Driven Economies. Human Ecology 23(3): 335–356.

Henrich, J. (1997). Market Incorporation, Agricultural Change, and Sustainability among the Machiguenga Indians of the Peruvian Amazon. Human Ecology 25(2): 319–351.

Hiraoka, M., and Yamamoto, S. (1980). Agricultural Development in the Upper Amazon of Ecuador. Geographical Review 70(4): 423–445.

Holt, F., Bilsborrow, R., and Oña, A. (2004). Demography, household economics, and land and resource use of five indigenous populations in the Northern Ecuadorian Amazon: A summary of ethnographic research. Occasional Paper, Carolina Population Center, University of North Carolina, Chapel Hill.

Humphries, S. (1993). The Intensification of Traditional Agriculture among Yucatec Maya Farmers: Facing up to the Dilemma of Livelihood Sustainability. Human Ecology 21(1): 87–102.

INEC (2003). Sistema integrado de consultas a los censos nacionales. National Census and Statistical Institute of Ecuador.

Irvine, D. (2000). Indigenous federations and the market: the Runa of Napo, Ecuador. In Weber, R., Butler, J., and Larson, P. (eds.), Indigenous Peoples and Conservation Organizations: Experiences in Collaboration, World Wildlife Fund, Washington, DC, pp. 21–46.

Kennedy, D., and Perz, S. (2000). Who are Brazil's Indigenas? Contributions of Census Data Analysis to Anthropological Demography of Indigenous Populations. Human Organization 59(3): 311–324.

Kleinman, P., Pimentel, D., and Bryant, R. (1995). The Ecological Sustainability of Slash-and-burn Agriculture. Agriculture, Ecosystems and Environment 52(2): 235–249.

Lu, F. (2001). The Common Property Regime of the Huaorani Indians of Ecuador: Implications and Challenges to Conservation. Human Ecology 29(4): 425–447.

Lu, F. (2007). Integration into the Market among Indigenous Peoples: A Cross-Cultural Perspective from the Ecuadorian Amazon. Current Anthropology 48(4): 593–602.

Macdonald, T. (1981). Indigenous response to an expanding frontier: Jungle Quichua economic conversion to cattle ranching. In Whitten, N. (ed.), Cultural Transformations and Ethnicity in Modern Ecuador, University of Illinois Press, Urbana, pp. 356–383.

Marquette, C. (1998). Land Use Patterns among Small Farmer Settlers in the Northeastern Ecuadorian Amazon. Human Ecology 26(4): 573–598.

McCracken, S., Siqueira, A., Moran, E., and Brondizio, E. (2002). Land use patterns on an agricultural frontier in Brazil: insights and examples from a demographic perspective. In Wood, C., and Porro, R. (eds.), Deforestation and Land Use in the Amazon, University Press of Florida, Gainesville, pp. 162–192.

McSweeney, K. (2004). Forest Product Sale as Natural Insurance: The Effects of Household Characteristics and the Nature of Shock in Eastern Honduras. Society and Natural Resources 17(1): 39–56.

McSweeney, K., and Arps, S. (2005). A "Demographic Turnaround": The Rapid Growth of Indigenous Populations in Lowland Latin America. Latin American Research Review 40(1): 3–29.

Mittermeier, R., Mittermeier, C., Brooks, T., Pilgrim, J., Konstant, W., da Fonseca, G., and Kormos, C. (2003). Wilderness and Biodiversity Conservation. Proceedings of the National Academy of Sciences 100(18): 10309–10313.

Nepstad, D., Schwartzman, S., Bamberger, B., Santilli, M., Ray, D., Schlesinger, P., Lefebvre, P., Alencar, A., Prinz, E., Fiske, G., and Rolla, A. (2006). Inhibition of Amazon Deforestation and Fire by Parks and Indigenous Lands. Conservation Biology 20(1): 65–73.

Overmars, K., and Verburg, P. (2006). Multilevel Modelling of Land Use from Field to Village Level in the Philippines. Agricultural Systems 89: 435–456.

Pan, W., and Bilsborrow, R. (2005). The Use of a Multilevel Statistical Model to Analyze Factors Influencing Land Use: A Study of the Ecuadorian Amazon. Global and Planetary Change 47(2–4): 232–252.

Perreault, T. (2005). Why Chacras (Swidden Gardens) Persist: Agrobiodiversity Food Security and Cultural Identity in the Ecuadorian Amazon. Human Organization 64(4): 327–339.

Perz, S. (2001). Household Demographic Factors as Life Cycle Determinants of Land Use in the Amazon. Population Research and Policy Review 20(3): 159–186.

Pichón, F. (1997). Colonist Land-allocation Decisions, Land Use, and Deforestation in the Ecuadorian Amazon Frontier. Economic Development and Cultural Change 45(4): 707–744.

Pitman, N., Terborgh, J., Silman, M., Nunez, P., Neill, D., Ceron, C., Palacios, W., and Aulestia, M. (2002). A Comparison of Tree Species Diversity in Two Upper Amazonian Forests. Ecology 83(11): 3210–3224.

Posey, D., and Balée, W. (1989). Resource Management in Amazonia: Indigenous and Folk Strategies, New York Botanical Garden, New York.

Pulido, M., and Caballero, J. (2006). The Impact of Shifting Agriculture on the Availability of Non-timber Forest Products: The Example of Sabal Yapa in the Maya Lowlands of Mexico. Forest Ecology and Management 222(1–3): 399–409.

Redford, K., and Sanderson, S. (2000). Extracting Humans from Nature. Conservation Biology 14(5): 1362–1364.

Rival, L. (2002). Trekking through History: The Huaorani of Amazonian Ecuador, Columbia University Press, New York.

Rudel, T., Bates, D., and Machinguiashi, R. (2002). A Tropical Forest Transition? Agricultural Change, Out-migration, and Secondary Forests in the Ecuadorian Amazon. Annals of the Association of American Geographers 92(1): 87–102.

Sabin, P. (1998). Searching for Middle Ground: Native Communities and Oil Extraction in the Northern Central Ecuadorian Amazon, 1967–1993. Environmental History 3(2): 144–168.

Santos, R., Flowers, N., Coimbra, C., and Gugelmin, S. (1997). Tapirs, Tractors, and Tapes: The Changing Economy and Ecology of the Xavante Indians of Central Brazil. Human Ecology 25(4): 545–566.

Sawyer, S. (2004). Crude Chronicles: Indigenous Politics, Multinational Oil, and Neoliberalism in Ecuador, Duke University Press, Durham.

Schmink, M., and Wood, C. (1992). Contested Frontiers in Amazonia, Columbia University Press, New York.

Schwartzman, S., Moreira, A., and Nepstad, D. (2000). Rethinking Tropical Forest Conservation: Perils in Parks. Conservation Biology 14(5): 1351–1357.

Scoones, I. (1998). Sustainable rural livelihoods: a framework for analysis. Institute for Development Studies Working Paper 72.

Sierra, R. (1999). Traditional Resource-use Systems and Tropical Deforestation in a Multiethnic Region in North-west Ecuador. Environmental Conservation 26(2): 136–145.

Sierra, R. (2000). Dynamics and Patterns of Deforestation in the Western Amazon: The Napo Deforestation Front, 1986–1996. Applied Geography 20(1): 1–16.

Sierra, R., Rodríguez, F., and Losos, E. (1999). Forest Resource Use Change during Early Market Integration in Tropical Rain Forests: The Huaorani of Upper Amazonia. Ecological Economics 30(1): 107–119.

Simmons, C. (1997). Forest Management Practices in the Bayano Region of Panama: Cultural Variations. World Development 25(6): 989–1000.

Simmons, C. (2002). The Local Articulation of Policy Conflict: Land Use, Environment, and Amerindian Rights in Eastern Amazonia. The Professional Geographer 54(2): 241–258.

Stocks, A., McMahan, B., and Taber, P. (2007). Indigenous, Colonist and Government Impacts on Nicaragua's Bosawas Reserve. Conservation Biology(in press).

Townsend, W., Borman, R., Yiyoguaje, E., and Mendua, L. (2005). Cofán Indians' Monitoring of Freshwater Turtles in Zabalo, Ecuador. Biodiversity and Conservation 14(11): 2743–2755.

Vadez, V., Reyes-García, V., Godoy, R., Williams, L., Apaza, L., Byron, E., Huanca, T., Leonard, W., Pérez, E., and Wilkie, D. (2003). Validity of Self-reports to Measure Deforestation: Evidence from the Bolivian Lowlands. Field Methods 15(3): 289–304.

Valdivia, G. (2005). On Indigeneity, Change, and Representation in the Northeastern Ecuadorian Amazon. Environment and Planning A 37(2): 285–303

Vance, C., and Iovanna, R. (2006). Analyzing Spatial Hierarchies in Remotely Sensed Data: Insights from a Multilevel Model of Tropical Deforestation. Land Use Policy 23(3): 226–236.

Vanwambeke, S., Somboon, P., and Lambin, E. (2007). Rural Transformation and Land Use Change in Northern Thailand. Journal of Land Use Science 2(1): 1–29.

VanWey, L., D'Antona, A., and Brondizio, E. (2005). Household Life Cycle and Land Use in Santarém and Altamira, Pará, Brasil. Paper presented to the International Union for the Scientific Study of Population, Tours, France, July 18–23.

Vickers, W. (1993). Changing tropical forest resource management strategies among the Siona and Secoya Indians. In Hladik, C., Hladik, A., Linares, O., Pagezy, H., Semple, A., and Hadley, M. (eds.), Tropical Forests, People and Food: Biocultural Interactions and Applications to Development, Parthenon Publishing Group, New York, pp. 463–477.

Walker, R., Perz, S., Caldas, M., and Silva, L. (2002). Land Use and Land Cover Change in Forest Frontiers: The Role of Household Life Cycles. International Regional Science Review 25(2): 169–199.

Wunder, S. (2000). Ecotourism and Economic Incentives: An Empirical Approach. Ecological Economics 32(3): 465–479.

Wunder, S. (2003). Oil Wealth and the Fate of the Forest: A Comparative Study of Eight Tropical Countries, Routledge, New York.

Ziegler-Otero, L. (2004). Resistance in an Amazonian Community: Huaorani Organizing against the Global Economy, Berghahn, New York.

Zimmerman, B., Peres, C., Malcolm, J., and Turner, T. (2001). Conservation and Development Alliances with the Kayapo of South-eastern Amazonia, a Tropical Forest Indigenous People. Environmental Conservation 28(1): 10–22.
Acknowledgements
Funding for this research was provided by the National Institutes of Health (R01-HD38777-01) to Principal Investigator Richard Bilsborrow. Clark Gray and Jason Bremner were supported as predoctoral trainees at the CPC by an Integrated Graduate Education, Research and Training (IGERT) grant from the National Science Foundation as well as other sources. We are indebted to our Ecuadorian partners Ana Oña, Alicia Ruíz, CEPAR (Centro de Estudios de Poblacion y Desarrollo Social), Ecociencia, the team of field researchers, and foremost the participating indigenous communities and federations. We also thank Brian Frizzelle for spatial analysis, and Lori Hunter, Thomas Whitmore, members of the CPC IGERT working group, and the anonymous reviewers for their comments. This research is part the Ecuador Projects at the Carolina Population Center (CPC) (http://www.cpc.unc.edu/projects/ecuador).
About this article
Cite this article
Gray, C.L., Bilsborrow, R.E., Bremner, J.L. et al. Indigenous Land Use in the Ecuadorian Amazon: A Cross-cultural and Multilevel Analysis. Hum Ecol 36, 97–109 (2008). https://doi.org/10.1007/s10745-007-9141-6
Keywords
Indigenous land use

Swidden-fallow agriculture

Multilevel analysis

Amazon