Abstract
Speckle tracking echocardiography is an imaging method, based on analysis of 2D echocardiographic images, that is useful in providing information on tissue deformation in different cardiac diseases. Cardiac amyloidosis is a complex pathological entity that can be confused with other causes responsible for cardiac hypertrophy, and for this reason, it can be misdiagnosed, especially in the early stages. Cardiac magnetic resonance and endomyocardial biopsy are reference methods for specific diagnosis, but their use is limited by a number of factors, both of a logistical and technical nature. Considering the limits of standard 2D echocardiography, speckle tracking echocardiography can be a useful method to enhance the clinical suspicion, to provide prognostic information, and to address patients more appropriately towards reference methods for definitive diagnosis.
This is a preview of subscription content, log in to check access.
Access options
Buy single article
Instant access to the full article PDF.
US$ 39.95
Price includes VAT for USA
Subscribe to journal
Immediate online access to all issues from 2019. Subscription will auto renew annually.
US$ 99
This is the net price. Taxes to be calculated in checkout.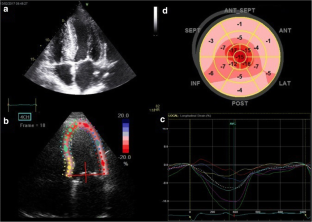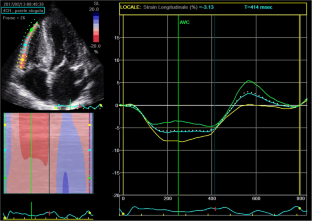 References
1.

Abbas A (2005) Diseases of immunity: amyloidosis. In: Kumar V, Abbas AK, Fausto N (eds) Pathologic basis of disease. Elsevier Saunders, Philadelphia, pp 258–264

2.

Flodrova P, Flodr P, Pika T, Vymetal J, Holub D, Dzubak P, Hajduch M, Scudla V (2018) Cardiac amyloidosis: from clinical suspicion to morphological diagnosis. Pathology 50(3):261–268

3.

Falk RH (2005) Diagnosis and management of the cardiac amyloidoses. Circulation 112:2047–2060

4.

Pai RG, Varadarajan P (2017) Deeper into cardiac amyloid potential for improved outcomes. JACC Cardiovasc Imaging 10(4):408–410

5.

Dubrey SW, Cha K, Simms RW, Skinner M, Falk RH (1996) Electrocardiography and Doppler echocardiography in secondary (AA) amyloidosis. Am J Cardiol 77:313–315

6.

Ternacle J, Bodez D, Guellich A et al (2016) Causes and consequences of longitudinal LV dysfunction assessed by 2D strain echocardiography in cardiac amyloidosis. JACC Cardiovasc Imaging 9(2):126–138

7.

Fikrlea M, Paleček M, Kuchynkaa P et al (2013) Cardiac amyloidosis: a comprehensive review. Coretvasa 55:e 60–e 75

8.

Falk RH, Dubrey SW (2010) Amyloid heart disease. Prog Cardiovasc Dis 52:347–361 (review)

9.

Mohtya D, Damyc T, Cosnayd P et al (2013) Cardiac amyloidosis: updates in diagnosis and management. Arch Cardiovasc Dis 106:528–540

10.

Siddiqi OK, Ruberg FL (2018) Cardiac amyloidosis: an update on pathophysiology, diagnosis, and treatment. Trends Cardiovasc Med 28:10–21

11.

Maceira AM, Joshi J, Prasad SK, Moon JC, Perugini E, Harding I, Sheppard MN, Poole-Wilson PA, Hawkins PN, Pennell DJ (2005) Cardiovascular magnetic resonance in cardiac amyloidosis. Circulation 111:186–193

12.

Syed IS, Glockner JF, Feng D, Araoz PA, Martinez MW, Edwards WD, Gertz MA, Dispenzieri A, Oh JK, Bellavia D, Tajik AJ, Grogan M (2010) Role of cardiac magnetic resonance imaging in the detection of cardiac amyloidosis. JACC Cardiovasc Imaging 3:155–164

13.

Dungu JN, Valencia O, Pinney JH et al (2014) CMR-based differentiation of AL and ATTR cardiac amyloidosis. JACC Cardiovasc Imaging 7(2):133–142

14.

Aquaro GD, Pugliese NR, Perfetto F, Cappelli F, Barison A, Masci PG, Passino C, Emdin M (2014) Myocardial signal intensity decay after gadolinium injection: a fast and effective method for the diagnosis of cardiac amyloidosis. Int J Cardiovasc Imaging 30(6):1105–1115

15.

Nucci EM, Lisi M, Cameli M, Baldi L, Puccetti L, Mondillo S, Favilli R, Lunghetti S (2014) The role of 3D and speckle tracking echocardiography in cardiac amyloidosis: a case report. Eur Rev Med Pharmacol Sci 18:74–77

16.

Nishikawa H, Nishiyama S, Nishimura S, Kondo K, Imai S, Kato K, Nakanishi S, Seki A, Yamakado T, Isaka N (1988) Echocardiographic findings in nine patients with cardiac amyloidosis: their correlation with necropsy findings. J Cardiol 18:121–133

17.

Siqueira-Filho AG, Cunha CL, Tajik AJ, Seward JB, Schattenberg TT, Giuliani ER (1981) M-mode and two-dimensional echocardiographic features in cardiac amyloidosis. Circulation 63:188–196

18.

Selvanayagam JB, Hawkins PN, Paul B, Myerson SG, Neubauer S (2007) Evaluation and management of the cardiac amyloidosis. J Am Coll Cardiol 50:2101–2110

19.

Koyama J, Ray-Sequin PA, Davidoff R, Falk RH (2002) Usefulness of pulsed tissue Doppler imaging for evaluating systolic and diastolic left ventricular function in patients with AL (primary) amyloidosis. Am J Cardiol 89:1067–1071

20.

Rahman JE, Helou EF, Gelzer-Bell R, Thompson RE, Kuo C, Rodriguez ER, Hare JM, Baughman KL, Kasper EK (2004) Noninvasive diagnosis of biopsy-proven cardiac amyloidosis. J Am Coll Cardiol 43:410–415

21.

Ogiwara F, Koyama J, Ikeda S et al (2005) Comparison of the strain Doppler echocardiographic features of familial amyloid polyneuropathy (FAP) and light-chain amyloidosis. Am J Cardiol 95:538e40

22.

Austin BA, Duffy B, Tan C et al (2009) Comparison of functional status, electrocardiographic and echocardiographic parameters to mortality in endomyocardial-biopsy proven cardiac amyloidosis. Am J Cardiol 103:1429–1433

23.

Tsang W, Lang RM (2010) Echocardiographic evaluation of cardiac amyloid. Curr Cardiol Rep 12:272–276

24.

Koyama J, Falk RH (2010) Prognostic significance of strain Doppler imaging in light-chain amyloidosis. J Am Coll Cardiol Img 3:333–342

25.

D'Andrea A, Radmilovic J, Ballo P et al (2017) Left ventricular hypertrophy or storage disease? The incremental value of speckle tracking strain bull's-eye. Echocardiography 34:746–759

26.

Nardozza M, Chiodi E, Mele D (2017) Left ventricle relative apical sparing in cardiac amyloidosis. J Cardiovasc Echogr 27(4):141–142

27.

Ono K, Ishimaru G, Hayashi M, Bae Y, Ito T, Izumo T, Murata K (2017) The imaging diagnosis of less advanced cases of cardiac amyloidosis: the relative apical sparing pattern. Intern Med 56(3):315–319

28.

Phelan D, Collier P, Thavendiranathan P, Popović ZB, Hanna M, Plana JC, Marwick TH, Thomas JD (2012) Relative apical sparing of longitudinal strain using two-dimensional speckle-tracking echocardiography is both sensitive and specific for the diagnosis of cardiac amyloidosis. Heart. 98(19):1442–1448

29.

Schiano-Lomoriello V, Galderisi M, Mele D et al (2016) Longitudinal strain of left ventricular basal segments and E/e' ratio differentiate primary cardiac amyloidosis at presentation from hypertensive hypertrophy: an automated function imaging study. Echocardiography xx:1–9

30.

Phelan D, Thavendiranathan P, Popovic Z, Collier P, Griffin B, Thomas JD, Marwick TH (2014) Application of parametric display of two-dimensional speckle-tracking longitudinal strain to improve the etiologic diagnosis of mild to moderate left ventricular hypertrophy. J Am Soc Echocardiogr 27:888–895

31.

Sun JP, Stewart WJ, Yang XS, Donnell RO, Leon AR, Felner JM, Thomas JD, Merlino JD (2009) Differentiation of hypertrophic cardiomyopathy and cardiac amyloidosis from other causes of ventricular wall thickening by two dimensional strain imaging echocardiography. Am J Cardiol 103:411–415

32.

Di Bella G, Minutoli F, Pingitore A et al (2011) Endocardial and epicardial deformations in cardiac amyloidosis and hypertrophic cardiomyopathy. Circ J 75:1200–1208

33.

Kusunose K, Yamada H, Iwase T, Nishio S, Tomita N, Niki T, Yamaguchi K, Koshiba K, Taketani Y, Soeki T, Wakatsuki T, Akaike M, Shoichiro T, Harada M, Kagawa N, Kudo E, Sata M (2010) Images in cardiovascular medicine: cardiac magnetic resonance imaging and 2-dimensional speckle tracking echocardiography in secondary cardiac amyloidosis. Circ J 74:1494–1496

34.

Liu D, Hu K, Niemann M, Herrmann S, Cikes M, Störk S, Gaudron PD, Knop S, Ertl G, Bijnens B, Weidemann F (2013) Effect of combined systolic and diastolic functional parameter assessment for differentiation of cardiac amyloidosis from other causes of concentric left ventricular hypertrophy. Circ Cardiovasc Imaging 6:1066–1072

35.

Buss SJ, Emami M, Mereles D, Korosoglou G, Kristen AV, Voss A, Schellberg D, Zugck C, Galuschky C, Giannitsis E, Hegenbart U, Ho AD, Katus HA, Schonland SO, Hardt SE (2012) Longitudinal left ventricular function for prediction of survival in systemic light-chain amyloidosis: incremental value compared with clinical and biochemical markers. J Am Coll Cardiol 60(12):1067–1076

36.

Senapati A, Sperry BW, Grodin JL, Kusunose K, Thavendiranathan P, Jaber W, Collier P, Hanna M, Popovic ZB, Phelan D (2016) Prognostic implication of relative regional strain ratio in cardiac amyloidosis. Heart. 102(10):748–754

37.

Liu D, Hu K, Niemann M, Herrmann S, Cikes M, Störk S, Beer M, Gaudron PD, Morbach C, Knop S, Geissinger E, Ertl G, Bijnens B, Weidemann F (2013) Impact of regional left ventricular function on outcome for patients with AL amyloidosis. PLoS One 8:e56923

38.

Quarta CC, Solomon SD, Uraizee I, Kruger J, Longhi S, Ferlito M, Gagliardi C, Milandri A, Rapezzi C, Falk RH (2014) Left ventricular structure and function in transthyretin-related versus light-chain cardiac amyloidosis. Circulation 129:1840–1849

39.

Migrino RQ, Harmann L, Woods T et al (2009) Intraventricular dyssynchrony in light chain amyloidosis: a new mechanism of systolic dysfunction assessed by 3-dimensional echocardiography. Cardiovasc Ultrasound 31(7):16

40.

Nemes A, Földeák D, Domsik P, Kalapos A, Sepp R, Borbényi Z, Forster T (2015) Different patterns of left ventricular rotational mechanics in cardiac amyloidosis—results from the three-dimensional speckle-tracking echocardiographic MAGYAR-Path Study. Quant Imaging Med Surg 5(6):853–857

41.

Mohty D, Pibarot P, Dumesnil JG, Darodes N, Lavergne D, Echahidi N, Virot P, Bordessoule D, Jaccard A (2011) Left atrial size is an independent predictor of overall survival in patients with primary systemic amyloidosis. Arch Cardiovasc Dis 104:611–618

42.

Cameli M, Mandoli GE,  Lo Iacono F et al (2016) Left atrial strain: a new parameter for assessment of left ventricular filling pressure. Heart Fail Rev 21(1):65–76

43.

Nochioka K, Quarta CC, Claggett B et al (2017) Left atrial structure and function in cardiac amyloidosis. Eur Heart J Cardiovasc Imaging 18(10):1128–1137

44.

Mohty D, Petitalot V, Magne J, Fadel BM, Boulogne C, Rouabhia D, ElHamel C, Lavergne D, Damy T, Aboyans V, Jaccard A (2018) Left atrial function in patients with light chain amyloidosis: a transthoracic 3D speckle tracking imaging study. J Cardiol 71(4):419–427

45.

Feng D, Edwards WD, Oh JK, Chandrasekaran K, Grogan M, Martinez MW, Syed II, Hughes DA, Lust JA, Jaffe AS, Gertz MA, Klarich KW (2007) Intracardiac thrombosis and embolism in patients with cardiac amyloidosis. Circulation 116:2420–2426

46.

Dubrey S, Pollak A, Skinner M, Falk RH (1995) Atrial thrombi occurring during sinus rhythm in cardiac amyloidosis: evidence for atrial electromechanical dissociation. Br Heart J 74:541–544

47.

Kim WH, Otsuji Y, Yuasa T, Minagoe S, Seward JB, Tei C (2004) Evaluation of right ventricular dysfunction in patients with cardiac amyloidosis using Tei index. J Am Soc Echocardiogr 17:45–49

48.

Ghio S, Perlini S, Palladini G, Marsan NA, Faggiano G, Vezzoli M, Klersy C, Campana C, Merlini G, Tavazzi L (2007) Importance of the echocardiographic evaluation of right ventricular function in patients with AL amyloidosis. Eur J Heart Fail 9:808–813

49.

Patel AR, Dubrey SW, Mendes LA, Skinner M, Cupples A, Falk RH, Davidoff R (1997) Right ventricular dilatation in primary amyloidosis: an independent predictor of survival. Am J Cardiol 80:486–492

50.

Cappelli F, Porciani MC, Bergesio F et al (2012) Right ventricular function in AL amyloidosis: characteristics and prognostic implication. Eur J Echocardiogr 13(5):416–422

51.

Lisi M, Henein MY, Cameli M, Ballo P, Reccia R, Bennati E, Chiavarelli M, Maccherini M, Mondillo S (2013) Severity of aortic stenosis predicts early post-operative normalization of left atrial size and function detected by myocardial strain. Int J Cardiol 167(4):1450–1455
Ethics declarations
Conflict of interest
The authors declare that they have no conflict of interest.
Additional information
Publisher's note
Springer Nature remains neutral with regard to jurisdictional claims in published maps and institutional affiliations.
About this article
Cite this article
Stricagnoli, M., Cameli, M., Incampo, E. et al. Speckle tracking echocardiography in cardiac amyloidosis. Heart Fail Rev 24, 701–707 (2019). https://doi.org/10.1007/s10741-019-09796-z
Keywords
Cardiac amyloidosis

Speckle tracking echocardiography

Strain

Imaging