The Bermuda Triangle: The Pragmatics, Policies, and Principles for Data Sharing in the History of the Human Genome Project
Abstract
The Bermuda Principles for DNA sequence data sharing are an enduring legacy of the Human Genome Project (HGP). They were adopted by the HGP at a strategy meeting in Bermuda in February of 1996 and implemented in formal policies by early 1998, mandating daily release of HGP-funded DNA sequences into the public domain. The idea of daily sharing, we argue, emanated directly from strategies for large, goal-directed molecular biology projects first tested within the "community" of C. elegans researchers, and were introduced and defended for the HGP by the nematode biologists John Sulston and Robert Waterston. In the C. elegans community, and subsequently in the HGP, daily sharing served the pragmatic goals of quality control and project coordination. Yet in the HGP human genome, we also argue, the Bermuda Principles addressed concerns about gene patents impeding scientific advancement, and were aspirational and flexible in implementation and justification. They endured as an archetype for how rapid data sharing could be realized and rationalized, and permitted adaptation to the needs of various scientific communities. Yet in addition to the support of Sulston and Waterston, their adoption also depended on the clout of administrators at the US National Institutes of Health (NIH) and the UK nonprofit charity the Wellcome Trust, which together funded 90% of the HGP human sequencing effort. The other nations wishing to remain in the HGP consortium had to accommodate to the Bermuda Principles, requiring exceptions from incompatible existing or pending data access policies for publicly funded research in Germany, Japan, and France. We begin this story in 1963, with the biologist Sydney Brenner's proposal for a nematode research program at the Laboratory of Molecular Biology (LMB) at the University of Cambridge. We continue through 2003, with the completion of the HGP human reference genome, and conclude with observations about policy and the historiography of molecular biology.
Keywords
Bayh-Dole Act 
Bermuda Principles 
Big science 
Bioinformatics 
Biotechnology 
C. elegans
Celera Genomics 
Co-production 
Community resource projects 
Data hoarding 
Data release 
Data sharing 
Databases 
DNA Databank of Japan (DDBJ) 
Department of Energy (DOE) 
DNA sequencing 
Ethical Legal and Social Implications (ELSI) 
European Bioinformatics Institute (EBI) 
GenBank 
Gene patenting 
Genetics 
Genetic mapping 
Genome commons 
Genomics 
Human Genome Project (HGP) 
Intellectual property 
Medical genetics 
Model organisms 
Molecular biology 
Moral economy of science 
National Center for Human Genome Research (NCHGR) 
National Human Genome Research Institute (NHGRI) 
National Institutes of Health (NIH) 
Nematode worm 
Open science 
Patents 
Physical mapping 
Post-genomics 
Public domain 
Reference sequence 
Science policy 
Wellcome Trust 
List of Acronyms
ABI

Applied Biosystems

ACeDB

A C. elegans Data Base

AFM

Association Française contre les Myopathies (French Muscular Dystrophy Association)

BAC

Bacterial artificial chromosome

BBN

Bolt, Beranek, and Newman

BITNET

Because It's There NETwork, or Because It's Time NETwork

BMBF

Bundesministerium für Bildung und Forschung (German Federal Ministry of Education and Research)

cDNA

Complementary DNA

CEPH

Centre d'Etude du Polymorphisme Humain (Center for the Study of Human Polymorphisms, now Foundation Jean-Dausset-CEPH)

CNRS

Centre National de la Recherche Scientifique (French basic research agency)

Consed

Consensus editor

Contig

Contiguous DNA sequence

CSHL

Cold Spring Harbor Laboratory

DDBJ

DNA Databank of Japan

DEC

Declaration of Exceptional Circumstances

DFG

Deutsche Forschungsgemeinschaft (German basic research agency)

DHGP

German Human Genome Project

DLR

Deutsches Zentrum für Luft- und Raumfahrt (the German Aerospace Centre)

DNA

Deoxyribose nucleic acid

DOE

US Department of Energy

EBI

European Bioinformatics Institute

EC

European Community

ELSI

Ethical, Legal, and Social Implications (of genomics)

EMBL

European Molecular Biology Laboratory

ERDA

Energy Research and Development Administration

EST

Expressed sequence tag

FTP

File transfer protocol

FOSS

Free and Open Source Software

G5

The five largest HGP sequencing centers after 1999 (the Sanger Centre, Washington University in St. Louis, the Broad Institute of Harvard and MIT, the DOE Joint Genome Institute, and the Baylor College of Medicine)

GBF

German Research Centre for Biotechnology (in Braunschweig)

GDB

Genome Database (at Johns Hopkins University)

GESTEC

NIH Genome Science and Technology centers

HGI

Human Genome Initiative (of the US DOE)

HGMP

Human Genome Mapping Programme (of the UK MRC)

HGMW

Human Genome Mapping Workshop

HGP

Human Genome Project

HGS

Human Genome Sciences

HHMI

Howard Hughes Medical Institute

HTML

HyperText Markup Language

HLA

Human Leukocyte Antigen

HUGO

Human Genome Organization

ICRF

Imperial Cancer Research Fund (in London)

IHGSC

International Human Genome Sequencing Consortium

IMB

Institute of Molecular Biotechnology (in Jena)

JGI

Joint Genome Institute (of the DOE)

JST

Japan Science and Technology Agency (also STA)

KB

Kilobase (or Kb, kb)

LANL

Los Alamos National Laboratory

LLNL

Lawrence Livermore National Laboratory

LMB

Laboratory of Molecular Biology (University of Cambridge)

MB

Megabase (or Mb, mb)

MBL

Marine Biological Laboratory (in Woods Hole, MA)

MIM

Mendelian Inheritance in Man

MIT

Massachusetts Institute of Technology

MPI

Max Planck Institut für Molekulare Genetik (in Berlin)

MRC

UK Medical Research Council

NCBI

US National Center for Biotechnology Information

NCHGR

US National Center for Human Genome Research

NCI

US National Cancer Institute

NHGRI

US National Human Genome Research Institute

NIH

US National Institutes of Health

NINDS

US National Institute of Neurological Disorders and Stroke

NLM

US National Library of Medicine

NRC

US National Research Council (of the National Academy of Sciences)

NSF

US National Science Foundation

OBER

Office of Biological and Environmental Research (of the DOE)

OHER

Office of Health and Environmental Research (of the DOE)

OMIM

Online Mendelian Inheritance in Man

ORNL

Oak Ridge National Laboratory

OSRD

Office of Scientific Research and Development

OTA

Office of Technology Assessment (of the US Congress)

PCR

Polymerase chain reaction

PDB

Protein Data Bank (at the Brookhaven National Laboratory)

Phrap

Phil's revised assembly program

Phred

Phil's revised editor

PKD

Polycystic kidney disease

rDNA

Recombinant DNA

RIKEN

Japanese Institute of Physical and Chemical Research

RNA

Ribonucleic acid

RZPD

German genomic Resource Center (at the MPI in Berlin)

SAIL

Stanford Artificial Intelligence Laboratory

SCW

Single Chromosome Workshop

SNP

Single nucleotide polymorphism

STA

Japan Science and Technology Agency (also JST)

STS

Science and technology studies OR sequence-tagged site (meaning apparent with context)

TIGR

The Institute for Genomic Research

UCSF

University of California at San Francisco

UJAD

Unpublished in Journals and Available in Databases (Stephen Hilgartner's term)

UNESCO

The United Nations Educational, Scientific, and Cultural Organization

USPTO

United States Patent and Trademark Office

USSR

Union of Soviet Socialist Republics

WCS

Worm Community System

YAC

Yeast artificial chromosome
Notes
Acknowledgements
For reading countless drafts, providing insights, ideas, criticisms, primary sources, and moral support, and saving us from many embarrassing errors, the authors would like to thank: Misha Angrist, Nonie Arora, A. Lane Baldwin, Jenny Bangham, Elbert Branscomb, Christian Burks, Graham Cameron, Eli Casdin, Subhashini Chandrasekharan, Simon Chaplin, Stephanie Chen, Jae Cheon, Francis Collins, Nathaniel Comfort, Jorge Contreras, Angela Creager, Soraya de Chadarevian, Lauren Dame, Katherine W. Darling, Kevin Davies, Sonia Dermer, Michael Dietrich, Christopher Donohue, Michele Easter, Sean Eddy, Asao Fujiyama, Miguel García-Sancho, Eric Green, Phil Green, Christopher Heaney, Stephen Hilgartner, LaDeana Hillier, Ursula Hurtenbach, Sheila Jasanoff, Cristina Kapustij, Daniel Kevles, Frank Laplace, Sabina Leonelli, Susan Lindee, Jane Maienschein, Mollie Minear, Michael Morgan, Richard Myers, Annie Niehaus, Maynard Olson, Aristides Patrinos, Mila Pollock, Gregory Radick, Arti Rai, Ramya Rajagopalan, Jenny Reardon, Karen Rader, Marsha Richmond, Laura Rodriguez, Jane Rogers, Alex Roland, Alex Rosenberg, Jennifer Shaw, Hallam Stevens, John Sulston, Gert-Jan van Ommen, Jennifer K. Wagner, Robert Waterston, Iain Watts, Jean Weissenbach, Andreas Weller, Kris Wetterstrand, Huntington Willard, Heidi Williams, and Jenny Zhao. Out of this extensive list of friends and colleagues, several individuals deserve special mention. Robert Waterston, and the now late John Sulston, both deserve extraordinary thanks for the patience, eagerness, meticulousness, and good humor with which they helped to guide us through this intricate narrative. Over the years, they read numerous drafts, answered dozens of questions, and edited our writing for accuracy, clarity, and style. These were tasks that occupied many more hours of their valuable time than we ever had a right to expect; yet they saved us from countless errors, and made this manuscript a better final product by far. Furthermore, Eric Green, the current director of the NHGRI, and Christopher Donohue, of the NHGRI and the institute's History of Genomics Program, have provided us with unending support, flexibility, encouragement, understanding, and enthusiasm for a project which turned out to be much more complicated, and to take much longer to complete—literally, years longer—than the authors initially anticipated. Angela Creager has always understood the importance and pride that her student, KMJ, placed in this project, and is to be thanked for her patience and trust that, despite all the time KMJ was spending on this manuscript, her dissertation would still get written in a (more or less) timely fashion. Alex Roland has supported this work from the beginning, reading nearly every iteration and never hesitating to note when a turn of phrase failed to make sense, a sentence did not parse, or a comma seemed out of place. The students and faculty of the 2014 STS Summer School at Harvard University, which was focused on "Science and Governance at the Frontiers of Life" and organized by Sheila Jasanoff (Harvard Kennedy School), created a scintillating space for dialogue and provided crucial suggestions for literature. "Interactional co-production" has been an indispensable analytical frame for this manuscript, and Sheila Jasanoff and Stephen Hilgartner in particular have remained interested in and supportive of this project for a long time. So has Sabina Leonelli, who read through a mature draft with a critical eye, suggested many references, and offered moral and scholarly support over countless meals (KMJ) and collaborative writing stints (RAA) in Exeter and elsewhere. Finally, the intrepid editors of the Journal of the History of Biology, first Michael Dietrich and then Karen Rader and Marsha Richmond, have shepherded this manuscript through each of its many stages with kindness and productive criticism, never doubting that it was possible to turn it into a publishable product and often providing much-needed advice and encouragement on very short notice. Thank you to everyone for never giving up on us. It is our pleasure to acknowledge you here. An additional cadre of librarians, archivists, and scholars also provided superb writing, research, and editorial assistance. We owe great debts of thanks to the staff and archivists at the Bioethics Research Library at Georgetown University (especially Martina Darragh, Patty Martin, and Nat Norton), the Cold Spring Harbor Laboratory (CSHL) Library and Archives (especially Mila Pollock and Stephanie Satalino), the Duke University Libraries (especially Susan Ivey and Jim Tuttle), the Freedom of Information Act (FOIA) office at NHGRI (especially Suzanne A. Freeman and Christy Cecil), and the Wellcome Library in London (especially Simon Demissie, Will Greenacre, and most especially, Jennifer Shaw). Two anonymous reviewers for the Journal of the History of Biology gave trenchant feedback and critiques, improving the manuscript enormously, and we hope to have done justice to their considerable dedication of time and energy. With the assistance of Patty Martin, in the final copy-editing stages, Sonia Dermer checked the majority of the manuscript's quotations and references in the Bioethics Research Library at Georgetown. She caught many errors, and we are in her debt. Jim Tuttle and Susan Ivey at the Duke University Libraries, with other members of the Duke Libraries staff, provided invaluable technological assistance as we built the online repository of research materials for this project, now available in the Archival Collections for the Center for Public Genomics on DukeSpace. Finally, several individuals at the Wellcome Library worked very hard, with the Wellcome Trust, to make the Bermuda meeting transcripts from all 3 years (1996–1998) available to KMJ and RC-D on a restricted basis in their Rare Materials Room in London, alongside facilitating access to further valuable materials from their rich collections in the history of genetics. History, like genomics, is a collaborative undertaking, and for all of this assistance over 8 years we are eternally grateful. We presented numerous versions of this work in progress at scholarly venues, and for their critiques and commentaries we are indebted to the participants in, and organizers of, our panels and presentations at: the 2011 ELSI Congress, NHGRI, "Exploring the ELSI Universe," in Chapel Hill, NC ("Examining the History and Implications of the 'Bermuda Principles' for Data Sharing"); the 3rd biennial meeting of the Society for the Philosophy of Science in Practice, in Exeter, UK ("Examining the History and Implications of the 'Bermuda Principles' for Data Sharing"); the 2011 annual meeting of the Society for the Social Studies of Science (4S), in Cleveland, OH ("Exploring the Impacts of the 'Bermuda Principles' on Collaborative Health Research," in "Collaboration from Life Sciences to Health Sciences and Care," organized by Bart Penders, Radboud University Nijmegen, John Parker, University of California at Santa Barbara, and Niki Vermeulen, University of Vienna); the 2012 Gordon Research Conference and Seminar on Science and Technology Policy ("Science and Technology in Global Context"), in Waterville Valley, NH (poster entitled, "'They worked without resting': Building the policy of international prepublication data sharing during the Human Genome Project"); the 2012 KLI/Altenberg Symposium in Vienna, Austria ("Free and Unfettered? Scientific Communities Meet the Internet through the Bermuda Principles"); a 2012 Egenis seminar, at the University of Exeter, UK ("The Bermuda Triangle: Principles, Practices, and Pragmatics in Genomic Data Sharing"); a 2012 seminar at the Lyman Briggs College, in the Department of Philosophy, at Michigan State University in East Lansing, MI ("The Bermuda Triangle: Principles, Practices, and Pragmatics in Genomic Data Sharing"); the 2013 biennial meeting of the International Society for the History, Philosophy, and Social Studies of Biology (ISHPSSB) in Montpellier, France ("Patenting Life: Genes and Generations," organized by Berris Charnley, Griffiths University and St. Anne's College, University of Oxford); the 2014 Joint Atlantic Seminar for the History of Biology (JAS-Bio) at Johns Hopkins University in Baltimore, MD ("'They gave it away': International data sharing in the Human Genome Project"); the March 23rd, 2015 History of Science Seminar, Program in History of Science, at Princeton University in Princeton, NJ; the 2015 "The Genomic Open: Then and Now" workshop at the University of California, Santa Cruz (organized by Jenny Reardon, UC Santa Cruz; talk entitled "The Bermuda Triangle: Pragmatics, Principles, and Policies"); and the 2015 annual meeting of the History of Science Society (HSS) in San Francisco, CA ("'They gave it away': Building an International Policy for Data Sharing in the Human Genome Project," in "Scientific Openness and Its Discontents in the History of Scientific Information," organized by Iain Watts, Princeton University). This research would not have been possible without the enormous generosity and cooperation of our numerous interviewees, whose names are listed in the References section. These individuals, who agreed to interview with us in person, over the phone, and/or through email correspondence, read and edited lengthy interview transcripts, answered our persistent follow-up questions, furnished historical documents from their personal files, and supported our construction of a digital archive for this project. Throughout, we have done our best to reciprocate their enthusiasm and encouragement. Kathleen Slover, of Accent on Words in Charlotte, NC, transcribed our interviews with great accountability and care. Finally, for moral, administrative, and all other kinds of support over the past 8 years, in addition to those listed above, we owe bottomless debts of gratitude to Susan Brooks, who kept the Center for Public Genomics running, and to Kathryn Cook-Deegan, Glenn Hawke, and T. Cole Jones, who kept us running. All remaining errors are our own.
Sir John Sulston, June 2001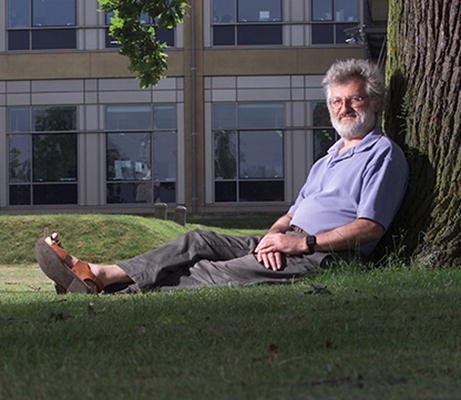 Sir John Sulston (1942-2018), sitting outside the Sanger Centre in Hinxton, Cambridge, UK, June 2001. Photo credit: Neil Turner/TSL Education Ltd. Reproduced with permission.
Funding
Kathryn Maxson Jones led the conduct of this research from 2010 to 2013, and the writing of the manuscript from 2013–2018. From 2010–2013, she worked as a Research Aide at the Center for Public Genomics at Duke University, a Center of Excellence in Ethical, Legal, and Social Implications (ELSI) Research co-funded by the US Department of Energy and the US National Human Genome Research Institute (NHGRI) under the NIH Grant Number P50-HG-003391. In September 2018, while maintaining her PhD candidacy at Princeton University, Kathryn Maxson Jones will begin her tenure as a McDonnell Foundation Scholar at the Marine Biological Laboratory in Woods Hole, MA, which will last through June 2019. From 2002–2016, Robert Cook-Deegan was a Research Professor of Public Policy, Internal Medicine, and Biology at Duke University, and from 2004–2016 he served as the director of the Center for Public Genomics. He is also a senior fellow at FasterCures, a center of the nonprofit Milken Institute. Other funding included grants from the NIH (R01-HG-008918), the United States Studies Centre (USSC) of the University of Sydney, Australia ("The Ethos and Effects of Data-Sharing Rules: Examining the History of the 'Bermuda Principles' and Their Impact on US 21st Century Science," Rachel A. Ankeny and Robert M. Cook-Deegan, 2011), and the Ewing Marion Kauffman Foundation. The contents of this publication are solely the responsibility of the authors, and do not reflect the views of their funders or employers. The charges associated with making this article open access were funded by an award from the Wellcome Library Open Access Fund.
Copyright information
© The Author(s) 2018
Open AccessThis article is distributed under the terms of the Creative Commons Attribution 4.0 International License (http://creativecommons.org/licenses/by/4.0/), which permits unrestricted use, distribution, and reproduction in any medium, provided you give appropriate credit to the original author(s) and the source, provide a link to the Creative Commons license, and indicate if changes were made.