Abstract
Although endoplasmic reticulum (ER) stress is thought to be involved in various diseases such as cancer, metabolic, and inflammatory disorders, the relationship between ER stress and bone diseases, are remains unclear. Tunicamycin-treated MC3T3-E1 osteoblasts were used as the ER stress model in this study. 635 nm light-emitting diode irradiation (635 nm-IR) was carried out for 1 h before and after inducing ER stress. To investigate the effects of 635 nm-IR on ER stress-induced MC3T3-E1 osteoblasts and the underlying mechanism, western blot, reverse transcription polymerase chain reaction, alkaline phosphatase and Alizarin red staining, 2′,7′-dichlorodyhydrofluorescein diacetate assay, Fluo-3AM and immunocytochemistry were performed. Pretreatment with 635 nm-IR effectively prevented intracellular reactive oxygen species production and alleviated ER stress through the pancreatic ER kinase (PERK)-eukaryotic initiation factor 2 (eIF2)-activating transcription factor 4 (ATF4)-nuclear factor-like 2 (Nrf2) signaling pathway. Hence, 635 nm-IR may serve a protective role in the treatment of ER stress-related bone diseases.
Access options
Buy single article
Instant access to the full article PDF.
USD 39.95
Price includes VAT (USA)
Tax calculation will be finalised during checkout.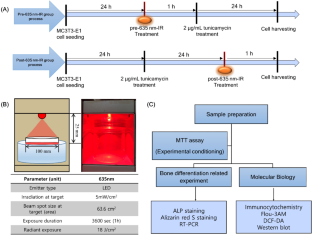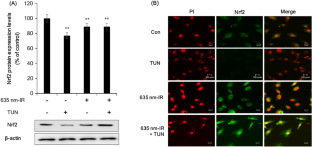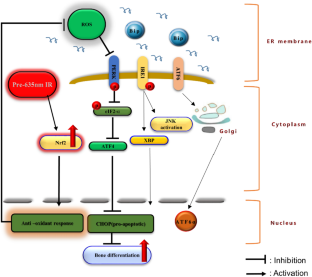 References
Araki E, Oyadomari S, Mori M (2003) Impact of endoplasmic reticulum stress pathway on pancreatic β-cells and diabetes mellitus. Exp Biol Med 228:1213–1217

Cullinan SB, Zhang D, Hannink M, Arvisais E, Kaufman RJ, Diehl JA (2003) Nrf2 is a direct PERK substrate and effector of PERK-dependent cell survival. Mol Cell Biol 23:7198–7209

Ellgaard L, Helenius A (2003) Quality control in the endoplasmic reticulum. Nat Rev Mol Cell Biol 4:181–191

Feng B, Yao PM, Li Y, Devlin CM, Zhang D, Harding HP, Sweeney M, Rong JX, Kuriakose G, Fisher EA, Marks AR, Ron D, Tabas I (2003) The endoplasmic reticulum is the site of cholesterol-induced cytotoxicity in macrophages. Nat Cell Biol 5:781–792

Hebert DN, Molinari M (2007) In and out of the ER: protein folding, quality control, degradation, and related human diseases. Physiol Rev 87:1377–1408

Hino S, Kondo S, Yoshinaga K, Saito A, Murakami T, Kanemoto S, Sekiya H, Chihara K, Aikawa Y, Hara H, Kudo T, Sekimoto T, Funamoto T, Chosa E, Imaizumi K (2010) Regulation of ER molecular chaperone prevents bone loss in a murine model for osteoporosis. J Bone Miner Metab 28:131–138

Jacques SL (2013) Optical properties of biological tissues: a review. Phys Med Biol 58:37–61

Kapoor A, Sanyal A (2009) Endoplasmic reticulum stress and the unfolded protein response. Clin Liver Dis 13:581–590

Kaufman RJ (1999) Stress signaling from the lumen of the endoplasmic reticulum: coordination of gene transcriptional and translational controls. Genes Dev 13:1211–1233

Kaufman RJ, Scheuner D, Schroder M, Shen X, Lee K, Liu CY, Arnold S (2002) The unfolded protein response in nutrient sensing and differentiation. Nat Rev Mol Cell Biol 3:411–421

Kim SH, Han YJ, Park JH, Yoo SJ (2003) Glutamate induces endoplasmic reticulum stress-mediated apoptosis in primary rat astrocytes. J Korean Geriatr Soc 14:242–252

Krebs J, Agellon LB, Michalak M (2015) Ca (2+) homeostasis and endoplasmic reticulum (ER) stress: an integrated view of calcium signaling. Biochem Biophys Res Commun 24:114–121

Kwon H, Lim W, Kim J, Jeon S, Kim S, Karna S, Cha H, Kim O, Choi H (2013) Effect of 635 nm irradiation on high glucose-boosted inflammatory responses in LPS-induced MC3T3-E1 cells. Lasers Med Sci 28:717–724

Lai E, Teodoro T, Volchuk A (2007) Endoplasmic reticulum stress: signaling the unfolded protein response. Physiology 22:193–201

Li J, Yang S, Li X, Liu D, Wang Z, Guo J, Tan N, Gao Z, Zhao X, Zhang J, Gou F, Yokota H, Zhang P (2017) Role of endoplasmic reticulum stress in disuse osteoporosis. Bone 97:2–14

Lim WB, Kim JS, Ko YJ, Kwon H, Kim SW, Min HK, Kim O, Choi HR, Kim OJ (2001) Effects of 635nm light-emitting diode irradiation on angiogenesis in CoCl(2) -exposed HUVECs. Lasers Surg Med 43:344–352

Lim W, Lee S, Kim I, Chung M, Kim M, Lim H, Park J, Kim O, Choi H (2007) The anti-inflammatory mechanism of 635 nm light-emitting-diode irradiation compared with existing COX inhibitors. Lasers Surg Med 39:614–621

Nakagawa T, Zhu H, Morishima N, Li E, Xu J, Yankner BA (2000) Caspase-12 mediates endoplasmic-reticulum specific apoptosis and cytotoxicity by amyloid-beta. Nature 403:98–103

Oyadomari S, Araki E, Mori M (2002) Endoplasmic reticulum stress mediated apoptosis in pancreatic β-cell. Apoptosis 7:335–345

Ozcan L, Tabas I (2012) Role of endoplasmic reticulum stress in metabolic disease and other disorders. Annu Rev Med 63:317–328

Park EJ, Kwon TK (2016) Brefeldin A-induced endoplasmic reticulum stress leads to different CHOP expression in primary astrocyte cells and C6 glioma cells. Journal of Life Science 26:490–495

Sella VR, do Bomfim FR, Machado PC, da Silva Morsoleto MJ, Chohfi M, Plapler H (2015) Effect of low-level laser therapy on bone repair: a randomized controlled experimental study. Lasers Med Sci 30:1061–1068

Shen J, Chen X, Hendershot L, Prywes R (2002) ER stress regulation of ATF6 localization by dissociation of BiP/GRP78 binding and unmasking of Golgi localization signal. Dev Cell 3:99–111

Sohn H, Ko Y, Park M, Kim D, Moon YL, Jeong YJ, Lee H, Moon Y, Jeong BC, Kim O, Lim W (2015) Effects of light-emitting diode irradiation on RANKL-induced osteoclastogenesis. Lasers Surg Med 47:745–755

Wang H, Wang X, Ke ZJ, Comer AL, Xu M, Frank JA, Zhang Z, Shi X, Luo J (2015) Tunicamycin-induced unfolded protein response in the developing mouse brain. Toxicol Appl Pharmacol 283:157–167

Xue X, Piao JH, Nakajima A, Sakon-Komazawa S, Kojima Y, Mori K, Yagita H, Okumura K, Harding H, Nakano H (2005) Tumor necrosis factor α (TNF α) induces the unfolded protein response (UPR) in a reactive oxygen species (ROS)-dependent fashion, and the UPR counteracts ROS accumulation by TNF α. J Biol Chem 280:33917–33925

Yang X, Yao W, Liu H, Gao Y, Liu R, Xu L (2017) Tangluoning, a traditional Chinese medicine, attenuates in vivo and in vitro diabetic peripheral neuropathy through modulation of PERK/Nrf2 pathway. Sci Rep 7:10–14

Yoshida H, Matsui T, Hosokawa N, Kaufman RJ, Nagata K, Mori K (2003) A time-dependent phase shift in the mammalian unfolded protein response. Dev Cell 4:265–271

Younce CW, Kolattukudy PE (2010) MCP-1 causes cardiomyoblast death via autophagy resulting from ER stress caused by oxidative stress induced by a novel zinc-finger protein. Biochem J 426:43–53

Zhang SX, Sanders E, Wang JJ (2001) Endoplasmic reticulum stress and inflammation: mechanisms and implications in diabetic retinopathy. J Ocul Biol Dis Inform 4:51–61
Acknowledgements
This work was supported by National Research Foundation of Korea(NRF) grant funded by the Korea government (MSIP) (Nos. 2019R1F1A1044073, 2019R1F1A1056887 and 2019R1F1A1059492)
Ethics declarations
Conflict of interest
The authors declare that they have no conflict of interest.
Ethical approval
This article does not contain any studies with human participants or animals performed by any of the authors.
Additional information
Publisher's Note
Springer Nature remains neutral with regard to jurisdictional claims in published maps and institutional affiliations.
About this article
Cite this article
Cho, H., Kim, OS., Kim, B. et al. 635 nm LED irradiation may prevent endoplasmic reticulum stress in MC3T3-E1 cells. J Mol Histol (2021). https://doi.org/10.1007/s10735-021-10034-w
Received:

Accepted:

Published:
Keywords
Endoplasmic reticulum stress

635 nm light-emitting diode irradiation

PERK-eIF2-ATF4-Nrf2 signaling pathway

Reactive oxygen species