Abstract
The W9 peptide has been shown to act as a receptor activator for nuclear factor-κB ligand (RANKL) antagonist and tumor necrosis factor (TNF)-α antagonist, which can promote bone formation and inhibit bone resorption. Studies on the W9 peptide at the cellular level have mainly focused on osteoblasts, and little research on the mechanism by which the W9 peptide regulates osteoclasts has been reported, which was the aim of this work. In this study, a rat mandibular defect model was established in vivo and implanted with hydrogel containing the W9 peptide for 2 weeks and 4 weeks, and histochemical staining was used to evaluate the formation of new bone and the changes in osteoclasts. RAW264.7 cells were cultured in vitro for osteoclast induction, and different concentrations of W9 peptide were added. Tartrate resistant acid phosphatase staining, monodansylcadaverine staining, TdT-mediated dUTP Nick-End Labeling assay, real-time PCR and Western blot were used to detect osteoclast differentiation, autophagy and apoptosis. Our results showed that the W9 peptide could reduce osteoclastogenesis and osteoclast activity induced by RANKL, and these effects were partly due to the inhibition of osteoclast autophagy. On the other hand, the W9 peptide could promote mature osteoclast apoptosis, in which autophagy might play an antagonistic role. Taken together, these results suggest that the W9 peptide inhibits osteoclastogenesis and osteoclast activity by downregulating osteoclast autophagy and promoting osteoclast apoptosis. Our results will benefit the development and application of new small molecule peptides for the treatment of bone resorption diseases.
Access options
Buy single article
Instant access to the full article PDF.
USD 39.95
Price includes VAT (USA)
Tax calculation will be finalised during checkout.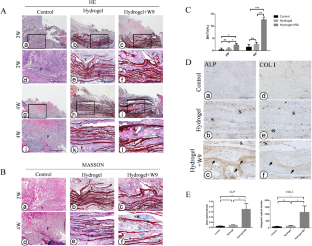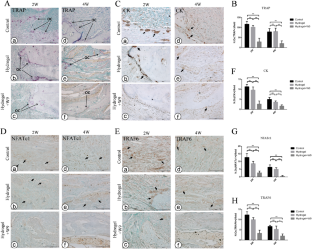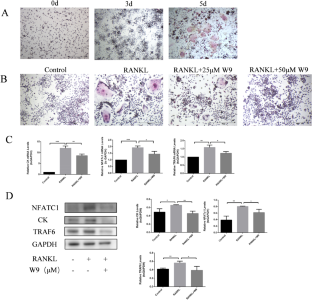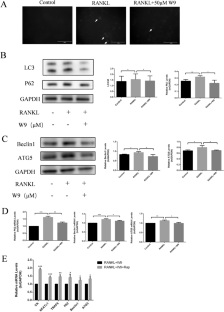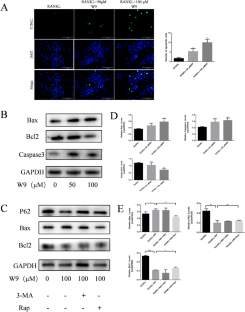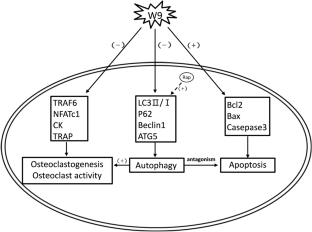 Data availability
The datasets used and/or analyzed during the current study available from the corresponding author on reasonable request.
Funding
This study was partially supported by the National Natural Science Foundation of China sNo. 81972072) to Li M, the National Natural Science Foundation of China (No. 81800982) and the Construction Engineering Special Fund of "Taishan Young Scholars" of Shandong Province (No. tsqn202103177) to Liu H.
Ethics declarations
Conflict of interest
The authors declare that they have no conflict of interest.
Code availability
Not applicable.
Ethical approval
All animal experiments were approved by the Institutional Animal Care and Use Committee (IACUC), School and Hospital of Stomatology, Shandong University (No. 20210115).
Consent to participate
Not applicable.
Consent for publication
Not applicable.
Additional information
Publisher's Note
Springer Nature remains neutral with regard to jurisdictional claims in published maps and institutional affiliations.
About this article
Cite this article
Kou, Y., Li, C., Yang, P. et al. The W9 peptide inhibits osteoclastogenesis and osteoclast activity by downregulating osteoclast autophagy and promoting osteoclast apoptosis. J Mol Histol (2021). https://doi.org/10.1007/s10735-021-10030-0
Received:

Accepted:

Published:
Keywords
W9 peptide

Osteoclastogenesis

Osteoclast activity

Autophagy

Apoptosis