Abstract
Methotrexate is used for cure of many cancer types. It has many side effects. For this reason, obtaining a nephroprotective agent is obligatory. In the study, our aim is to determine probable effects of Vitamin B12 on MTX caused kidney damages in rats. Rats were randomly divided into 4 groups, including 8 animals in each group. Control group, VitB12 group (3 μg-kg-ip B12 throughout 15 days), MTX group (at the 8th day of experiment, a single dose of 20 mg-kg-ip MTX), Vit B12 + MTX group (3 μg-kg-ip B12 throughout 15 days and at the 8th day of experiment, a single dose of 20 mg-kg-ip MTX) Animals were anesthetized and kidney tissues were removed to evaluate biochemically, immunohistochemically and histopathologycally. There were histopathological deteriorations, rises of apoptotic cells, expressions of heat shock proteins, endoplasmic reticulum stress and inflammation markers in the MTX group. In the MTX group, Superoxide Dismutase (SOD), Total Antioxidant Status (TAS) and Catalase (CAT) levels decreased, but Total Oxidant Status TOS, Malondialdehyde (MDA) and interleukin-6 (IL6) levels increased. In addition, there was amelioration in kidney tissue in Vit B12 + MTX group compared to the MTX group. We suggest that Vit B12 can be used to reduce the toxic effects of MTX.
Access options
Buy single article
Instant access to the full article PDF.
USD 39.95
Price includes VAT (USA)
Tax calculation will be finalised during checkout.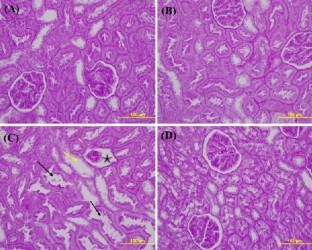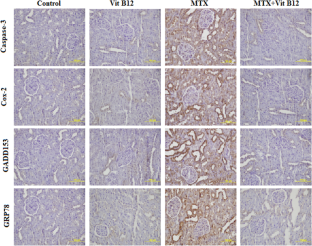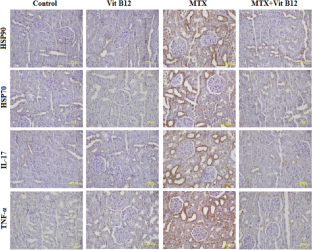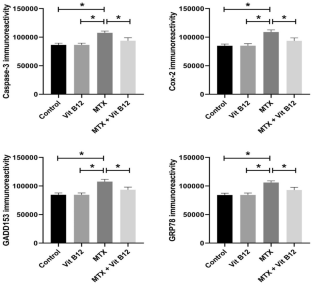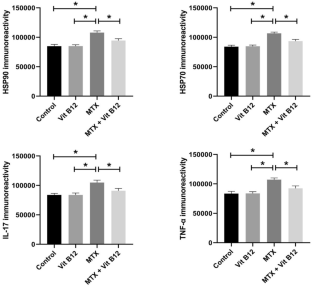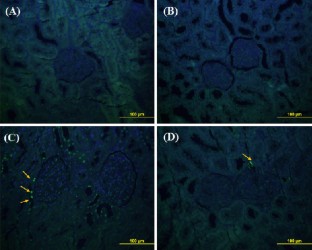 References
Abd El-Twab SM, Hussein OE, Hozayen WG, Bin-Jumah M, Mahmoud AM (2019) Chicoric acid prevents methotrexate-induced kidney injury by suppressing NF-κB/NLRP3 inflammasome activation and up-regulating Nrf2/ARE/HO-1 signaling. Inflamm Res 68(6):511–523. https://doi.org/10.1007/s00011-019-01241-z.

Aladaileh SH, Hussein OE, Abukhalil MH, Saghir SAM, Bin-Jumah M, Alfwuaires MA, et al (2019) Formononetin Upregulates Nrf2/HO-1 Signaling and Prevents Oxidative Stress, Inflammation, and Kidney Injury in Methotrexate-Induced Rats. Antioxidants (Basel) 8(10):430. https://doi.org/10.3390/antiox8100430.

Arab HH, Salama SA, Maghrabi IA (2018) Camel milk attenuates methotrexate-induced kidney injury via activation of PI3K/Akt/eNOS signaling and intervention with oxidative aberrations. Food Funct 9(5):2661–2672. https://doi.org/10.1039/c8fo00131f.

Araujo LP, Truzzi RR, Mendes GE, Luz MA, Burdmann EA, Oliani SM (2012) Annexin A1 protein attenuates cyclosporine-induced renal hemodynamics changes and macrophage infiltration in rats. Inflamm Res 61(3):189–196. https://doi.org/10.1007/s00011-011-0400-z.

Aslankoc R, Ozmen O, Ellidag HY (2020) Ameliorating effects of agomelatine on testicular and epididymal damage induced by methotrexate in rats. J Biochem Mol Toxicol 34(3):e22445. https://doi.org/10.1002/jbt.22445.

Beltrame FL, de Santi F, Vendramini V, Cabral REL, Miraglia SM, Cerri PS, et al (2019) Vitamin B(12) Prevents Cimetidine-Induced Androgenic Failure and Damage to Sperm Quality in Rats. Front Endocrinol (Lausanne) 10:309. https://doi.org/10.3389/fendo.2019.00309.

Calvert H (2002) Folate status and the safety profile of antifolates. Semin Oncol 29(2 Suppl 5):3–7. https://doi.org/10.1016/s0093-7754(02)70209-1.

Campbell JM, Bateman E, Stephenson MD, Bowen JM, Keefe DM, Peters MD (2016) Methotrexate-induced toxicity pharmacogenetics: an umbrella review of systematic reviews and meta-analyses. Cancer Chemother Pharmacol 78(1):27–39. https://doi.org/10.1007/s00280-016-3043-5.

Cohen GM (1997) Caspases: the executioners of apoptosis. Biochem J 326:1–16. https://doi.org/10.1042/bj3260001.

Conklin KA (2004) Chemotherapy-associated oxidative stress: impact on chemotherapeutic effectiveness. Integr Cancer Ther 3(4):294–300. https://doi.org/10.1177/1534735404270335.

Dahiya V, Buchner J (2019) Functional principles and regulation of molecular chaperones. Adv Protein Chem Struct Biol 114:1–60. https://doi.org/10.1016/bs.apcsb.2018.10.001.

El-Sheikh AA, Morsy MA, Abdalla AM, Hamouda AH, Alhaider IA (2015) Mechanisms of Thymoquinone Hepatorenal Protection in Methotrexate-Induced Toxicity in Rats. Mediators Inflamm 2015:859383. https://doi.org/10.1155/2015/859383.

Elfiky AA, Baghdady AM, Ali SA, Ahmed MI (2020) GRP78 targeting: hitting two birds with a stone. Life Sci 260:118317. https://doi.org/10.1016/j.lfs.2020.118317.

Elsaed WM, Bedeer RF, Eladl MA (2018) Ameliorative effect of vitamin B12 on seminiferous epithelium of cimetidine-treated rats: a histopathological, immunohistochemical and ultrastructural study. Anat Cell Biol 51(1):52–61

Erdogan MA, Yalcin A (2018) Protective effects of benfotiamine on irisin activity in methotrexate-induced liver injury in rats. Arch Med Sci 16(1):205–11. https://doi.org/10.5114/aoms.2018.80002.

Ewees MG, Abdelghany TM, Abdel-Aziz AH, Abdelbakky MS (2019) Enoxaparin prevents fibrin accumulation in liver tissues and attenuates methotrexate-induced liver injury in rats. Naunyn Schmiedebergs Arch Pharmacol 392(5):623–631. https://doi.org/10.1007/s00210-019-01618-1.

García-Argüello SF, Lopez-Lorenzo B, Cornelissen B, Smith G (2020) Development of [(18)F]ICMT-11 for Imaging Caspase-3/7 Activity during Therapy-Induced Apoptosis. Cancers (Basel) 12(8):2191. https://doi.org/10.3390/cancers12082191.

Genest O, Wickner S, Doyle SM (2019) Hsp90 and Hsp70 chaperones: collaborators in protein remodeling. J Biol Chem 294(6):2109–2120. https://doi.org/10.1074/jbc.REV118.002806.

Green R, Allen LH, Bjørke-Monsen AL, Brito A, Guéant JL, Miller JW, et al (2017) Vitamin B(12) deficiency. Nat Rev Dis Primers.3:17040. https://doi.org/10.1038/nrdp.2017.40.

Greibe E, Nymark O, Fedosov SN, Heegaard CW, Nexo E (2018) Dietary Intake of Vitamin B12 is Better for Restoring a Low B12 Status Than a Daily High-Dose Vitamin Pill: an Experimental Study in Rats. Nutrients 10(8):1096. https://doi.org/10.3390/nu10081096. PMID: 30111759

Hafez HM, Ibrahim MA, Ibrahim SA, Amin EF, Goma W, Abdelrahman AM (2015) Potential protective effect of etanercept and aminoguanidine in methotrexate-induced hepatotoxicity and nephrotoxicity in rats. Eur J Pharmacol. 768:1–12. https://doi.org/10.1016/j.ejphar.2015.08.047.

Hajihashemi S, Hamidizad Z, Rahbari A, Ghanbari F, Motealeghi ZA (2017) Effects of Cobalamin (Vitamin B12) on Gentamicin Induced Nephrotoxicity in Rat. Drug Res (Stuttg) 67(12):710–718. https://doi.org/10.1055/s-0043-117418.

Harb Z, Deckert V, Bressenot AM, Christov C, Guéant-Rodriguez RM, Raso J, et al (2020) The deficit in folate and vitamin B12 triggers liver macrovesicular steatosis and inflammation in rats with dextran sodium sulfate-induced colitis. J Nutr Biochem. 84, 108415. https://doi.org/10.1016/j.jnutbio.2020.108415.

Ibrahim IM, Abdelmalek DH, Elfiky AA (2019) GRP78: a cell's response to stress. Life Sci 226:156–63. https://doi.org/10.1016/j.lfs.2019.04.022.

Iurlaro R, Muñoz-Pinedo C (2016) Cell death induced by endoplasmic reticulum stress. Febs J 283(14):2640–52. https://doi.org/10.1111/febs.13598.

Karabulut D, Ozturk E, Kaymak E, Akin AT, Yakan B (2021) Thymoquinone attenuates doxorubicin-cardiotoxicity in rats. J Biochem Mol Toxicol 35(1):e22618. https://doi.org/10.1002/jbt.22618.

Karabulut D, Ozturk E, Kuloglu N, Akin AT, Kaymak E, Yakan B (2020) Effects of vitamin B12 on methotrexate hepatotoxicity: evaluation of receptor-interacting protein (RIP) kinase. Naunyn Schmiedebergs Arch Pharmacol 393(12):2473–80. https://doi.org/10.1007/s00210-020-01992-1.

Lv S, Wu N, Wang Q, Yang LH (2020) Endogenous hydrogen sulfide alleviates methotrexate-induced cognitive impairment by attenuating endoplasmic reticulum stress-induced apoptosis via CHOP and caspase-12. Fundam Clin Pharmacol 34(5):559–70. https://doi.org/10.1111/fcp.12543.

Mahmoud AM, Ahmed OM, Galaly SR (2014) Thymoquinone and curcumin attenuate gentamicin-induced renal oxidative stress, inflammation and apoptosis in rats. Excli J 13:98–110

Mahmoud AM, Hussein OE, Abd El-Twab SM, Hozayen WG (2019) Ferulic acid protects against methotrexate nephrotoxicity via activation of Nrf2/ARE/HO-1 signaling and PPARγ, and suppression of NF-κB/NLRP3 inflammasome axis. Food Funct 10(8):4593–607. https://doi.org/10.1039/c9fo00114j.

Moodi H, Hosseini M, Abedini MR, Hassanzadeh-Taheri M, Hassanzadeh-Taheri M (2020) Ethanolic extract of Iris songarica rhizome attenuates methotrexate-induced liver and kidney damages in rats. Avicenna J Phytomed 10(4):372–383

Morsy MA, Abdel-Aziz AM, Abdel-Hafez SMN, Venugopala KN, Nair AB, Abdel-Gaber SA (2020) The Possible Contribution of P-Glycoprotein in the Protective Effect of Paeonol against Methotrexate-Induced Testicular Injury in Rats. Pharmaceuticals (Basel) 13(9):223. https://doi.org/10.3390/ph13090223.

Oguz E, Kocarslan S, Tabur S, Sezen H, Yilmaz Z, Aksoy N (2015) Effects of Lycopene Alone or Combined with Melatonin on Methotrexate-Induced Nephrotoxicity in Rats. Asian Pac J Cancer Prev 16(14):6061–6. https://doi.org/10.7314/apjcp.2015.16.14.6061.

Otaka M, Odashima M, Watanabe S (2006) Role of heat shock proteins (molecular chaperones) in intestinal mucosal protection. Biochem Biophys Res Commun 348(1):1–5. https://doi.org/10.1016/j.bbrc.2006.07.028.

Pannérec A, Migliavacca E, De Castro A, Michaud J, Karaz S, Goulet L, et al (2018) Vitamin B12 deficiency and impaired expression of amnionless during aging. J Cachexia Sarcopenia Muscle 9:41–52. https://doi.org/10.1002/jcsm.12260. PMID: 29159972

Rajitha P, Biswas R, Sabitha M, Jayakumar R (2017) Methotrexate in the treatment of psoriasis and rheumatoid arthritis: mechanistic ınsights, current ıssues and novel delivery approaches. Curr Pharm Des 23(24):3550–66. https://doi.org/10.2174/1381612823666170601105439.

Saigal S, Singh RK, Poddar B (2012) Acute methotrexate toxicity presenting as multiorgan failure and acute pneumonitis: a rare case report. Indian J Crit Care Med 16(4):225–7. https://doi.org/10.4103/0972-5229.106509.

Shao Y, Tan B, Shi J, Zhou Q (2019) Methotrexate induces astrocyte apoptosis by disrupting folate metabolism in the mouse juvenile central nervous system. Toxicol Lett 301:146–156. https://doi.org/10.1016/j.toxlet.2018.11.016.

Song Y, Liu L, Liu B, Liu R, Chen Y, Li C, et al (2021) Interaction of nobiletin with methotrexate ameliorates 7-OH methotrexate-induced nephrotoxicity through endoplasmic reticulum stress-dependent PERK/CHOP signaling pathway. Pharmacol Res 165:105371. https://doi.org/10.1016/j.phrs.2020.105371.

Tamaddonfard E, Tamaddonfard S, Cheraghiyan S (2018) Effects of intracerebroventricular injection of vitamin B(12) on formalin-induced muscle pain in rats: role of cyclooxygenase pathway and opioid receptors. Vet Res Forum 9(4):329–335. https://doi.org/10.30466/vrf.2018.33104.

Ulusoy HB, Öztürk İ, Sönmez MF (2016) Protective effect of propolis on methotrexate-induced kidney injury in the rat. Ren Fail 38(5):744–570. https://doi.org/10.3109/0886022X.2016.1158070.

Wang W, Zhou H, Liu L (2018) Side effects of methotrexate therapy for rheumatoid arthritis: a systematic review. Eur J Med Chem 158:502–516 https://doi.org/10.1016/j.ejmech.2018.09.027.

Yuksel Y, Yuksel R, Yagmurca M, Haltas H, Erdamar H, Toktas M, et al (2017) Effects of quercetin on methotrexate-induced nephrotoxicity in rats. Hum Exp Toxicol 36(1):51–61. https://doi.org/10.1177/0960327116637414.

Zhang PL, Lun M, Schworer CM, Blasick TM, Masker KK, Jones JB et al (2008) Heat shock protein expression is highly sensitive to ischemia-reperfusion injury in rat kidneys. Ann Clin Lab Sci 38(1):57–64
Acknowledgements
This study was supported by Erciyes University Scientific Research Projects Unit (TSA-2019-8673)
Ethics declarations
Conflict of interest
The author(s) declared no potential conflicts of interest with respect to the research, authorship, and/or publication of this article.
Additional information
Publisher's Note
Springer Nature remains neutral with regard to jurisdictional claims in published maps and institutional affiliations.
About this article
Cite this article
Ozturk, E., Karabulut, D., Akin, A.T. et al. Evaluation by different mechanisms of the protective effects of vitamin B12 on methotrexate nephrotoxicity. J Mol Histol (2021). https://doi.org/10.1007/s10735-021-10027-9
Received:

Accepted:

Published:
Keywords
Biochemistry

Histopathology

İmmunohistochemia

MTX

Rat