Abstract
Preeclampsia (PE) is a pregnancy-related syndrome. Aberrant placental microRNAs (miRNAs) expression might associate with PE, including miR-133b. However, its role in the pathogenesis of preeclampsia remains elusive. Therefore, this study explored the role of miR-133b in oxidative stress injury of trophoblasts in preeclampsia (PE) by mediating the JAK2/STAT3 signaling pathway. Placental tissues were collected from PE patients to detect the expression of miR-133b and JAK2/STAT3. Then, in vitro experiments were performed on human extravillous trophoblast-derived HTR-8/SVneo cells, which were divided into Normal, hypoxia/reoxygenation (H/R), H/R + miR-NC, H/R + miR-133b inhibitor, H/R + JAK2 siRNA and H/R + miR-133b inhibitor + JAK2 siRNA groups. Cell invasion and migration abilities were detected by Transwell and wound healing assays, while apoptosis was detected by flow cytometry. The intracellular oxidative stress levels were also measured. Furthermore, the expression of miR-133b and the JAK2/STAT3 pathway was determined by qRT-PCR and Western blotting. We found that miR-133b was up-regulated, with decreases in JAK2 and p-STAT3/STAT3 in placental tissues of PE patients. Additionally, HTR8/SVneo cells in the H/R group had decreased invasion and migration abilities with increased apoptotic rates and oxidative stress levels. Moreover, the expression of miR-133b was up-regulated with decreases in p-JAK2 and p-STAT3 in H/R-treated HTR8/SVneo cells. These indicators in the H/R + miR-133b inhibitor group were ameliorated in comparison with those in the H/R group but deteriorated in the H/R + JAK2 siRNA group. Moreover, JAK2 siRNA reversed the positive effect of the miR-133b inhibitor on the invasion and migration abilities of trophoblasts. In summary, inhibiting miR-133b may improve oxidative stress injury to promote the migration and invasion of trophoblasts and suppress apoptosis by activating the JAK2/STAT3 pathway.
Access options
Buy single article
Instant access to the full article PDF.
USD 39.95
Price includes VAT (USA)
Tax calculation will be finalised during checkout.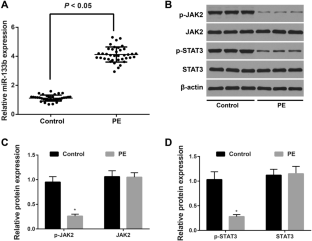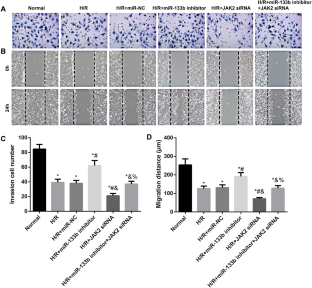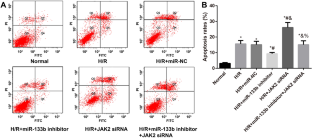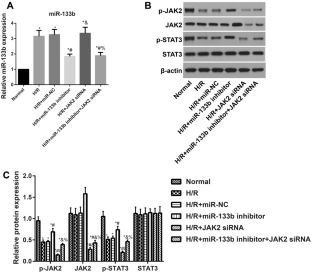 Ethics declarations
Conflict of interest
The authors state that there are no conflicts of interest in the publication of this paper.
Additional information
Publisher's Note
Springer Nature remains neutral with regard to jurisdictional claims in published maps and institutional affiliations.
About this article
Cite this article
Yang, HY. MiR-133b regulates oxidative stress injury of trophoblasts in preeclampsia by mediating the JAK2/STAT3 signaling pathway. J Mol Histol 52, 1177–1188 (2021). https://doi.org/10.1007/s10735-021-10024-y
Received:

Accepted:

Published:

Issue Date:
Keywords
miR-133b

JAK2/STAT3

Preeclampsia

Oxidative stress