Abstract
The aim of this study is to clarify the disibution, shape, and immunohistochemical characteristics of serotonin-immunoreactive neuroendocrine cells (SIR-NECs) in mouse prostate and in the surrounding genital organs by histological and immunohistochemical analysis of the light microscopic serial sections of urethra. We collected lower urinary tracts from 13-week-old mice and observed the distribution pattern and shape of the SIR-NECs by serial light microscopy. The organs on the sections were divided into three anatomical zones to clarify the distribution pattern of SIR-NECs: (1) zone A, the ducts near the prostatic urethra; (2) zone B, the ducts outside the urethral sphincter; and (3) zone C, the acinus areas. Sections were double immune-stained with antibodies against serotonin and one of neuroendocrine-related factors (NRFs), including 10 neural cell markers and eight neurotransmitters, and also 4′,6-diamino-2-phenylindole (DAPI). In addition, SIR-NECs were double immune-stained with antibodies against cytokeratin 5 (CK5) and p63, together with DAPI. SIR-NECs were mostly localized in zone A, and no SIR-NECs were observed in zone C. The proportion of flask-shaped SIR-NECs was approximately 15% in zones A and B. No flask-shaped SIR-NECs were observed in urethral epithelia. The NRFs co-localized with SIR-NEC were calcitonin gene-related peptide, CD56, chromogranin A, neuron-specific enolase, neuron cytoplastic protein 9.5, and synaptophysin (72.3%, 73.2%, 88.9%, 92.3%, 91.7%, and 81.9%, respectively). CK5 and p63 were not co-localized with SIR-NECs. In this study, SIR-NEC of the urethra and the surrounding genital organs was ubiquitous in the urethra and the ducts near the urethra and co-expressed specific nerve-related NRFs.
Access options
Buy single article
Instant access to the full article PDF.
USD 39.95
Price includes VAT (USA)
Tax calculation will be finalised during checkout.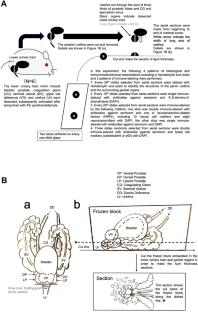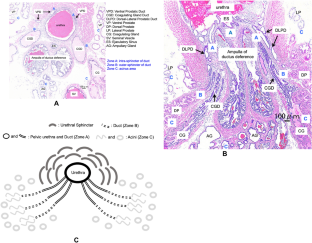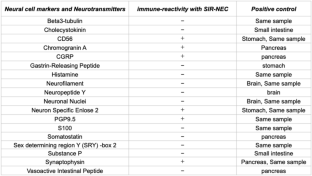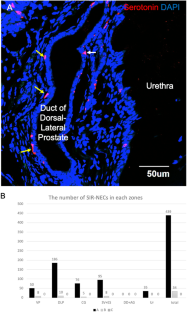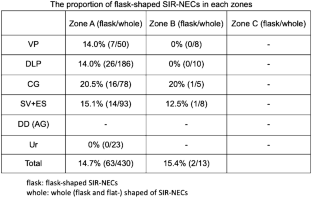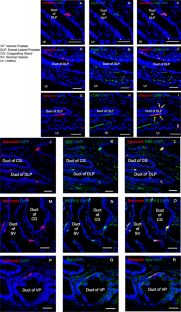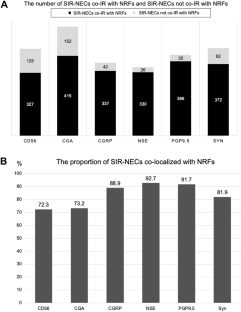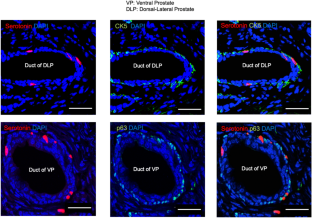 References
Acosta S, Pizeyi N, Pierzynowski S et al (2001) Neuroendocrine cells and nerves in the prostate of the guinea pig: effects of peripheral denervation and castration. Prostate 46(3):191–199

Aprikian AG, Han K, Guy L et al (1998) Neuroendocrine differentiation and the bombesin/gastrin-releasing peptide family of neuropeptides in the progression of human prostate cancer. Prostate 8:52–61

Asmis TR, Reaume MN, Dahrouge S et al (2006) Genitourinary small cell carcinoma: a retrospective review of treatment and survival patterns at The Ottawa Hospital Regional Cancer Center. BJU Int 97:711–715

Aumullre G, Doll A, Wennemuth G et al (2012) Regional distribution of neuroendocrine cells in the urogenital duct system of the male rat. Prostate 72:326–337

Aumuller G, Leonhardt M, Janssen M et al (1999) Neurogenic origin of human prostate endocrine cells. Urology 53:1041–1048

Bonkhoff H (1998) Neuroendocrine cells in benign and malignant prostate tissue: morphogenesis, proliferation, and androgen receptor status. Prostate (suppl) 8:18–22

Bonkhoff H, Remberger K (1996) Differentiation pathways and histogenetic aspects of normal and abnormal prostatic growth: a stem cell model. Prostate 28:98–106

Carr LL, Chung JH, Achcar RD et al (2015) The clinical course of diffuse idiopathic pulmonary neuroendocrine cell hyperplasia. Chest 147(2):415–422

Cecio A, Cocca T, Massotti MT et al (1993) CCK containing paraneurons in human adenomatous prostate. BioSci Rep 13:251–258

Cockett AT, Di Sant' Agnese PA et al (1993) Relationship of neuroendocrine cells of prostate and serotonin to benign prostatic hyperplasia. Urology 42:512–519

Di Sant'Agnese PA, De Mesy Jensen KL et al (1985) Human prostatic-paracrine (APUD) cells. Distribution analysis with a comparison of serotonin and neuron-specific enlose immunoreactivity and silver stains. Arch Pathol Lab Med 109:607–612

Di Sant'Agnese PA, De Mesy Jensen KL (1984) Somatostatin and/or somatosdtatin-like immunoreactive endocrine-paracrine cells in the human prostate gland. Arch Pathol Lab Med 108:693–696

Fujinoki M (2011) Serotonin-enhanced hyperactivation of hamster sperm. Reproduction 142:255–266

Helpap B, Kollermann J (1999) Undifferentiated carcinoma of the prostate with small cell features: immunohistochemical subtyping and reflections on histogenesis. Virchows Arch 434:385–391

Martin R, Fraile B, Peinado F et al (2000) Immunohistochemical localization of protein gene product 9.5, ubiquitin, and neuropeptide Y immunoreactivities in epithelial and neuroendocrine cells from normal and hyperplastic human prostate. J Histochem Cytochem 48:1121–1130

Montuenga LM, Guembe L, Burrell MA et al (2003) The diffuse endocrine system: from embryogenesis to carcinogenesis. Prog Histochem Cytochem 38:155–272

Noguchi M, Sumiyama K, Morimoto M (2015) Directed migration of pulmonary neuroendocrine cells toward airway branches organizes the stereotypic location of neuroepithelial bodies. Cell Rep 13(12):2679–2686

Oesterling JE, Hauzeur CG, Farrow GM (1992) Small cell anaplastic carcinoma of the prostate: a clinical, pathological and immunohistological study of 27 patients. J Urol 147:804–807

Pearse AGE (1977) The diffuse neuroendocrine system and the APUD concept: related peptides in brain, intestine, pituitary, placenta and anuran cutaneous glands. Med Biol 55:115–125

Polge A, Gaspard C, Mottet N et al (1998) Neurohormonal stimulation of histamine release from neuroendocrine cells of the human adenomatous prostate. Prostate 34:1–9

Rumpold H, Heinrich E, Untergasser G et al (2002) Neuroendocrine differentiation of human prostatic primary epithelial cells in vitro. Prostate 53:101–108

Sugiyama Y, Fujinoki M, Shibahara H (2019) Effects of 5-hydroxytriptamine on spermatozal hyperactivation and in vitro fertilization in mice. J Reprod Dev 65:541–550

Sui P, Wiesner DL, Xu J et al (2018) Pulmonary neuroendocrine cells amplify allergic asthma responses. Science 360(6393):8546. https://doi.org/10.1126/Science.aan85461

Szczyrba J, Niesen A, Wagner M et al (2017) Neuroendocrine cells of the prostate derived from neural crest. J Biol Chem 292(5):2021–2031

Tetu B, Ro JY, Ayala AG et al (1987) Small cell carcinoma of the prostate. Part 1. A clinicopathologic study of 20 cases. Cancer 59:1803–1809

Untergasser G, Plas E, Pfister G et al (2005) Interferon-gamma induces neuroendocrine-like differentiation of human prostate basal-epithelial cells. Prostate 64:419–429

Uzgare AR, Xu Y, Isaacs JT (2004) In vitro culturing and characteristics of transit amplifying epithelial cells from human prostatic tissue. J Cell Biochem 91:196–205

Xue Y, Smedts F, Verhofstad A et al (1998) Cell kinetics of prostate exocrine and neuroendocrine epithelium and their differential interrelationship: new perspectives. Prostate (suppl) 8:62–73

Xue Y, Verhofstad A, Lange W et al (1997) Prostatic neuroendocrine cells have a unique keratin expression pattern and do not express Bcl-2: cell kinetic features of neuroendocrine cells in the human prostate. Am J Pathol 151:1759–1765
Acknowledgements
This study was supported in part by a grant from the Strategic Research Foundation Grant-aided Project for Private Universities from the Ministry of Education, Culture, Sport, Science and Technology, Japan. This work was also supported by JSPS KAKENHI Grant Numbers 19K09743. The authors would like to thank Enago (www.enago.jp) for the English language review.
Additional information
Publisher's Note
Springer Nature remains neutral with regard to jurisdictional claims in published maps and institutional affiliations.
About this article
Cite this article
Uemura, Ki., Hiroshige, T., Ueda, K. et al. Distribution, shape, and immunohistochemical characteristics of serotonin-immunoreactive neuroendocrine cells in the urethra and periurethral genital organs in mice. J Mol Histol 52, 1205–1214 (2021). https://doi.org/10.1007/s10735-021-10020-2
Received:

Accepted:

Published:

Issue Date:
Keywords
Serotonin

Neuroendocrine cell

Prostate

Urethra

Genital organ