Abstract
The present study aimed to investigate the mechanism(s) through which endoplasmic reticulum stress (ERS)-induced apoptosis, in the role of periodontitis, affects vascular calcification. Rat models of periodontitis, vascular calcification, periodontitis-vascular calcification, and a normal group were established. Cardiovascular tissues were obtained, and hematoxylin–eosin staining was applied to demonstrate the morphological changes in vascular tissues. Immunohistochemical staining was applied to analyze apoptosis in cardiovascular tissues. The expression levels of apoptotic factor cysteinyl aspartate specific proteinase 3 (Caspase-3), ERS-induced apoptotic factors glucose-regulated protein 78 (GRP78), 94 (GRP94), and ERS-induced apoptosis pathways Caspase-12, C/EBP homologous protein (CHOP), and c-Jun N-terminal kinase (JNK) were analyzed and compared. Hematoxylin–eosin staining revealed that the arterial layers in the normal group were structurally intact. The structural damage to the aortic wall gradually aggravated from the periodontitis group to the vascular calcification group to the combined group. The immunohistochemistry results showed Caspase-3, GRP78, GRP94, and ERS-induced apoptosis pathways in the cardiovascular tissues cells in the periodontitis group, vascular calcification group, and combined group. The Caspase-3, GRP78, GRP94, and CHOP expression levels in the combined group were significantly higher than that in the normal group (P < 0.05); however, the Capase-12 and JNK expression levels in the four groups exhibited no significant differences (P > 0.05). Apoptosis induced by ERS is involved in the effect of periodontitis on vascular calcification and might be mainly achieved through the activation of the CHOP transcription pathway.
Access options
Buy single article
Instant access to the full article PDF.
US$ 39.95
Tax calculation will be finalised during checkout.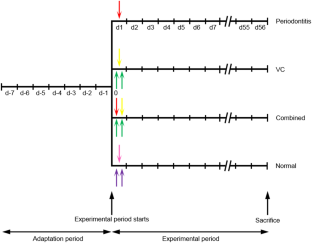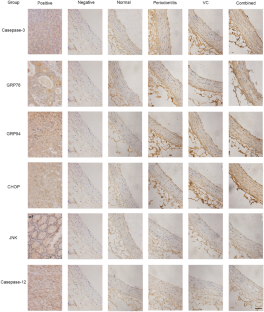 Data availability
The datasets used or analyzed during the current study are available from the corresponding author on reasonable request.
References
Almanza A et al (2019) Endoplasmic reticulum stress signallin: from basic mechanisms to clinical applications. FEBS J 286 https://doi.org/10.1111/febs.14608

Carew NT, Nelson AM, Liang Z, Smith SM, Milcarek C (2018) Linking endoplasmic reticular stress and alternative splicing. Int J Mol Sci. https://doi.org/10.3390/ijms19123919

Chen NX, Moe SM, O'Neill KD (2018) Matrix vesicles induce calcification of recipient vascular smooth muscle cells through multiple signaling pathways. Kidney Int 93:343–354. https://doi.org/10.1016/j.kint.2017.07.019

Daniela M, Sakari K, Thomas K (2019) Hypoxia and reactive oxygen species as modulators of endoplasmic reticulum and golgi homeostasis antioxidants & redox signaling 30 https://doi.org/10.1089/ars.2018.7523

Hegde R, Awan KH (2019) Effects of periodontal disease on systemic health. Dis Mon 65:185–192. https://doi.org/10.1016/j.disamonth.2018.09.011

Ke-Qing P, Peng-Mei Z, Jing D, Xiu-Xiu L, Yun M, Gui-Rong L (2016) [Expression of OPG/RANK/RANKL in the rat dental pulp tissue of periodontitis combined with vascular calcification and its clinical significance]. Shanghai J Stomatol 25 https://doi.org/https://europepmc.org/article/med/27858058

Kholy KE, Genco RJ, Van Dyke TE (2015) Oral infections and cardiovascular disease. Trends Endocrinol Metab 26:315–321. https://doi.org/10.1016/j.tem.2015.03.001

Kozarov E (2012) Bacterial invasion of vascular cell types: vascular infectology and atherogenesis. Future Cardiol 8:123–138. https://doi.org/10.2217/fca.11.75

Leopold JA (2015) Vascular calcification: mechanisms of vascular smooth muscle cell calcification. Trends Cardiovasc Med 25:267–274. https://doi.org/10.1016/j.tcm.2014.10.021

Li H, Pan K, Meng Y, Deng J, Zhang P, Song W, Li S (2020) Mutual promotions between periodontitis and vascular calcification by rat animal model. J Periodontal Res. https://doi.org/10.1111/jre.12757

Liccardo D, Cannavo A, Spagnuolo G, Ferrara N, Cittadini A, Rengo C, Rengo G (2019) Periodontal disease: a risk factor for diabetes and cardiovascular disease. Int J Mol Sci. https://doi.org/10.3390/ijms20061414

Liu M, Dudley SC (2015) Role for the unfolded protein response in heart disease and cardiac arrhythmias. Int J Mol Sci 17 https://doi.org/10.3390/ijms17010052

Liu YH, Kong W (2016) The mechanisms of medial vascular calcification Sheng. Li Xue Bao 68:592–610 . https://doi.org/https://europepmc.org/article/med/27778024

Liu H, Wang Z, Nowicki MJ (2014) Caspase-12 mediates carbon tetrachloride-induced hepatocyte apoptosis in mice World. J Gastroenterol 20:18189–18198. https://doi.org/10.3748/wjg.v20.i48.18189

Liu G et al (2016a) Porphyromonas gingivalis lipopolysaccharide stimulation of vascular smooth muscle cells activates proliferation and calcification. J Periodontol 87 https://doi.org/10.1902/jop.2016.150602

Liu M-q, Chen Z, Chen L-x (2016b) Endoplasmic reticulum stress: a novel mechanism and therapeutic target for cardiovascular diseases. Acta Pharmacol Sin 37 https://doi.org/10.1038/aps.2015.145

Long H-b, Xu B-c, Luo K-q (2015) Reduced apoptosis after acute myocardial infarction by simvastatin cell. Biochem Biophys 71:735–740. https://doi.org/10.1007/s12013-014-0257-1

Ochoa CD, Wu RF, Terada LS (2018) ROS signaling and ER stress in cardiovascular disease. Mol Aspects Med. https://doi.org/10.1016/j.mam.2018.03.002

Peng X et al (2016) Aflatoxin B1 affects apoptosis and expression of Bax, Bcl-2, and Caspase-3 in thymus and bursa of fab ricius in broiler chickens. Environ Toxicol 31:1113–1120. https://doi.org/10.1002/tox.22120

Rajeshwari HR, Dhamecha D, Jagwani S, Rao M, Jalalpure S (2019) Local drug delivery systems in the management of periodontitis: a scientific review. J Control Rel 307. https://doi.org/10.1016/j.jconrel.2019.06.038

Samira G, Shekari KM, Mansoori DS, Behzad B (2015) Molecular mechanisms of apoptosis and roles in cancer development and treatment Asian. APJCP 16. https://doi.org/10.7314/APJCP.2015.16.6.2129

Shioi A (2015) Vascular calcification—pathological mechanism and clinical application. Mechanisms of vascular calcification. Clin Calcium 25:635–643

Wang S, Zhang M, Liu Z, Yang W, Shi J, Dean V, Chen D (2017) Relationship between CHOP/GADD153 and unstable human carotid atherosclerotic plaque. British Journal of Neurosurgery 31. https://doi.org/10.1080/02688697.2017.1327016

Wang SS, Wang C, Chen H (2020) MicroRNAs are critical in regulating smooth muscle cell mineralization and apoptosis during vascular calcification. J Cell Mol Med 24 https://doi.org/10.1111/jcmm.16005

Winning L, Patterson CC, Cullen KM, Kee F, Linden GJ (2019) Chronic periodontitis and reduced respiratory function. J Clin Periodontol 46:266–275. https://doi.org/10.1111/jcpe.13076

Zhang C, Syed TW, Liu R, Yu J (2017) Role of endoplasmic reticulum stress, autophagy, and inflammation in cardiovascular disease. Front Cardiovasc Med 4:29. https://doi.org/10.3389/fcvm.2017.00029
Acknowledgements
This work was supported by National Natural Science Foundation of China [Grant Number 81100755] and Health Department of Shandong Province [Grant Number 2016WS0252].
Funding
This work was supported by National Natural Science Foundation of China [Grant Number 81100755] and Health Department of Shandong Province [Grant Number 2016WS0252].
Ethics declarations
Conflict of interest
The authors have no relevant financial or non-financial interests to disclose.
Additional information
Publisher's Note
Springer Nature remains neutral with regard to jurisdictional claims in published maps and institutional affiliations.
Supplementary Information
Below is the link to the electronic supplementary material.
About this article
Cite this article
Song, X., Li, J., Jiao, M. et al. Effect of endoplasmic reticulum stress-induced apoptosis in the role of periodontitis on vascular calcification in a rat model. J Mol Histol 52, 1097–1104 (2021). https://doi.org/10.1007/s10735-021-10015-z
Received:

Accepted:

Published:

Issue Date:
Keywords
Periodontitis

Vascular calcification

Endoplasmic reticulum stress

Apoptosis