Abstract
Mouse incisors are covered by enamel only on the labial side and the lingual side is covered by dentin without enamel. This asymmetric distribution of enamel makes it possible to be abrased on the lingual side, generating the sharp cutting edge of incisor on the labial side. The abrasion of mouse incisors is compensated by the continuous growth throughout life. Epithelium stem cells responsible for its continuous growth are reported to localize within the labial cervical loop. The transcription factor Sox2 plays important roles in the maintenance of stem cell pluripotency and organ formation. We previously found that Sox2 mainly expressed in the dental epithelium. Besides, Sox2 has been reported to be a dental epithelium stem cell marker in the incisor. However, the exact mechanism of Sox2 controlling amelogenesis is still not quite clearly elucidated. Here we report that conditional deletion of Sox2 in the dental epithelium using Shhcre caused impaired ameloblast differentiation in the labial side and induced ectopic ameloblast-like cell differentiation on the lingual side. Abnormal FGF gene expression was detected by RNAscope in situ hybridization in the mutant incisor. Collectively, we speculate that asymmetric ameloblast lineage commitment of mouse incisor might be regulated by Sox2 through FGF signaling.
Access options
Buy single article
Instant access to the full article PDF.
US$ 39.95
Tax calculation will be finalised during checkout.
Subscribe to journal
Immediate online access to all issues from 2019. Subscription will auto renew annually.
US$ 119
Tax calculation will be finalised during checkout.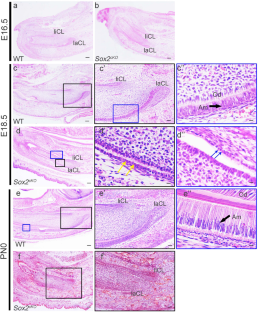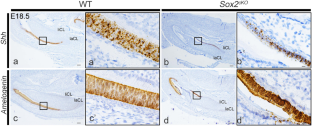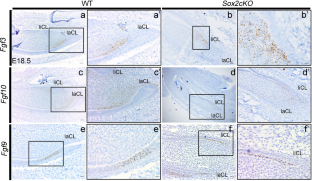 Acknowledgements
This study was supported by Grants from the National Natural Science Foundation of China (NSFC) (81400479); Open Research Fund Program of Hubei-MOST KLOS & KLOBM (2014-03); Shandong medical and health technology development program (2018WS533).
Ethics declarations
Conflict of interest
The authors declare that they have no conflict of interest.
Ethical approval
All procedures performed in studies involving animals were in accordance with the ethical standards of the guideline of Animal Welfare Committee of Yantai Affiliated Hospital of Binzhou Medical University (Permit Number: 20190826001).
Additional information
Publisher's Note
Springer Nature remains neutral with regard to jurisdictional claims in published maps and institutional affiliations.
About this article
Cite this article
Li, D., Wang, X., Yao, L. et al. Sox2 controls asymmetric patterning of ameloblast lineage commitment by regulation of FGF signaling in the mouse incisor. J Mol Histol (2021). https://doi.org/10.1007/s10735-021-10005-1
Received:

Accepted:

Published:
Keywords
Sox2

Ameloblast lineage commitment

Mouse incisor

Stem cell