Abstract
MicroRNAs (miRNAs) are important regulators of many cellular processes, and the dysregulation of miRNAs is associated with various diseases. MiR-100-5p is revealed to be downregulated in gestational hypertension, while its underlying regulatory mechanism remains unclear. The pathological condition of gestational hypertension was mimicked by the hypoxia and reoxygenation (H/R) treatment to human placental microvascular endothelial cells (HPMECs). RT-qPCR and western blotting were conducted to detect the mRNA and protein expression of RNAs. HPMEC viability was assessed by CCK-8 assay. HPMEC angiogenesis was examined using tube formation assay. The concentrations of ANG-1 and ANG-2 in HPMECs were detected by ELISA. The binding relationship between miR-100-5p and homeodomain interacting protein kinase 2 (HIPK2) was investigated using luciferase reporter assay. MiR-100-5p was downregulated in HPMECs after H/R treatment. MiR-100-5p overexpression reversed the H/R-induced decrease in viability, angiogenesis of HPMECs. HIPK2 was targeted by miR-100-5p in HPMECs, and miR-100-5p negatively modulated HIPK2 expression at the mRNA and protein levels. MiR-100-5p activated the PI3K/AKT pathway by downregulating HIPK2. Rescue assays demonstrated that miR-100-5p promoted the viability and angiogenesis of H/R treated HPMECs by targeting HIPK2 to activate the PI3K/AKT pathway. MiR-100-5p overexpression inhibits the dysfunction of HPMECs under hypoxia and reoxygenation by downregulating HIPK2 to activate the PI3K/AKT pathway.
Access options
Buy single article
Instant access to the full article PDF.
US$ 39.95
Tax calculation will be finalised during checkout.
Subscribe to journal
Immediate online access to all issues from 2019. Subscription will auto renew annually.
US$ 119
Tax calculation will be finalised during checkout.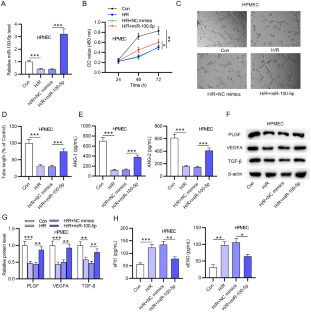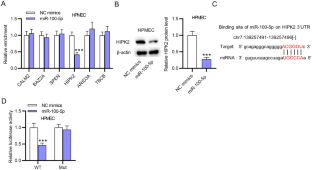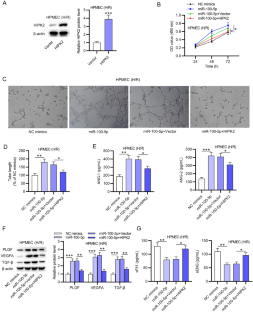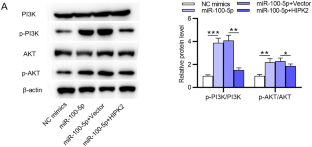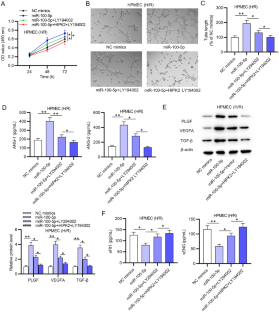 References
Bartel DP (2009) MicroRNAs: target recognition and regulatory functions. Cell 136:215–233. https://doi.org/10.1016/j.cell.2009.01.002

Beermann J, Piccoli MT, Viereck J, Thum T (2016) Non-coding RNAs in development and disease: background, mechanisms, and therapeutic. Approach Physiol Rev 96:1297–1325. https://doi.org/10.1152/physrev.00041.2015

Birukov A et al (2020) Blood pressure and angiogenic markers in pregnancy: contributors to pregnancy-induced hypertension and offspring cardiovascular risk. Hypertension 76:901–909. https://doi.org/10.1161/hypertensionaha.119.13966

Brosnihan KB, Neves LA, Anton L, Joyner J, Valdes G, Merrill DC (2004) Enhanced expression of Ang-(1–7) during pregnancy. Braz J Med Biol Res 37:1255–1262. https://doi.org/10.1590/s0100-879x2004000800017

Cantwell R et al (2011) Saving Mothers' Lives: reviewing maternal deaths to make motherhood safer: 2006–2008. The eighth report of the confidential enquiries into maternal deaths in the United Kingdom. BJOG 118(Suppl 1):1–203. https://doi.org/10.1111/j.1471-0528.2010.02847.x

Cerdeira AS, Agrawal S, Staff AC, Redman CW, Vatish M (2018) Angiogenic factors: potential to change clinical practice in pre-eclampsia? BJOG 125:1389–1395. https://doi.org/10.1111/1471-0528.15042

Chalazonitis A et al (2011) Homeodomain interacting protein kinase 2 regulates postnatal development of enteric dopaminergic neurons and glia via BMP signaling. J Neurosci 31:13746–13757. https://doi.org/10.1523/jneurosci.1078-11.2011

Chen P, Duan X, Li X, Li J, Ba Q, Wang H (2020) HIPK2 suppresses tumor growth and progression of hepatocellular carcinoma through promoting the degradation of HIF-1α. Oncogene 39:2863–2876. https://doi.org/10.1038/s41388-020-1190-y

D'Orazi G et al (2002) Homeodomain-interacting protein kinase-2 phosphorylates p53 at Ser 46 and mediates apoptosis. Nat Cell Biol 4:11–19. https://doi.org/10.1038/ncb714

Dittmann A et al (2014) The commonly used PI3-kinase probe LY294002 is an inhibitor of BET bromodomains. ACS Chem Biol 9:495–502. https://doi.org/10.1021/cb400789e

Esteller M (2011) Non-coding RNAs in human disease. Nat Rev Genet 12:861–874. https://doi.org/10.1038/nrg3074

Hanssens M, Keirse MJ, Spitz B, Van Assche FA (1991) Measurement of individual plasma angiotensins in normal pregnancy and pregnancy-induced hypertension. J Clin Endocrinol Metab 73:489–494. https://doi.org/10.1210/jcem-73-3-489

Hedderson MM, Ferrara A (2008) High blood pressure before and during early pregnancy is associated with an increased risk of gestational diabetes mellitus. Diabetes Care 31:2362–2367. https://doi.org/10.2337/dc08-1193

Hofmann TG, Stollberg N, Schmitz ML, Will H (2003) HIPK2 regulates transforming growth factor-beta-induced c-Jun NH(2)-terminal kinase activation and apoptosis in human hepatoma cells. Cancer Res 63:8271–8277

Hromadnikova I, Kotlabova K, Hympanova L, Krofta L (2016) Gestational hypertension, preeclampsia and intrauterine growth restriction induce dysregulation of cardiovascular and cerebrovascular disease associated microRNAs in maternal whole peripheral blood. Thromb Res 137:126–140. https://doi.org/10.1016/j.thromres.2015.11.032

Hromadnikova I, Kotlabova K, Dvorakova L, Krofta L (2019) Postpartum profiling of microRNAs involved in pathogenesis of cardiovascular/cerebrovascular diseases in women exposed to pregnancy-related complications. Int J Cardiol 291:158–167. https://doi.org/10.1016/j.ijcard.2019.05.036

Kong YW, Ferland-McCollough D, Jackson TJ, Bushell M (2012) microRNAs in cancer management. Lancet Oncol 13:e249–e258. https://doi.org/10.1016/s1470-2045(12)70073-6

Lai W, Yu L (2020) Elevated MicroRNA 183 impairs trophoblast migration and invasiveness by downregulating foxp1 expression and elevating gng7 expression during preeclampsia. Mol Cell Biol. https://doi.org/10.1128/mcb.00236-20

Li Y et al (2020) SPEN induces miR-4652-3p to target HIPK2 in nasopharyngeal carcinoma. Cell Death Dis 11:509. https://doi.org/10.1038/s41419-020-2699-2

Liu DF, Li SM, Zhu QX, Jiang W (2018) The involvement of miR-155 in blood pressure regulation in pregnant hypertension rat via targeting FOXO3a. Eur Rev Med Pharmacol Sci 22:6591–6598. https://doi.org/10.26355/eurrev_201810_16133

Long Y et al (2020) The expression and biological function of chemokine CXCL12 and receptor CXCR4/CXCR7 in placenta accreta spectrum disorders. J Cell Mol Med 24:3167–3182. https://doi.org/10.1111/jcmm.14990

Luo X, Yao ZW, Qi HB, Liu DD, Chen GQ, Huang S, Li QS (2011) Gadd45α as an upstream signaling molecule of p38 MAPK triggers oxidative stress-induced sFlt-1 and sEng upregulation in preeclampsia. Cell Tissue Res 344:551–565. https://doi.org/10.1007/s00441-011-1164-z

Ma HY, Cu W, Sun YH, Chen X (2020) MiRNA-203a-3p inhibits inflammatory response in preeclampsia through regulating IL24  Eur Rev Med Pharmacol Sci 24:5223–5230. https://doi.org/10.26355/eurrev_202005_21304

Männistö T, Mendola P, Vääräsmäki M, Järvelin MR, Hartikainen AL, Pouta A, Suvanto E (2013) Elevated blood pressure in pregnancy and subsequent chronic disease risk. Circulation 127:681–690. https://doi.org/10.1161/circulationaha.112.128751

Mundim GJ, Paschoini MC, Araujo Júnior E, Da Silva Costa F, Rodrigues Júnior V (2016) Assessment of angiogenesis modulators in pregnant women with pre-eclampsia: a case-control study. Arch Gynecol Obst 293:369–375. https://doi.org/10.1007/s00404-015-3823-x

Nadar SK, Karalis I, Al Yemeni E, Blann AD, Lip GY (2005) Plasma markers of angiogenesis in pregnancy induced hypertension. Thromb Haemost 94:1071–1076. https://doi.org/10.1160/th05-03-0167

Nardinocchi L et al (2009) Transcriptional regulation of hypoxia-inducible factor 1alpha by HIPK2 suggests a novel mechanism to restrain tumor growth . Biochim Biophys Acta 1793:368–377. https://doi.org/10.1016/j.bbamcr.2008.10.013

Report of the National High Blood Pressure Education Program Working Group on High Blood Pressure in Pregnancy (2000) Am J Obst Gynecol 183:S1-Ss22

Tan M et al (2014) Downregulation of homeodomain-interacting protein kinase-2 contributes to bladder cancer metastasis by regulating Wnt signaling. J Cell Biochem 115:1762–1767. https://doi.org/10.1002/jcb.24842

Tanaka M et al (2007) Racial disparity in hypertensive disorders of pregnancy in New York State: a 10-year longitudinal population-based study. Am J Public Health 97:163–170. https://doi.org/10.2105/ajph.2005.068577

Vest AR, Cho LS (2014) Hypertension in pregnancy. Curr Atheroscler Rep 16:395. https://doi.org/10.1007/s11883-013-0395-8

Vlahos CJ, Matter WF, Hui KY, Brown RF (1994) A specific inhibitor of phosphatidylinositol 3-kinase, 2-(4-morpholinyl)-8-phenyl-4H-1-benzopyran-4-one (LY294002). J Biol Chem 269:5241–5248

Wallis AB, Saftlas AF, Hsia J, Atrash HK (2008) Secular trends in the rates of preeclampsia, eclampsia, and gestational hypertension, United States, 1987–2004. Am J Hypertens 21:521–526. https://doi.org/10.1038/ajh.2008.20

Wang Y, Du X, Wang J (2020) Transfer of miR-15a-5p by placental exosomes promotes pre-eclampsia progression by regulating PI3K/AKT signaling pathway via CDK1. Mol Immunol 128:277–286. https://doi.org/10.1016/j.molimm.2020.10.019

Yang Z et al (2014) Downregulated Krüppel-like factor 8 is involved in decreased trophoblast invasion under hypoxia-reoxygenation conditions . Reprod Sci (Thousand Oaks, CA) 21:72–81. https://doi.org/10.1177/1933719113488448

Zhang J et al (2007) Essential function of HIPK2 in TGFbeta-dependent survival of midbrain dopamine neurons. Nat Neurosci 10:77–86. https://doi.org/10.1038/nn1816
Acknowledgements
We are truly grateful of the help of all participates offered during our research.
Ethics declarations
Conflict of interest
No conflicts of interest were discovered during this research
Additional information
Publisher's Note
Springer Nature remains neutral with regard to jurisdictional claims in published maps and institutional affiliations.
About this article
Cite this article
Zheng, H., Sun, Y., Shu, X. et al. Overexpression of microRNA-100-5p attenuates the endothelial cell dysfunction by targeting HIPK2 under hypoxia and reoxygenation treatment. J Mol Histol (2021). https://doi.org/10.1007/s10735-021-10002-4
Received:

Accepted:

Published:
Keywords
miR-100-5p

HIPK2

Gestational hypertension